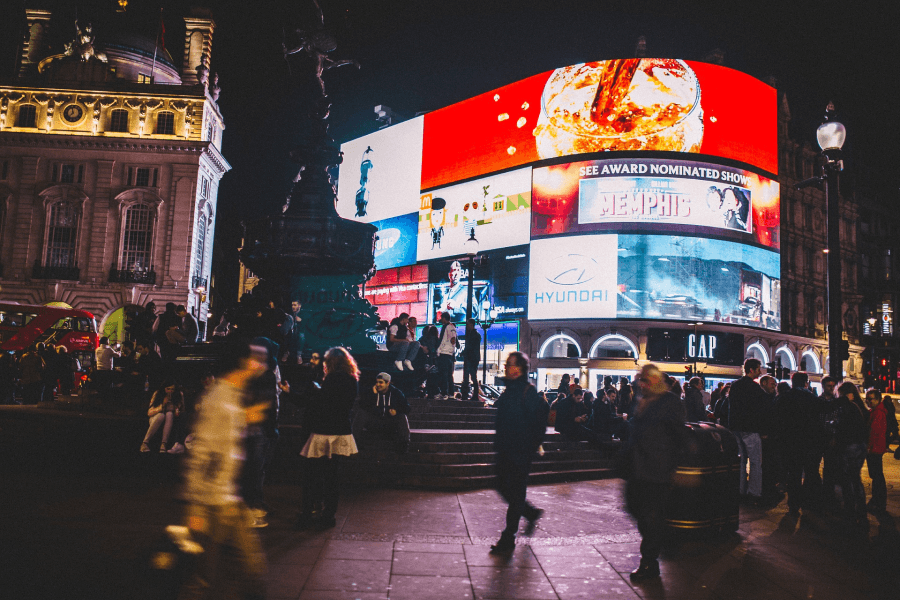 DOOH Reinforced by Programmatic: What's the Power?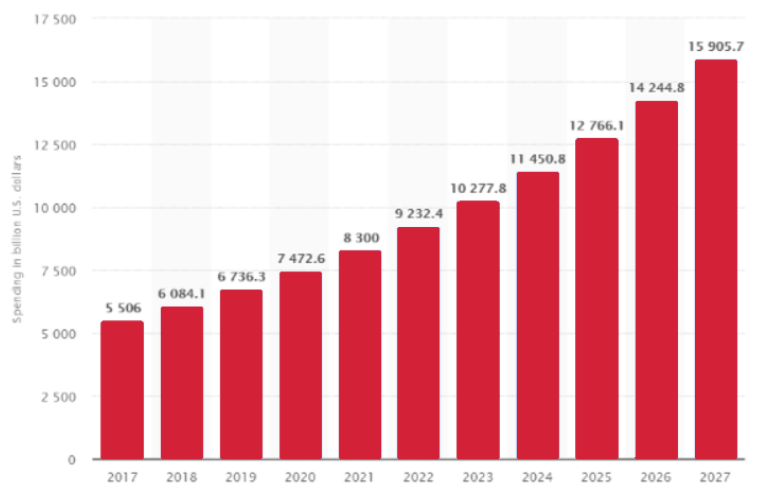 Increasing volumes and popularity of DOOH (Digital Out Of Home) is a steady trend of the last years, especially in the US and Europe. Advertisers allocate bigger and bigger budgets for this media channel. The latest research indicates a significant growth of the DOOH market across the globe, according to the DAN report. Surveys by Statista also illustrate remarkable boost and forecast a long-term acceleration of DOOH advertising market at least till 2027:
Depending on the marketing goals, DOOH can help to deliver addressable advertising, raise brand awareness, ramp up regional presence, and to bring a customer up to the product shelf. Most consumers make purchasing decisions when out of their home, and topflight video ad has a memorable habitude. Thus, according to Beeoutdoor, 55% of digital display advertisement viewers could revoke the exact message they saw.
According to the IAB DOOH Buyer's Guide, for the last 20 years, people spend up to 50% more time outside their homes. Thus, the amount and diversity of touchpoints with prospects are increasing. At this point, brands consider digital outdoor advertising channel more attractive and perspective than classical static posts and billboards.
DOOH's state-of-the-art
Today, outdoor advertisement isn't just a billboard you need to print, place, and wait for a new advertiser to replace the ad space. It's also not just a video screen with revolving ad content. DOOH is rather an engaging display encouraging users to interact, and pushing them to make an online purchase.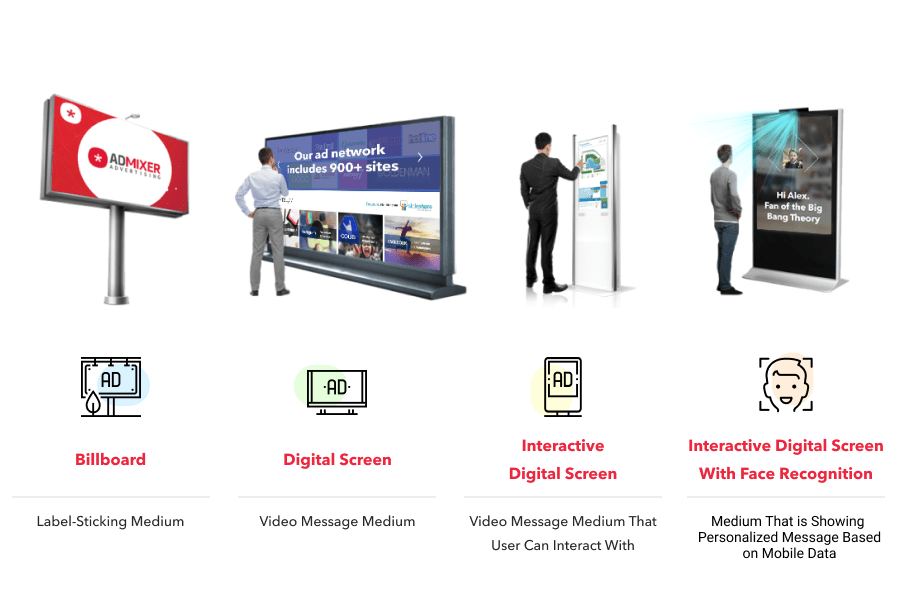 The challenge of addressable ads via DOOH was solved with users' mobile data and digital signages synchronization. Through Wi-Fi connection, DOOH platforms are capturing mobile ID and data which allows delivering relevant content.
With this, the ad message can be tailored to the bullseye, and this is how a persona profile is creating. On the same principle, digital signages collect information about human traffic on the location and provide optimal content to the audience.
Another profiling method is facial recognition. Some digital out of home media platforms are equipped with a camera allowing to identify a specific person within a particular radius. In this way, additional data attributes (like age, gender) are collecting.
The synergy effect of DOOH and Programmatic
In its recent article, Digiday raises the issue of how programmatic is changing the landscape of the OOH advertisement in the US for both, SSP and DSP sides.
With the growth of DOOH mediums, the question of effective inventory management is becoming urgent. Since programmatic is available for DOOH networks, manual advertising configuration has become rudimentary.
Today, technological companies that are powered with Ad Tech Stack are capable to provide demanders with customized solutions that cover digital out of home advertising programmatic maintenance. With this capacity, advertisers can easily tune their campaign including its views frequency.
On top of that, the programmatic ecosystem helps to engage independent auditors to supervise the results of ad campaigns and win more trust from clients. Programmatic solutions allow DOOH publishers to participate in real-time bid auction and easily sell remnant inventory for the best price keeping the supply and demand balance for the most wanted ad spaces.
Similarly to online advertising, growing demand for programmatic in the DOOH area pushes advertisers to try different tech solutions and integrations. Due to its specific, such processes are quite sophisticated and time-consuming. However, integrations happen, providing DSP with new horizons, pushing media buying borders, and developing the market.
How you can embrace DOOH with Admixer Technologies?
Programmatic implies a bunch of difficulties on its way to the implementation in DOOH. Principal barriers are related to a mandatory audit of creatives that are publicly placed, and their high-quality requirements that are due to a bigger displaying area.
Admixer Technologies is making confident steps in the direction of DOOH media integration into the global programmatic ecosystem. We contribute our partners with the programmatic demand sources and the ways to integrate them are smoothly and easily. Our SaaS Tech Stack allows not only to connect to programmatic demand sources but includes blacklists (by categories, advertisers, and brands) and allows conducting entire creative quality assurance.
The technical problems that should be decided by DOOH media owners' side:
constant access to the Internet – to get instantly new ads coming

from the auction model

in-time ad creatives confirmation

gathering all screens and partners into structured packages to be

presented on Admixer.DSP
For market-leaders who have their own proprietary or leased software and CMS systems, the future challenge would be to connect to Admixer Tech Stack through API for full-stack smooth integration. However now it's not necessary, one could start selling DOOH inventory without direct integration.
Want to know more about DOOH media products line by Admixer? Reach Elena Podshuveit, Chief Products Officer: epodshuvejt@admixer.com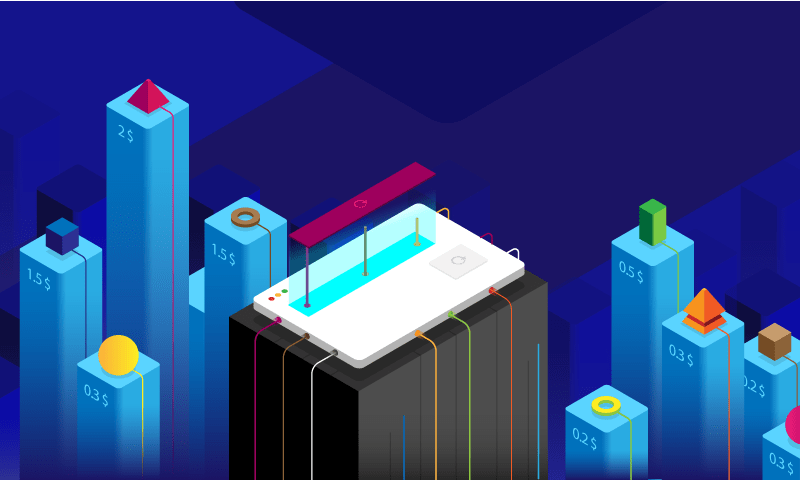 Admixer.Network Launches Header Bidding
Now ad networks owners can target approved Header Bidding DSPs partners and bring more efficiency in programmatic trading.
We're glad to announce the rollout of a new feature for Admixer.Network owners – Header Bidding demand. With this update ad network owners now have a new opportunity to leverage the full potential of Header Bidding to increase their earnings and bring more profit to publishers.
Benefits for ad network owners
Header Bidding allows the ad networks owners to:
Maximize earnings

: With Header Bidding demand, you can increase range and variety of demand, get the best possible price for inventory.

Apply widely

: Header bidding can be used for all of ad networks types and ad formats: display, video, native, AMP, interstitial.

Ensure best price for your publishers:

With roll up of Header Bidding, ad networks owners can build the ultimate monetization scheme (similar to

hybrid programmatic model

), where all demand types – direct, Header Bidding, and oRTB – are competing for the ad zone and ensuring the publishers the highest price for their inventory.

Manage easily

: You don't have to plug each partner into the ad network by yourself, Admixer team does this for you. An alternative scenario without Header Bidding demand requires: getting the prebid core and adding it to the website, then getting Header Bidding partner's prebid adapter, and finally integrating it into the prebid core. Setting up a Header Bidding DSP partner within Admixer.Network solution is alternatively easy, fast, and literally requires 3 clicks.
Getting started with Header Bidding
Briefly explained, Header bidding is an advanced programmatic technique wherein publishers offer inventory to multiple ad exchanges simultaneously.
By letting multiple demand sources bid on the same inventory at the same time, publishers can increase their revenue from 30% to 60%. Plus, with header bidding publishers get more transparency into how much their impressions are actually worth.
The main benefit this technique brings to advertisers is access to premium inventory which was previously available only via direct deals with the publishers.
So to set the ball rolling on this, you as an ad network owner will just need to:
Agree on the integration with Header Bidding DSPs you want to partner and get their code (publisher ID)

Provide publishers with code they can add to their websites

Link Header Bidding DSP with supply sources through Admixer.Network
So far, Admixer.Network has been already integrated with AppNexus, AdForm, RhythmOne, SmartAdServer, DistrictM, Criteo, AppnexusVideo, BetweenDigital, RTBHouse. Additionally, here's the list of Header Bidding partners available for further integration.
If you know more about how we can help you
with Header Bidding partners integration,
drop us a note here: hb@admixer.com.
Create a Campaign and set up parameters
Select the parameters for your campaign:
date range

budget limit

Impressions limit during the date range
Setting up targeting choosing from extensive available opportunities:
targeting by geography

operation system

devices

browsers

URLs

IP

environment

screen resolution

data center

and more
Get insightful reporting
To provide publishers and advertisers with relevant analytics on their campaigns performance, we've added reporting providing the following metrics:
a number of Bid requests

a number of Win/ Lost bids

timeouts

bids and all other data needed for deep programmatic analysis
Request access
Opportunity to add Header Bidding DSP partners is now available only to White Label Network owners. This new functionality can be activated upon request.
For more information on Admixer.Network solution, please reach out to Irina Kostiuk, Business Development Executive: ikostyuk@admixer.com.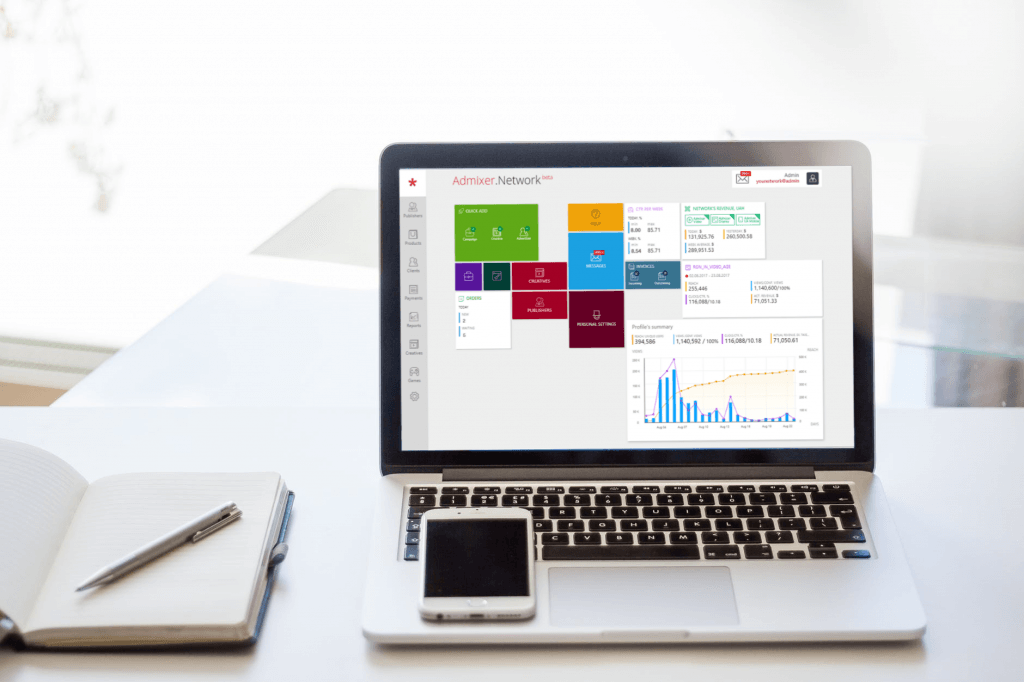 Admixer.Network Releases oRTB Demand
Admixer.Network has announced the launch of the oRTB demand. Now White Label .Network owners will have an opportunity to monetize their inventory through programmatic.
Previously, the platform supported only direct ad campaigns and campaigns with tags for external sources. With rolling out the update, it will also allow adding of external DSPs via oRTB protocol. oRTB, or Open Real-Time Bidding, is a way to buy and sell ad impressions through real-time programmatic auction.
Launching of oRTB demand sources will let ad networks owners increase % of their inventory fill rate bringing them and their publishers significant revenue growth.
Here's what we've implemented.
Adding
DSP
as a
demand
source
In present-day realities, ad networks can hardly bring their participants, particularly publishers, prosperity without using programmatic as an additional demand source. For most publishers attempts to join DSPs directly is a long and thorny path. Here's where ad network can (and ideally should) bring value to their participants. Serving as a supply-side platform, ad network can partner with numerous DSPs and provide its publishers with high-quality monetization sources.
Find out more, what an effective ad network should have, in our recent article on ad networks renaissance in the programmatic era.
To help ad networks' owners bring their partners maximum efficiency and revenue, we've implemented an opportunity to add external DSPs. To start the process, ad network owners first should negotiate and coordinate integration opportunity with DSP . As the next step, they initiate cookie-matching with DSP in model where data storage is performed on the DSP's side.
Getting started with DSP
To start using DSP as a demand source, ad network owner should create a campaign setting up the following parameters:
a limit on the specific time frame

a limit on impressions during the specific time frame

QPS by geo

an

auction

type (1st, 2nd) or direct deal

a limit on the maximum bid
Targeting types available
This type of campaigns supports standard targeting options:
targeting by geography

platforms

devices

URLs

IP

environment

and more
Reporting and analytics
To provide publishers and advertisers with relevant analytics on their campaigns performance, we've added reporting providing the following metrics:
a number of Bid requests

a number of Win/ Lost bids

timeouts

bids and all other data needed for deep programmatic analysis
Admixer regularly implements a huge number of technical integrations with DSPs for Admixer.SSP platform. Using the same technology for Admixer.Network makes it totally ready for all kinds of integrations and allows to eliminate any issues which ad network owners could experience.
Availability and billing
Opportunity to add DSP demand sources is now available only to White Label Network owners. This new functionality can be activated upon request.
Ad networks, using this module, will be billed additionally per Million Ad Requests. In this, the cost for Ad Impressions will be decreased accordingly to the cost of Ad Requests.
For more information on Admixer.Network solution, please reach out to Irina Kostiuk, Business Development Executive: ikostyuk@admixer.com.
Case Study: how to accelerate your Ad Network using Admixer technology
We are frequently asked about successful cases on how our technology helped with the development of a particular network. We've already published the Case Study about our partner network from Jordan Brandformance, but this time we're eager to introduce our another partner—one of the leading Ukrainian ad networks Go2Net. This case should be interesting for networks owners in growing markets like MENA, some countries in Asia and LATAM—markets, where the monopoly of digital advertising majors, like Google or Facebook, is not as strong as for instance in Europe and the US yet, and where publishers are still ready to join together into direct networks. Moreover, such publishers should unite and create independent local networks in order to avoid the full monopoly of leaders. This case explains the very first steps of digital ad networks formation and the importance of a good network management technology usage at a stage of early development in order to enable its further growth.
Go2Net started their business in 2007, working as a mediator between several publishers and advertisers. Until the amount of partners was small, the network owners had easily managed the network without any technological solution. But soon the quantity of partners started to grow, advertisers started to require sites of specific segments, like "Tourism", "Sport", "Auto" etc. Small publishers, in turn, wanted to cooperate with big well-known advertisers, which was hard to achieve via direct contracts. Also, it became necessary to reduce time, spent on ad campaigns creation, and to decrease operating expenses in general. As every publisher and advertiser used their own technology, the discrepancies in statistical data was a challenge as well.
In 2016, Go2Net began to search for a solution, which could meet their needs. Admixer platform for ad networks creation and management .Network was exactly what they were looking for. The ability to work with inventory of different types, to offer grouped inventory for sale, to set commission for each publisher and site, which was automatically calculated; additional monetization through Admixer.Adexchange programmatic demand and, finally, super detailed real-time reports — these features were instrumental for Network's publishers. Regarding buy-side, advertisers could create ad campaigns using templates for incredible NON-Standard rich-media banners building and utilize new, precise targetings. The Network received an opportunity to reduce time for manual handling and to streamline the process of inventory and ad campaigns management. Previously it had been planned to hire more employees to reach these goals, and our new partners were happy to avoid this additional expense. Good price and support team nearby also became significant factors.
Thus, Go2Net received a comprehensive technology ready to be scaled. The number of new contracts increased and, eventually, the revenue started to grow as well. Network strengthened the relationship with publishers and simplified the payment process. It became more convenient to use one complete platform, which combined different price models, payment options and, what is more important, different reports types together. Now every publisher (as well as an advertiser) could login their own account and look through one single interface, where all the stats was calculated and consolidated. Also, it should be noted, that publishers received one unified system to run absolutely diverse inventory types: simple display banners, video, native and rich-media. The Network could group all the inventory as it wished and sell it through packages to advertisers. The platform was completely transparent and all the participants received access to all the required information on prices, domains, etc., through real-time reports.
In addition to ad tech, Go2Net also connected Admixer worldwide programmatic demand, which was possible through seamless integration to Admixer.Adexchange. After a while, they connected to Admixer DMP to use its data for precise audience targeting by age, gender and interests. In 2 years our partners have doubled their impressions volumes, which still keep growing.
"We are excited to cooperate with Admixer. They offer not only smart technology but also a media expertise, which is priceless!"
Anna Melnychuk, CEO of Go2Net.
If you have any comments or questions regarding the product or article, or you are interested in more details, please leave the comments below or reach Irina Kostiuk via email: ikostyuk@admixer.com.
How to choose a technology for digital ad network?
Traffic trading via Ad Networks would be considered a profitable business ten years ago, but now, in the era of programmatic, they apparently must die out. But the statistics and facts say otherwise. The quantity of ad networks is still growing: if we check the number of digital ad networks in Thalamus Advertising Database, we'll see about 2,400 companies, which are registered there as "Ad Network". At the same time, both publishers and advertisers are trying to shorten the chain of mediators. (more…)
Case Study: how to build and grow your Ad network
Advertising network based on bunch of conjoint publishers could become a profitable and long-term business for those, who dare to gather publishers on localization, thematic or other characteristics, attract advertisers and, for sure, choose proper tech provider. We studied a case of one of our first customers – Jordan's ad network BrandFormance.