The Renaissance of Advertising Networks
Non-futuristic look for a programmatic market – what could be expected as The next effective model.

Programmatic, called a few years ago as "the apex of advertising technologies," is a rapidly growing market expanding 20% a year on average. eMarketer forecasts its growth will reach $68 billion by 2020.

But, despite irresistible market growth, the participants of the programmatic ecosystem face multiple problems, which may lead to new market configuration and combined selling models sooner or later.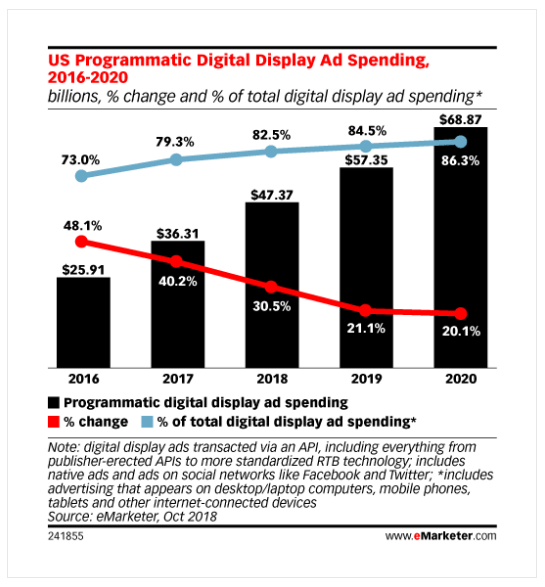 What goes wrong?
Programmatic bottlenecks are lying on the surface for content producers which attract end-users. In this the article we'll consider all issues from the publisher's point of view.

Programmatic advertising has grown from a tiny part of a publisher's advertising activity. Just a couple of years ago top publishers received from programmatic advertising only 10% of their total digital ad revenues, according to Operative survey. Two years passed, but it has been a little change. According to the study by IAB Europe, only 25% of the editors rated programmatic as a priority, while the rest recognized it as a non-strategic.

It is hard to believe, until seeing another estimation from marketing-intelligence firm Warc. It claims that of every dollar spent by advertisers worldwide last year on programmatic – just 0.40 cents on average came to a publisher. Advertisers spend 60% of their budgets for a "tech tax" to the sophisticated chain of vendors between them and publishers. This brings us to the most natural publishers' desire: to sell inventory (especially premium inventory) on much more fair conditions. And programmatic can offer it for now.
Programmatic is not automatic
To avoid selling premium inventory via Open auctions for non-predictable results most publishers are now setting up programmatic direct or private marketplaces (PMP deals). This lets them keep advertising quality and ensure advertisers brand safety. Besides, leveraging PMPs, publishers control which of buyers can enter their inventory and at what price. By 2019, the combined share of these two transaction types reached 80% of the total programmatic pie, which blurs the line between direct and programmatic sales even more.

Increasingly, publishers also adopt Header Bidding model, the part of the programmatic advertising process where publishers offer inventory simultaneously to multiple buyers before addressing their ad server. This model gives publishers a lot more control over the process, including the choice of buyers. It shortens the supply chain, but still has some limitations, e.g., it can get down the site's speed.

From a technical point of view, publishers have two main options to join and operate at the programmatic ecosystem. Both of them are, again, far from ideal:
To sell independently to numerous demand sources (DSPs). This is a significant waste of time and human resources for manual technical and processing management. Building PMPs, in fact, is the same handiwork, as processing direct campaigns in an old-fashion manner
To join some SSPs and rely on their decency, hoping for a fair profit and accepting that there are no ways to control profits level (except for Bid floors).
Getting back to premium inventory, programmatic (Header Bidding included) still doesn't propose the variety of creative ad formats. This leaves advertisers with standard and simple ads attracting less user attention, and publishers – losing their apparent profits. The bottom line is – one side is quite satisfied.

Summarizing all programmatic bottlenecks above, here are approaches letting publishers sale effectively in the new market reality:
shorten of the supply chain – the closer advertiser is – the better for all parts;

an effective combination of different selling models (direct, different

programmatic

models,

Header Bidding

);

financial transparency and reliable buying partners (less is better);

simplicity in execution and management;

wider use of non-standard creative ad formats.
A way out?
Technically, an "effective combination of different selling models" leads us back to not-quite-well forgotten waterfall model. The concept of the waterfall is in dividing publishers inventory into to multi-level slices, each of which then is sold for highest CPMs. Premium inventory goes to direct (if sold by their own) or nearly direct advertisers with minimum middle-smth in between. Less premium and remnant are sold automatically through PMPs and open auctions to multiple demand sources.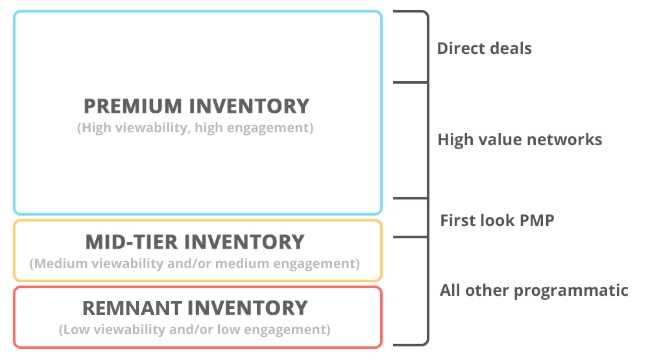 Publisher's inventory pool
To manage inventory this way, publishers, again, have two options:
To sell independently. This option is open for a minority of Top publishers who could afford own sales, tech and integrational teams. Practically, this means building own

ad network

with owned media and attracting external sources.

To join some vendor who can offer both direct and programmatic demand with transparent financial terms.
In any case, a publisher has to be armed with an effective ad serving solution allowing to build the "new-waterfall" of direct, RTBs, and Header Bidding. Perfectly if tech vendor provides publisher access to demand, guides and leads their monetization, and offers advancements, including:
the minimum supply chain with access to multiple demand sources

transparent financial conditions

different selling models: direct, RTBs (PMPs, guaranteed, open auction),

Header Bidding

, etc.

opportunity to optimize all demand from mentioned sources and models semi-automatically

support of all required media (desktop, apps, video, CTV, etc.)

premium ad formats

multiple targeting options

data management tools

as an option, a full-service

outstaffing model

when a vendor takes full control of publishers` monetization
New ad networks approach
Before Programmatic Era, ad networks just connected the myriad of Advertisers and Publishers, acting as brokers between the supply and demand. Now, when this process was programmatically automated, some believe the role of ad networks has diminished.

But, how strange it may sounds, the number of ad networks is continuously growing (based on Thalamus Advertising Database). Ad networks, as a source of added value to direct advertising, now re-become the substantial part of the programmatic ecosystem. Today a combination of two is a key, as ad networks provide manual management that can't be replaced even programmatic tech excellence.

New Ad Networks place in the programmatic ecosystem
Here's what a modern model for ad networks is. Along with being a direct broker between two sides, ad network also becomes a full-service vendor and ad tech provider. Its purpose is to fully meet the needs of participating publishers and give them all-inclusive approach. The ad network is a combination of direct management and programmatic, having in its core technology, advanced waterfall model, and support for different selling options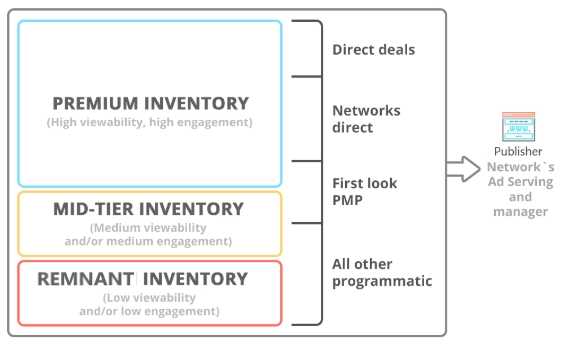 Publisher's inventory pool managed by a single vendor
For small and mid-size publishers it must become a one-stop shop, solving all their monetization issues. For top publishers, ad network becomes a provider of maximum possible services and technologies, also giving them a chance to participate effectively with their demand partners.
To meet such market expectations, a modern ad network should provide the following must-haves:
Effective monetization

. Ad network linked to a large variety of demand sources (direct advertisers, marketplaces, exchanges, and other networks) should offer up to 100% fill at the most optimal rate. Also, based on high-end technology

ad networks

should effectively measure inventory, like viewability, data gathering, predictability, and other tools. This allows

ad networks

to sell publisher's inventory at the highest-valued CPM.

Transparent financial conditions

. Publishers feel safe when they have one monetization gateway taking all their risks. This includes all ways of interplay with multiple demand sources).

Support of all existing inventory types

. Including display, mobile, video, native, CTV, and many more and enabling publishers to run all their activity in one place

Ad serving option for publishers

. This includes all possible ad management tools and different targeting options for campaigns. Also, publishers should have access to semi-automatic demand optimization.

Own DMP.

 A proper tech vendor should give a possibility to operate your own data the way you want. Depending less on data about users provided by global suppliers and managing their money is the must-have for publishers. They need to freely collect user's data, segment it, and build look-alike audiences. Publishers also have to easily onboard advertiser's and 3rd party data to enrich existing segments.

Brand/inventory protection

.

Advertising networks

also have to add extra protection for the publishers and their users concerning quality assurance and brand safety. Since

programmatic

is still unsafe, publishers require more control who can buy their inventory and what ads they promote.



System accounts

for supply-side and demand-side with detailed reports for performance control.

Personal assistance.

Though the digital world is becoming more automated and technology-based, the human touch is still required. There's always the need to make corrections, customize, and take advantage of all opportunities.

Localized (or local-based) ad networks

. Localization always works for better cooperation: customer support, billing, or financial aspects. Read a case study about how

how to build and grow your

ad network

Admixer Blog.
To provide such level of service, an ad network company should have a robust and reliable ad tech provider. Ideally, a provider should offer a proprietary programmatic and ad management ecosystem. You can find a detailed description in the article: How to choose a technology for digital ad network?
To sum it up
Ad networks must adapt to the new market reality, using programmatic as an additional demand source. Their primary focus should stick to technology having optimization, customization, brand safety, and localization in its core. Also, an important role remains for personal assistance to participants.

From a point of the global market, such ad networks can compete in their niches or local markets with global leaders due to closer relations with advertisers and better client-oriented approach to the publishers.

And don't let the tech-evangelists to scare you with global automation and overall programmatic-forces. There will always be businesses where a human and personalized approach is still required. Until AI will take care of everything, of course 🙂

To learn more how to start an ad network based on Admixer.Network solution, please reach out to
Elena Podshuvejt, Chief Products Officer: epodshuvejt@admixer.com
Admixer International Summit: Next 10 years
On the eve of company's 10th anniversary the leaders of the Admixer regional, product and service directions will hold an international summit meeting, which will take place from 13 to 17 June 2018 in Tbilisi, Georgia.
The purpose of the summit is to present new products and business directions, the work model reorganization, and agree on a company development strategy for the near future. New countries that joined Admixer this year and an affiliate program for new countries will be presented at the summit.
For its 10th anniversary, the company has prepared a full pack of advertising products integrated with most international platforms, and a great service part, which allows to provide 360° services in the digital advertising to clients wherever they are. Extensive experience gained over the past years and strong technology basis allow to begin wide expansion to other regions starting with countries where the Admixer advertising solutions have already been used.
In 2018 Admixer Technologies released a range of new products for publishers, advertisers and advertising agencies, which form the whole product ecosystem and allow to work with the user's data, creatives, video content, programmatic buying, and inventory sales effectively.
The ecosystem of Admixer Technologies Advertising Products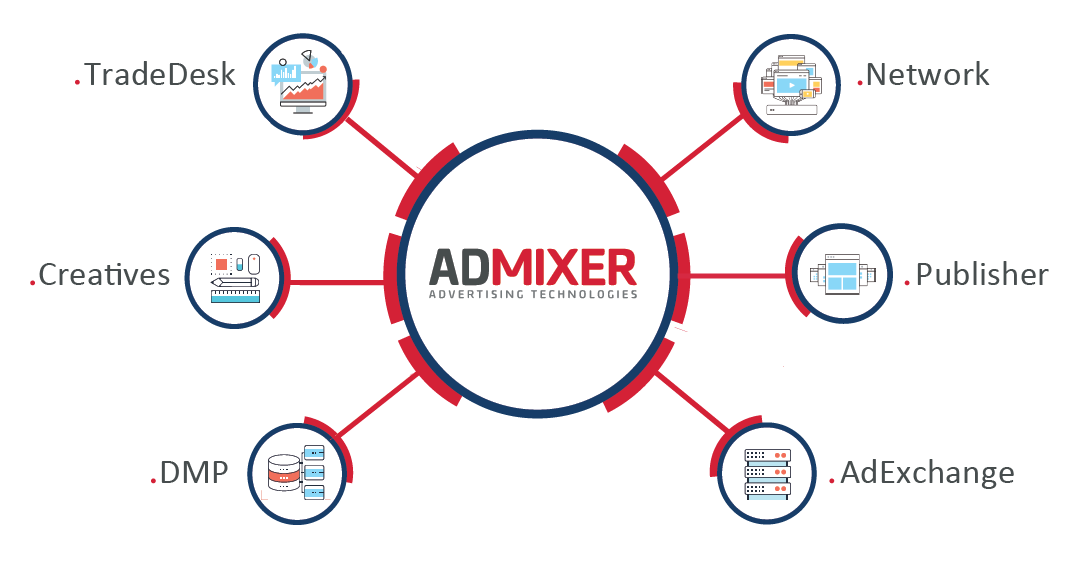 The company's specialists will talk about the best cases of using the products and practices of business modeling and development with the help of the whole product's ecosystem.
Another important company's change is a start of the business creative direction called Vivid by Admixer, highly focused on digital experience and work with leading advertising platforms. The direction allows clients to adjust their strategies to online promotion, create effective creative solutions for cross-platform communication, and test new technological instruments. Along with the service direction, colleagues will present a wide range of services that will be available for company's clients around the world in 2018.
Full range of digital advertising services by Admixer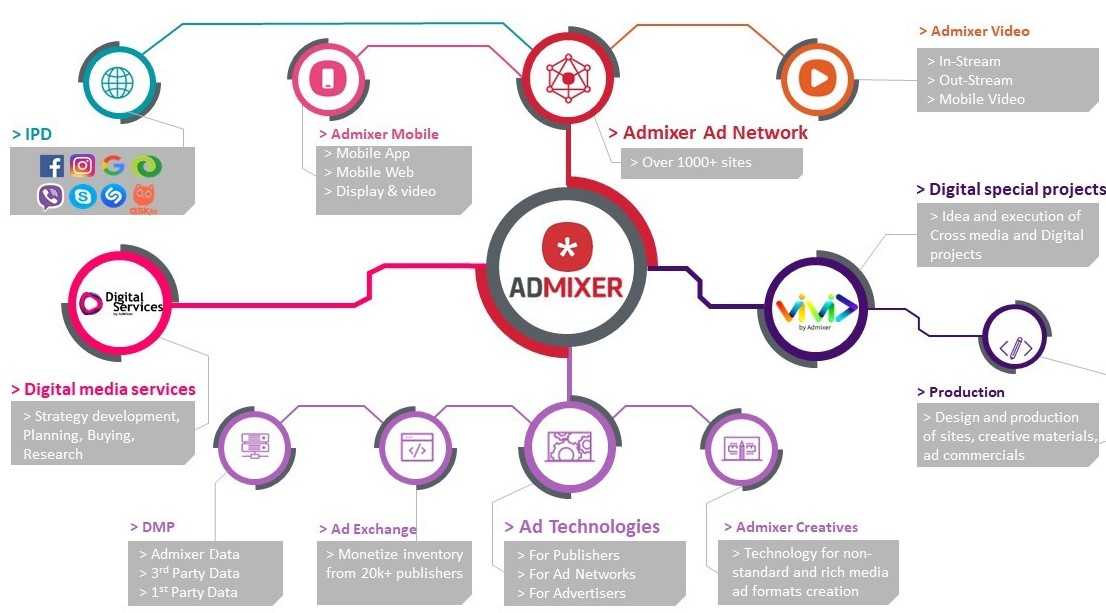 But the company's main goal is to enter new markets. The countries that joined Admixer in 2018 and plans on new regions development will be presented under the company's geographical expansion strategy. One of the geographical expansion strategies will be an affiliate product and service program, which will allow members of new markets to use products of the Admixer ecosystem effectively by integrating them into their business or developing as a separate business direction.
Admixer geo presence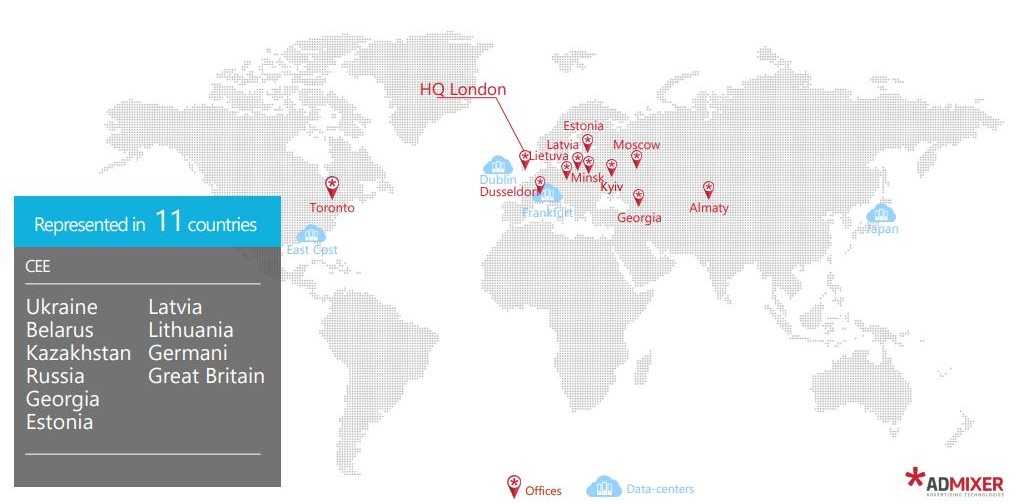 Following the summit's results, the participants will set a new company development direction for the near future, form a general development strategy, and agree on regional and service policies of the Admixer ecosystem members.
What's there for independent ad tech when the giants step in
Google and Facebook market shares grow. Independent companies are put under the pressure to win the competition through their specialised approach. For publishers, this promises even more responsiveness to their needs. (more…)
Stop doing that: ad vendors about publisher's operation mistakes
We've summarized common vendors' feedbacks on their work with publishers.
(more…)