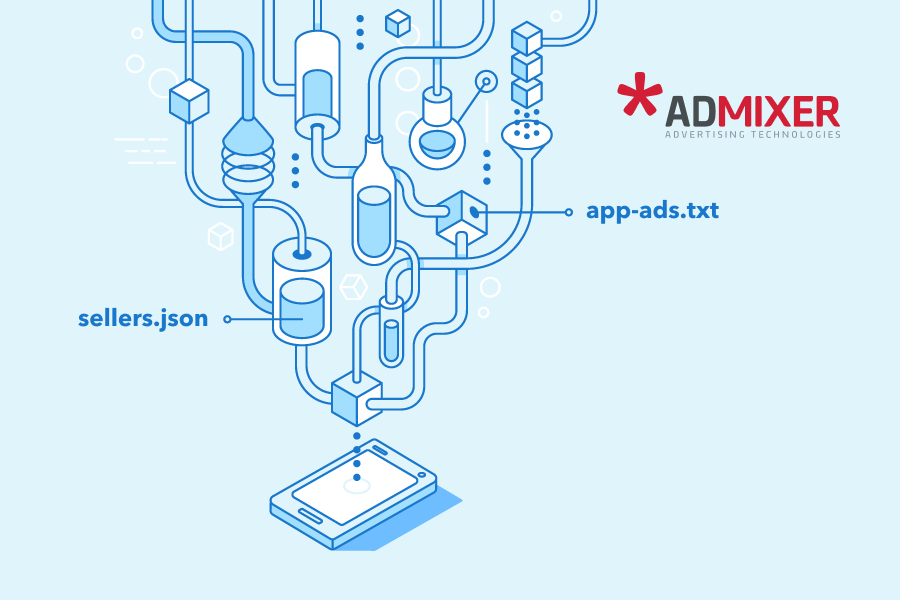 Admixer Technologies refines transparency culture with the app-ads.txt and sellers.json
Ad fraud is an ongoing problem in the advertising industry.
As overall ad spends are increasing year after year, the rate of frauds income is rising as well. According to eMarketer's latest estimations, advertisers' loss from such actions varies from 6.5 to 19 billion dollars. To improve the situation, IAB Tech Labs expands its anti-fraud arsenal by adding app-ads.txt protocol and sellers.json file.
Being dedicated to transparency and armed with ads.txt, Admixer Technologies is working now on embracing the app-ads version. Today we are talking about the importance of such a step on the way to the genuine traffic.
Anti-fraud remedies
While bad actors keep on frauding with the counterfeit sites, illegitimate inventory arbitrage, and domain spoofing, there is contra scam recipe already available. IAB offers ads.txt and app-ads.txt to ensure secure and authenticated ads purchase.
Ads.txt
Ads.txt represents a text file with a list of authorized sellers specified by a publisher. In this way, it's possible to prevent a suspicious deal. Ads.txt is designed for websites' hosted inventory. This standard isn't mandatory, however, Google deactivates resources without such data file.
App-ads.txt
On March 13, 2019, IAB Tech Lab introduced the new extension for mobile and OTT apps. It works on the same principle for the same purposes but with a bit more complicated way of implementation. The main issue is that there's no domain or URL to use as a directory where a list of entrusted partners would be stored.
So, the solution is to process two available indicators: identifier of the platform that app relates to, and the ID of the application for that platform. With these two key indicators, an advertiser can find the original app developer's web domain where ads.txt file is stored.
Here's how the path to the list of authorized sellers can look like: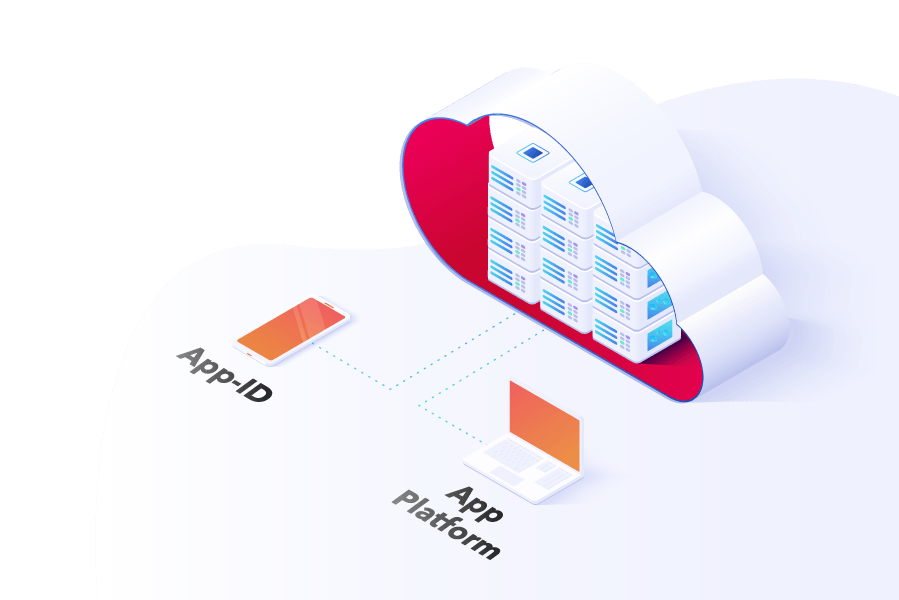 Sellers.json
Following up transparency goals, IAB has developed sellers.json – a data file containing identifying information about publishers' accounts within their advertising platforms. It's a digital passport of the supplier.
This mechanism is improving supply chain transparency within RTB and programmatic buying as an advertiser can clearly identify the supplier. It also allows media buyers to see all intermediary parties of every bid request.
Why it is a double-edged sword
On the one hand, app-ads.txt is a win-win solution for all parties in the advertising ecosystem. Developers who spend their budgets on creating audience-attracting applications get protection from unauthorized sellers and spoofing. Advertisers and agencies, in turn, can ensure that their budget spend is reasonable.
However, the issue here is that the process of adoption the standard is not as fast as it could be. It takes time for publishing content distributors to realize the importance and practical value of this mechanism. Meanwhile, brands show readiness to pay for high-quality inventory, rather than risk with dubious bid requests, even if they are cheaper.
Harnessing the latest trends
Practice with ads.txt has shown its effectiveness, thus, market leaders are actively taking steps to refine their services with app-ads.txt too. In-app advertising share is ramping up significantly and represents a Klondike, so publishing content distributors are strongly interested in embracing this initiative.
As an IAB Tech Lab member and adherent of transparency, Admixer Technologies enthusiastically implements all innovations of the industry to deliver a better user experience. Since this year already, we're included in the app-ads.txt adoption chart by PubMatic.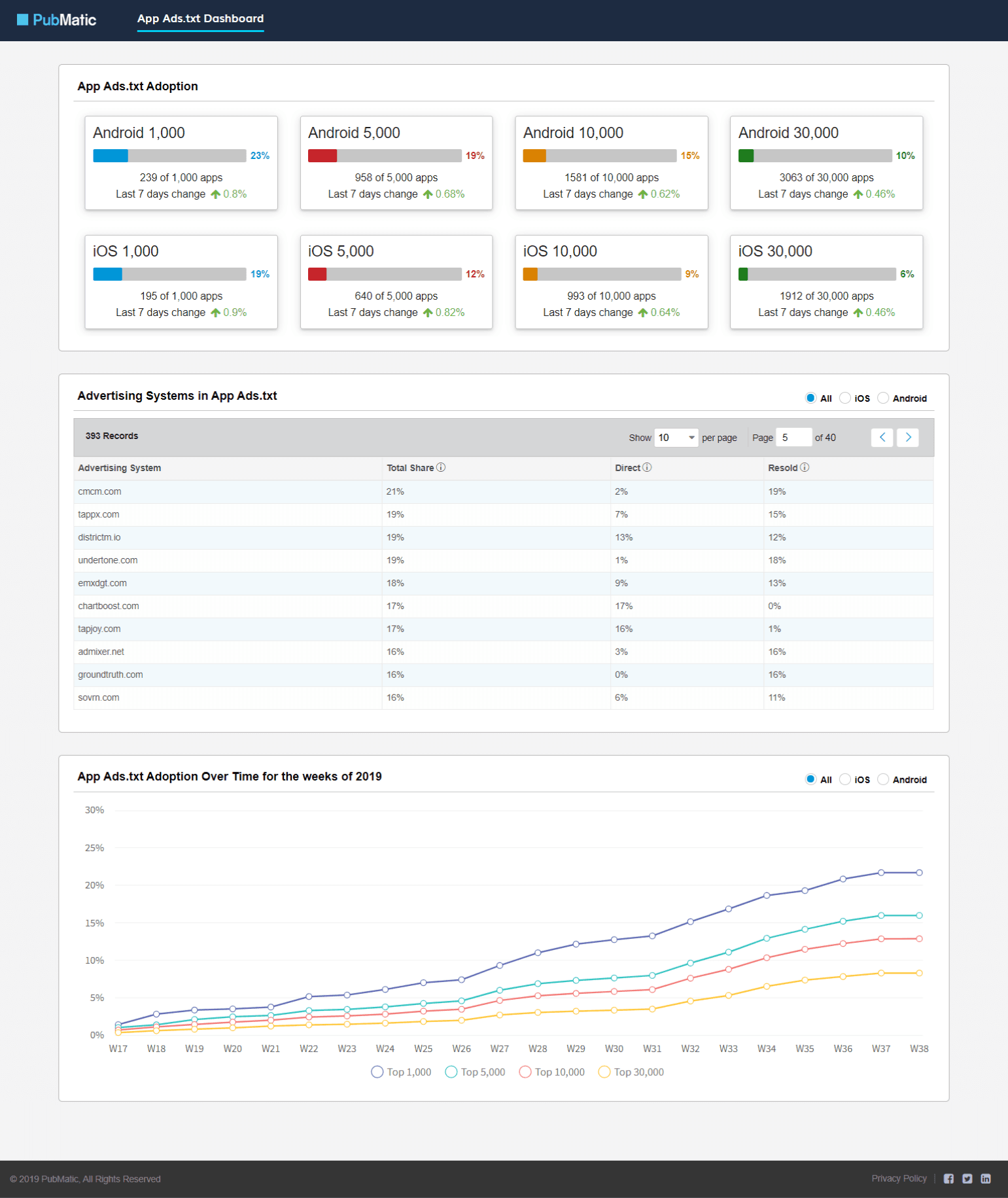 Implementation of app-ads.txt is absolutely free and requires only a will. However, there are lots of app developers and inventory suppliers who still didn't embrace the practical value of this mechanism. We are working on enlightening the values and benefits of this standard for inventory suppliers partners. By using it, they can earn extra points from potential advertisers.
If you are looking for transparency-driven partnerships with Admixer.SSP, reach out to Elena Storchak, Head of Supply Partnerships: estorchak@admixer.сom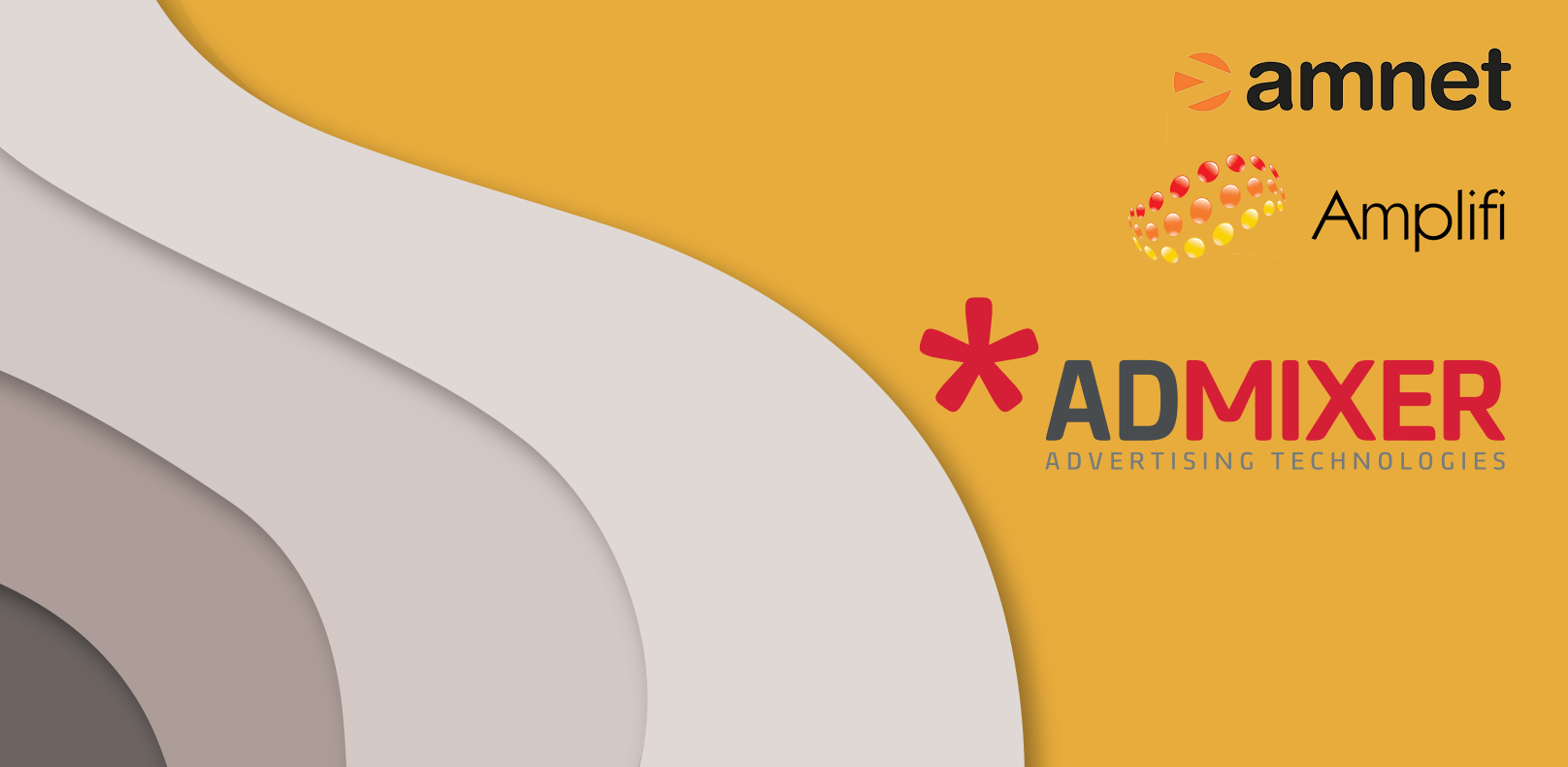 Case study: How to define and reach the audience in a post-demographic age
The digital economy has created an explosion of data. The increase of data points has generated a bunch of pathways and signals that can expand targeting possibilities for brands.
Specifically, advertisers could go beyond standard demographic segmentation, like "female 25-34", and use more sophisticated approaches to determine target audiences. What defines audience groups in 2019 is their online behaviour, the way how they interact with content, promo materials, and brands' digital touch points. Knowledge of audience's context is the essential component helping brands and agencies re-invent their approach to identifying target audience, media planning and buying.
Taking this into account, leading programmatic agencies improve their practices of audiences' building to get the maximum outcomes for their clients.
One of the cases that Admixer Technologies develops together with Amplifi – Amnet Ukraine agency illustrates how this approach helps them to get the most of their programmatic buying and all the challenges and pitfalls they face on their way to get such results.
Challenges:
The biggest pain brands experience due to audience generalization is overpayment through buying not relevant users or buying the same people with the excessive frequency. To address this problem, Amplifi-Amnet Ukraine had to overcome a bunch of challenges.
Previous approach to audience buying didn't meet brands' criteria
The agency tried a lot of different strategies and optimization scenarios, but all of them didn't play well. They had to discover new opportunities and new ways to utilize data to achieve better results.
Lack of detailed raw data
In order to optimize media spend or segment the audience in a more sophisticated way, agency needed more granular, more detailed data about the users and their activities. In most cases

Amplifi-Amnet Ukraine

got from DSPs only aggregated data, which they couldn't tackle in the way they want to.
Finding the right solution to integrate and map audiences from different sources
To achieve the best results, the agency needed to combine data from different siloed sources. Integration of all sources is a challenging process, with no guarantee of success.
Data activation across the relevant channels
In omnichannel world it's essential to reach the target audiences across the channels that this audience prefers. So one of the important aspects of the solution is providing an opportunity to work with various channels.
Enhancing data management capabilities
Having their own agency's tools for data analysis and segmentation, Amnet Ukraine – Amplifi needed to expand area of application and have the ability to implement brand' logics to build target audiences.
The goal
The main goal was to create less excessive but more relevant to user behaviour messaging. Achieving this goal was in line with addressing three tasks:
To bind together user's engagements with the brand and provide a holistic view of user journey

To develop appropriate messaging strategy that correlates with the user position on the path [сustomer journey path]

Optimize media spend relying on more detailed analysis of audiences, inventory and context
Solution
The main idea behind the goal was to create messaging strategy that is more relevant to the user's position on customer path. To achieve this, the agency had to understand the stage where the customer is on the purchase way at the moment, and provide the relevant message according to this.
In order to implement such strategy, we needed to bind together two kinds of users activities – engagements with brands' ads in the upper funnel, and interactions with the brand touch points in the bottom funnel.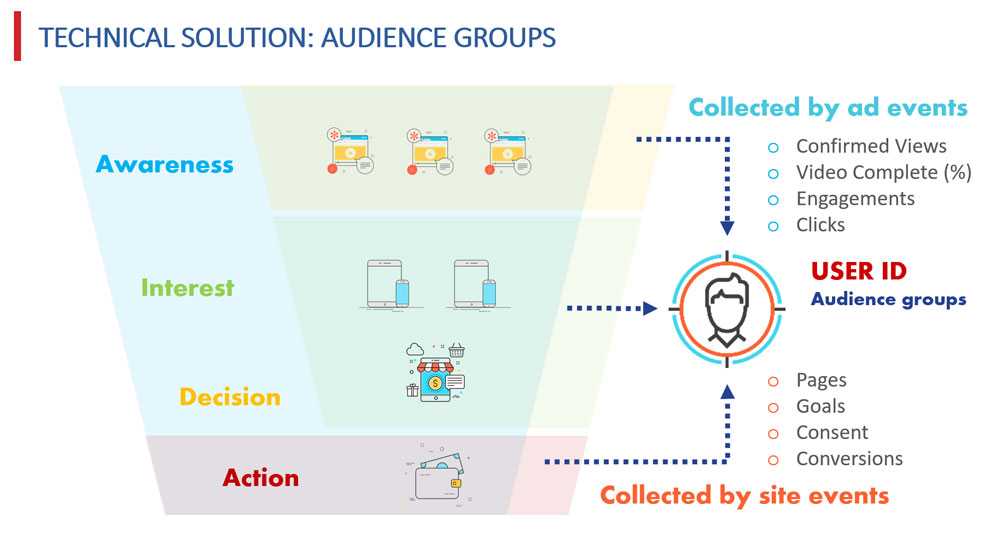 In other words, we had to create the holistic view of the customer journey letting us consider every user that comes into funnel and correlate our communication strategy with user activity.
Implementation
We led the agency through 3 major stages:
Stage1: Creating audience groups allowing them to collect users by various criteria and different targeting options, both from the ad campaigns and advertiser's sites.
Stage 2: At the second stage we add data points from users touch points with brand and use them to define the best performing audiences from the sales standpoint.
Stage 3: After collecting the data from all the interaction points, agency analyzes it and optimizes media buying strategies using this information.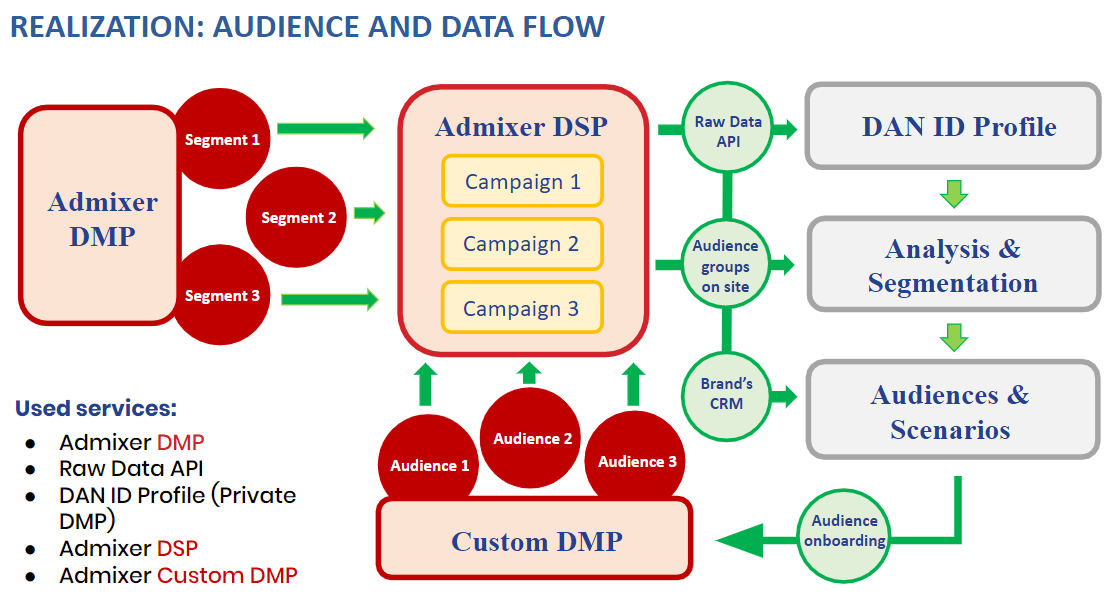 As a result, agency got new audiences for onboarding into DMP and relevant scenarios for further purchases in Admixer.DSP.
Results
Agency used media indicators to evaluate the results of buying strategy optimization. The main KPIs, that agency checked at this level, were engagement of the target audience with promo materials and advertisers websites, as well as traffic performance in cases where conversions were on the site.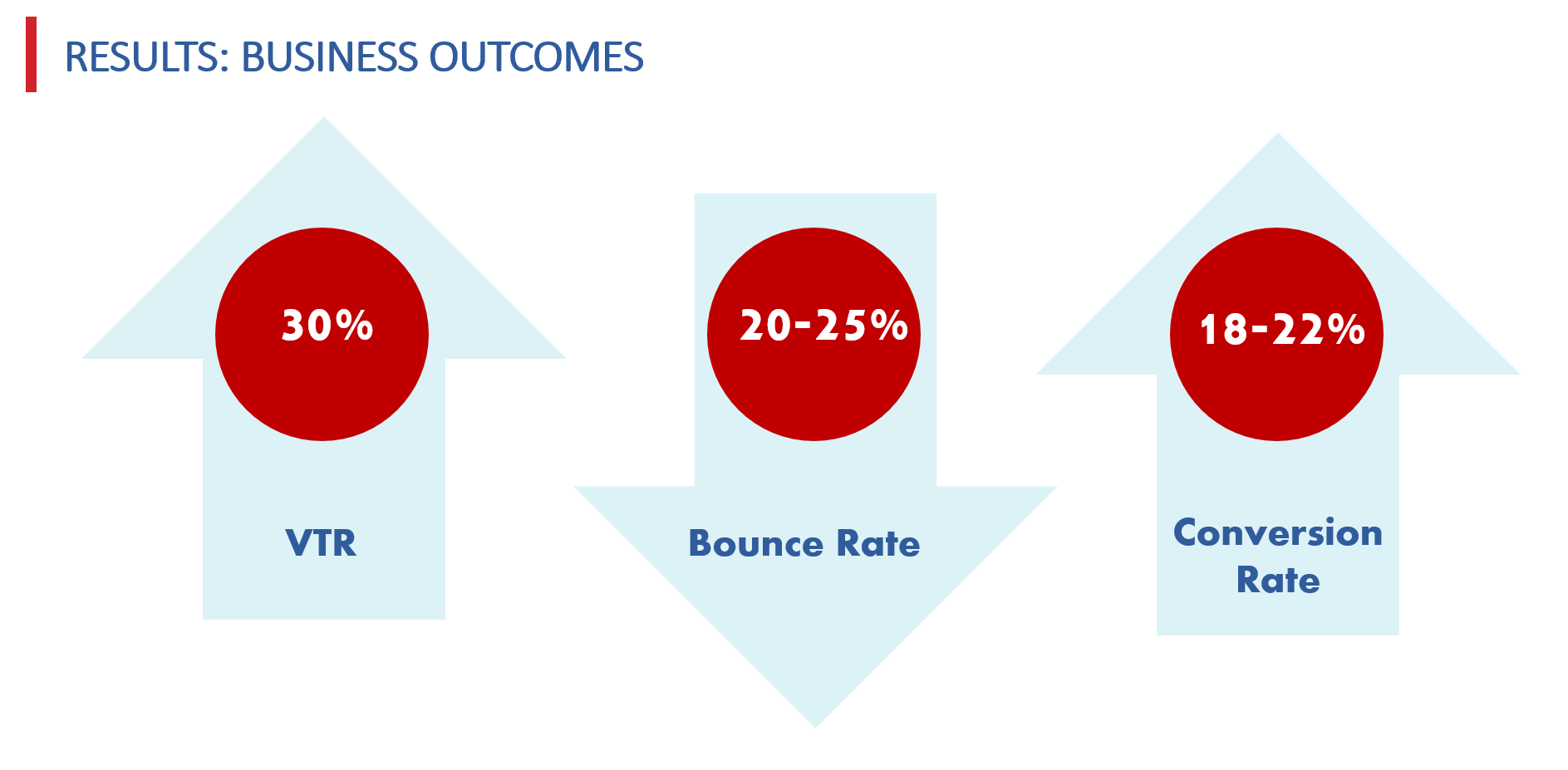 As a result of the case, Amplifi-Amnet Ukraine reached several important goals:
divided audience reach between stages

got less reach and less messaging on every stage

made messaging more relevant to each user

spent less budgets
Afterwards, these insights can be used not only to tighten campaigns to precise targeting, but also to outline where and when to invest media spend for maximum impact.
Background
Amplifi-Amnet Ukraine is media innovation and investment group of Dentsu Aegis Network responsible for generating value across all media opportunities. Amplifi harnesses technology, insight and creative thinking and works collaboratively with clients, media and tech owners to create an uplift in business outcomes, delivering against the mission of 'Value for All'.
Admixer Technologies took part in the case as an ad-tech provider and technology consultant for building data flow and audience activation solution. The Admixer products that were used in the scheme are Admixer.DSP (with built-in data management tools), Admixer.DMP and Raw Data API.
If you are interested in data management capabilities, send your inquiry to Ivan Fedorov, Head of Admixer DMP for a consultancy: ifedorov@admixer.com.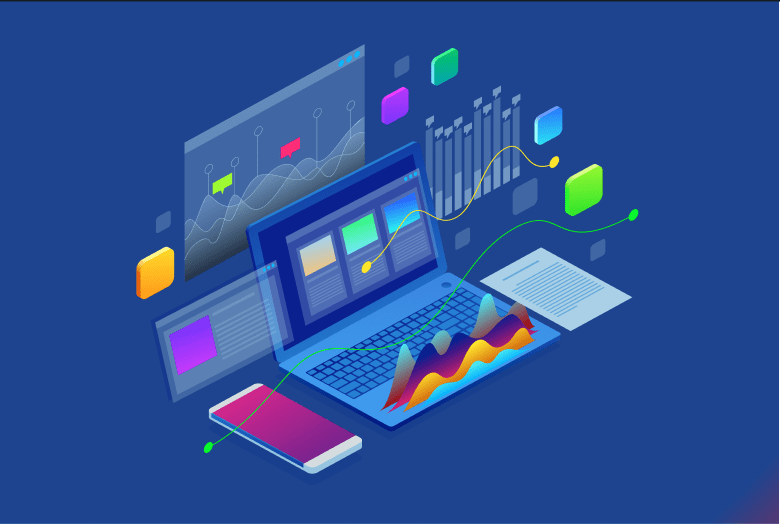 How to drive media buying outcomes combining 1st and 2nd party data
In June 2019 Head of Admixer DMP, Ivan Fedorov joined ad tech experts in Berlin to speak up about ways how brands and agencies can win from 1st and 2nd-party data capabilities in the era of GDPR. In this article we're sharing the key takeaways out of Ivan's keynote.
Data market is blooming
Despite the tension that arose with the GDPR coming into force and upcoming California Privacy Act, Data Market is still growing at a very high rate, and it's planned to hit 25 bln dollars this year.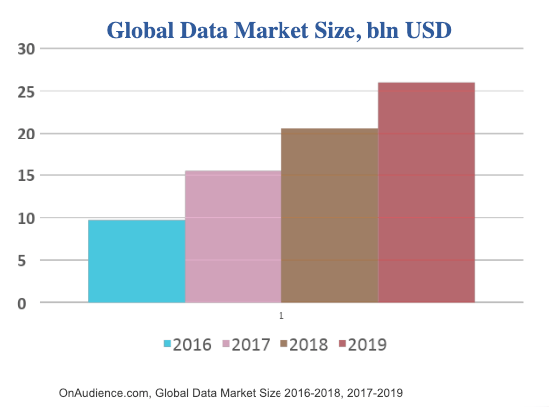 Specifically, even mature markets, like the US and UK, see more than 20% annual growth rate, that is faster compared to how digital advertising market is growing in these countries. The main drivers of data market growth are a considerable increase in programmatic buying and in the maturity of the brands in terms of data tools usage.
But there's another important change in the data market that we have been watching during the last year. It relates to the strong shift from 3rd party data only buying strategies to the broader usage of 1st and 2nd party data. More and more advertisers try to use their own data to make their communication with the customers more effective. Why is this shift happening?
Third party data is leaning back
The regulations came into force has brought a real threats of third party data usage for advertisers. Some of them originate from this kind of data nature, when the sources of data and algorithms of audience creation are often unreliable or unverifiable. And some have emerged around data collection and management practices that come up against GDPR rules.
Here are the major pitfalls of 3rd party data:
Quality

of the 3

rd

party data was always under question. In most cases, there are no means to validate data accuracy before usage. So the only way to find perfectly performing segments is to test all of them. It's a reliable approach, but a very expensive one.

Lack of scalability

. Even if you find well-performing segments, it's very unlikely that you can expand these audiences to the required volume. The most common scenario here – is to buy similar audiences from different data providers. But the quality may vary, and users in these segments get overbought and overused.

Shortage of transparency

in audience building algorithms. Advertisers don't know what's behind each particular segment, and the data provider approach to segmentation often differs from the brand's logic. So performance in this situation is rather questionable.

Privacy and Brand Safety concerns

. With GDPR rules take their effect, advertisers should make sure they have valid consent from the user to show personalized ads. With third party audiences coming from external data providers, there's no guarantee of such consent.
Having in mind all noted above, marketers are struggling to improve audience targeting and reach valuable outcomes in a safer way. Inevitably, they have found the benefits of first and second party data, and discovered the new options to leverage their own data.
Advantages of first party data
At a glance, here are the major advantages of 1st party data for advertisers:
Accuracy.

As a brand owner you are 100% aware of from where, when and in which way each data point was acquired, because all the data comes from user's interaction with the brand, in the form of site/app visits, filling the forms, registration data, transactional data and so forth.

Transparency

. You always know the logic that lies behind your principles of segmentation.

Richness

. You can enrich users profiles with different data points from various sources.

Privacy

. You have direct consent from the user and can be 100% sure.
The only weakness of first party data that it's limited by brand's active audience reach. This volume is often not enough for full-scale marketing communication. This pushes advertisers to engage additional sources of new users acquisition.
And this is where second party data, which is basically somebody's first party data, comes into play. The good news is that brands can pick as many data partners as they wish. But there are also some obstacles today that stop advertisers from leveraging the full data potential – this is the technical implementation.
What's wrong with tech implementation?
From the perspective of our experience, agencies working with advertisers and brands are facing the most significant challenge here. Here's specifically what they are looking for and what they lack in terms of data capabilities:
Lack of detailed raw data.

To segment the audience in their own way, agencies need more granular, more detailed data about the users and their activities. In most cases, agencies get from DSPs only aggregated data, which they couldn't tackle in the way they want to.

Finding the right solution

. To achieve the best results, it's essential to combine data received from different siloed sources. Integration of all sources is a very challenging process, with no guarantee of success. So, really need a proper solution to implement this.

Data activation

across the relevant channels is always essential, and it's difficult to develop a one-size-fits-all solution due to differences in identity resolution approach.

Enhancing advertiser's data

management capabilities. It's about those tools and mechanisms that brands already use in-house and the possibility to integrate them into seamless data flow with external marketing tools.
Admixer approach to address these challenges
The main challenge for brands is to create less excessive but more relevant to user behavior messaging. To achieve this, advertisers should understand the current position of the customer in the sales funnel and provide the appropriate message according to that context. To implement such a strategy, we should bind together two kinds of users activities – engagements with brands' ads in the upper funnel, and interactions with the brand touchpoints in the bottom funnel.
In other words, we have to get a holistic view of the customer journey and align our communication strategy with funnel stages and user activity. The path to this goal will take us four stages and the number of technical solutions.

Stage 1: Audience activation
Audience groups can be activated in advertising campaigns, expanded or re-built into new segments by brand. Audiences are collected into groups and utilized in real-time, allowing brands to switch communication with a user from one scenario to another immediately. To enhance the audience and maximize reach in the upper funnel, we use the following types of audiences for activation:
In the upper side of the funnel (Ad Campaign) we use:
3rd and 2nd party segments

with high affinity to the advertisers most valuable audiences. Brands derive these insights during their customers' analysis in their tools (CRM /CDP)

Look-alike audiences

, it's an extension of collected audience groups by different events and clients segments from CRM

Custom created audiences

are the result of the more sophisticated profiling of the clients' most valuable audiences. These audiences can be created based on DSP data or 2nd party data provided by partners

Audience groups

that are activated by different scenarios depending on users engagements with ads
Stage 2: User behavior analysis in the purchase funnel
Data from all the touchpoints of how the particular user interacts with ad campaign (views, clicks, shares, and any other interactions) and user behavior on the brand's site/app, gives us information on which stage these particular users are in the sales funnel to place them to appropriate audience group. This segmentation allows us to provide different types of messaging strategies relevant to different users
Stage 3: Customer analysis and segmentation on the brand's side
Users that converted on the brand's site/app are then included into CRM/CDP where the brand can segment their audience with their own business logic and define most valuable audiences and insights. These audiences and insights then become criteria for further audience extension and adding a similar 2nd party audience from other sources.
Stage 4: Admixer advanced segmentation and audience extension
Based on the insights received on the previous stage, we build custom created audiences, also extend them using look-alike mechanism, and attract 2nd party partners.
Results
As a result of this approach implementation, brands get an opportunity to define most valuable audiences, build more precise communication with their users, and optimize spendings on audience buying.

Final thoughts
To maximize outcomes from using 1st and 2nd party data, it essential that brands and ad agencies would efficiently cooperate in terms of building data flow.

As a perfect scenario, it should be real-time integration of data tools on the advertiser side (CRM/CDP) and tools on the agency side (DMP/Analytic Tools) with the ability to activate audiences across several DSPs.
Admixer ad tech stack, which includes in-build data management tools, allows brands to implement such integrations with maximum efficiency.
If you are interested in data management capabilities internally, as a brand, or for your customers, as an ad agency, send your inquiry to Ivan Fedorov, Head of Admixer DMP for a consultancy: ifedorov@admixer.com.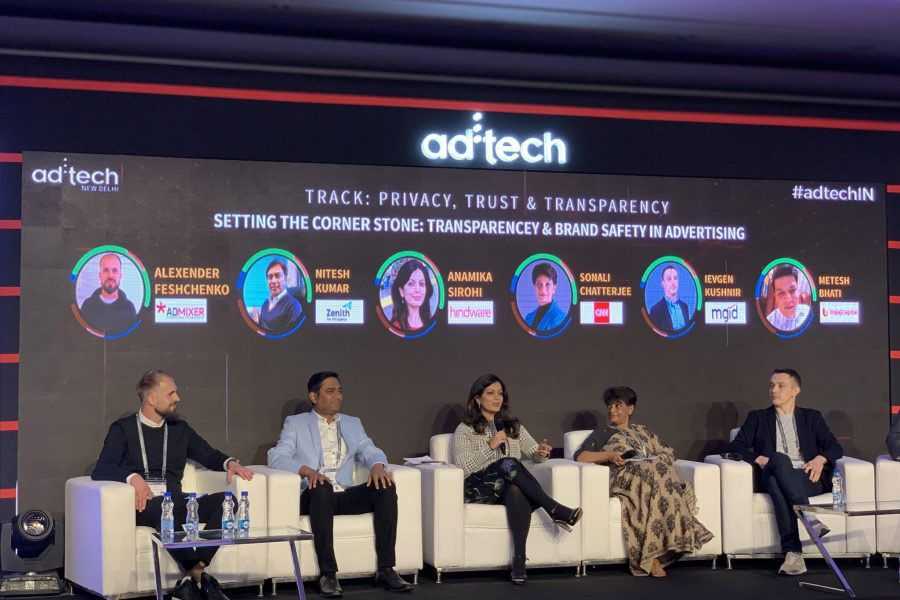 Transparency and Brand Safety: What Keeps Advertisers Up at Night
Here's a scary fact: just in 6 years, by 2025 ad fraud may cost the global industry $50 billion, according to WFA prediction.
There are many ways to eliminate the risk of fraud, like adopting ads.txt (a solution for increasing transparency across ad serving process), clearing up the supply list, filtering out unsavory platforms, and more.
However, the participants of the media buying process have been slow to adopt these measures. For instance, just 23% of media buying manages in the USA leveraged authorized inventory in 2018. Even though 86% of American publishers have already implemented ads.txt technology to filter out "bad traffic."
Another challenge across the industry and globe is media buying transparency. The process often includes so many sides and participants, that advertisers aren't usually aware of the fair fees set by each of these sides. Not to mention these fees are hardly ever aligned.
How so? Why are the ad tech players so slow to adopt the solutions when the brand safety and transparency issues cost them a huge loss of budget?
The leading adtech experts disposed this dilemma and outlined the ways to increase transparency and brand safety in the programmatic landscape.
Read here key insights from this talk held at ad:tech New Delhi, initially published in Ad Age India.