Programmatic audio advertising: customer engagement on air + TAVR Media Case Study
Programmatic is rapidly evolving into new formats and spreads into new channels. And most recently — to screenless media with programmatic audio advertising. According to the Interactive Advertising Bureau (IAB) review, the audio advertisement hit $2.25 billion last year against a $1.8 billion in 2017. The audience of digital radio listeners in the U.S. has reached up to 191.6 million, according to Statista. Digital audio advertising gained a significant boost in 2018 with a boom podcast segment and ever-growing music-streaming services.
The IoT expansion drags people online through appliances and physical devices that collect and share data,  24/7 internet-connected mobile phones, tablets, and whatsoever gadgets. Now users can be easily reached outdoors and when they are far from the displays. In some cases, communication via audio channels may be the easiest if not the only possible way of delivering a message to someone. 
The fast growth of music-streaming services, audio podcasts, a shift of traditional FM broadcasting to digital platforms and online radio boost the expansion of the audio advertisement across the internet.
What is programmatic audio advertising?
Programmatic audio advertising represents automated ad placement into online audio broadcasting contents like podcasts, music-streaming services, and digital radio. Similar to a regular programmatic buying, the audio one also applies sophisticated algorithms to automatically deliver a pre-configured advertising message.  Having all the necessary tech capabilities onboard, programmatic audio covers desktop, mobile, smart gadgets, and in-app platforms. To put it simply, programmatic audio advertising duplicates principles of "classic" programmatic functionality.
How does it work?
The main obstacle to audio programmatic implementation was the absence of clear specifications and standards. Without understanding how exactly audio ads can be delivered to the audience, advertisers and publishers were neglecting this channel. At this point, IAB developed DAAST (Digital Audio Ad Serving Template), which provided general audio ad specs, a guide on execution, and reporting capabilities.
In November 2018, DAAST was merged into VAST 4.1 (Video Ad Serving Template), the protocol that bridged the gaps in ad delivery of the previous versions. It provides a connection between ad servers and SSPs with the ability to perform programmatic audio ads. For this purpose, the VAST protocol was reinforced with the "adType" attribute and the Audio Ad scenario. The scenario explains how to place the audio ads and what formats are available for marketers.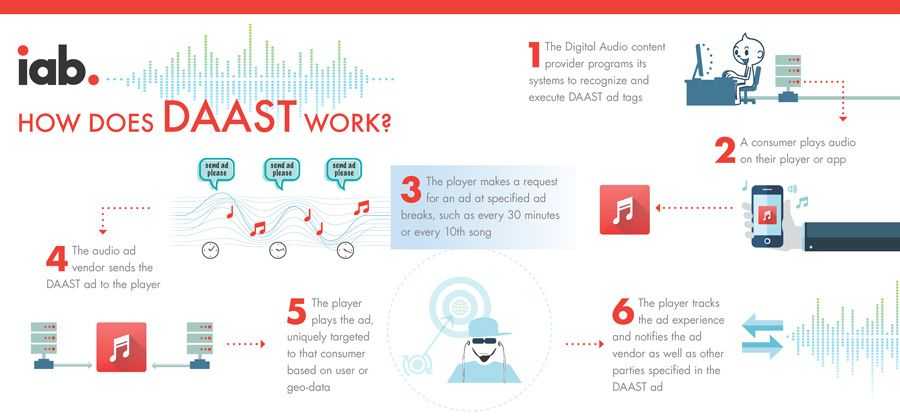 Image source: IAB
Audio Ad Formats 
This successor to the video programmatic advertising provides the following four full-fledged ad formats for advertisers to use in their campaigns:
Linear Audio Ads 

—

 linear audio ads have standard placing options: Pre-Roll, Mid-Roll, Post-Roll. Thus, commercial audio can be played just before or right after an audio stream (e.g. podcast), as well as within an advertising section
Companion Display Ads 

—

 static banners with a logo and CTA. Users can click it throughout an audio ad track
Audio Ad Pods

 — 

a set of sequential linear ads
Skippable Ads 

—

 pre-roll and mid-roll tracks in an audio file. Users can skip it, so the main purpose of such ads is to learn more about the viewers' interests, what kind of content they listen to.
In-app audio ads also support rewarded audio format where users are offered to listen to the voice message in exchange for certain perks and bonuses, like extra in-game currency or skip level option. User has a choice here, to watch it or not, thus, such impressions are characterized as non-intrusive and have a positive perception of ad touch.  
Advantages of programmatic audio for advertisers
Programmatic audio ad can offer a good bunch of benefits for advertisers. It inherited all the best of  the "classic" programmatic, and brought some extra values, like the ability to reach out consumers where other ad channels are helpless. What about the other pros? Let's find out!  
Audience size
The online audio consumption has displayed a steady growth for almost two decades. Since 2000, the amount of monthly online audio listening has increased by 67% in 2019 and hit 189 million mark: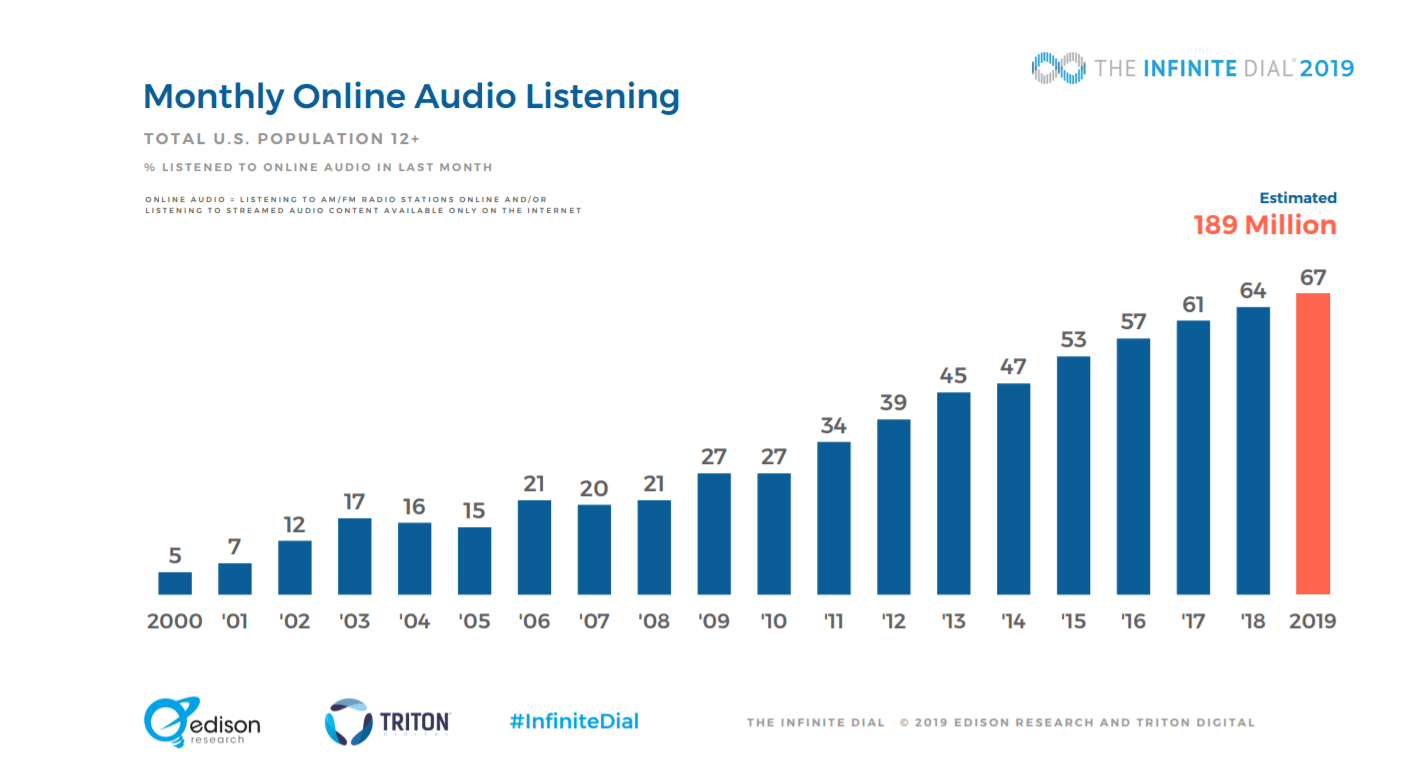 Source: Edison Research and Triton Digital
Access to mobile consumers
According to eMarketer, on average, adult mobile application users spend more than one hour (65 minutes) per day listening to digital audio in 2019. Speaking of total adult digital audio consumers, they spend 54 minutes: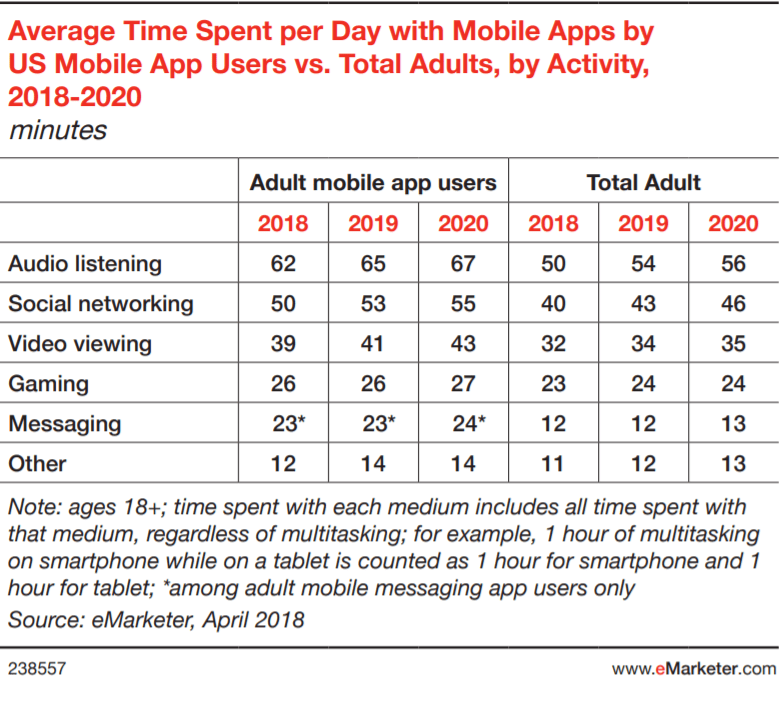 Another insightful study by Edison Research shows that mobile users devote more than 50% of their listening time to podcasts: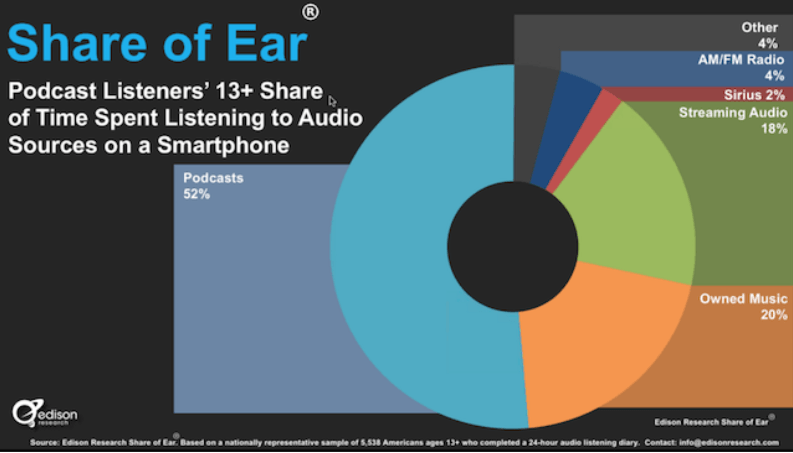 Audio goes where the video stops
Audio messages can deliver impressions without a screen. When consumers drive, or jog along to favorite music, or cook, or whatever else do anything that makes their ears the only touchpoint between them and advertiser — that's when the audio ad is at its best. Smartwatches and smart boxes — both use a brief glance, and both provide online status to users — they are the "bridge" in the audience-brand chain.
Coveted demography
Despite streamed audio and podcasts are consumed by a broad age group, it mainly captures Millennials and Centennials. As for the latter, they are especially valuable for advertisers, as the teenage period is when people are starting to choose favorite brands. Thus, if a brand will leverage the acquaintance challenge with this audience, it may deliver extremely high CLV output.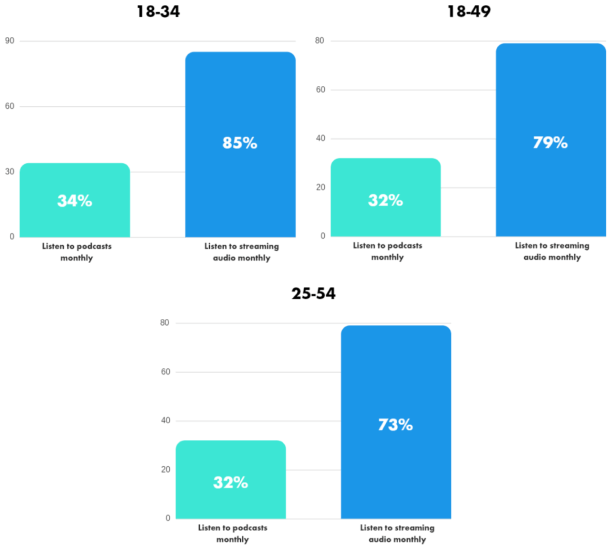 Image source: IAB Digital-Audio-Buyer's-Guide
Comprehensive metrics
Digital audio possesses impressions tracking capabilities. With tech capacities available to advertisers, they can accurately count the impressions delivered, measure the campaign results. Analyze of coined information helps to define ROI, which is one of the key metrics for marketers. With this, brands are becoming data-driven and measurement savvy. To improve a campaign plan even more, this data is available for independent verification vendors. 
The efficiency of online audio ads can be easily estimated in different ways:
Tracking impressions

 — with the help of ad tagging, delivered impressions through music-stream platforms and audio podcasts can be tracked and verified. The most accurate indicators are Click-through, Last-click, and Post-listen trackers. It's possible to place the ad tags in different parts of the audio unit, however, the most popular streaming platforms usually set them at the end to make sure that the listener stays connected within the whole ad's lifetime.   

Tracking downloaded programs

 — to perform client-side tracking, the client player has to send ad data back to the source. However, some apps, like iOS Apple Podcast, don't provide such function. To address the issue, the industry has implemented standards so that server logs can be reviewed pursuant to concreted key metrics for certain attribution. This is a sophisticated process and IAB prepared a standalone document "

IAB Podcast Metric Guidelines v2

", where all the details are described.
Tracking results

 — a group of ad unit types makes it possible to track campaign results with: 

Native ads

 — show hosts often read these ads, and it's a common practice here to apply endorsements when celebrities and famous personalities promote a brand. Listeners are engaged with a purchase spur and promo codes (internet/discount coupons) that can be applied at the advertiser's website. The number of used codes provides results.    

Voice-activated ads

—

 voice technologies allow recognizing user's (listener's) response to an ad which can be counted.  

Companion banner ads

—

 as its name suggest, the audio message is accompanied by a banner on the screen of a media-streaming application and an advertiser can calculate a click-through rate.  

Independent Research

 — it's possible to engage third-party verification vendors to analyze programmatic audio ad campaigns. Using the report's result, advertisers are able to develop a new strategy and improve its efficiency.
Solid responsiveness 
Podcasts possess a drive-to-store impact on listeners and deliver a strong customer engagement effect. According to Midroll Media Podcasting Listening Demographic Report, among 151,502 podcast listeners, 60% made a purchase as they were triggered by the podcast audio ad. Survey shows that podcast listeners are 1.5x more concentrated on content consumption via podcasts channels than through social media: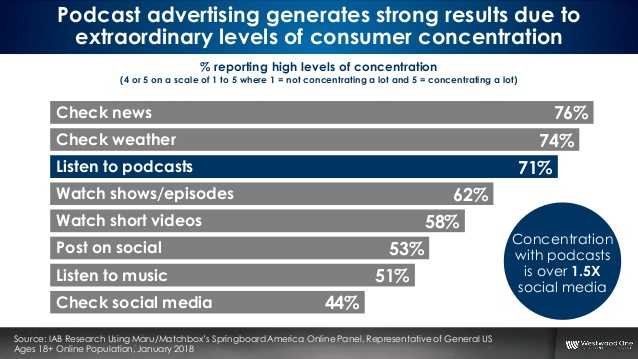 Image source: The Westwood One 2019 Audioscape Report
Brand safe 
Programmatic audio advertising applies audience segmentation and targeting configuration that ensures delivery of high-relative impressions. There are jillions of podcasts on any topic you can think of. Thus, marketers from any industry, from healthcare to fashion, may find a friendly-tuned pool of prospects in podcasts that are broadcasting the latest news, hot topics, and trends in a proper segment. People are gathering around the congenial digital audio spot where advertisers can trigger them. 
On top of that, online audio ads have the following benefits:
Low price for audio creative 

Ad blocks resistance

Reaching out to the banner-resistant audience

Unlike the classic radio, an advertiser has access to online statistics about the online audience.
Hyperlocal targeting for SME
Similar to video hyperlocal targeting, the audio one is also available. With its help, advertisers can set up a radius (min. 100 meters) where their messages will hit devices of the target audience. It fits perfectly with small and medium businesses like coffee rooms, bars, or shops — when people are wandering near them, they receive a relevant voice ad that invites them. Using some promotional hints (e.g. deadline discounts) is a pretty effective way to bring users to your shop shelf.  
It's a wrap!
Programmatic audio advertising is a fast-growing channel. It's a full-fledged source of monetization for publishers and a powerful customer-engaging tool for advertisers. As the quantity of audio-stream platforms and podcasts is growing, the volume of the audience is increasing too. The main advantage of programmatic audio is its ability to reach users where other channels fail, and its resistance to ad blocking. The rapid development of voice technologies and its intertwining with digital audio will bring even more interactive into programmatic audio advertising in the future.
As to the challenges, for the time being, the main problem in audio programmatic advertising only a few DSPs support such demand format. Currently, most of the demand represents direct campaigns. Still, such market players as Verizon, Adform, SpotX, and AdWizz already offer DSP for audio programmatic. While Google hasn't got the necessary infrastructure to cover this ad format, many other companies are on their way to implement it and to capture the niche. 
Extra: TAVR Media Case Study
The efficiency of audio advertising format for media houses is well described in the case study of the Ukrainian radio group TAVR media. TAVR media is the largest Ukrainian radio group with six radio stations that covers the whole territory of Ukraine. Partnership with Admixer Technologies enabled TAVR media to install Admixer audio player to all websites of radio stations and to connect a constant demand source from listed supplies with according priority:
Admixer Ua Network (sales house) — direct demand

Admixer.DSP — programmatic buying

Admixer.ATS (Agency Tech Stack – White label DSP with access to Admixer.SSP inventory) — programmatic demand from leading Ukrainian advertising agencies

Admixer.SSP — programmatic demand with access to the 100+ world-class trusted DSPs
Moreover, user sessions are saved within switching between websites of the radio group, so the user isn't oversaturated with ads. This new audio channel multiplied the revenue of the TAVR media group. Implementation of the audio broadcasting powered up the existing banner advertising. 
Want to learn more about this case study and how you can fuel your business with Admixer Technologies? Reach Elena Podshuveit, Chief Products Officer at Admixer Technologies: epodshuvejt@admixer.com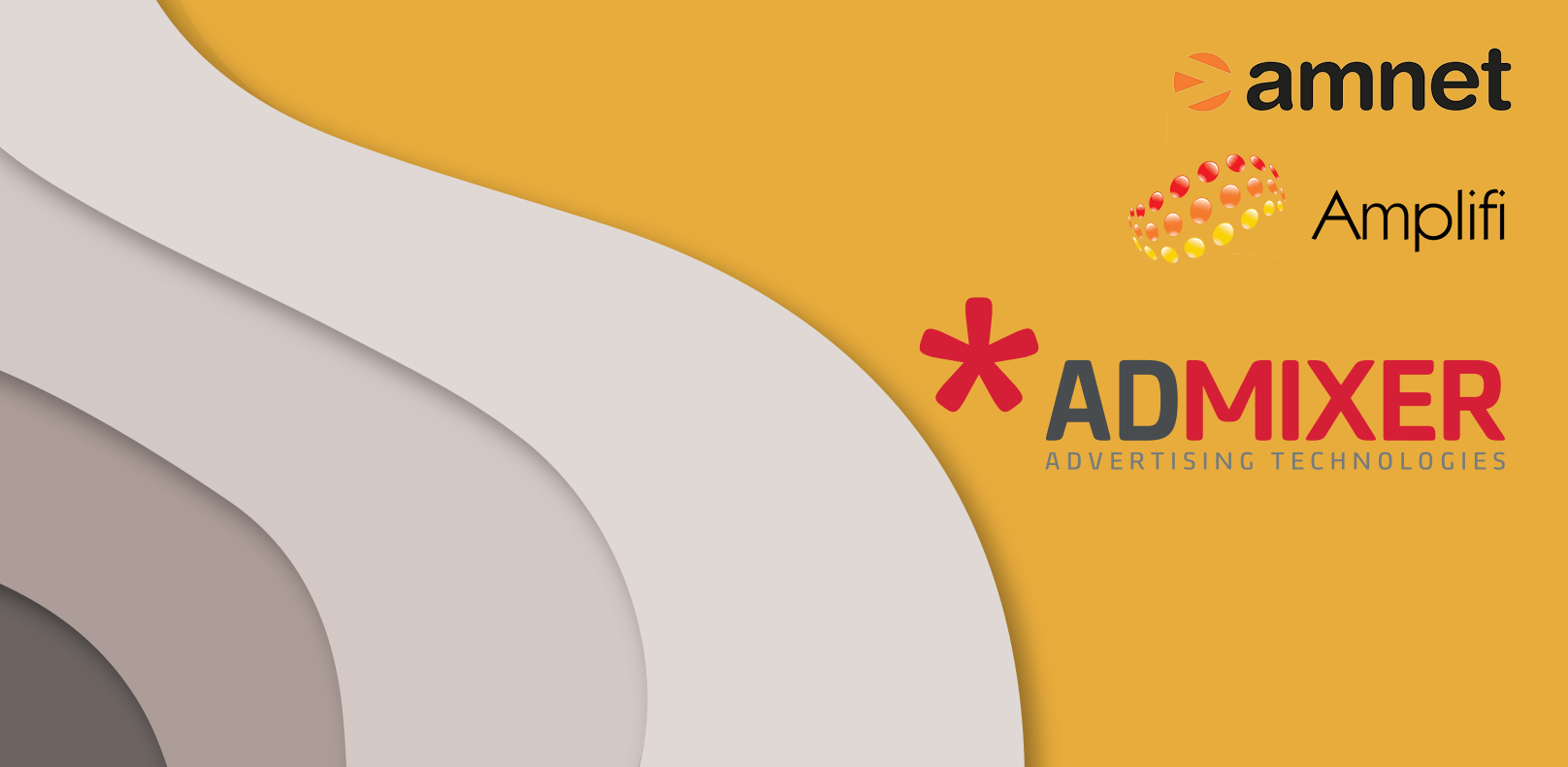 Case study: How to define and reach the audience in a post-demographic age
The digital economy has created an explosion of data. The increase of data points has generated a bunch of pathways and signals that can expand targeting possibilities for brands.
Specifically, advertisers could go beyond standard demographic segmentation, like "female 25-34", and use more sophisticated approaches to determine target audiences. What defines audience groups in 2019 is their online behaviour, the way how they interact with content, promo materials, and brands' digital touch points. Knowledge of audience's context is the essential component helping brands and agencies re-invent their approach to identifying target audience, media planning and buying.
Taking this into account, leading programmatic agencies improve their practices of audiences' building to get the maximum outcomes for their clients.
One of the cases that Admixer Technologies develops together with Amplifi – Amnet Ukraine agency illustrates how this approach helps them to get the most of their programmatic buying and all the challenges and pitfalls they face on their way to get such results.
Challenges:
The biggest pain brands experience due to audience generalization is overpayment through buying not relevant users or buying the same people with the excessive frequency. To address this problem, Amplifi-Amnet Ukraine had to overcome a bunch of challenges.
Previous approach to audience buying didn't meet brands' criteria
The agency tried a lot of different strategies and optimization scenarios, but all of them didn't play well. They had to discover new opportunities and new ways to utilize data to achieve better results.
Lack of detailed raw data
In order to optimize media spend or segment the audience in a more sophisticated way, agency needed more granular, more detailed data about the users and their activities. In most cases

Amplifi-Amnet Ukraine

got from DSPs only aggregated data, which they couldn't tackle in the way they want to.
Finding the right solution to integrate and map audiences from different sources
To achieve the best results, the agency needed to combine data from different siloed sources. Integration of all sources is a challenging process, with no guarantee of success.
Data activation across the relevant channels
In omnichannel world it's essential to reach the target audiences across the channels that this audience prefers. So one of the important aspects of the solution is providing an opportunity to work with various channels.
Enhancing data management capabilities
Having their own agency's tools for data analysis and segmentation, Amnet Ukraine – Amplifi needed to expand area of application and have the ability to implement brand' logics to build target audiences.
The goal
The main goal was to create less excessive but more relevant to user behaviour messaging. Achieving this goal was in line with addressing three tasks:
To bind together user's engagements with the brand and provide a holistic view of user journey

To develop appropriate messaging strategy that correlates with the user position on the path [сustomer journey path]

Optimize media spend relying on more detailed analysis of audiences, inventory and context
Solution
The main idea behind the goal was to create messaging strategy that is more relevant to the user's position on customer path. To achieve this, the agency had to understand the stage where the customer is on the purchase way at the moment, and provide the relevant message according to this.
In order to implement such strategy, we needed to bind together two kinds of users activities – engagements with brands' ads in the upper funnel, and interactions with the brand touch points in the bottom funnel.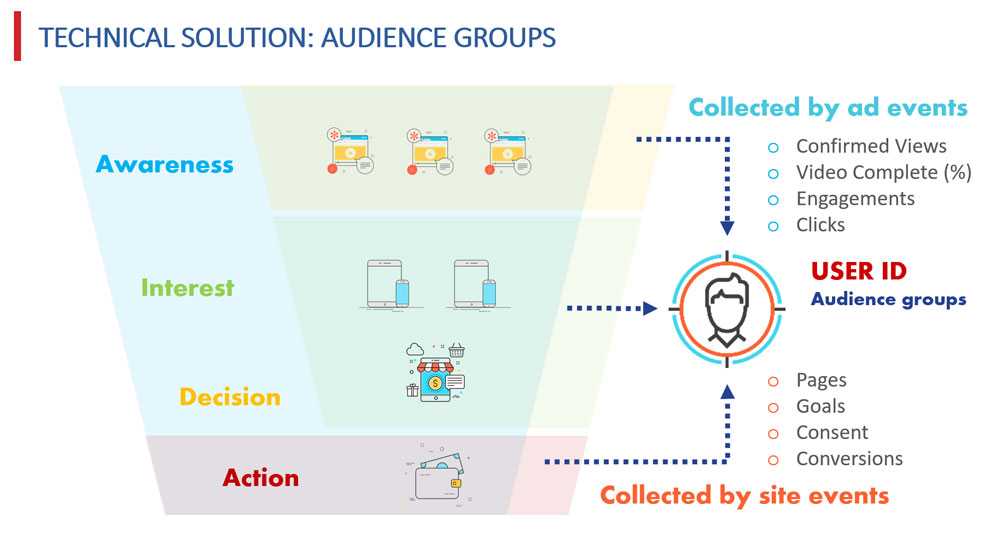 In other words, we had to create the holistic view of the customer journey letting us consider every user that comes into funnel and correlate our communication strategy with user activity.
Implementation
We led the agency through 3 major stages:
Stage1: Creating audience groups allowing them to collect users by various criteria and different targeting options, both from the ad campaigns and advertiser's sites.
Stage 2: At the second stage we add data points from users touch points with brand and use them to define the best performing audiences from the sales standpoint.
Stage 3: After collecting the data from all the interaction points, agency analyzes it and optimizes media buying strategies using this information.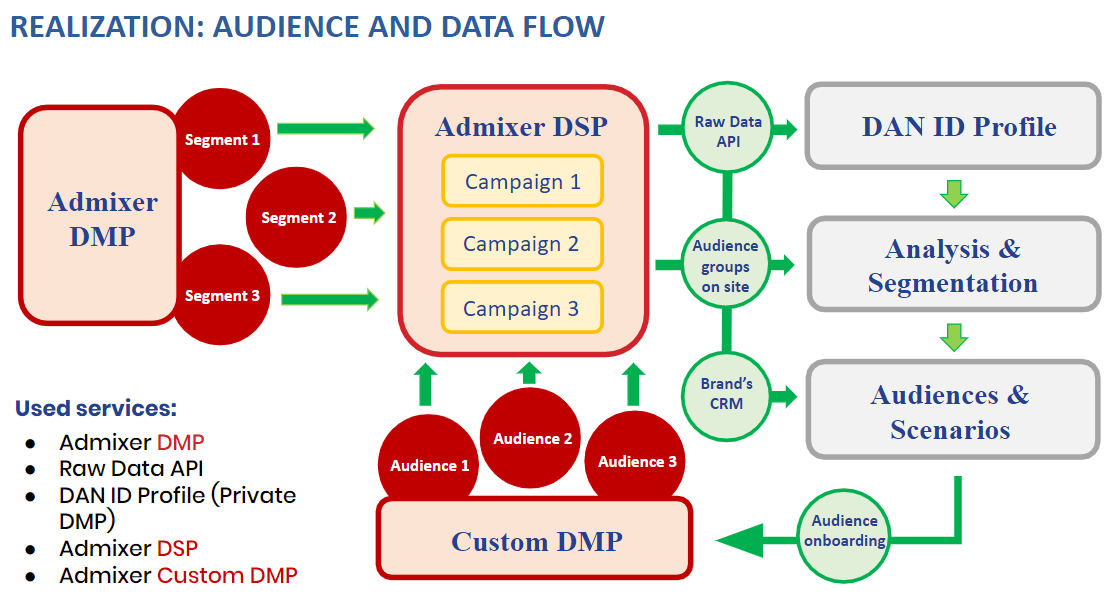 As a result, agency got new audiences for onboarding into DMP and relevant scenarios for further purchases in Admixer.DSP.
Results
Agency used media indicators to evaluate the results of buying strategy optimization. The main KPIs, that agency checked at this level, were engagement of the target audience with promo materials and advertisers websites, as well as traffic performance in cases where conversions were on the site.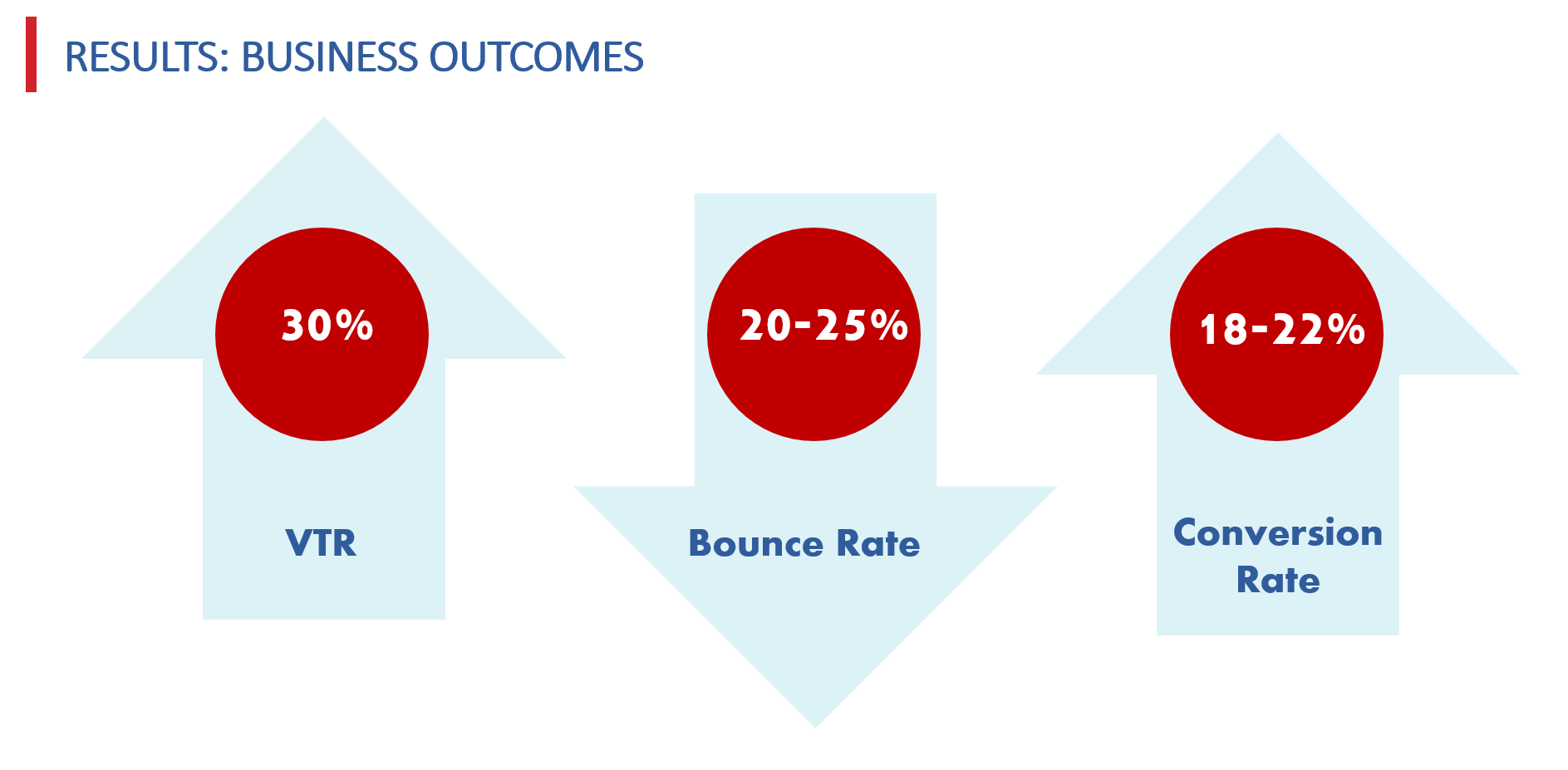 As a result of the case, Amplifi-Amnet Ukraine reached several important goals:
divided audience reach between stages

got less reach and less messaging on every stage

made messaging more relevant to each user

spent less budgets
Afterwards, these insights can be used not only to tighten campaigns to precise targeting, but also to outline where and when to invest media spend for maximum impact.
Background
Amplifi-Amnet Ukraine is media innovation and investment group of Dentsu Aegis Network responsible for generating value across all media opportunities. Amplifi harnesses technology, insight and creative thinking and works collaboratively with clients, media and tech owners to create an uplift in business outcomes, delivering against the mission of 'Value for All'.
Admixer Technologies took part in the case as an ad-tech provider and technology consultant for building data flow and audience activation solution. The Admixer products that were used in the scheme are Admixer.DSP (with built-in data management tools), Admixer.DMP and Raw Data API.
If you are interested in data management capabilities, send your inquiry to Ivan Fedorov, Head of Admixer DMP for a consultancy: ifedorov@admixer.com.
Publishers' profitability plans: the need for a website redesign
We're sure that noticed that most sites are in a constant search of an optimal interface and user experience to increase ads revenues. Content presentation, visual effects, design itself, informational structure, those things should be perfect for users or at least on its way to perfect. (more…)
How to create a banner with a 8% CTR?
The main purpose of a banner is to catch user`s eye and attract his attention to go to the advertiser's website. The case of Renault campaign reflects the approach to reaching high KPIs. (more…)
Happy 4.04 Webmaster Day!
Today is April, 4th. 4.04. Something well-nown, isn`t it? Yes, this horrible 404-page-not-found. And not surprising that today we're celebrating The Webmaster Day. Congratulations, dear publishers! And here is some great examples of 404-page design for inspiration. (more…)