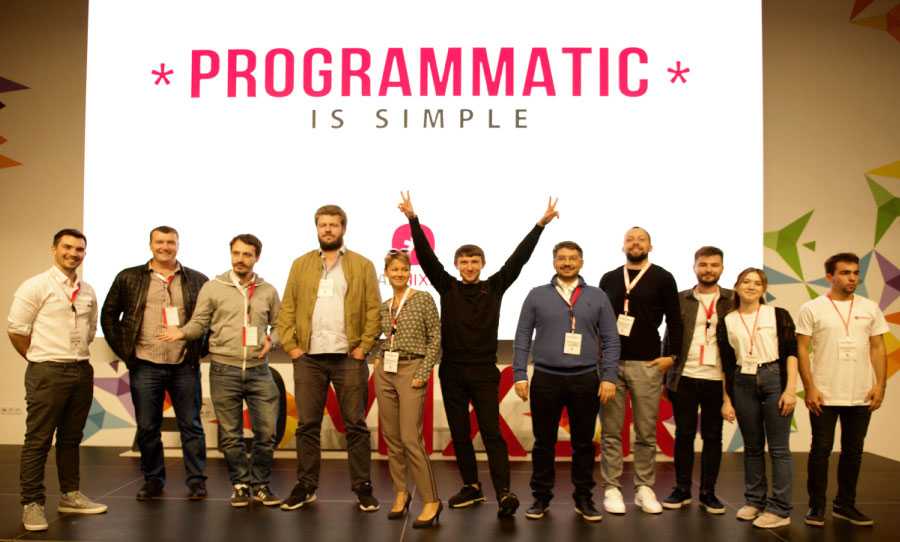 Moldova programmatic conference: key points by Admixer Technologies
On September 27, Admixer Technologies took part in the debut tech Moldova conference "Programmatic is simple", organized by Admixer Moldova company. The venue was Tekwill center, where C-suits form Ukrainian and Moldovan technological companies were discussing digital advertising realities, innovations, and new technical capabilities for market players. The core topic of the event was programmatic and its impact on the advertising industry.
As to the organization, we are delighted to thank Admixer Moldova for maintaining this event at the highest level. They started up just for about half a year ago and have already handled such a local-market rulemaking conference that brought awareness about the digital advertising industry.
Data for programmatic
The main messages of keynote speakers were that today advertisers are focused on embracing new technologies allowing them to use sophisticated algorithms within ad campaigns. And such algorithms require big data.
Data problem was in the spotlight of the discussion.
Panel discussion
Within the panel discussion, there were representatives of local agencies, advertisers, publishers, and Ad Tech companies. The issue was about the current state of the Moldova market from a digital advertising perspective, what are the hinders, and how to solve them.
All participants agreed that the lack of data is the main obstacle for programmatic implementation. It discourages both, advertisers and publishers. At the same time, insufficient usage of programmatic technology will lead to the development gap between local players and global tech leaders.
It was suggested, that to escape the vicious circle, publishers ought to make their first steps and to start using modern technologies. Moreover, delaying may lead to the vanishing of local players by global corporations.
As a positive signal here, representative of a major local eCommerce company said that they are on the way to contribute big data for ad players.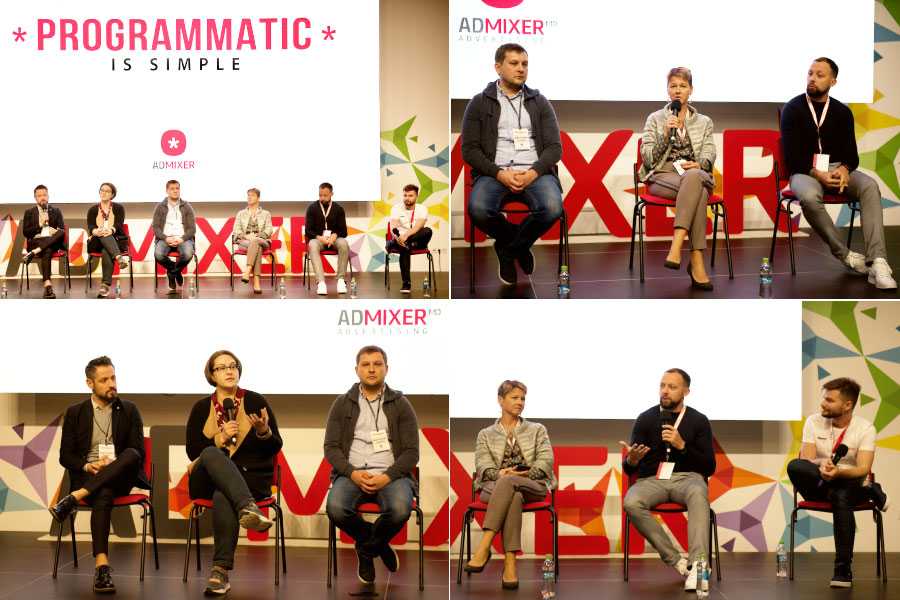 Abstract from the hostess
To sum up the conference outputs, Sergiu Cocieru, CEO at Admixer Moldova, stated: "First, I'm really glad to see that we could gather all ad players under the single roof here: publishers, agencies, advertisers. This doesn't happen often. The purpose of the conference was to prove the Moldova market that programmatic is simple. Programmatic isn't programming – as once we were asked on Facebook. Here, everything is already programmed for us, so our work becomes more simple".
He also added that the key idea of the event was to make together a big step in the direction of digitalization and that it's much simpler than might seems to be.
As a final note, it was emphasized that programmatic capabilities and advantages have a big future ahead, and yet, most of the highlighted programmatic features are already available today for all ad players. At this point, the official part of the conference was over.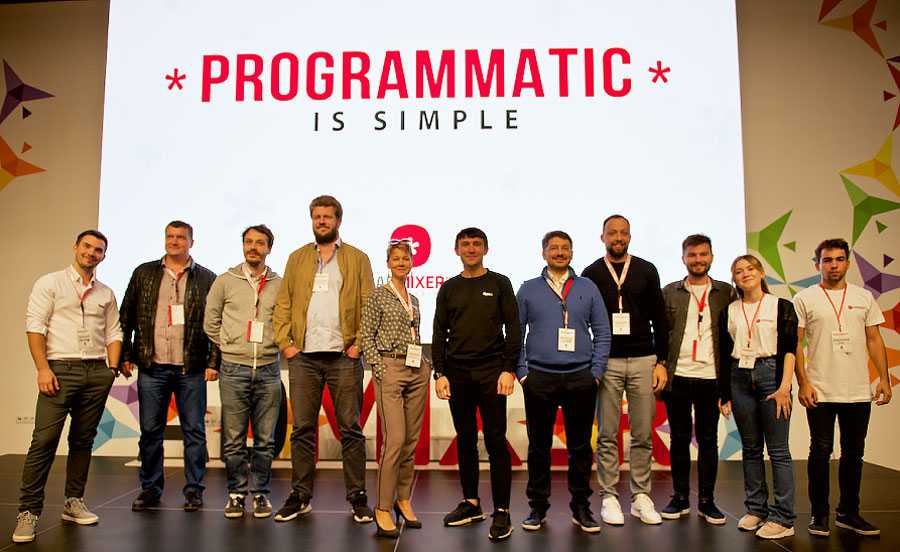 What's next?
We hope to see you all guys in the future at a new conference where we could discuss the progress of the implementation of cutting-edge technologies by all ad players.
Send us an email, and let's find out together how Admixer solutions and ad tech stack can help your business: media@admixer.net.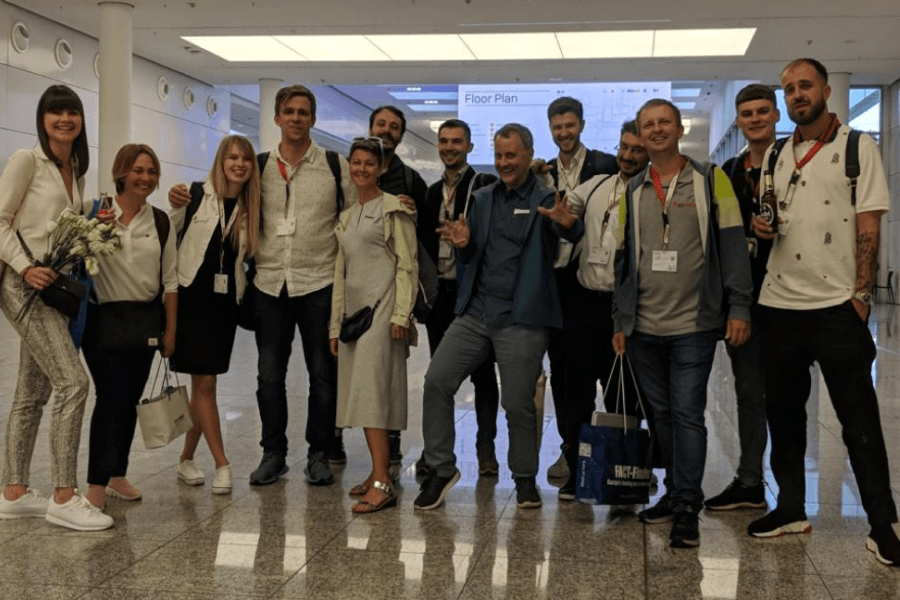 DMEXCO 2019: Ad Tech Takeaways by Admixer
DMEXCO, one of the biggest Adtech & MarTech events, took place in Cologne a week ago. The event gathered more than 1000 exhibitors and 40K+ visitors from ad tech and marketing industry.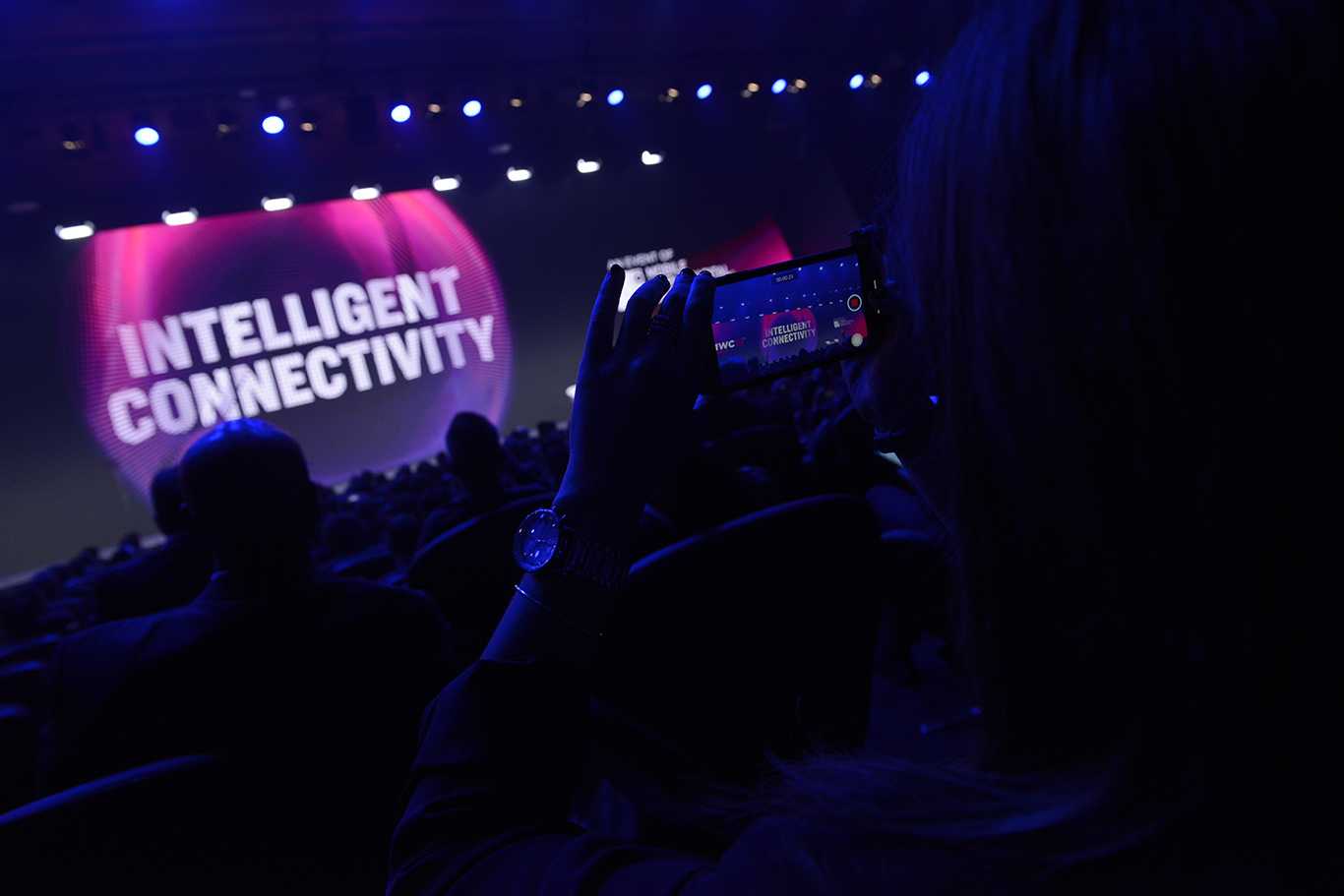 MWC Barcelona 2019: Ad tech takeaways by Admixer
Mobile World Congress 2019, the biggest mobile event in the world, held in Barcelona, is behind us. MWC is an exhibition not just of current mobile industry capabilities, but of the significant challenges and changes that lie ahead. Taking a breath before the next big conference, we've put together key thoughts out of "diving" into the world of mobile and tech innovations.
Intelligent connectivity in action
This year MWC hosted 100,000 international participants. The event presented a wide range of use cases for intelligent connectivity, like mixed reality, smart factories, various robots, and innovative vehicles.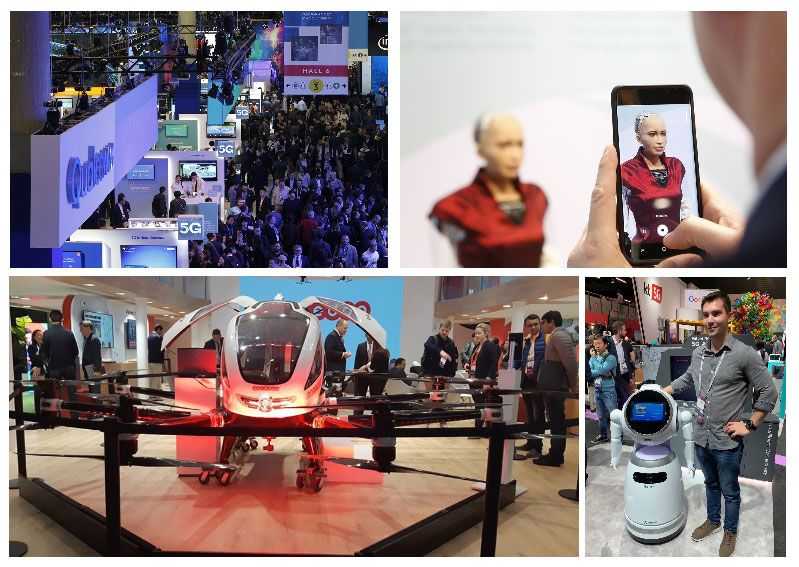 The rollout of 5G, the fifth generation of wireless networks has become the key topic of MWC this year. 5G should solve the problem of latency, bring better connectivity, and take personal data storage and management to the next level.
What 5G revolution brings to ad tech
4G brought opportunities for video streaming, programmatic auction, and an entry point into the world of VR, AR and AI. Experts say that 5G will immensely push the limits for advertisers and publishers.
Specifically, 5G will cut the delay between the visitor's click on ad and server respond, resulting in faster ad-load times and happier users. Faster ad loading times will make in-app promotion more appealing and programmatic buying – improved and adapted.
Also, 5G will be able to process more data. This will allow advertisers to use high-resolution ads, like 4K video, and personalize content in real time
"With 5G by the time I say "Has it downloaded yet?" it's already done! Imagine the impact this will have on advertising. We will no longer live and die by ad specs and be bound by file sizes. High fidelity assets will load instantly," – said Mark Melling, Head of RYOT Studio EMEA at Verizon Media.
Alongside the hype around the impact of 5G, there were essential discussions of data security. The main point: advancing technology should consider privacy regulations (GDPR, CCPA), especially with getting more and more customer data.
IoT is another dominating topic extensively discussed at MWC. The number of connected consumers' devices is snowballing and is expected to reach 25 to 30 billion by 2025.
What does it mean to brands and the whole ad tech industry? The main point, connectivity brings brands, agencies, and ad tech providers closer than ever to the ultimate marketing goal: provide consumers with the proper content in the right context. Numerous IoT touchpoints promise to enable us with new opportunities letting collect more accurate data and communicate with consumers at exactly the right time in their purchase cycles.
Winning against ad fraud in 2019
Digital ad fraud remains another top concern for advertisers and publishers. For instance, according to AppsFlyer, in the first quarter of 2018, mobile app marketers were exposed to over $700 million in ad fraud.
Pixalate, Admixer anti-fraud and traffic validation partner, presented the state of ad fraud in mobile and its impact on mobile app ROI. The figures illustrating the damage are impressive:
in 2019, mobile in-app is expected to grow 25% to over $77 billion

in-app ad fraud creates over $15 billion of wasted ad spend
Actionable steps by Pixalate for better risk protection and cutting off ROI waste:
monitoring traffic across all ad formats using first-party data

slice blocking activities by user-levels (user, publisher, network), rather than campaign-based

working only with transparent inventory and using verification software.
Google presented another perspective on ad fraud reduction. The main point – using AI and machine learning.
Alongside fighting ad fraud, AI-powered ad platforms will help brands optimize campaigns and ensure relevance at scale. Relevance, contextuality, and keeping an eye on individual consumer preferences are the great focus for AI and ML.7
One more dimension in ad fraud fight is blockchain technology. Blockchain can help curtail ad fraud, filtering out clicks made by bots and tracking copyright violation. Other core capabilities blockchain can offer advertisers and agencies are transparency, speed, security, and control across each step of the transaction process.
Final thoughts
MWC offers all ad tech players anticipating innovation and sticking to the forefront of technology.
This event has set the standard for mobile innovation, encouraging brands to leverage on native ad formats and bring great mobile (or rather across-all-devices) experiences to their consumers.
Thomas Husson, a VP and principal analyst at Forrester set it clear:
"If you step back from the hype on 5G and foldable phones, there are still some good reasons to get excited about mobile this year. Mobile is like electricity after the second industrial revolution; it will power a new disruptive wave of innovations. To make the most of it, marketers need to think context —not content."
Have any questions concerning mobile ads? Reach out to us and we'll find the way to help you benefit from Admixer solutions and delight your users:
IAB Annual Leadership Meeting 2019: Key Takeaways
On Feb 10-12 we were glad to join the IAB Annual Leadership Meeting (IABALM) in Phoenix, Arizona. Since previous IAB gathering in February 2018 we had a pretty busy year, starting IAB Ukraine and helping our customers and partners embrace best ad practices, standards, and trends.
The key topic of discussions and keynotes through the whole IAB event this year was DTC or D2C – the direct-to-consumer brand economy.
Just in case you've missed essential insights shared during the IABALM, grab your copies here:
How to Build a 21st Century Brand Report Summary | 2019 IAB 250: Direct Brands to Watch.
Now, several key thoughts we brought out of IAB Annual Leadership Meeting 2019.
DTC brands rock – big brands should move over (or adapt faster)
DTC brands meet changing consumer needs faster than major brands. They build direct relationships with their consumers, get first-party data and leverage on it. They are fast, reactive, and adaptive.
As a result, they capture a significant share of the growth in consumer goods. In most categories, direct brands are stealing share from incumbents – no consumer product category is immune. And DTC brands aren't going away, so big brands need to understand how to compete.
To stay in the game and drive growth across the niche, major brands should find new ways to leverage their scale, be fast-moving to renovate legacy and to catch the big trends.
Tendency DTC brands create, set up challenge not only for major brands but also for major ad agencies. Apparently, DTC may just be interested in boutique agencies, having specific expertise in their niches.
Building insurgent brands with Amazon
Another important data point driving the growth of DTC brands is Amazon Advertising.
Basically, Amazon is moving towards building direct relationships with brands, just like DTC brands do. The company is increasingly sending its sales team to meet with marketers directly. Direct work with brands powers Amazon with deeper dives on retail analytics, data about product inventory and pricing.
This approach is well-received by marketers. Working with Amazon, they are becoming more data-driven and take control of their media.
Also, the role of customer experience becomes an essential part of the brand. Here's a sneak peek on IABALM keynote on customer experience by Seth Dallaire, VP of Global Advertising Sales & Marketing, Amazon Advertising:
https://www.youtube.com/watch?v=Fk1MYHz5E8U
Advanced TV landscape is game-changing
Today TV ecosystem becomes more accessible than ever. Unlike broadcast TV which used to be affordable only to major brands with big budgets, the growing trend of OTT / CTV evens all odds. CTV accessibility allows DTC brands to compete with major brands and get their traffic share.
Besides, CTV brings more precise targeting, better tracking, and promising attribution results. Thus it not only restructures the whole TV broadcasting but also brings to the table extended ad opportunities. Talking about TV ads in general, digital and TV workflows should be aligned. Brands need to focus on building seamless campaigns across linear and digital TV and creating brilliance.

Data is everywhere
Back to data-driven approach, it's a cornerstone for innovation and success now more than ever. Brands today collect an enormous amount of data, but 80% of it is unstructured. It's an issue as advertisers can't access the data and get the full value of it. Another side of the coin is consumer trust in terms of data collecting. DTC brands have a strong advantage here as they can turn communications, products, and services into a more seamless business ecosystem.
In turn, the growth of direct brands has changed touchpoints and the consumer relationship forever. The purchase funnel now looks like this: CAC-to-LTV. This leads to a shorter CPA based on consumers' real experiences they get directly with the brand plus getting first-party data intelligence.
Another key data-issue relates to GDPR and CCPA (California Consumer Privacy Act). Regulators have clearly shown they impact business activities. Brands that experienced the GDPR implementation in Europe advise using this time and investing in transparency. An essential thing here: the importance of keeping consumers aware of what their data is collected and letting them control over their data.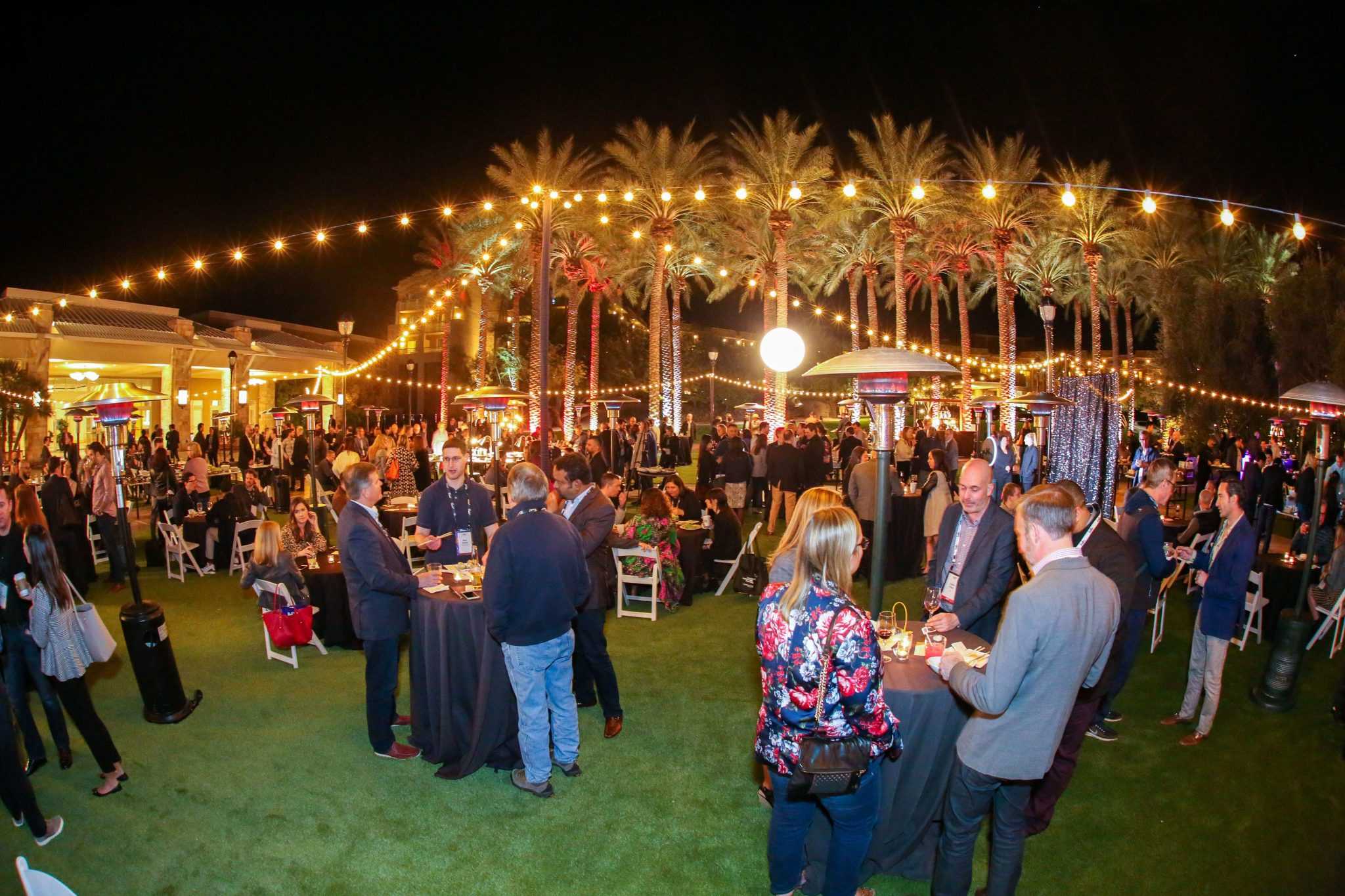 To sum it up
Following the successful cases of direct brands, the industry should focus now on building trustful relationships with their consumers. The new holy trinity leading to trust and marketing growth was excellently articulated in the final day of IAB Annual Leadership Meeting. It's first-party data driving digital content and programmatic buying.
To re-empower your brand with programmatic capabilities, please reach out Yaroslav Kholod, Head of Programmatic Operations: holod@admixer.net
Google EMEA Think Partner 2018: Key Takeaways
Annually, Google gathers its partners to discuss the upcoming digital trends and insights. In December 2018 60+ Google Partners from European region got together in Dublin to join Google EMEA event.
Admixer International Summit: Next 10 years
On the eve of company's 10th anniversary the leaders of the Admixer regional, product and service directions will hold an international summit meeting, which will take place from 13 to 17 June 2018 in Tbilisi, Georgia.
The purpose of the summit is to present new products and business directions, the work model reorganization, and agree on a company development strategy for the near future. New countries that joined Admixer this year and an affiliate program for new countries will be presented at the summit.
For its 10th anniversary, the company has prepared a full pack of advertising products integrated with most international platforms, and a great service part, which allows to provide 360° services in the digital advertising to clients wherever they are. Extensive experience gained over the past years and strong technology basis allow to begin wide expansion to other regions starting with countries where the Admixer advertising solutions have already been used.
In 2018 Admixer Technologies released a range of new products for publishers, advertisers and advertising agencies, which form the whole product ecosystem and allow to work with the user's data, creatives, video content, programmatic buying, and inventory sales effectively.
The ecosystem of Admixer Technologies Advertising Products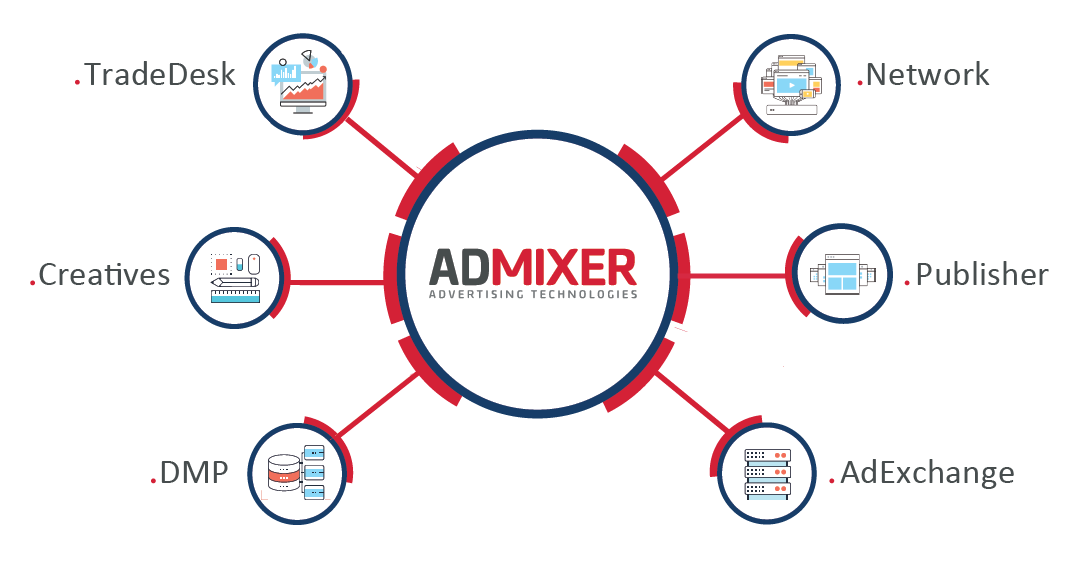 The company's specialists will talk about the best cases of using the products and practices of business modeling and development with the help of the whole product's ecosystem.
Another important company's change is a start of the business creative direction called Vivid by Admixer, highly focused on digital experience and work with leading advertising platforms. The direction allows clients to adjust their strategies to online promotion, create effective creative solutions for cross-platform communication, and test new technological instruments. Along with the service direction, colleagues will present a wide range of services that will be available for company's clients around the world in 2018.
Full range of digital advertising services by Admixer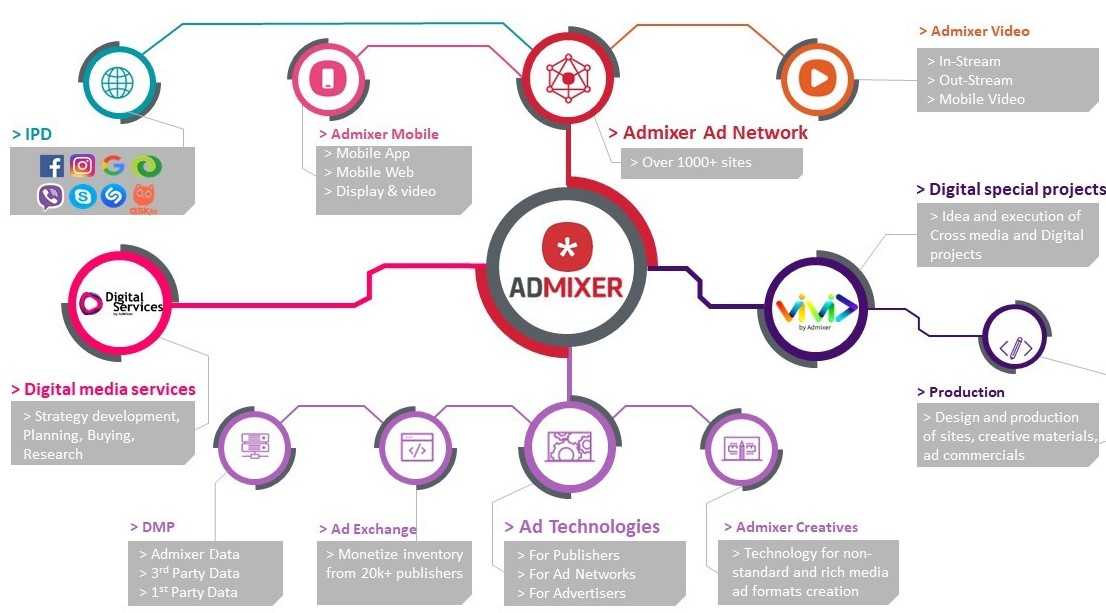 But the company's main goal is to enter new markets. The countries that joined Admixer in 2018 and plans on new regions development will be presented under the company's geographical expansion strategy. One of the geographical expansion strategies will be an affiliate product and service program, which will allow members of new markets to use products of the Admixer ecosystem effectively by integrating them into their business or developing as a separate business direction.
Admixer geo presence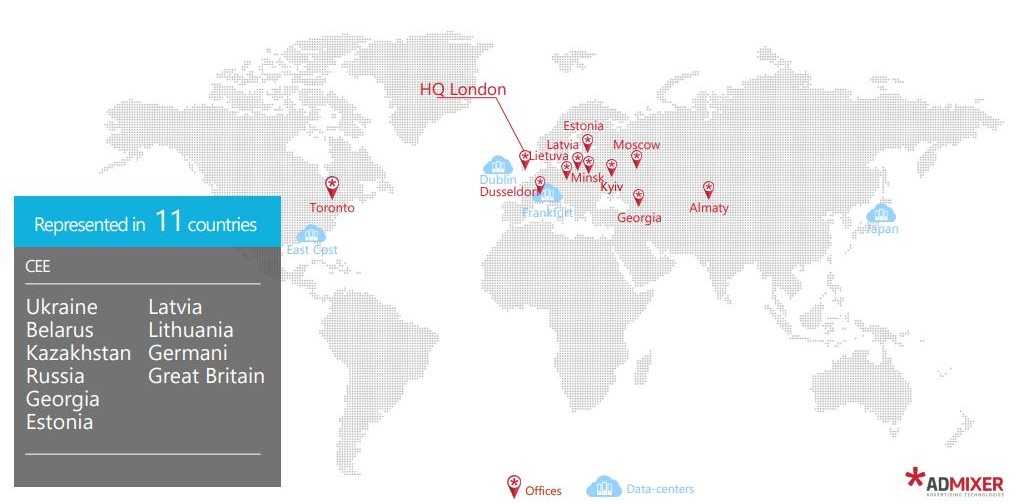 Following the summit's results, the participants will set a new company development direction for the near future, form a general development strategy, and agree on regional and service policies of the Admixer ecosystem members.