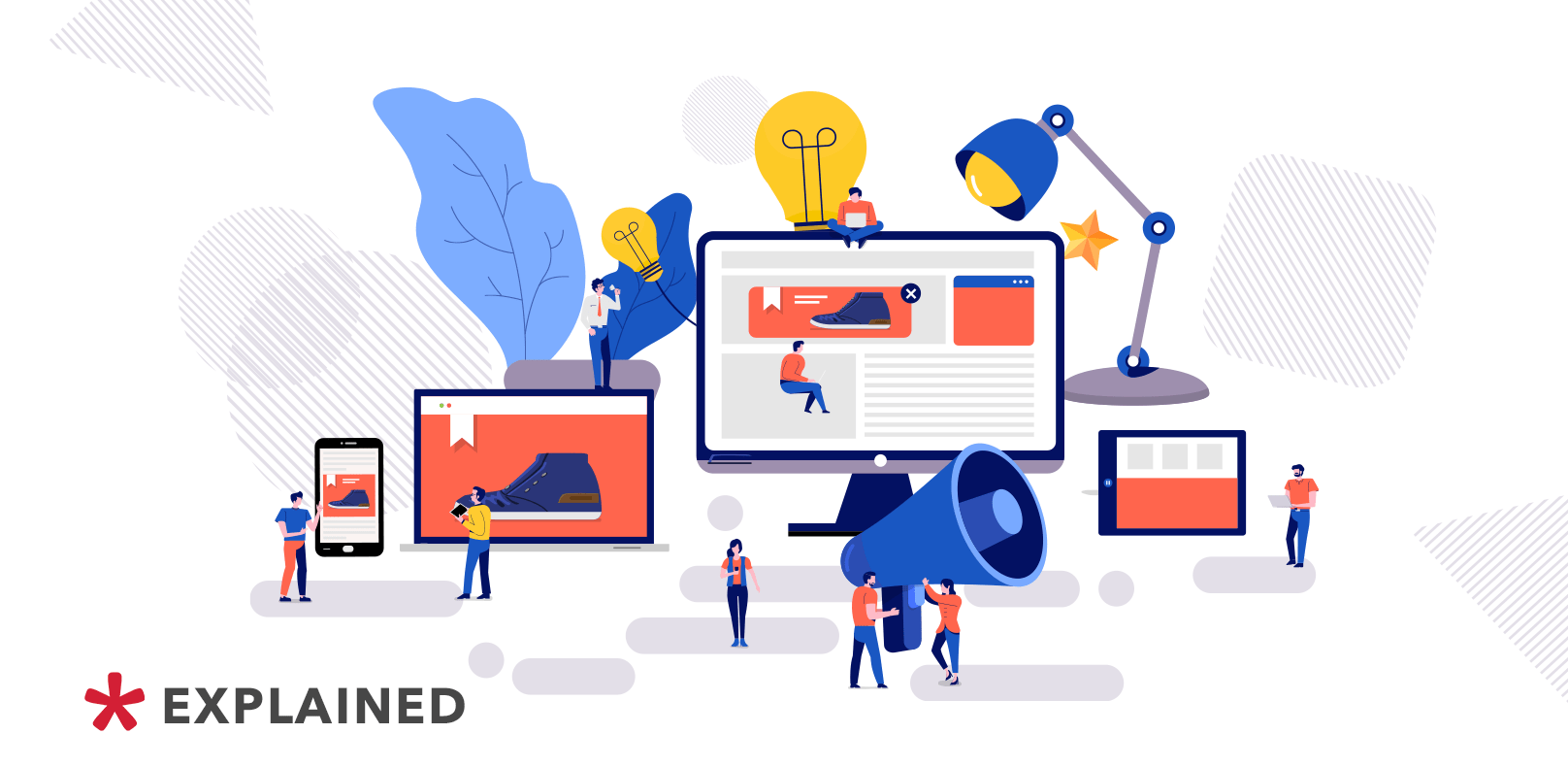 Digital Ad Formats Vs. COVID-19: Where to Advertise During the Pandemic
As the coronavirus pandemic progresses, customers become more cautious regarding their purchases in the range of categories. Under the pressure from decreasing budgets, marketers transition to more flexible and affordable digital ad formats.
The common digital channels may not function as effectively during the crisis. Lockdown reshaped behavioral patterns, changed daily routines, and prioritized new channels for advertising. Let's review how new programmatic digital ad formats that were gaining momentum are performing during the pandemic. 
Digital audio advertising
Digital audio is a vast media format that encompasses podcasts and various music streaming services. Ads can be served across music performances, news, sports, political talks, shows, etc. Modern digital audio environments provide listeners with great choice, control, and customization of their experience. This allows advertisers to organically integrate the brand's message into the listening and deliver highly personalized advertising. 
The popular music streaming devices are experiencing a drop in listenership. Global streams from Spotify's Top 200 chart dropped 11% to 226 million plays the first week of quarantine for many countries. However, after the initial panic the appetite for music streams rebounded. In Q2, Spotify managed to add 8 million paying subscribers, a 31% year-over-year increase. 
Directed streaming on platforms like Pandora, plummeted by 9% to just under 3.5 billion. In Q3, Pandora lost 1.8 million listeners from its global customer base of 81.5 million active users. 
This plunge can be attributed to changing consumer behavior. Audio streaming frequently accompanies rides to work, and morning jogging, and since many customers are staying home, these activities are no longer relevant. Nevertheless, the market might pick up once listeners form new music habits.
Since the start of the lockdown, consumers have started to tune into digital audio at different parts of the day, instead of just the commute hours. About 80% of listening is now happening at home, which caused a 100% increase in the use of Amazon Alexa and Google Assistant. Songs are more frequently broadcasted on the home devices, instead of just individual headphones. 
Digital audio ads can now target the entire household, and get a more extensive reach out of each impression.
Podcasts
As more and more people are staying home due to the pandemic, the podcast listenership experienced a 10% drop in March. For many, the podcast was part of the daily commute routine, and without it, podcasts are falling out of favor.
The most popular genres experienced a decline in downloads, including tech (-19%), history( -17%), and sports (-10%). 
Other genres experienced a surge: fiction (+19%), business (+10 %), science (+9%) and children-themed content (+9%). Significant growth is also happening in news podcasts since many traditional news outlets are venturing out into the new medium. 
Locked indoors, people are shifting their priorities, tastes, and affinities. Change in listening habits is a great opportunity for contextual targeting for advertisers, who can now tap into new segments of the audience. 
You can use Admixer.DSP to set up your campaigns in podcasts and other digital audio formats and get access to extensive inventory with all the needed targeting options.
CTV and OTT
Over the years, the consumers transitioned from traditional TV towards on-demand video content they can watch on connected TV (CTV). This can be a game console, smart TV, or any other internet device with on-demand content. CTV provides advertisers with opportunities for excellent customization and delivering high-quality ads with stereo sound and HD resolution. 
The expansion of the video streaming industry can't be stopped even by the pandemic. Revenues in this sector are projected to reach $25.9 billion this year and climb to $30.4 billion by 2024. In fact, coronavirus seems to facilitate the growth of this industry. 
Netflix, the biggest player in the streaming business, with more than 167 million subscribers across the globe, is expected to add another 7 million subscribers in Q1 2020.
According to the IAB report, advertisers are adjusting their acquisition tactics and increasing OTT/CTV device targeting by 35%.
In-app ads
In-app advertising is the fastest-growing advertising format on the market. It comes as no surprise as in-app advertising has significant benefits:
In-app advertising boasts a higher click-through rate than mobile web advertising (0.56% and 0.23%, respectively).
An ad displayed in the context of the app is less intrusive and more organically integrated into the user experience.
Many apps allow you to serve interactive ads that appear at certain key points during the in-app experience.
Apps collect extensive demographic, geo, and behavioral data, providing excellent opportunities for targeting.
Since the start of the pandemic, the app audience was swiftly expanding. Due to the prolonged lockdown, people spend more time on their mobile devices and actively download new apps. In Q1 2020, weekly time spent in apps grew by 20%. Consumers downloaded 31 billion new apps, a 15% increase since the last quarter. 
The daily time on apps increased to 3 hours 40 minutes globally, while in China, where the population entered quarantine at the beginning of the year, the time spent reached 5 hours.
The most significant surge in popularity among non-gaming apps experienced Music applications (+93%), Health and Fitness Trackers (+107%), Newsfeeds (+189%) and Shopping carts (+30%)
Despite the upsurge in use, the mobile advertising budgets are decreasing, which translates into a 14.8% drop in CPM. Now is a great time to launch affordable in-app campaigns and get a broad reach across the various audience in the lockdown. 
In-app advertising is a flexible advertising channel that can provide a broad reach across the various audience in the lockdown. You can use Admixer.DSP to set up your campaigns in various formats across a range of mobile apps.
Read the full guide on in-app advertising during the crisis. Learn how the pandemic impacted the number of installs, ad spend, and app revenues.
In-game ads
In-game advertising is placing ads in the virtual environment of a game. In-game ads rely on user interaction and direct engagement. This makes it easier for advertisers to control essential metrics like engagement, targeting, and completion rates.
If you're willing to learn more about in-game advertising formats and benefits, check out the recent article In-Game Advertising: 8 Ad Formats to Monetize Mobile Games.
Video games surged in popularity during the pandemic, as people indulge in more leisure and try new ways to connect with their friends. The video game usage increased by 75% in the first week of the lockdown in the US. Steam, the virtual game marketplace, has reached a new concurrent online user record of 20 million.
Mobile games, which constitute more than half of the gaming industry, also experience a boost in usage. Mobile game downloads in the first quarter of 2020, exceeded numbers of the same period last year by 20%, with 13 billion new downloads. Role-playing and Strategy games became the most popular genres by consumer spendings on Google Play and App Store.
In-game ads are expanding their reach since many new groups and demographics are discovering games to satisfy social participation during this stressful time. Advertisers should seize the opportunity to get a shared voice in this new medium, where CPMs are low, and retargeting is relatively uncommon.
DOOH
DOOH is out-of-home media amplified with adtech. It delivers ad messages through billboards and banners, reaching consumers when they are commuting to work, visiting public spaces, go shopping, or visit entertainment venues. Adtech added another layer of meaning to this medium, by allowing geofencing, attribution, and measurement, enabling smart media planning.
The programmatic industry was very optimistic about DOOH and its opportunities for targeted audience planning. Out-of-Home advertising spaces, paired with the use of mobile location data, can target the most appropriate audiences and drive conversions offline.
Yet, the coronavirus and subsequent lockdown knocked down this medium on the take-off. DOOH captured most of its traffic from the commuters, which massively stayed at home in the last couple of months. The ad spent on DOOH has dropped by 45%.
However, DOOH is trying to counteract lockdown measures, and change locations from public transit and cinemas to new locations that are busier than usual. They concentrate on the locations next to big grocery stores, residential areas, and pharmacies.
Conclusion
Global pandemic and lockdown rewired the advertising marketplace. Digital Audio initially experienced a plunge in listenership due to the change in the daily habits, but later rebounded and bolstered its broadcasts through voice assistants, thus widening its reach.
The Podcast industry experienced a drop in the range of categories, while other genres spiked in popularity.
Gaming demonstrated resilience to coronavirus and set records in downloads, and time spent in-game.
Apps also witness a surge in use and downloads. In-game and in-app advertising now offers an abundance of impressions at lower CPM.
DOOH took the hardest hit and is now trying to adjust to a new environment.
Marketers need to put their efforts into media channels that gained momentum in the stay-at-home environment. To remain relevant, brands need to innovate in their outreach strategy and go to mediums where consumers spend the most time. Advertisers should use in-game and display advertising to aim at broad audiences while running ads in selected categories of apps and digital audio for narrower targeting. Meanwhile, DOOH ads should be deprioritized or used at carefully selected locations.
If you're considering reallocating your budgets to programmatic advertising channels, contact Tetiana Sichko, Business Development Manager at Admixer.DSP: tsichko@admixer.net.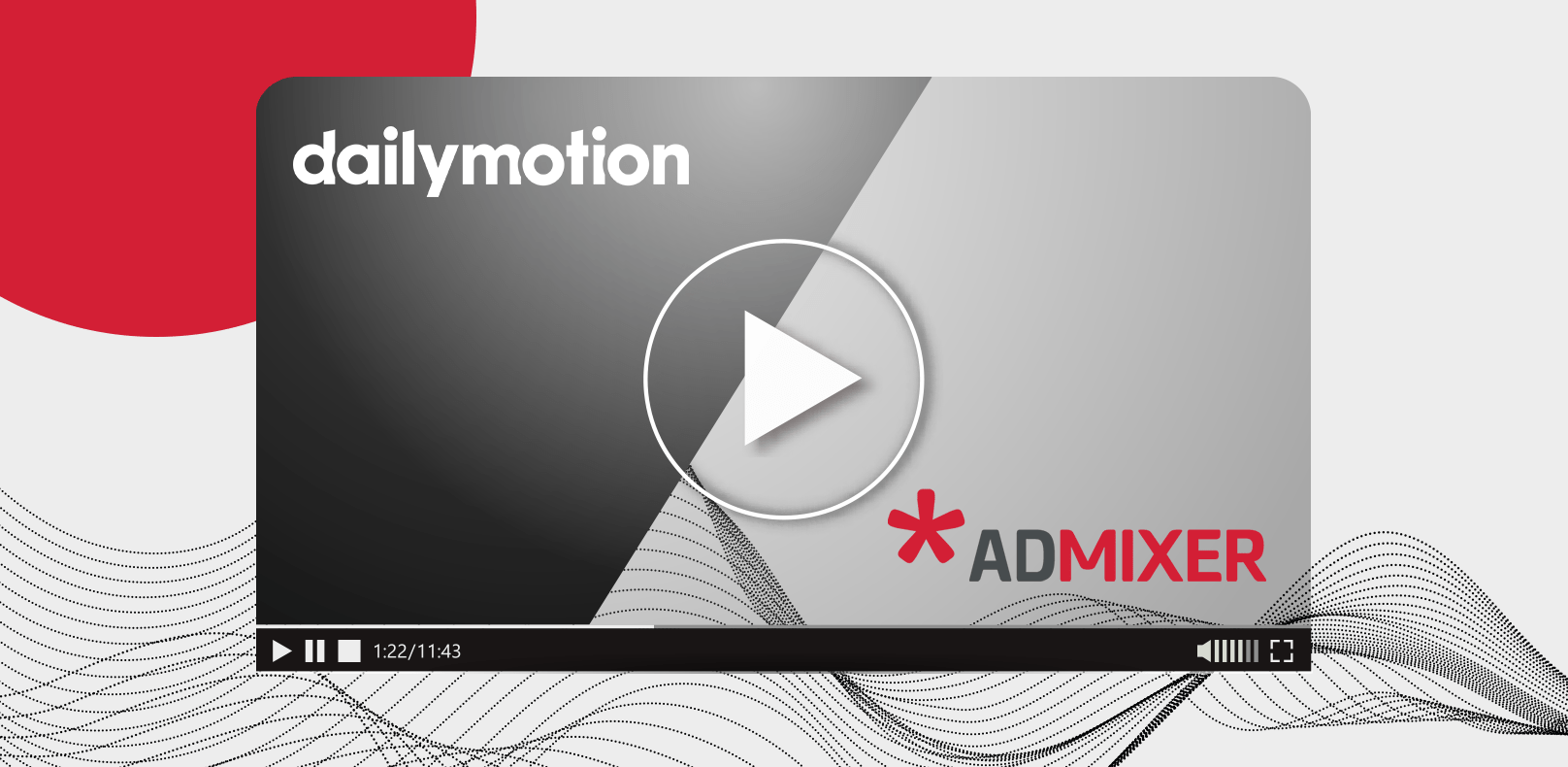 New Addition to Admixer.DSP: Dailymotion Video Inventory
Admixer.DSP is now offering premium video ad inventory on Dailymotion. We are going to shed some light on the newly available partnership and immense possibilities for advertisers it provides.
What is Dailymotion?
Dailymotion is one of the biggest video sharing platforms in the world. It was first launched in 2005 in France and is now available in 35 localized versions featuring local home pages with native publisher content.
Dailymotion maintains its web presence through Dailymotion website, the Dailymotion app, and its shareable video player.
Today, Dailymotion attracts 3 billion views per month and offers a variety of ad formats and technology to enhance user ad experience across multiple devices.
Inventory
Dailymotion provides users with an interactive feed with engaging EU and global content, from 2000+ partner publishers and media. It has a catalog of multi-language content, with a strong emphasis on English, German, Spanish, Portuguese, Italian, and French.
Key media partners:
Vice
Vogue
Wired
Billboard
HuffPost
Cosmopolitan
Euronews
Audience
With over a decade of experience, Dailymotion grew a massive and loyal following. They boast over 273 million unique visitors per month worldwide.
In the CEE region, Dailymotion offers inventory in Ukraine, Belarus, Moldova, Kazakhstan, and Poland.
The publisher provides a highly engaged audience, genuinely interested in their content – the average time per video is 1.45 minutes, while the average time per session is 5 minutes.
Dailymotion platform showcases premium content while matching users with the content of their interest. The platform has a wide range of audience profiles in Europe:
cooking enthusiast – 8.3M unique visitors (UV)
movie lovers – 6.8M UV
sports fans – 6.7M UV
TV lovers – 6.6M UV
Music lovers – 5.5M UV
Gaming fans – 4.8M UV
Targeting options
Advertisers can reach their audience on multiple devices, such as desktop, tablet, or mobile (including web-app, and in-app). They can serve their ads alongside 9 thematic packs:
news
sports
music
TV&Movies
automotive
gaming
tech
comedy
lifestyle
Ad formats
Admixer advertisers now have access to Dailymotion premium ad format – in-stream video ads. They are displayed in player, either in full-screen or thumbnail mode.
The most common ad length is 5, 15, 30, and 60 seconds, depending on the length of the host video. In-stream video ads can provide up to:
60% to 80% average completion rate
86% average viewability rate
1% to 2% average click-through rate
Brand-safety and anti-fraud tools
Dailymotion ad inventory is screened for fraud 24/7 in real-time by the internal algorithms. White Ops and IAS Integral Ad Science are natively integrated into the player and accurately identify fraudulent impressions.
Additionally, Dailymotion algorithm scans all new uploads based on blacklisted keywords, and identify contentious topics and unsafe placements. IAS analyzes and scores web-pages' URL and textual content.
Users can file a takedown notice when they notice inappropriate content, and ads will be blocked until review by the support team.
Special offer for Admixer
In light of the current crisis, Dailymotion offers special plans for small and medium-sized businesses.
Together with Admixer, Dailymotion offer you to purchase 1 impression, and get an extra one for free.
This promotion is available for campaigns signed between May 1st and August 31st, 2020.
Wrap Up
Partnership with Dailymotion provides Admixer.DSP advertisers with access to premium video inventory and placements from world-renowned publishers and media houses. 75% of the total video views made on professional publishers' contents.
Dailymotion attracts dynamic, time-conscious, and affluent individuals. Its inventory provides a perfect controlled environment for brand awareness campaigns and reaching diverse audiences at scale.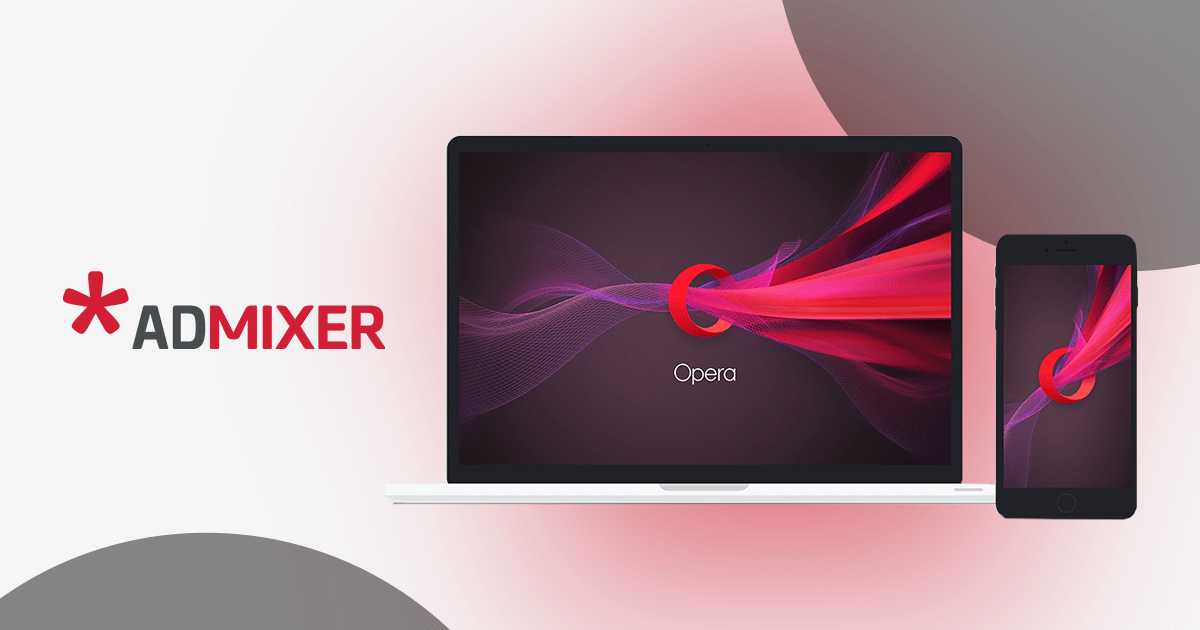 Admixer Is Now Offering Opera Ad Inventory
Admixer.SSP has recently partnered with Opera, and now offers its diverse ad inventory for programmatic buying. From now on, brands and agencies that use Admixer.DSP can programmatically buy Opera audiences through native ads.
Learn more about Opera audience and benefits for brands.
What is Opera?
Opera is a Norwegian software company known for its flagship Opera family of browsers.
It has 20 years of experience delivering excellent browsing experience for their customers and over 350 million users worldwide, both in mobile and desktop.
Opera is continuously evolving to adapt to the changing needs of the users. For instance, the recent browser updates include instant access to VPN, crypto wallet, and ad blocker without any additional extensions. Another strategic move of the company is making a browser compatible with Web 3, making interactions with DApps seamless.

Opera audience in CIS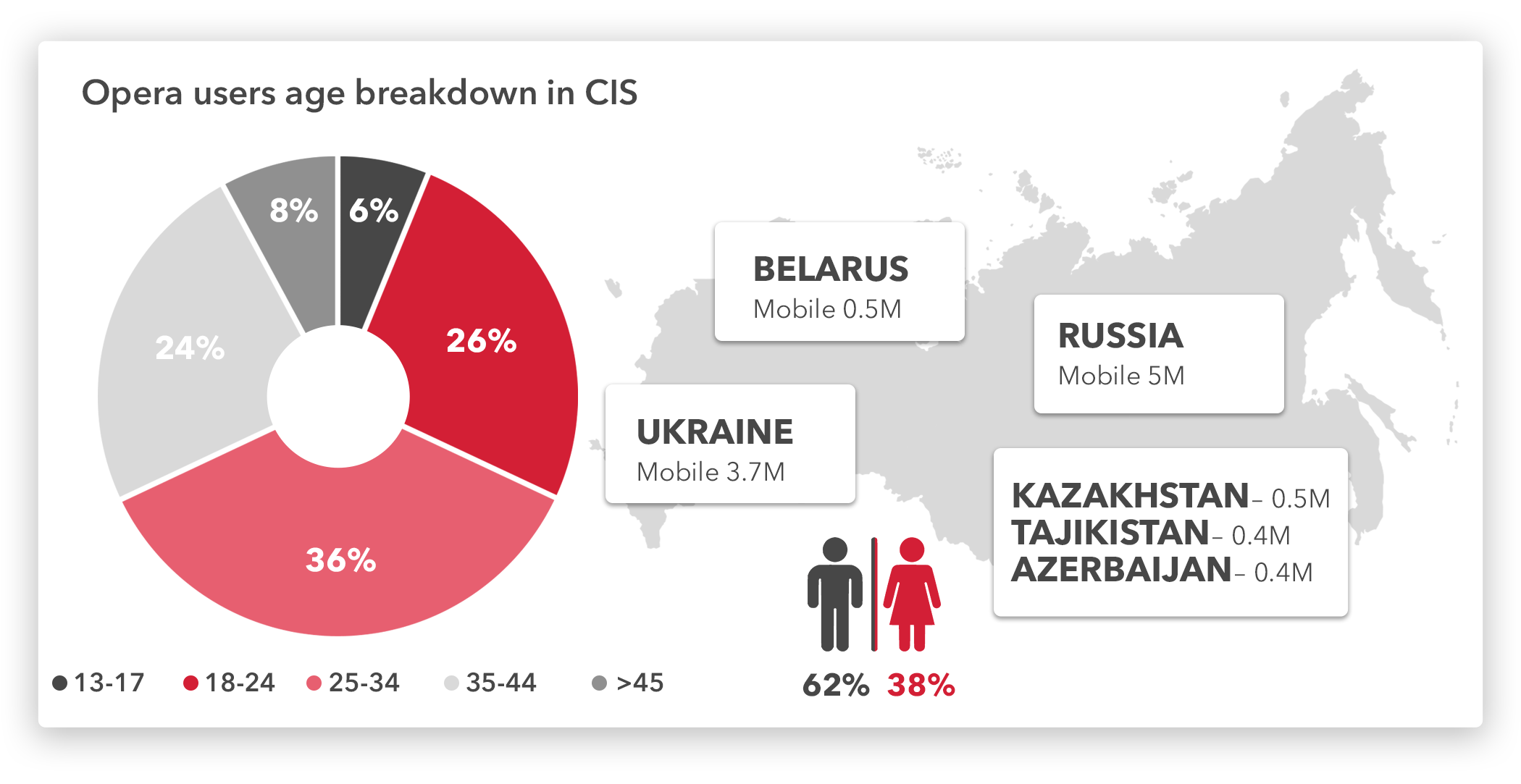 In the CIS region, Opera has a significant foothold with 12 million users. Opera has its own established publisher's brand in CIS, with more than 11 million monthly active users across differentiated products.
Opera's audience in CIS is mostly the young urban population. 68% of users are working adults from 25 to 45 years old; another 25% are between 18 to 25.
Most popular content consumed on Opera:
Entertainment,
Business and Economy,
Technology,
Sport.
Opera products 
Opera for PC
Opera for Android
Opera Touch is a companies alternative to Safari, that strives to be the most ergonomic mobile browser for IOS. The app includes Opera's 'Flow' technology which lets a user pass links, images, and notes from their phone to an Opera browser on their computer using a "secure and private" connection.
Opera Mini is another product that is making headway. It is a lightweight browser prevalent in Africa and Southeast Asia and the most downloaded browser in Nigeria, Kenya, and South Africa, according to AppAnnie.
Opera GS is the first gaming browse with unique features and design for the needs of gamers, introduced during the largest gamers gathering E3 in 2019. It received positive revue from the industry and the prestigious Red Dot Design Award. Within a very short timeframe, the browser had already been downloaded over 1 million times!
Ad formats available for purchase through Admixer.DSP
From now on, you can programmatically buy Opera audiences through native ads.
The in-feed card ad, which appears as the content recommendation, can also be placed inside the article page. The ad can be up to 1200 pixels in length and 627 in width and include 100 symbols in the title. It includes a large banner image with a call to action and is available on CPM model.
Success stories
Tata AIG, the leading Indian insurance provider, partnered with Opera to increase the awareness, and generate more leads. Tata was able to achieve the average conversion ratio from visits to leads close to 1% by targeting precise segments of the audience with a combination of Opera native ads.
Mahindra, one of the largest automotive producers in India, used Opera in feed context placements to boost awareness about its new car release. As a result, the campaign reached the target audience and doubled the expected CTR.
Benefits of advertising with Opera
Opera has a distinct well-educated, young, and urban audience. Opera is an underdog in the browsing wars, and users that choose Opera tend to make independent consumer choice, rather than following the mainstream.
The company's browsers allow precise audience targeting based on deep understanding of its users.
Among the advertisers that purchase Opera ad inventory are Coca Cola, Yamaha, Levi's, Decathlon, Flipkart, Amazon, Tata AIG, Edelweiss, Qatar Airways, and other big brands.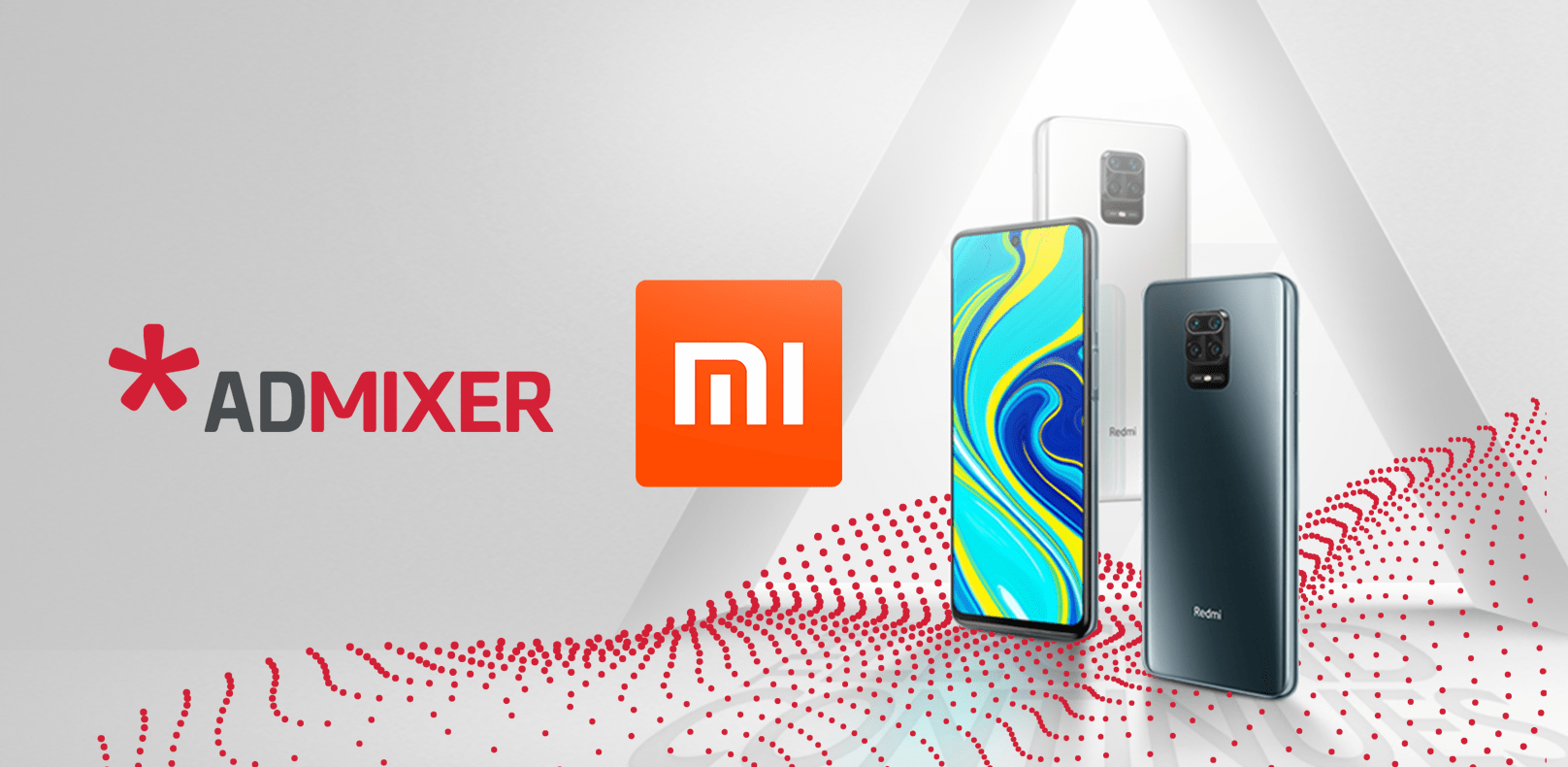 Xiaomi Inventory Is Now Available for Purchase on Admixer
We are proud to announce that Admixer.SSP partnered with Xiaomi and now offers diverse ad formats across Xiaomi apps and services. This also means that Admixer.DSP clients can now purchase new brand-safe inventory from one of the largest tech providers.
Read up to learn more about countless advertising possibilities and audiences you can reach with the Xiaomi ad inventory.
What makes the Xiaomi business model appealing to advertisers?
Services and products that rely on ads to support their business is a long-established business model. However, it is a rare strategy for a consumer electronics company, and Xiaomi is a unique innovator in this field. In fact, Xiaomi brand itself not as a hardware company, but rather an internet service company.
Xiaomi distinguishes itself from the competition by including ads and service integrations inside add-ons and even the main UI. This massive advertising business allows Xiaomi to subsidize and offset the hardware cost, and thus sell it at surprisingly low prices. Xiaomi has set a 5% profit margins for all hardware sales.
Smartphones are, essentially, carriers of the company's services, a channel to reach millions of users with advertising. Instead of deriving the bulk of its profits from one-time hardware sell, the Xiaomi model allows a steady revenue stream from advertising on their devices for years.

Xiaomi audience
Xiaomi has over 400 million active users of its devices in 220 countries and support services in 77 languages. It has the largest market share of smartphones in Indonesia, second-largest in India, and third in Russia, Spain, and Israel.
In Ukraine, Xiaomi has a 20% market share of smartphones; in Russia, it controls 14%, while in Kazakhstan, it gained 10% of smartphone users.
In addition to the massive presence, Xiaomi has a closed-loop Android-based ecosystem of their apps, and build-in services – MIUI. It provides a comprehensive product line of apps, from file management and security to audio players and hyper-casual games.
The 10 main media services have 20+ million monthly active users each and can provide 8 billion impressions daily.

Xiaomi MIUI ecosystem for ads
From now on, you can use Admixer.DSP to run advertising campaigns in the following MI application and services:
Mi File Manager, a free tool to easily manage files and share them offline with others.
Mi Music, a pre-installed music app that offers an integrated music streaming service along with the ability to store offline music.
Mi Video, a video player for Mi devices.
Mi Clean Master, a free app for Android that is designed to get rid of junk files and keep the phone running smoothly.
Mi Security Center, a built-in Security app with features to protect the phone from the uninvited threats, vulnerabilities, etc.
MI Theme Store, a store that sells various themes for phones, one of the most popular features in the MI ecosystem.
Xiaomi Downloads, a native MI file system to manage downloads.
Block Puzzle_Mi, a free mobile hyper-casual game focused around puzzles.
Ludo Master_mi, a free online version of the popular board game Ludo.
Other popular free mobile games: Black Mamba Big tooth, Sugar Star Sukhavati, Wipeout 3D.

Xiaomi ad formats available on Admixer.SSP
Xiaomi offers a variety of ad formats, some of which can be universally applied in all of its apps and services, while some are tailor-made for specific channels.
With Admixer, you can buy ad inventory in the following formats:
banner (300*250, 320*50)
icon (80*80)
interstitial (320*480)
native (1200*627)
splash, native elements (1200*627)
Advertisers can now purchase the Xiaomi inventory in the following geo: Russia, Ukraine, Germany, Indonesia, India, UK, USA, Canada, Mexico, Brazil, France, Italy, and Spain.

Benefits for brands
Xiaomi is a tech company that swiftly got a foothold in the major developing markets of India, Indonesia, Russia, across Eastern Europe, and even in Italy and Spain.
Their ad-based model allowed them to minimize their hardware cost, and provide 8 billion daily impressions to advertisers in the brand-safe environment. MIUI's closed ecosystem of products has a massive reach across several markets, primarily India, Indonesia, and Russia.
Advertising with Xiaomi inventory lets brands:
Effectively build Brand Awareness with vast reach and high viewability rates,
Deliver products promo proposals to the most valued audience with high conversion rates,
Drive app installs with the help of Icon Ads, a non-intrusive ad format, which is naturally integrated across the MI platform,
Announce events or show film trailers to drive traffic.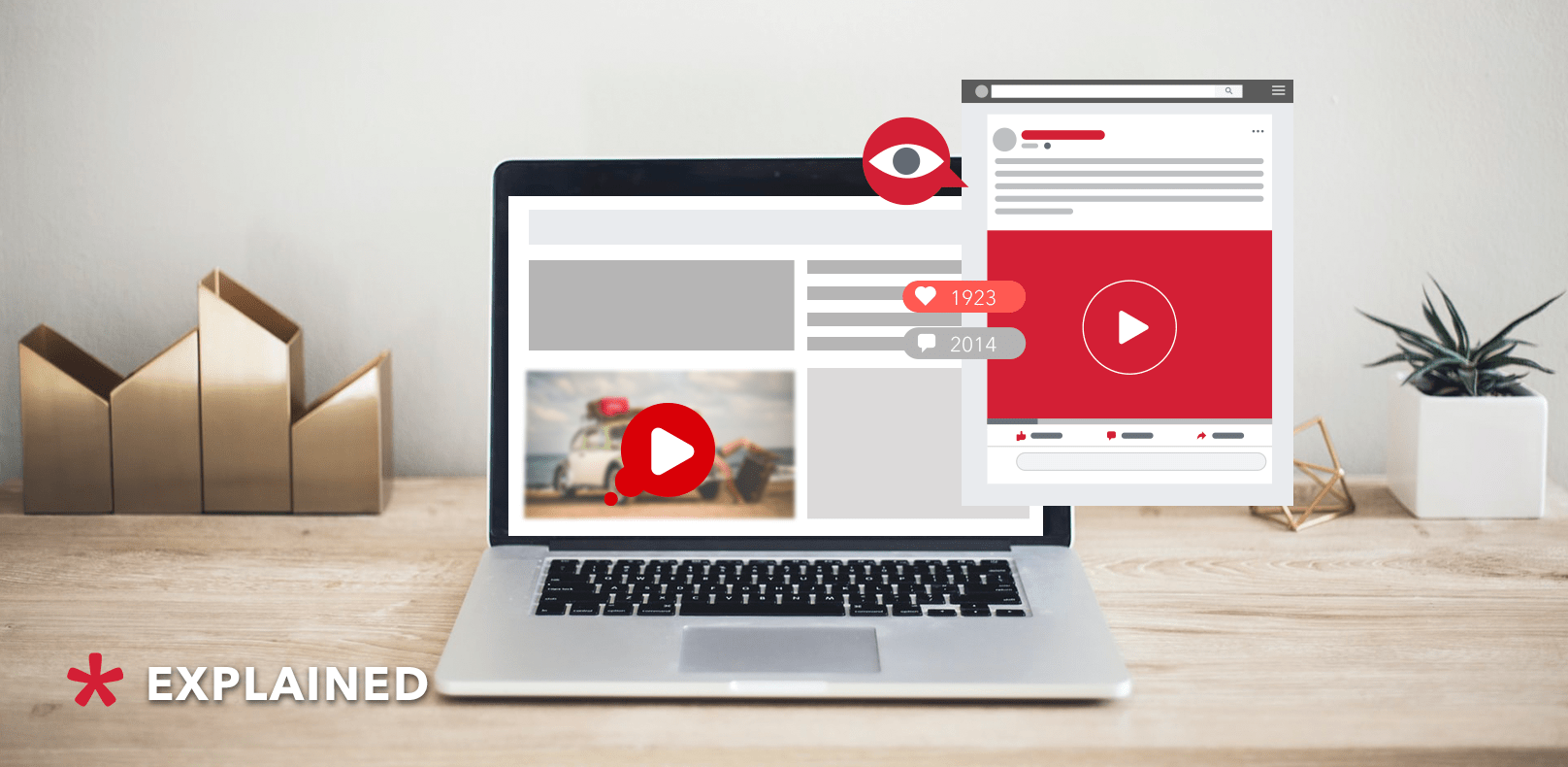 In-Stream Vs. In-Banner Video Ads: What's the Difference?
Video is the most engaging type of content. Viewers remember 95% of the message when they watch it in a video compared to 10% when reading it in text. Videos are memorable, and leave a lasting impression that translates in conversion and sales.
The young cohort of users increasingly prefers watching a video over reading about the product. No wonder that advertisers are pulling their weight behind the video advertising, which grows at unprecedented speed. According to the report by IAB, nearly two-thirds of digital budgets allocated to video advertising, both on mobile and desktop. Also, almost 3 in 4 media buyers are planning to increase their digital video ad spend next year.
What is the best video ad format for your advertising campaign and business need? Let's consider two primary types of video ads on the market: in-stream and in-banner. It is crucial to understand the distinction between those formats, their pricing model, impact on the user experience, and perception of your brand.
In-stream video ads
In-stream video example
In-stream video ads are ads shown before, during, or after the streaming video, music clip, or gamified interaction that users have requested. These ads are run in the player and can pop up in the live stream, archived materials or downloadable content.
In-stream video ads have been around for a couple of years. While some users still tend to complain about them, now they're an accepted part of the online experience.
How to make in-stream video ads effective
Designated ad
Video ads should not be confused with TV commercials; it is a different channel for different mediums. Video ads are specifically tailored for mobile and desktop and not interchangeable with TV ads.
Repackaging TV commercials will not sit well with the consumer. Instead, you should pair with a reliable ad partner, like Admixer.DSP that will assist you in choosing a fitting format, device, and platform to reach the right audience in the most effective way.
Length
The optimal non-intrusive length is 15 seconds; it can be longer but normally does not exceed 30 seconds.
Skippability
The in-stream ad is still a distraction from the content user requested to see. Therefore, to give consumers freedom of choice and improve the attitudes toward the ad, most in-stream video ads have the "Skip This Ad" button.
Unskippable ads are relatively rare and used for forceful, direct promotions. Skippable ads put control in the hands of the users, giving them an option to opt-out or watch the video until the end. This way, the ad is perceived as more friendly and tolerable.
Strong message
For users to stay with the ad, it has to grab their attention in the first five seconds with a clear, captivating message.
Precise targeting
In-stream video ads have to be highly-relevant for the users or contextually connected to the content they are watching. Otherwise, they tend to skip them right away. Accurate targeting with strictly defined criteria and occasional filtering is crucial for the success of in-stream video ad campaigns.
Create an effective in-stream video ad with Admixer.Creatives.
Types of in-stream video ads
In-stream video examples
Linear video ads
Linear video ads are the most iconic and widespread formats of in-stream video advertising. Just like in the traditional TV broadcasts, they are cutting into the main video and played in-line with the rest of the content. Linear ad interrupts the primary video and occupies the entire video played space. It can encompass the interactive component or work with a companion ad.
There are three forms of linear video ads:
Pre-roll ads appear before the video content.
Mid-roll ads can be played several times during the video, a lot like commercials in the middle of the movie on TV. Mid-roll ads have the highest completion rate since the user is already engaged with the content.
Post-roll ads are played at the end of the requested video. These ads are the most effective when the user is waiting for the next video on the playlist.
Linear ads may have interactive elements, CTA buttons with an option to download a whitepaper, sign- up for the newsletter, or go to website with more information.
Nonlinear video ads
Nonlinear video ads are sometimes called "overlay video ads". They are displayed together with the streaming video content without interrupting it. Nonlinear ads take up a small part of the screen, to get the viewer interested and invite to further interaction.
If the user clicks on the ad, the main video is paused unless the ad is closed. In case if the user chooses not to engage with the ad, it can stay until the end of the video clip, disappear, or reduce to a reminder button. Nonlinear can be not only a video ad but also a text or rich media.
Companion video ads
Companion video ads don't appear by themselves and usually accompany linear and nonlinear ads. They have distinct formats and sizes with the primary goal to maintain brand awareness and visibility. Companion ads are shown alongside the video, usually in the form of text, image, rich media, or wrapping.
Pros of in-stream ads
Thanks to programmatic audience-based buying, and extensive targeting options, in-stream video ads can deliver relevant ads to the most appropriate audience. In-stream provide an immense reach, making it an excellent tool for brand-awareness campaigns.
According to Google, users who watch video ads to completion are 23 times more likely to further engage with a brand.
Normally, in-stream video ads appraised on the cost-per-view (CPV) model. It is very handy for the advertisers since they pay only for the complete video views if, for instance, a user watched 30 seconds of the video.
Advertisers don't have to pay for users who are not interested and skipped the ad early. Alternatively, the advertiser pays for interaction if the user clicked on the CTA-button, banner, or the overlay.
In-stream video formats are available in the Admixer.Creatives, an extensive library of ad templates and creative solutions for your campaigns.
Cons of in-stream ads
In-stream video ads are sometimes perceived as annoying. They disrupt the viewing experience and cause a sentiment similar to TV commercials, propelling abandonment, especially in the short-form content (33%).
Cover important information
Non-linear video ads could cover important information on the original video content, like subtitles or captions.
Rich media and interactive formats can distract the viewer with moving elements.
In-banner video ads
In-banner video example
In-banner video ads are video ads activated within a standard display banner on a webpage. As a rule, they usually follow standard IAB banner sizes, 728×90 or 160×600, but most frequently 300×250.
The video is immersed into the banner, and once triggered, can expand to a large interactive panel, or redirect the user to the domain where the video is hosted.
An in-banner ad usually consists of description up to three lines of text and a thumbnail image, usually a screenshot from the video.
These ads are relatively new, and still waiting for the mainstream adoption by the advertisers. You can frequently encounter this type of ads in the news feed, or inserted between other videos or other content on a website.
How to make in-banner video ads effective
Length
In contrast to in-stream ads, which are time-limited, in-banner ads can be as long as advertisers desire. However, for the friendly user experience, it shouldn't be more than 2 minutes to keep the attention of the viewer.
Brand assets
Make sure that your in-banner video contains your logo and a short description so that the user knows what product is being advertised at first glance.
Platform
In-banner ads may be sold across different websites through an open ad exchange or private marketplace. Mind that a large in-banner ad on a premium publisher's website will likely bring better engagement, while a smaller banner bought through open exchanges will reach a broader audience.
Types of in-banner ads
There are three major types of in-banner video ads:
Click to play – a still image is displayed at first, once the user clicks on the creative, the video ad starts playing.
Hover to play – this ad starts playing when the user hovers over the video.
Autoplay – this video ad starts playing without any interaction from the users. This is a very intrusive format, especially if it includes sound. It can catch the users off guard, and often compel them to quickly close the tab.
Pros of in-banner ads
The main advantage of in-banner ads is that they don't appear as an out-right promotion. In contrast to in-stream ads, in-banner video ads are less intrusive. The ad doesn't interrupt the main video, and rather subtly recommends branded content in the sidebar or top search results.
In-banner video ads are not aggressively pushed into the online experience and give the user a choice to engage or not. It is an excellent tool for advertisers who aim to promote their brand rather than concentrate on sales.
For instance, Benefit Cosmetics used in-banner ads to boost its branded content. They targeted viewers who searched or browsed the recent bow trends. Benefit Cosmetics wanted to seamlessly integrate into the search experience "in a way that felt natural" and put their brand for consideration. As a result, Benefit was able to boost subscriptions to their channel by 20% and drive an additional 663,000 earned views on top of their 1.2M paid views.
Standard size in-banner video ads that are sold through open exchange boast lower CPMs than their in-stream alternatives. However, mind that larger slots on premium publishers' websites will be much more expensive and won't be available to all advertisers. Instead, they are usually sold through programmatic guaranteed deals.
The placement of the in-banner ads is defined by the search intent, allowing advertisers to contextually target various groups of users, potentially interested in their area of expertise. This format is advantageous for building knowledge of the brand and targeting broad segments of the audience.
Create your first in-banner ad with professional templates from Admixer.Creatives.
Cons of in-banner ads
Lower engagement. Consumers are less receptive to the message in in-banner ads compared to the in-stream ones.
Slower website. Without proper setup, in-banner ads can slow down webpage load speed, hindering user experience.
Website crowding. If there are too many in-banner ads on the page, the site content becomes challenging to consume.
In-stream vs. in-banner ads: How to choose the right one
It is essential to strike the right tone with your video ad. Wyzowl reported that 75% of consumers decided not to buy a product because the video voice over annoyed them.
The wrong ad can damage your brand reputation and the perception of your product. For this reason, you should define the objective of the campaign and select the ad format accordingly.
If you are subtly building brand recognition and want to familiarize the audience with your company, in-banner ads would be a great choice.
If your consumer already has the brand knowledge, and you want to engage them further or push toward the conversion, in-stream ads would work.
In case you are aggressively advertising your product, intending to boost the sales, unskippable linear video ads will do the job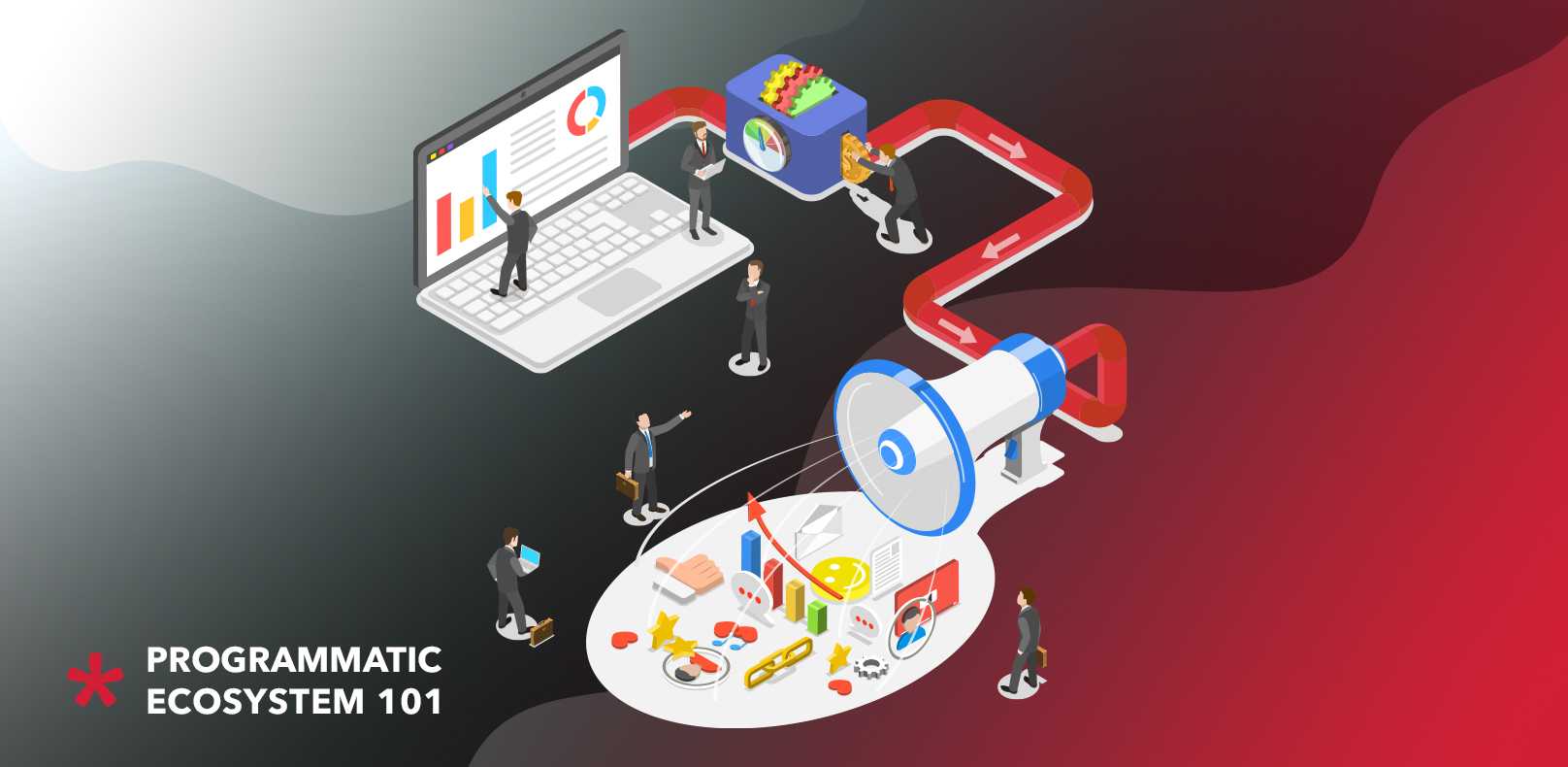 Programmatic Advertising Explained: Terms, Elements, Buying Methods, Programmatic Monetization
Programmatic advertising is swiftly expanding its market share and is becoming the dominant model in the digital advertising ecosystem. According to the joined report by IAB and PwC, programmatic ad revenues currently account for 80% of all digital display advertising revenues. Programmatic advertising enabled companies to capitalize on their consumer data and reach audiences more cost-effectively.
According to recent estimates, brands spent $106 billion on programmatic advertising in 2019. The prediction for 2020 says that programmatic ad spendings will grow to $127 billion and will reach $147 billion by 2021.
What is programmatic advertising?
Programmatic advertising is the process of buying digital ads through automated platforms. It is gradually replacing the traditional model of digital advertising that involved human negotiations, manual insertion orders, and requests for proposal (RFPs).
The software takes over the menial tasks previously done by human ad buyers. In direct media buying, you would have to look for publishers, negotiate the price, and ad placement in person. Programmatic technology streamlines the ad-buying process and makes it cheaper by removing human interactions wherever possible.
It allows marketers to spend more time on tailoring their targeting and customizing campaigns, removing redundant ad-buying procedures. It is a data-driven approach that replaces inefficient manual practices prone to human error.
Advantages of programmatic advertising
Programmatic advertising introduces transparency to the digital marketing marketplace. It eliminates the informational asymmetry that used to plague the industry. Direct media buys stimulated deals behind the closed door, obscuring the actual market value of the traffic.
With programmatic monetization, publishers can access the demand and get a fair price for their ad spaces.
At the same time, now advertisers can get precisely what they paid for. Programmatic platforms are optimized in real-time based on the extensive publisher's data. It allows marketers and advertisers to aim at individual impressions instead of buying blocks of advertising. Auctioning may drive up the price of specific placements, but in the long run, it is a more cost-effective strategy for advertisers than direct deals.
Programmatic advertising rests upon the whole ecosystem of ad exchanges and digital platforms (e.g. SSP and DSP), connecting publishers and advertisers and facilitating the ad inventory trading. Buyers and sellers transact in real-time, a lot like stock exchanges.
Key elements of the programmatic advertising ecosystem
SSP
A supply-side platform (SSP) is a programmatic monetization gateway for publishers, who can use it to sell advertising spots across their websites, mobile apps, or games through automated auctions. SSP connects to ad exchanges and demand-side platforms, enabling advertisers to bid on ad inventory.
SSP enables publishers to check their fill rate, overall yield, and evaluate the demand from the buyers. It provides a unified platform to oversee multiple ad networks and DSPs.
The goal of SSP is to provide access to real-time data and maximize the price for the ad space. Publishers usually set a bid floor they are willing to accept.
SSP can feature a wide variety of formats. At the same time, it can be devoted to a particular type of advertising, for instance, in-game ads.
DSP
A demand-side platform (DSP) is a platform that lets companies, ad networks, and agencies to buy ad spaces from publishers and ad exchanges. DSP puts forward the advertiser's requirement on the audience, price, and campaign goals.
After that, the platform automatically assesses available ad inventory, and purchases ad spaces that meet these criteria most cost-effectively. DSP also can measure and optimize marketing campaigns in real-time.
Ad server
Advertiser ad server
An ad server is a platform where an advertiser hosts its creative assets, such as video, native ads and banners, as well as stores data about them. It ensures delivery of the creatives to the ad spots within milliseconds, once the impression is sold.
An ad server also equips advertisers with campaign tracking, performance reporting, and ad management, in cases where there are multiple versions of creative assets. The ad server can help to consolidate data when multiple DSPs and publishers are involved.
Publisher ad server
An ad server is also an irreplaceable tool for publishers. It is an ultimate gateway for programmatic monetization of the traffic that allows publishers to set ad units, connect to multiple demand partners, prioritize ad delivery and monitor campaigns.
Ad network
An ad network is a platform that accumulates ad spaces from multiple publishers and websites to bundle them together and sell to agencies and advertisers. Ad networks sell advertising inventory of a particular website, of specific categories of sites, and impressions to certain audiences.
Ad networks used to be the primary intermediary for the ad buyers in the early days of digital advertising. They allowed advertisers to secure ad spots across hundreds of media sources, yet this model lacks transparency.
Today, ad networks focus on the premium inventory, ad formats, and placements that cannot be acquired through programmatic, such as branding, rich media, and packages of high-quality inventory. Ad networks remain a critical piece of advertising infrastructure for many categories of publishers.
If you want to create your own ad network, you should consider the White Label Platform. It is a comprehensive solution, that allows you to easily build an ad network and connect it to reliable programmatic monetization sources.

We've previously described how to choose the right tech partner to create an ad network.
Ad exchange
An ad exchange is a virtual marketplace that allows publishers and advertisers to trade advertising spots automatically. Exchanges enable advertisers to buy ad spots across a range of sites in bulk, in contrast to negotiating buys directly with specific publishers.
Exchanges operate via real-time auction, with advertiser bidding on the available ad inventory from publishers. The dynamics of supply and demand determine the price of an ad. Usually, exchanges appraise ad placements on cost per thousand impressions (CPM) basis.
Ad exchanges enable buyers to assess the price of sold impressions and provide greater transparency than ad networks.
Agency trading desk
An agency trading desk (ATD) is a platform that allows advertising agencies to manage programmatic marketing campaigns of different clients.
Brands using a trading desk basically outsource campaign management to the agency, which removes the need to hire an in-house programmatic specialist. At the same time, such advertisers pay extra ATD fees on top of the DSP commission. And, unlike DSP, advertisers cannot access the available inventory directly.
Agency Trading Desks are responsible for analyzing data, research audiences, measuring key campaign indicators, optimizing strategies, and ad budgets. ATD bring to the table additional expertise and toolbox for working with DSPs, audience planning, and getting the most cost-effective ad placement.
ATD advantages for advertisers
Extensive experience. Agency media buyers working with ATD are usually more knowledgeable than in-house programmatic specialists hired by brands.
Performance optimization. The technology automates menial processes while humans execute more complex tasks. Advertisers don't need to interfere in any processes.
Broader campaign data. ATD employs historical campaign data, optimization techniques and bidding methods that have proven effective to forecast and optimize the results of current campaigns.
Access to several DSPs. ATDs that have access to multiple demand-side platforms, may provide more effective ad placement.
DMP
A data management platform (DMP) is a software platform that consolidates data about the target audience from multiple sources and channels.
What does DMP do?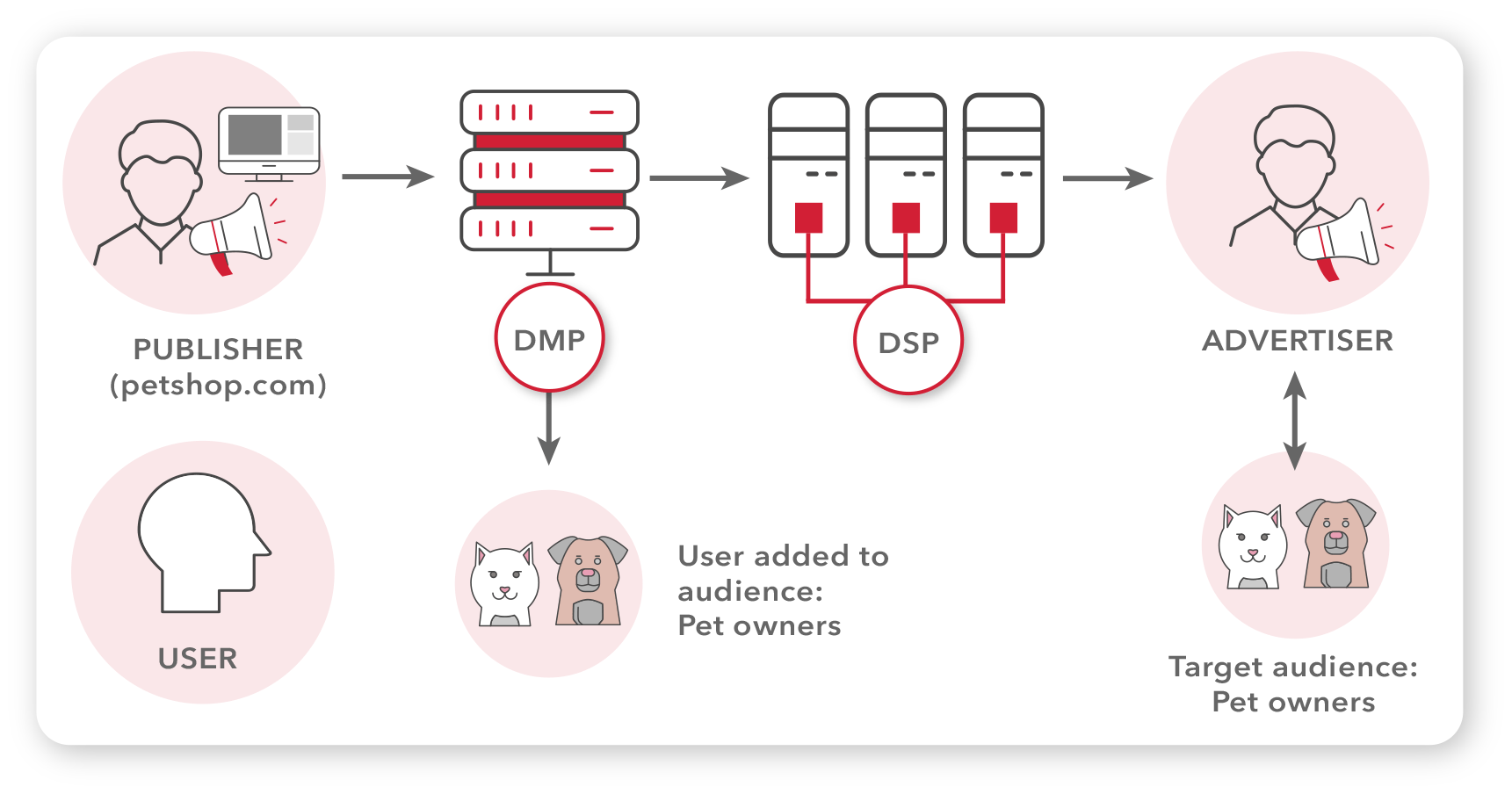 It analyzes user behavior on sites and mobile applications as well as user data from other sources, and packs users into segments in line with demographics, location, and behavioral attributes.
DMP divides audience data into clusters and provides suggestions on targeting, messaging, and primary channels of communications.
DMP analyzes big data and creates lookalike audiences, where users with similar characteristics are suggested for scaling.
User tracking
Cookies
A cookie is a small piece of data stored in the users' browser by the site they visit. The browser stores the cookie and sends it back during the next visit. Typically cookies help websites to keep the user logged in, remember the language, items saved in the shopping cart, etc.
Search engines and websites use cookies to personalize your online experience and remember your preferences. Cookies don't carry personally identifiable information, only the user ID.
Cookies underpin digital advertising and make sure that the ads displayed to the users are relevant. They allow advertisers to recognize the users across websites and platforms, and serve them targeted ads of their product.
How cookies work
A user visits your website, clicks around your product inventory, and leaves to the news site to follow up on the new smartphone release.
A pixel on the website registers this behavior and places the cookies in the user's browser with the data about the website visit. It allows the advertiser to show the most relevant ad.
While on the news site, the cookie notifies retargeting platforms, which serve a relevant ad about a smartphone the user has just been searching with a discount.
Mobile advertising IDs
Cookies do not work in mobile apps. Instead, advertisers employ user-resettable identifiers provided by the operating system of the mobile device, AdID for Android and IDFA for Apple.
Those IDs allows media buyers to match their user profile with the impression received from the publisher. Mobile advertising ID works similarly to cookies and enable advertisers to measure the performance of their campaigns effectively, track user activity, and facilitates attribution, frequency capping, and remarketing.
Data types
First-party data
First-party data is the data that a company or brand collects directly from its customers or audience. It consists of data from the user behavior on the app or website, data from CRM, email newsletter subscribers, or social media followers.
First-party data comes at a minimal cost since it is collected in-house. It allows brands to personalize the customer experience and gain insight into their audience. Nevertheless, first-party data provide a limited data set, fitting for retargeting, but insufficient for large-scale outreach.
Second-party data
Second-party data is fundamentally first-party data of other platforms and partners. Frequently, advertisers gain second-party data when they have a direct relationship with the publisher. Second-party data allows brands to reach new audiences, and better predict the behavior of the customer base, due to the additional layer of data.
Third-party data
Third-party data is obtained through the outside sources that are not original collectors of the data. Those are large aggregators that pull it from various sources and publishers.
Third-party data vendors, like Data Logic and Nielsen, supplement first- and second-party data with large data sets of demographic and geographic information. Google announced that by 2022 it will phase-out third-party cookies, which will force publishers to look for alternative ways of data collection.
We've recently described how cookie elimination will impact the industry.
The amount of data is immense and hard to manage without the data management system. DMP consolidates first-, second-, and third-party data and conveys it to the DSP, which in conjunction with ad exchanges and SSP, finds the most relevant audiences.
Programmatic monetization and buying methods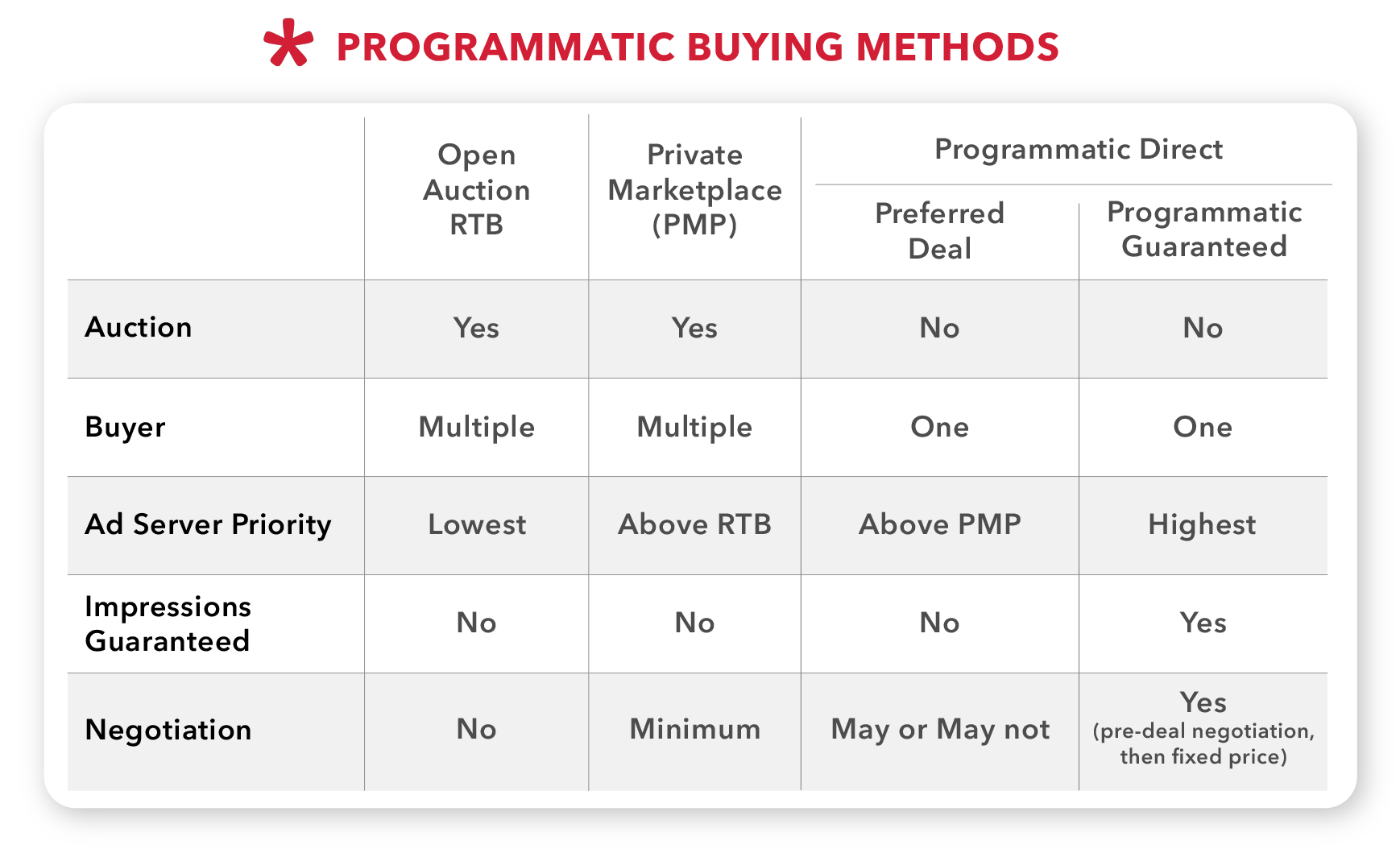 Real-time bidding
RTB or real-time bidding is the model of buying advertising spaces in the form of individual impressions through the real-time auction.
The selling and buying take place in the ad exchange that connects to publishers through SSP and to advertisers through DSP.
Publishers make the impressions available through SSP.
Then, the ad exchange places a bid request on the DSP.
Once advertisers assess the available ad inventory, they send a bid request back to the ad exchange.
SSP evaluates the bids and sells the impression to the highest bidder. A DMP facilitates this process through the exchange of data, and cookie matching between the supply and demand platforms.
After the transaction is finalized, the ad server places the creative in the ad spot of the publisher's site.
The deal and following ad placement happen instantly within milliseconds while the web page is loading. Real-time bidding is usually an open marketplace without particular restrictions, where everybody can join. RTB is one, but not the only form of programmatic advertising.
Header bidding
Header bidding is another auction model that is taking hold in the industry. In header bidding instead of each ad exchange having their own auction, one at a time, ad exchanges can bid at the same time at the highest priority in the ad server. Other programmatic buying methods focus on prior negotiations.
Private marketplace
A private marketplace or PMP is an exclusive trading platform, where participants have to be invited. It is usually a closed ecosystem or premium publishers that provide their inventory for the group of hand-picked big advertisers.
In the private marketplace, the advertiser's DSP connects directly to the inventory of the publisher bypassing the ad exchange. The process of buying and selling ad space also happens through the real-time auction.
Programmatic guaranteed
Programmatic guaranteed is a practice of buying ad spots directly from the publisher. Publishers and advertisers agree on the price of the ad placements and the number of impressions beforehand, and those impressions never enter the auction. There is no bidding process involved, but the negotiations also happen automatically through an API.
Preferred deals
Preferred deals is a way of offering ad inventory to the preferred advertising partners first, at the fixed price. If advertisers skip the chance of purchasing the ad space, it is then transferred to the private marketplace or RTB. Preferred deals are an efficient way for publishers to sell inventory to exclusive partners, with a chance to sell it on the auction if the inventory remains unused.
Wrapping up. Benefits of the programmatic ecosystem
Now when you aware of the key players in the programmatic ecosystem, you can see the full picture of the industry transformation. The work that was previously performed manually by the team of media buyers is now done programmatically through the DSP and SSP platforms.
The complex process of negotiations is reduced to automatic real-time auctions on ad exchanges. Direct deals are not extinct but rather streamlined through API negotiations. The preferred deals allow publishers to make use of direct deals as well as programmatic auctions.
Negotiations that used to take days of communication now happen within milliseconds while the page is loading. Fragmented data-sources are now consolidated through the DMP for the most efficient optimization of ad campaigns.
If you're considering the implementation of programmatic solutions for your ad inventory or media buying, contact Yaroslav Kholod, Director of Programmatic at Admixer.
FAQ