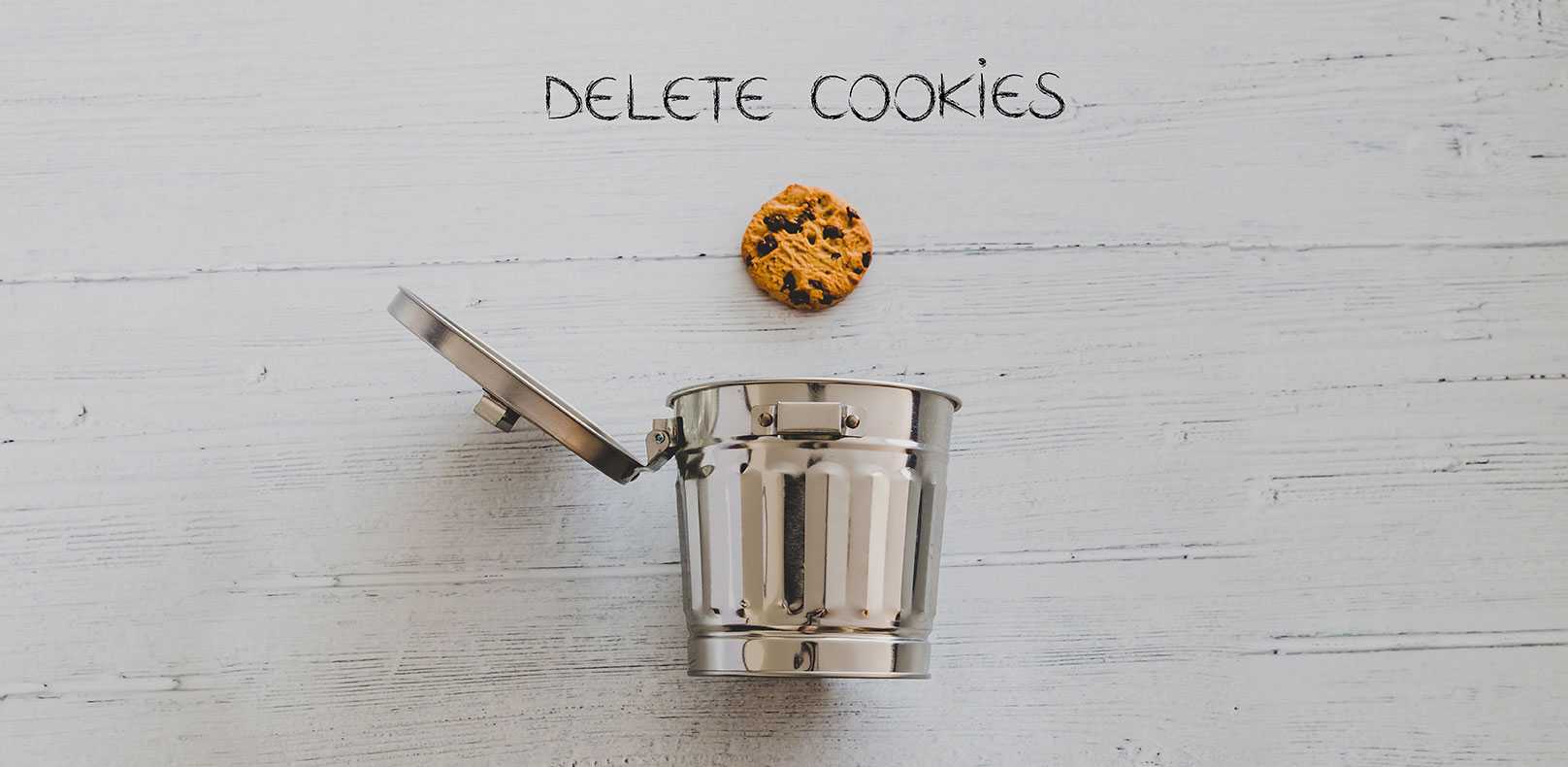 How Google's Decision on Third-Party Cookies Will Impact the Industry
This week Google has announced its plans to get rid of third-party cookies in the Chrome browser by 2022. While this didn't come as a surprise — the talks have been around for quite some time — the two-year timeline will bring a drastic change to the adtech industry.
Why Renouncing Cookies Matters
Since their introduction in 1994, cookies have been an integral part of marketing communication between advertisers and their target audience. They became an indispensable tool for targeting ads, tracking them and measuring their performance based on the anonymous data of the user's journey through the web. From demographics to behavior — cookie data is the backbone of analytics and is essential for converting ads into sales. Google Chrome accounts for 64% of the worldwide browser market. This monopoly has been raising privacy concerns for a long time.
The latest Privacy laws (e.g. the EU's GDPR, California's recent CCPA law) have already made a devastating move on cookies fueling the trend for transparency and the urge for new solutions. Within the next two years, companies that rely heavily on online advertising (and most of the companies do) will have to adapt to the post-cookie world and find new ways of reaching their target audience. We've asked Admixer executives to comment on what to expect after Google gets rid of third-party cookies.
How the Cookie Elimination Will Affect Advertisers
Google's plans to phase out third-party cookies will likely cause the biggest change to advertisers in terms of media planning and buying habits. It will significantly reduce opportunities for targeting, frequency capping, measurement, and attribution. Furthermore, Ad campaign KPI and reporting will certainly be radically different.
Certain cookie-based techniques like measurement of reach and frequency are less likely to die entirely and will survive in some form. They will be based on either first-party publisher data, IP addresses, or some other approximation approaches. It's difficult to forecast how the cookie ban will affect mobile in-app IDs (Apple's IDFA and Android). They might follow a similar direction, possibly in a long-distance future.
Efforts to use first-party publisher data in collaboration with advertisers' seems promising. It might as well be the future where there is less tracking. It will take a lot of additional and unexpected efforts from all of the market players, not solely adtech companies, to build a better user identification infrastructure for digital advertising. However, we remain very optimistic about Google's plans to get rid of third-party cookies and for our DSP we are ready to test, deploy and scale the required features and services on the route to a better (we sincerely hope) advertising future. — Dmitry Breus, Head of Admixer.DSP
What Cookie Ban Means for Publishers
Small publishers who can't enable data collection will stay within the paradigm of working with tools from large ad tech providers — we will most likely see some kind of a modified setback to context-targeting advertising in this segment. For large players who collect their own user segments, the main solution is to consolidate into even larger data clusters with a single login and a unified user database at their disposal. This may even result in the creation of the entire closed ecosystems. — Elena Podshuvejt, CPO
What Data Providers Should Expect
Data Suppliers mostly relied on third-party cookies as the primary user ID to build and sell their segments across a programmatic ecosystem. Today, when the fate of cross-site browser tracking is sealed, the future of data providers' business is under question. Transition to mobile advertising ID's or universal ID's seemed logical. But not all data owners could assign their data to this kind of identifier, which leads to a significant reduction in the number of possibilities for behavioral & interest-based targeting and measurement for advertisers. On the other hand, 1st party data will gain more traction and direct collaboration between data providers and big publishers will make sense. — Ivan Fedorov, Head of Admixer DMP
How to Prepare for the Post-Cookie World?
Certainly, the user identification solution will be found for the adtech companies outside the walled gardens. IAB Tech Lab will work in this direction. In our opinion, the most logical way would be to create some kind of an Ad Identity consortium, which will combine the collection of consents and users' registration data. Imagine a module that is embedded into websites and apps (if we eliminate the mobile identifiers) and that collects voluntary registrations. Websites and apps can motivate users to register in many different ways — from rewarding users to providing them access to the content after registration. — Yaroslav Kholod, Head of Programmatic Operations
What are your thoughts on Google's decision to eliminate third-party cookies? How to adapt to the new adtech environment? Write to us contact@admixer.com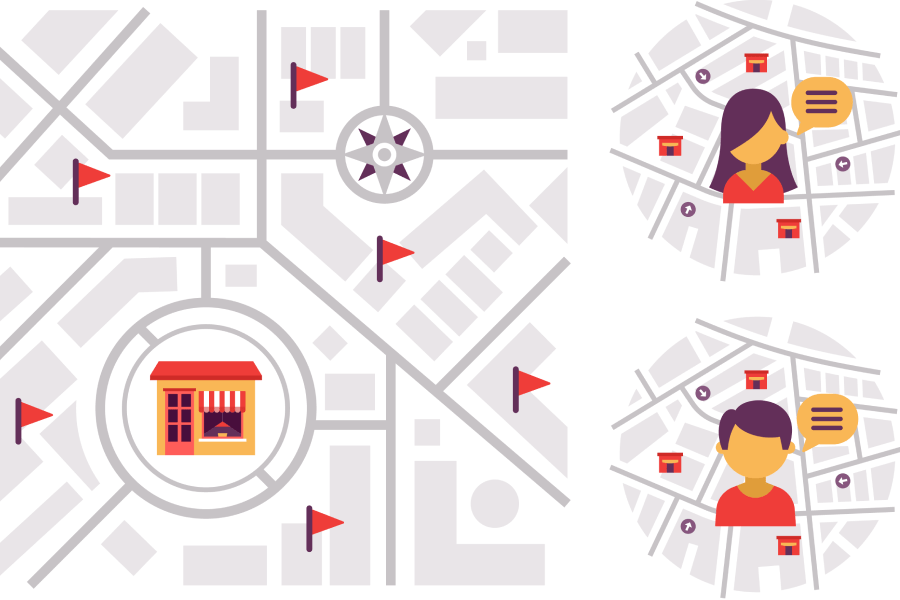 Hyperlocal Targeting Advertising Now Available In Admixer.DSP
In the era when people access the internet on the go, it's natural that brands and advertisers want to reach out their audiences wherever they are. And, sure thing, keep their ads relevant. (more…)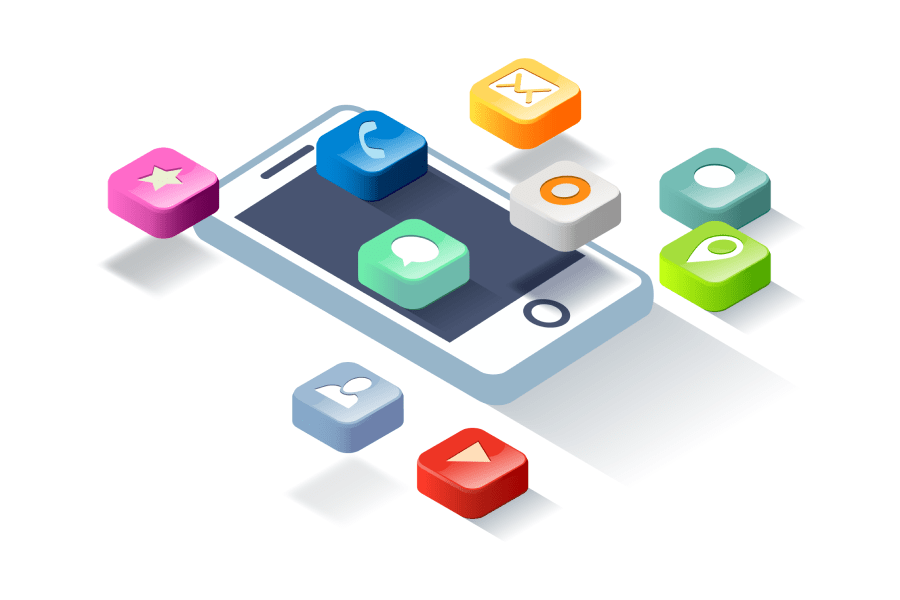 Admixer guide to in-app advertising
How advertisers and brands can reach, engage, and measure their audiences with mobile in-app advertising.
In 2019 we rely on apps for everything, from navigating traffic on the way to making notes what to pick up at the grocery store, get reminders to exercise, drink water, and even breath. On average, adult smartphone users have about 80 apps installed on their devices and spend over 3 hours daily interacting with apps. It's a great opportunity for advertisers to compete for mobile users attention, as well as – for mobile app developers not to provide technical opportunities for in-app ads.
Let's take a short tour on what this kind of advertising is and how advertisers can benefit from leveraging it.
What is in-app advertising?
In-app ads are served through a mobile app advertising network, which connects advertisers and developers. Users see it as interstitial or rewarded video ads (you've probably come through one of those video ads when playing Clash of Clans), banner or native ads, ads in messengers, and technically advanced formats, like authentic in-game ads (which we'll touch upon later on) and more.
Depending on business goal you're focusing on – whether it's increasing brand visibility, user engagement, or revenue generation – there's a strategy behind picking right ad inventory and placing your ads wisely. Download Admixer guide to advertising in apps to know these strategies:

Why does anyone have to invest into in-app ads?
Instead of mobile web, for instance?
Mobile is the leading growth driver of global internet usage, with 78% of users accessing the web via mobile devices. But today's digital world isn't just mobile-first — it's app-first. Apps dominate the mobile landscape, accounting for 89% of consumers' smartphone time. This figure is only expected to grow as app usage continues to increase at a faster rate than the mobile web.
Along with snowballing number of app users, ad budgets – and revenues – are increasing. Here's some recent stats at a glance:
Besides, mobile app ads has several undeniable advantages. Like for instance, mobile devices, unlike desktop computers, are typically owned and used by one person, which means the apps we use are closely connected to our personal lives and daily habits.
This makes mobile apps the ideal place for advertisers to create effective advertising touchpoints. By leveraging mobile apps advanced technical capabilities to reach specific audiences, it's also easier to verify that users are actually seeing their ads.
Along with advanced targeting opportunities, mobile apps have been resistant to ad blocking so far. Plus, leveraging apps, you can better track your users – without any privacy interruptions through, as users enable tracking by themselves, by opting-in.
How can you benefit from in-app advertising?
Along with advantages above, this type of ads bring to advertisers a number of other advancements. Here are just several opportunities to highlight:
Placement: With in-app ads advertiser gets end-to-end infrastructure, providing their users with ad messages maximum relevant to their experience and context
Performance: Advertisers and brands also get the opportunity to track their ad campaigns more precisely, filter out fraudulent traffic, leverage advanced targeting, and eliminate any ad blocking
Brand awareness: Brands often underestimate advertising in mobile apps, thinking that to give a go with it they have to get own application first, which is not obligatory at all. Nearly any brand can serve their ads in applications that already exist
Your in-app ads checklist
With increase of usage and superior technical capabilities that keep advancing, it's obvious why advertisers should invest into mobile ads. The next step is understanding how exactly to invest budgets wisely and get the most of ads. Here's what we suggest to check before you start planning you in-app campaign:
#1. Where: Where your ads come from, verticals and app categories
#2. What: Choosing ad formats which fit your goals
#3. How: Identifying your goals and KPIs how you'll measure the outcome
Recent and actual statistics, emerging in-app ad trends, and most importantly, strategies helping you plan, reach, and measure your advertising outcomes – here's what you'll find in this guide. Besides, you'll get prepared for each step above, and will be equipped with everything you need to reach your in-app advertising goals.
BTW, talking about your goals…
With this guide you'll find out which ad inventory to pick to address your goals best. Specifically we'll lead you through the following formats, served by Admixer.DSP trusted providers, like Viber, InMobi, Fyber, Opera, Adverty, and so many more:
Video ads (interstitial and rewarded)
Banner ads
Native ads
In-game ads
Ads in messengers
What's next?
If you're ready to power up your in-app advertising strategy, download your in-app guide for more details on how to start your in-app ads campaign with Admixer.DSP.
Have questions or need help? Reach out Tetiana Sichko, Business Development Manager and Partnerships' Manager at Admixer.DSP: tsichko@admixer.net.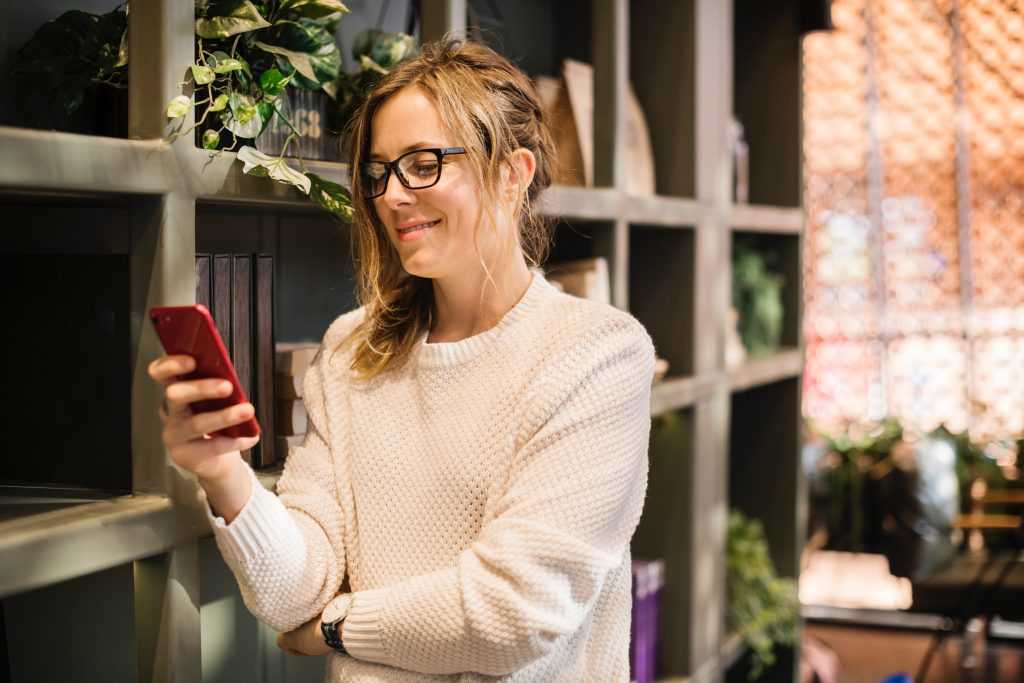 InMobi in-app inventory: 4 ad formats now available in Admixer.DSP
In the mobile-first world mobile phones alone generate 52% of the total internet traffic. To engage smartphone audience advertisers need to "catch" their audiences with compelling and non-obtrusive in-app ads.
InMobi, an in-app inventory provider with the coverage of 1.6 billion+ unique user profiles globally, is a reasonably good solution to leverage. InMobi demonstrates 95% app SDK integration and provides access to first-party mobile data. Get more insights and stats in this guide:

Since 2018 Admixer has been an official partner and reseller of InMobi in-app inventory.
Today we're glad to introduce four mobile ad formats to help advertisers to be noticed and drive engagement with their audiences. All formats are now available for direct purchase in Admixer.DSP.
Standard banner
A standard banner is an ad unit that can be either static or animated image that is placed within a publisher's specified ad content area around their live mobile content.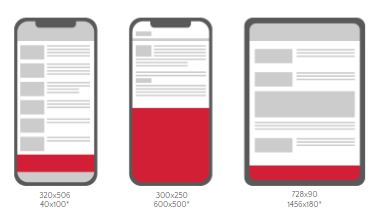 Static interstitial
An interstitial ad is a full screen advertisement, which is displayed either during launch or between content or upon exit an application or mobile web page. Supports landscape and portrait view.
Native ads
Non-intrusive ads that blend into the look and feel of the underlying app. This ad format helps reach new audiences on premium mobile publishers that work with InMobi for native ad experiences. Available in a form of multi-tiled layer with content blocks, feed, and in stream format, mimicking the social networking feed.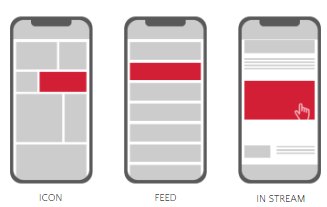 Video ads
A format encouraging advertisers to create trailers for their blockbuster brands. This format offers carefully designed video ad layouts for brand storytelling, letting advertisers to add interactive elements, and create a story sequence or capture inputs from consumers. Supports both horizontal and vertical videos. Advertisers can also leverage rewarded video ads to enhance in-app purchases and reach out better loyalty.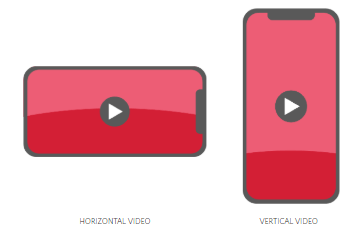 Next steps
If you're ready to power up your mobile marketing, give it a go with one of these InMobi ad formats, available for purchase directly in Admixer.DSP. Download your InMobi guide for more details, specs, and the shortest guide on how to start your InMobi campaign in Admixer.DSP.
Have questions or need help? Reach out to Dmitry Breus, Director of Business Development, Admixer.DSP: dbreus@admixer.net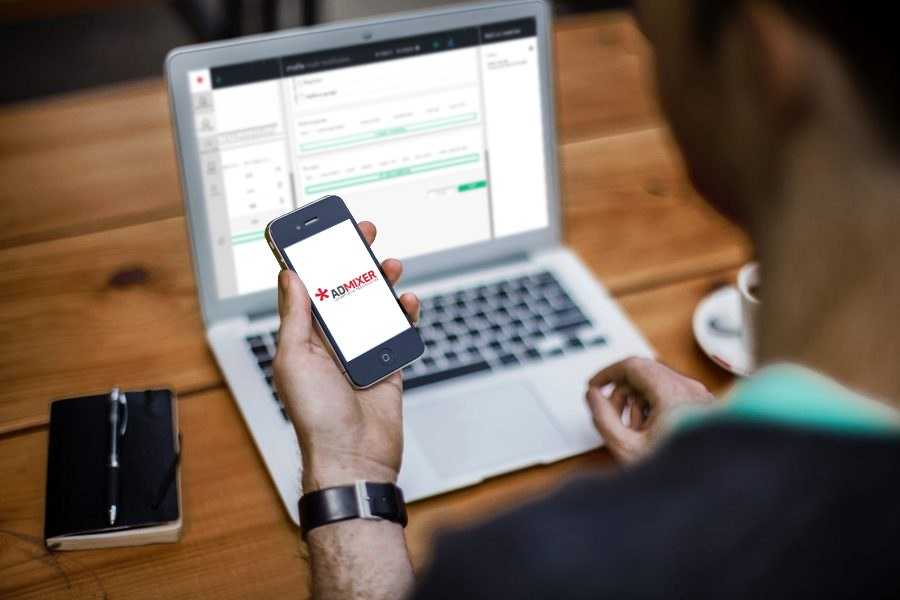 Introducing Push Notifications Ads in Admixer.DSP
As advertisers, you know that reaching the target audience with an advertising message is not an easy task in 2019. Daily a regular internet user is exposed around 4,000 to 10,000 ads. How can you get through this ads stream? And more importantly, how can you reach your consumers or subscribers without overwhelming them?
There is an efficient and non-intrusive ad format for this purpose – push ads. We're excited to announce that now Push Notifications are available directly in Admixer.DSP.

What are Push Notifications?
Push Notification is an ad format which is native at heart and lets you connect and engage with your target audience in a non-intrusive way.
Push Notifications, or Push Ads, are messages that users get directly to their desktop or mobile devices. These messages can reside in the notification tray of the device for hours, visible and accessible for a user.
How exactly does it work for a user? Simply, as one, two, and three:
Users agree to receive

Push Notifications

from a website or an app.

Your Push Ads get delivered to a user's desktop or mobile device, even when they aren't browsing.

When users click on the notification, they go to your landing page or offer.
Now, how it works for you.
With Push Notification ads you can:
Attract 100% Real Users
Admixer.DSP provides you with an audience of around 14 million unique users globally. Since users opt-in to receive your Push Ads by themselves, you get 100% real bot-free traffic.
Enjoy Various Targeting
So far, geo, device, and browser targeting options are available for you in Admixer.DSP. Yet, we keep working on targeting by domain, carrier, product category, and more options.
Get All-in-One Promotion Tool
Push Ads work for all the most popular verticals, like e-commerce, traveling, health and beauty, sports, finances, and beyond. Push Notifications fit when you need to:
promote your special offers

alert your subscribers of new content

announce sales and discounts

or boost mobile app downloads

and more.

Provide Great User Experience
Push Notifications are created to deliver positive user experience. These notifications get directly to a user's device, not distracting users from whatever they are reading or watching. Then, ads reside in the notification tray for hours, visible and accessible for users who can interact with the ads anytime when it's convenient for them, even when they're not browsing.
Plus, users can receive only a limited number of notifications a day and have an option to unsubscribe anytime. These factors altogether ensure high-quality traffic and authentic audiences for your campaigns
Next Steps with Admixer.DSP
Sounds like a good reason to give it a go? Download Push Notifications Guide on how to set up your first Push Notifications campaign in Admixer.DSP.
Have questions or need help? Reach out to Dmitry Breus, Director of Business Development, Admixer.DSP dbreus@admixer.net
Our introduction for everyone who's new to ad exchange
Do you like The Wall Street movie? It sure makes trading exchanges look fun, but doesn't quite explain them. Digital ad exchange comes from the primer exchange principles. We'll explain its basics below. (more…)