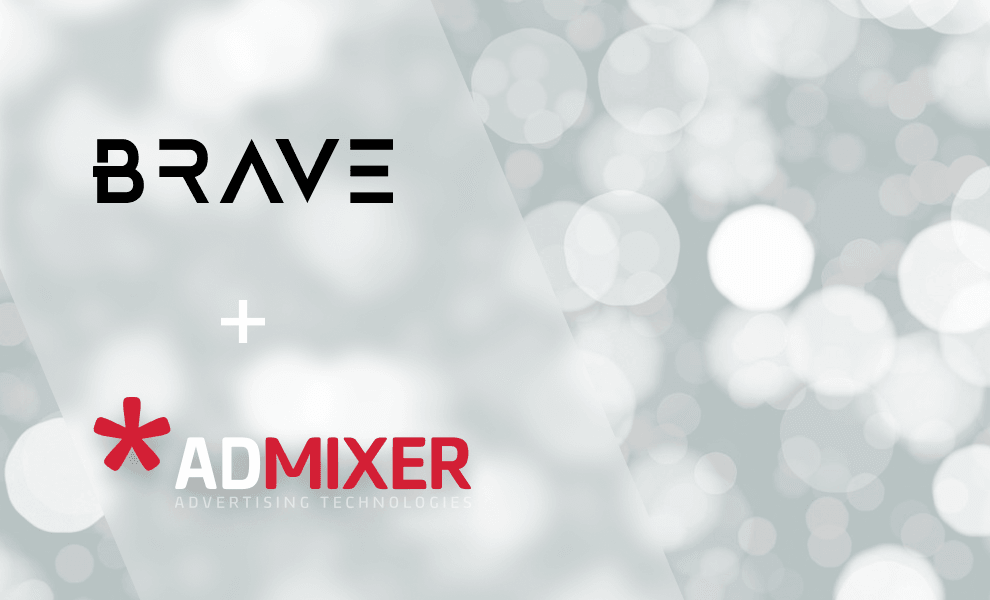 Admixer Partner: An Interview with Amir Sharer, BRAVE
Today we are talking to our valued partner from Israel,

Amir Sharer

, co-founder and CEO in

BRAVE

. BRAVE is a publisher-focused programmatic platform for an open digital media. In this brief interview we are talking about a general review of the programmatic landscape and some plans for the nearest future.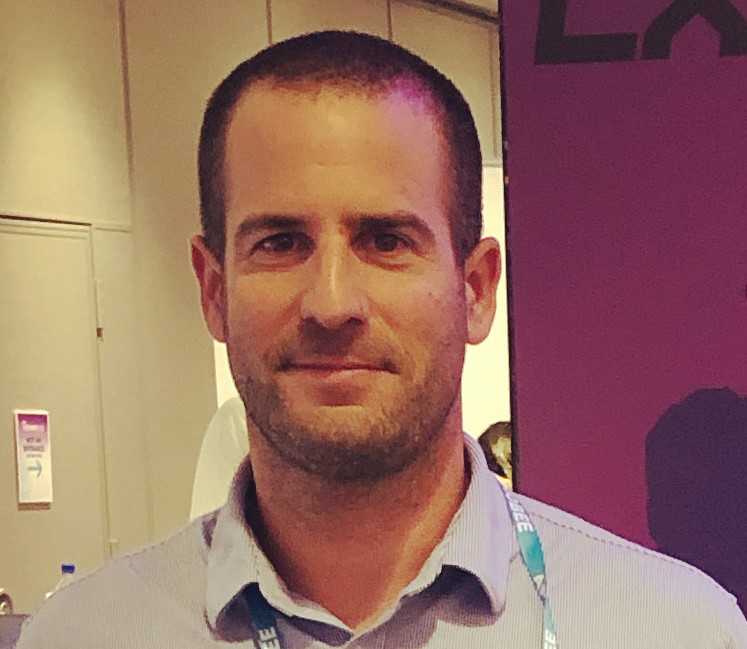 Hi, our company name is a major component of our identity. When I established the company, together with my partner Zachi Zach, I had three things in mind – radical automation and AI, constant R&D efforts and personal relationships. We are a lean and agile company that navigates the challenging programmatic world with two main purposes – bringing great value for publishers and doing what we love. Because we are a Publishing-house ourselves – we know the pain. Monetizing without sacrificing user experience is our main priority.
Let's talk a bit about programmatic landscape: what is trending from the perspective of BRAVE?
As you are aware, 2019 is a BIG BANG year for the programmatic industry. With sellers.json enhancing transparency following the ads.txt revolution and stronger privacy regulation becoming a reality, the industry is changing dramatically. Consolidation is happening, also among Google, FB, Amazon and The Trade Desk.
We see that apps ads.txt is already getting widely adopted. We predict that CTV and Programmatic Audio are the two formats that will keep growing. However, the huge wave of fraud and the ever-improving anti-fraud mechanisms have rather spoiled the early CTV game.
CTV is a relatively new ad format, gaining more and more popularity, and CTV supply is among the BRAVE's capabilities. What kinds of challenges do you face while plugging in new (new for market) supply sources like CTV? And how do you address these challenges?
The main challenge for the CTV market is a high-quality inventory. The main concern is that the majority of current CTV traffic is fraud suspected. Until we have a reliable way to identify whether the user came from real TV or from mobile, CTV's potential is limited.
Market penetration is still hard and high-quality video content is a prerogative of the big companies. We foresee a huge wave down in terms of the industry cleaning down low-quality CTV inventory. Nevertheless, progress cannot be stopped, and CTV is where every TV on this planet is going.
What regions/markets are the BRAVE's main focus?
We are primarily focused on North America, Brazil, and Korea. Later this year we do plan to expand in the APAC region.
Which communities/events are the most proactive and efficient in Israel, Europe, globe from your point of view?
Israel has a very big and successful tech community. It's amazing to see how much business is being done here in a friendly and informal atmosphere. Israel Programmatic ads conference is a good example of a very effective event. My favorite European conferences are DMEXCO and MWC. In the US, it's Programmatic I/O and Digiday Programmatic Summit.
We're happy to have BRAVE as one of our valued SSP partners for a year now! What aspects do you find the most valued in this partnership?
I think that Admixer is unique in its ability to develop great technology while building great personal relationships. We hope to grow our partnership even more in the near future, maintaining the atmosphere of transparency and close cooperation.
You've visited Kyiv and Admixer development office recently. How did you like it? What's your impression? 🙂
It was a real pleasure visiting Admixer and personally meeting the team, especially the R&D staff and of course the CEO. It was also a very efficient trip in which we identified several new and exciting opportunities (some already in progress). Admixer's hospitality was outstanding and I highly appreciate the willingness to get feedback in order to allow our strategic cooperation to grow even further. We also found time to have some fun, so I want to say thanks to Lena and Kristina for the amazing restaurant and the super cool rooftop bar showing Kyiv's skyline. Can't wait to come back!
Could you please share the major goals from BRAVE roadmap for 2019-2020?
Brave is currently focused on building new technology tools for publishers, and developing unique creative formats for advertisers. Stay tuned – there is much more to come!
And one last thing before we finish, could you please give some tips for programmatic success? Just 3-4 short recommendations.
Be transparent as much as you can

Invest in automation processes

Always check discrepancies. Then do it again!
If you're looking for partnerships with Admixer.SSP, reach out to Lena Storchak, Business Development Manager: estorchak@admixer.com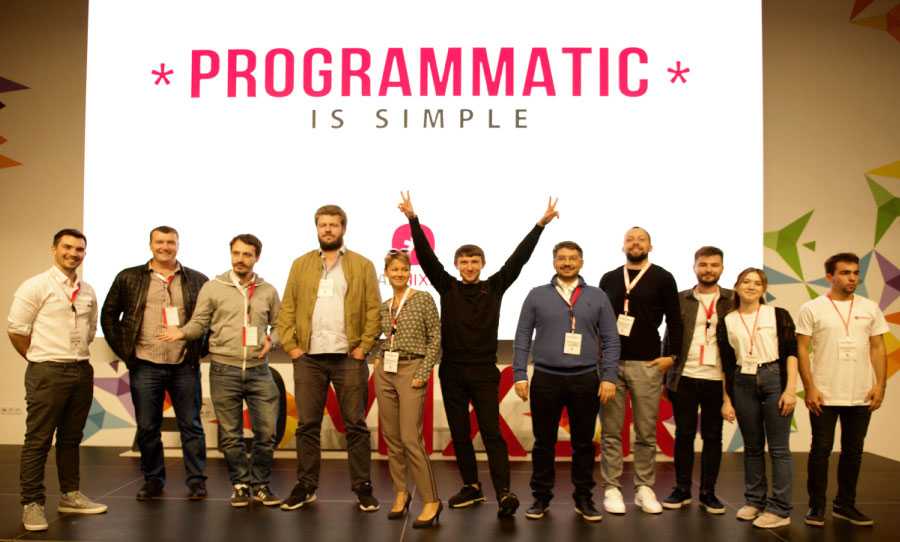 Moldova programmatic conference: key points by Admixer Technologies
On September 27, Admixer Technologies took part in the debut tech Moldova conference "Programmatic is simple", organized by Admixer Moldova company. The venue was Tekwill center, where C-suits form Ukrainian and Moldovan technological companies were discussing digital advertising realities, innovations, and new technical capabilities for market players. The core topic of the event was programmatic and its impact on the advertising industry.
As to the organization, we are delighted to thank Admixer Moldova for maintaining this event at the highest level. They started up just for about half a year ago and have already handled such a local-market rulemaking conference that brought awareness about the digital advertising industry.
Data for programmatic
The main messages of keynote speakers were that today advertisers are focused on embracing new technologies allowing them to use sophisticated algorithms within ad campaigns. And such algorithms require big data.
Data problem was in the spotlight of the discussion.
Panel discussion
Within the panel discussion, there were representatives of local agencies, advertisers, publishers, and Ad Tech companies. The issue was about the current state of the Moldova market from a digital advertising perspective, what are the hinders, and how to solve them.
All participants agreed that the lack of data is the main obstacle for programmatic implementation. It discourages both, advertisers and publishers. At the same time, insufficient usage of programmatic technology will lead to the development gap between local players and global tech leaders.
It was suggested, that to escape the vicious circle, publishers ought to make their first steps and to start using modern technologies. Moreover, delaying may lead to the vanishing of local players by global corporations.
As a positive signal here, representative of a major local eCommerce company said that they are on the way to contribute big data for ad players.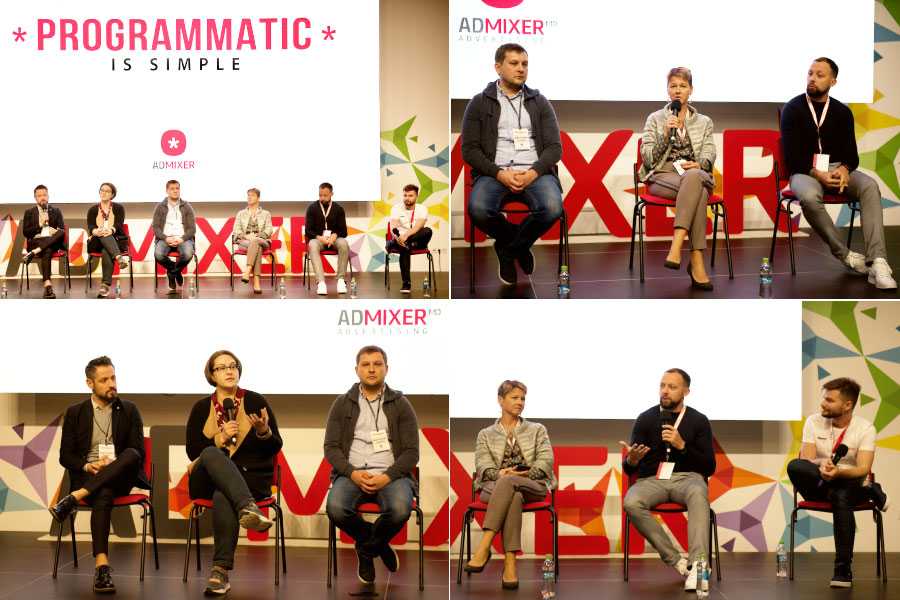 Abstract from the hostess
To sum up the conference outputs, Sergiu Cocieru, CEO at Admixer Moldova, stated: "First, I'm really glad to see that we could gather all ad players under the single roof here: publishers, agencies, advertisers. This doesn't happen often. The purpose of the conference was to prove the Moldova market that programmatic is simple. Programmatic isn't programming – as once we were asked on Facebook. Here, everything is already programmed for us, so our work becomes more simple".
He also added that the key idea of the event was to make together a big step in the direction of digitalization and that it's much simpler than might seems to be.
As a final note, it was emphasized that programmatic capabilities and advantages have a big future ahead, and yet, most of the highlighted programmatic features are already available today for all ad players. At this point, the official part of the conference was over.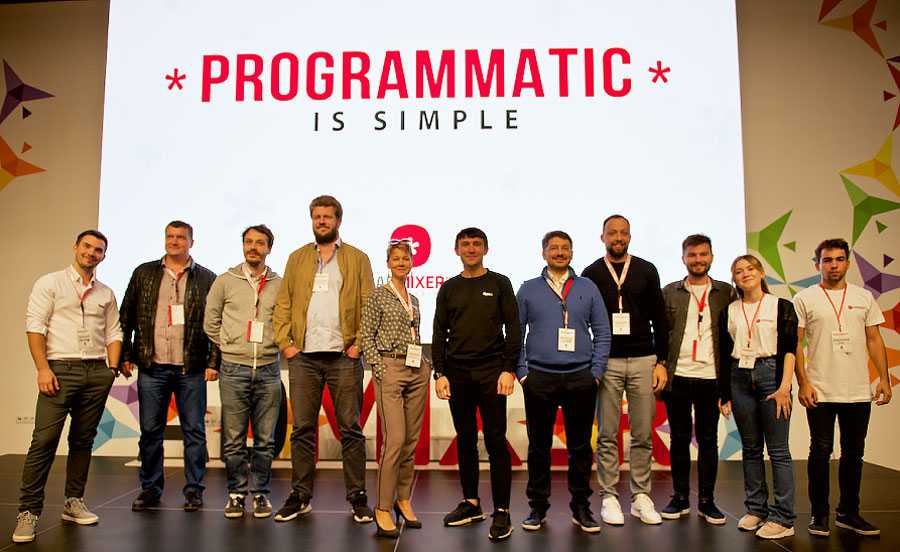 What's next?
We hope to see you all guys in the future at a new conference where we could discuss the progress of the implementation of cutting-edge technologies by all ad players.
Send us an email, and let's find out together how Admixer solutions and ad tech stack can help your business: media@admixer.com.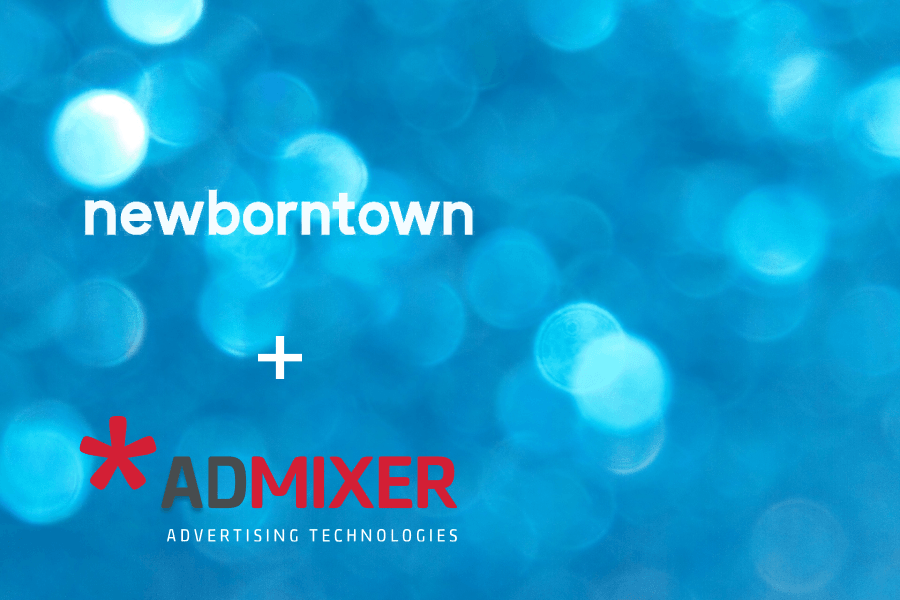 Admixer Partner: An Interview with Li Ping, Newborn Town
One of the principal directions of disruptive technologies is artificial intelligence. Today we are talking to a key person at the company that is inspired by AI technology and uses its capabilities to bring smart solutions to digital advertising. (more…)
Admixer Partner: An Interview with Saurabh Bhatia, Chocolate Platform
Meet our guest, Co-Founder & CEO at Chocolate Platform, who's sharing a story of starting and growing his own video SSP company and keynotes on what it takes to run ad tech business.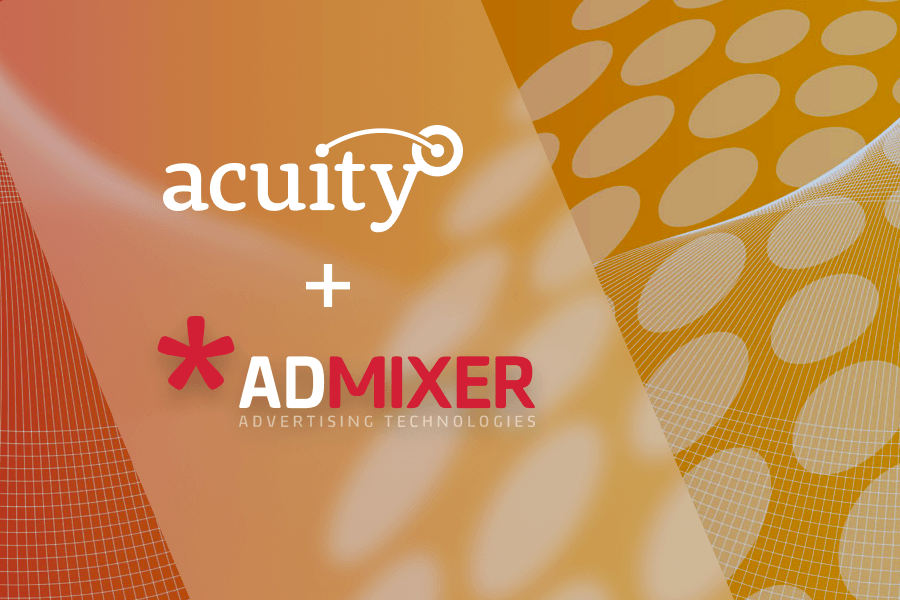 Admixer Partner: An Interview with Gil Klein, AcuityAds
AcuityAds is named one of the fastest-growing ad tech companies in North America. Operating globally, they provide a wide range of solutions. What's behind these solutions and technology? And how is the programmatic landscape changing from the perspective of AcuityAds? Read in this insightful talk with our guest.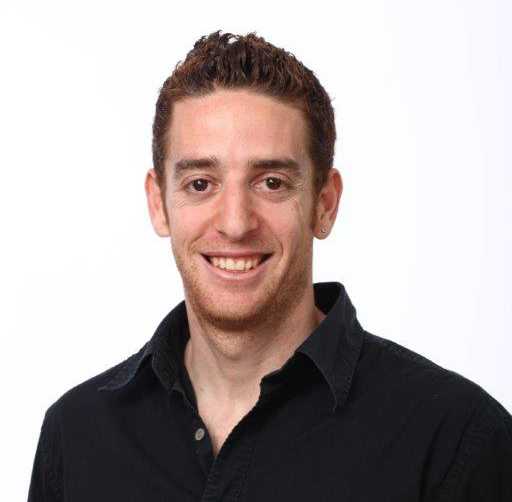 My name is Gil Klein, I'm VP Business Development. I'm over 15 years in the industry. Most of my experience is around ad optimization, media, and product in the ad tech world. My last role was the Managing Director at MobFox. A few months after the company was sold I've joined AcuityAds to help them strengthen and build their programmatic stack, focusing on the SSP exchange and additional offerings.
Let's talk a bit about programmatic landscape: what is trending from the perspective of AcuityAds?
From the AcuityAds perspective, which today has a very strong demand offering, we see that more budgets are pushed into digital and programmatic. There is very high interest also in video. And I think there is a more understanding among clients and advertisers that they have to measure their performance.
On the other hand, the shift to mobile is still growing very strong. I think that the last few months have proved the fact that clients understand better the mobile app space and are also feeling more confident in terms of the fact that it's clean. There are good tools and methodologies to eliminate fraud. Everything around app-ads.txt that have been introduced and more transparency gives them more confidence to shift more budgets into this space.
Next in line, we're seeing more interest in CTV opportunities. And also specific niches, let's say, cannabis campaigns and specific new trends that are rising.
Since you've mentioned the ad fraud, Gil, do you think it's becoming easier to fight it in mobile?
I think that fighting fraud in mobile is a bit harder, because of the nature of in-app world. But more companies start providing solutions making it harder for fraudsters to find the opportunities to get into.
I think the fact that app-ads.txt is being introduced, and sellers.json is coming leading to blocking more unauthorized resellers out of the ecosystem improves the overall trend and provide more confidence to the advertisers.
AcuityAds named as one of the fastest-growing technology companies in North America. What are your key strategies for growth success?
Well, it's a good mix of very strong technology, brand, and people.
Add to that the company is fast and innovative. We're seeing organic growth and also growth through acquisitions which is really helping the company push forward. I think we've become much more diversified as we are offering a DSP solution, an SSP, ad exchange, we have a video metrics solution. So there are a few things that we are doing, and we're able to accommodate more and more of our clients.
Add to this regional growth as we have people in Europe, the U.S., Canada, and Latin America.
How about ad tech and programmatic communities across these markets: which are most proactive and efficient?
Sure thing it's IAB Leadership Conference, Mobile World Congress, DMEXCO. AcuityAds is also a public company, so we go to investor events.
Are you going to visit DMEXCO this year, by the way? 🙂
Of course! And we'll be glad to see you there!
We too! We're happy to have AcuityAds as a valued partner. Could you share, what you value the most in partnerships?
We look for credibility and potential which definitely Admixer has. I think also the possibility to scale and work together is crucial. And, sure thing the team. At the end of the day, tech is nice but nothing happens without smart people out there. So I would say these are the main factors that we also see with the Admixer partnership.
Appreciate your feedback, Gil! Talking about people impact. Technologies are growing way too fast. Won't we be replaced by tech in the nearest future?
I think there's a big and good change that today people are doing less grunt work. In the past, we used to upload a campaign one by one, do all of these optimizations by ourselves. Today we can let the machines do these types of things. So, there are less errors, machines save a lot of time and let people stay fresh.
Plus, there are two main important things that any programmatic business want to be: efficient, and scalable. Efficient means allocating budgets wisely. So this is here an algorithm can help by doing smart throttling, smart inventory allocation.
So the roles for the person is changing, but there's definitely a lot of need for a smart product people to always think about the next steps and to understand what the clients need and serve offers for them.
Could you please share the major goals from AcuityAds roadmap for 2019-2020?
We're building additional solutions for the advertisers to help them see and understand better the results along the funnel, like type of attribution metrics and what made the impact for them to learn better at campaigns and their product.
For the publishers, we're trying to give them additional features to control the inventory that they have and who they sell to.
From the ad exchange perspective, we're always improving our tech stack and our infrastructure to be more efficient and smarter. And last but not least, in front of protection we're adding third-party solutions we're also always and building our own brand safety tech to detect any abnormal behavior.
What are your top 3-to-5 predictions on the most impactful disruptions in Ad Tech 2019-2020?
One will be more consolidations, meaning that there's gonna be even bigger companies that have more brands, and it's gonna be less room for smaller companies to compete. Companies understand they want to add additional solutions for their partners and become a more a kind of holistic type of client for them. So I think this is something that we see with a lot of companies that are looking to either build or buy additional capabilities to have even a stronger presence.
I think number two is the fact that app-ads.txt is enforced by the big buyers and then comes sellers.json. So this is gonna make it more transparent, safer, and cleaner space for the advertisers. This is important.
Number three, I think is the growth of programmatic at APAC, and China is still a bigger trend.
I think the industry is becoming much more mature and less chaotic. There are less ups and downs and less regulations coming again. I think it's streamlining much more, which makes it easier for all of us to predict and plan ahead.
If you're looking for partnerships with Admixer.SSP, reach out to Lena Storchak, Business Development Manager: estorchak@admixer.com.
Admixer Partner: An interview with Paulina Kluska, Voluum DSP
Behind every ad tech company, there are amazing people. Today we're glad to share a talk with people behind Voluum DSP and Codewise, Admixer.SSP partners from Poland. Enjoy this ad tech talk full of insights about the programmatic landscape of Poland and Europe, key challenges of the industry, ways to win against them, forecasts and trends, and strategies how to stay at the forefront. Meet our guest.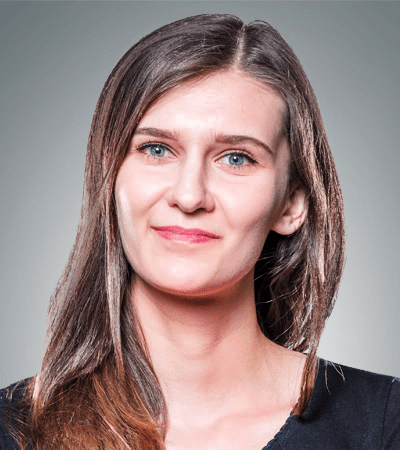 My name is Paulina and I work as Supply Manager at Voluum DSP. As Admixer is one of the key Partners for Voluum DSP, I take care of our everyday cooperation and scaling the partnership.
Could you please provide our readers with a brief introduction of Voluum DSP, and the Codewise, Voluum product provider?
Codewise is a Polish company that was founded in 2011. We are industry's first provider of AI-powered online ad measurement and management solutions for digital marketers.
We have four different products: Zeropark — a performance ad exchange specializing in the domain, pop and push traffic. Tornimo — a real-time application monitoring and alerts platform for developers. Next is Voluum Tracker — a full-stack marketing platform for all your performance analytics, tracking, and optimization. Finally, Voluum DSP — a next-generation native advertising Demand-Side Platform.
Voluum is the go-to tool for buying traffic, optimizing and scaling campaigns, featuring anti-fraud filtering, whitelisting and an outstanding reporting speed. The whole thing is powered by Voluum DB, a powerful proprietary database and has served thousands of SaaS customers in over 190 countries worldwide.
You've visited Ukraine recently to join the ad tech meet-up. What's your impression about Ukrainian ad tech community and time spent in Kyiv? 🙂
I must admit that the Ukrainian ad-tech community is extremely mature with regard to technology and knowledge. I had a great time during my visit to Kyiv and I am grateful that I had the opportunity to take part in such a big event and talk to many professionals.
What's a general overview of the programmatic landscape in Poland and Europe from your perspective?
The programmatic landscape in Poland is slightly different from what we can observe in the US or Russia. That's mostly because affiliate marketing in Poland is still developing.
Over the last few years, the number of agencies diversifying their media buying strategies has increased for programmatic channels. This is really a great sign for the industry since such growing actors can easily take advantage of the relatively lower prices of the inventory (CPM for the native inventory in Poland fluctuates around $0.10-$0.15, whereas in the U.S. it's $0.35 and higher).
Moreover, because Poland is one of the biggest IT hubs in Europe, companies have access to an experienced workforce. When combined with the close proximity of software development startups, there is an even greater potential for growth. Currently, the hottest advertising verticals are software/applications followed by e-commerce.
Several years ago Codewise launched a Voluum DSP. How successful has been DSP platform so far, what tendencies you see?
We are very happy to see how fast Voluum DSP has grown, especially over the past year. To be honest, creating a DSP can seem a relatively easy thing to do, but creating a great DSP for performance marketers is no easy task. This is simply because by starting with affiliate marketers (Voluum DSP started from specializing in affiliate marketing) we had to meet very strict KPI's of our demand partners.
On the other hand, having really demanding clients brought great benefit to the platform — shaping it to a successful platform for both brand and performance media buyers.
As for trends — we see great potential in the native format (both web and in-app). In the last 12 months, we were working on specific features developed for native specifically – like creative optimization or content targeting.
We have already seen widespread adoption and there is definitely much more to explore in this area. OpenRTB combined with the capabilities of machine learning can bring (and is already bringing) native media buying to a whole new level. In the coming years, "AI" will become an inseparable phrase from "programmatic advertising" — that's for sure.
What are the main challenges Voluum DSP and Codewise face? What tools and technologies do you currently use to address these challenges?
Without a doubt, the biggest challenge we see right now is transparency. As a DSP you need to have a clear understanding of who your suppliers are, what the real origin of the traffic is, what the quality of inventory is, and finally, what the optimal price for this inventory is. Lack of transparency in terms of all the previously mentioned elements can negatively affect your demand partner. Therefore it's important to choose wisely where are you buying from.
On the other side – DSP has an obligation to be transparent toward buyers – to eliminate any potential risk related to ads. Here, we see many places where "something can go wrong".
For this reason, Codewise has worked only with the trusted and transparent partners such as Admixer since the inception of its programmatic initiatives. Moreover, Codewise constantly works on increasing the level of transparency both on the demand side (by fully-automated integration with media scanners) and on the supply side with granular reporting enriched with multiple anti-fraud metrics (anti-fraud kit in Voluum Tracker).
What regions are Codewise and Voluum DSP's main focus? What are the most common media buying tendencies for these markets?
Codewise operates globally thanks to its diversified portfolio of products (Voluum Tracker, Voluum DSP, and Zeropark). However, the key to any successful expansion relies on a very intuitive platform, allowing partners to be fully independent and self-served.
As the programmatic landscape for specific countries can be very granular — your platform needs to not only support media buying for big agencies with the assistance of account managers — but also it has to support hundreds of small-budget advertisers. This is especially important for beginners in the platform, where budgets are not that big (for example initial top-up at Zeropark is only 200$) and therefore, it's not always possible to provide them with the support of a dedicated account manager.
However, if the platform itself gives them all the insights necessary to be successful – they will be able to stay with the product and grow their business in the self-serve model.
How did the approach to user experience evolve in the company, and what's the Codewise way to creating UX in 2019?
Codewise has changed its approach to UX over the past few years. At first, we had been strongly focused on data collection — heatmaps with the use of Hotjar and questionnaires from clients. While data itself can be useful, it does not answer the ultimate question of "what our clients want to achieve?". To answer this question we decided to change our approach.
Currently, the UX team is able to process interviews with some of our clients directly.
In 2019, Codewise established close cooperation with current customers, and, what is more, they are more than open to express their experience with the platform. To better understand our customers we also decided to invite some of them to our HQ in Krakow to get first-hand experience of their needs. Such first-hand feedback seems to be even more insightful than the gigabytes of data collected via heat mapping software.
What's Codewise product roadmap for 2019-2020?
As the whole performance industry is constantly changing, we make sure that we are flexible enough to pivot to the pressing needs of our customers. That's why we devote so much attention to listening to our customers so we can properly understand their needs and challenges.
That being said, we do see some long-term trends that we are developing toward. Notably, continued demands for actionable insights and machine-learning tools. The success of our Traffic Distribution AI feature is a clear confirmation of the benefits of AI in the optimization process. Automation is definitely the way to go here and this is something that we will focus on during the year
With the recent release of our subscription plan for beginners which is getting more and more popular, we also want to reduce the learning curve for those who start their affiliate journey. So you should expect a huge bunch of features that will help newbie affiliate marketers to understand and also automate, where possible, the setup process.
Codewise's named the second fastest-growing company in Europe by the Financial Times. What are your key success factors and big ad tech mission?
Not sure if I'm the right person to comment on this because I work mostly with our Supply Partners, but I have a quote by our President and CEO, Dr. John Malatesta.
"The mission we have undertaken with the team is to enable digital marketers to easily and efficiently achieve their online advertising business goals by delivering best in class measurement, management and optimization platforms. Therefore our mission is fully customer-centric and as a consequence, our goal is not merely a financial one but to continuously improve our capability to listen to our customers, by analyzing their feedback in product and to the customer-facing teams, and consistently develop the product to better match their ever-changing expectations".
What are your predictions on the most impactful disruptions in Ad Tech 2019-2020?
It's hard to name just one single the most impactful disruption for the coming 2 years. However, this year will be no less interesting — we already see increased volumes of traffic coming from IPv6. Although this change seems to be relatively small (as it's "just" an IP address) it could affect some DSPs if they are not ready for it. As IP addresses are crucial for identifying the user, this change can negatively affect anything from targeting options to anti-fraud filters.
And speaking of anti-fraud, we continue to see increasing threats in both the quantity and sophistication of ad fraud. In the past, Non-Human Traffic (NHT) was mostly related to a more "general" category, consisting of crawlers and spiders. However, in recent months NHT has started to expand to more sophisticated fraud, including click injection. This is closely related to the mobile app segment of the industry, where we face dynamic growth, and therefore, increasing challenges.
To address these new more advanced forms of fraud, advertisers will have to be equipped with the right tools. Not only depending on pre-bid filtering from their ad network, but also on their own internal data. This will, unfortunately, increase costs — either for ad network or the advertiser him or herself.
What strategies would you advise for programmatic success in Poland and Europe?
The key factors for programmatic success in Poland or Europe will not differ from the ones outside the EU.
Tip 1: Start with good foundations
Whether you want to build brand awareness, drive sales or generate leads, you are paid based on performance. A good media buying strategy combines the following factors: offer pricing model (CPC, CPM or CPL/CPA-based, etc.), deep understanding of the target audience, country, and device type to reach your potential customers. By finding the right combination of these factors, you will set yourself up for success. When you find a good combination of factors, you have a solid foundation to work with.
Tip 2: Focus on Your Customers
Put your target customer first and always offer value as this determines how much you are going to get out of your efforts. In other words, whenever you start a new campaign, try to follow a visitor's journey. Spend time researching their problems and desires. By understanding your customer and seeing the world (and the funnel) through their eyes, you'll be able to raise your performance metrics.
Tip 3: Optimize what you can
Never kill a campaign without diving deep into your stats. Let's name 4 aspects of the campaign that can be optimized: traffic, creatives, landers, offers. And these are just the tip of the iceberg. Try to think how to find a good match between all four.
If you're looking for partnerships with Admixer.SSP, reach out to Oleg Sokolan, Head of Demand Partnerships: olegsokolan@admixer.com.