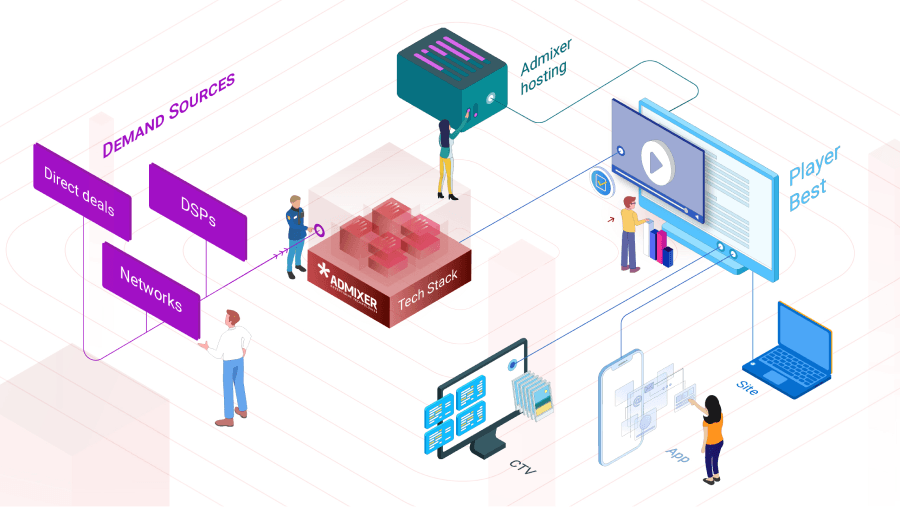 Player.best by Admixer: A Better Way to Monetize Videos
Today, we are highlighting the specifications of Player.best, an all-in-one video platform that helps publishers drive their revenues and reach their aspirations.
Our purpose is to provide publishers who leverage video and audio content with control over their earnings, smooth video services, and reliable technologies — all in one place.
With 10+ years in the ad tech industry, having helped more than 10K publishers to deliver the best-in-class user experience to their audiences and drive their ads revenues, we understand the most acute pains and gains of the major publishers.
To tackle these challenges, Player.best is built on 3 core pillars: best-in-class customizable HTML5 video/audio player, video content hosting service, and comprehensive monetization toolkit.
As an HTML5 video and audio player, Player.best:
Supports the following formats: HLS | Mp4 | Webm | Live Streaming | Audio

Ensures a perfect image on any device, enabling the omnichannel experience

Allows to set up own skins, player buttons, and video settings

Offers flexible player branding options
As a video content hosting service:
Provides hosting for video media assets, allowing to link them with the player

Allows creating playlists and embedding player with content to the website

Provides hosting for video media assets, allowing to link them with the player
Optimizes video output depending on the type of user's device and its geo position
Allows creating playlists and embedding player with content to the website
As a video monetization platform:
Provides a single interface to manage player settings and demand

Supports ad formats: prerolls, midrolls, postrolls, and overlays

Offers integrated demand sources to provide you with a maximum possible fillrate

Gives ads scheduling options: the number of times your ad will be displayed per one video

Offers detailed performance reports of both video player and ads
With Player.best, you get full transparency and control over your ad spendings and earnings. You can pick the billing model that fits you best:
Pay a fixed rate according to ad impressions and leverage Admixer demand sources

Pay-as-you-go with CPM model

Or try a mixed model
Market sees. Market hears.
Information consumption channel matters. Each of the brand awareness distribution channels, video or audio, has its advantage. Choosing the right channel for solving clients' pain points is the key to trust and retention-based relationship. Some audiences percept messages via eyes. Some — with the ears. So, considering the platform to use shouldn't be neglected.
Admixer Technologies supports agencies and offer advertisers to share pain-leveling solutions to their target audience through the Ad Tech Stack capabilities. As an effective advertising channel for both desktop and mobile devices, video players are the key drivers for revenue: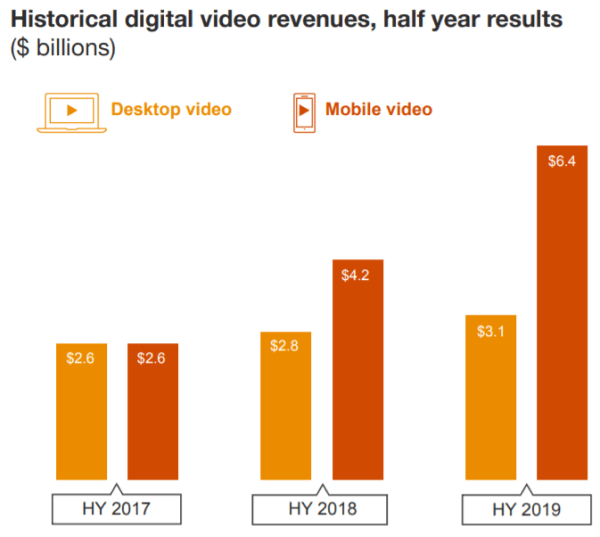 Source: IAB/PwC Internet Ad Revenue Report
Player.best is an efficient medium between trusted advertisers and publishers that provides organic traffic. The player drives demand from the Admixer.SSP which embraces 100+ trusted DSPs worldwide and direct demand from Admixer.DSP.
Video advertising is as efficient as the audio customer-engagement channel. As to the latter one, it shows the following growth trends: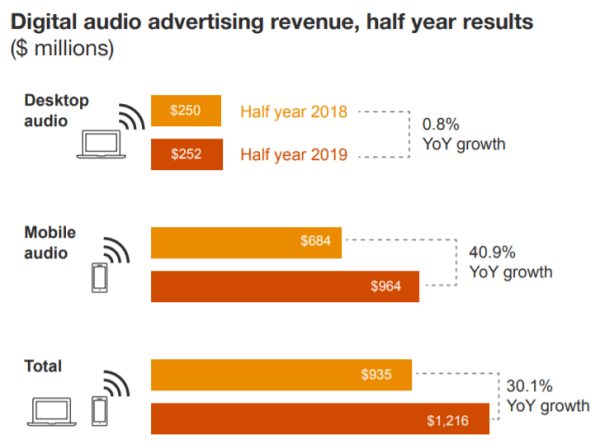 Source: IAB/PwC Internet Ad Revenue Report
The digital audio as a brand-promotion channel gains momentum in the U.S. market. It's just a matter of time before this trend is picked up by the global advertising industry.
When you need to take control over your video/audio content and its monetization, increase your ad revenues, and manage it all in a single interface, Admixer can become your reliable partner with all-in-one Player.best video and audio platform.
To discover how Player.best can help your platform or website, reach out to Elena Podshuvejt, Chief Products Officer at Admixer Technologies: epodshuvejt@admixer.com.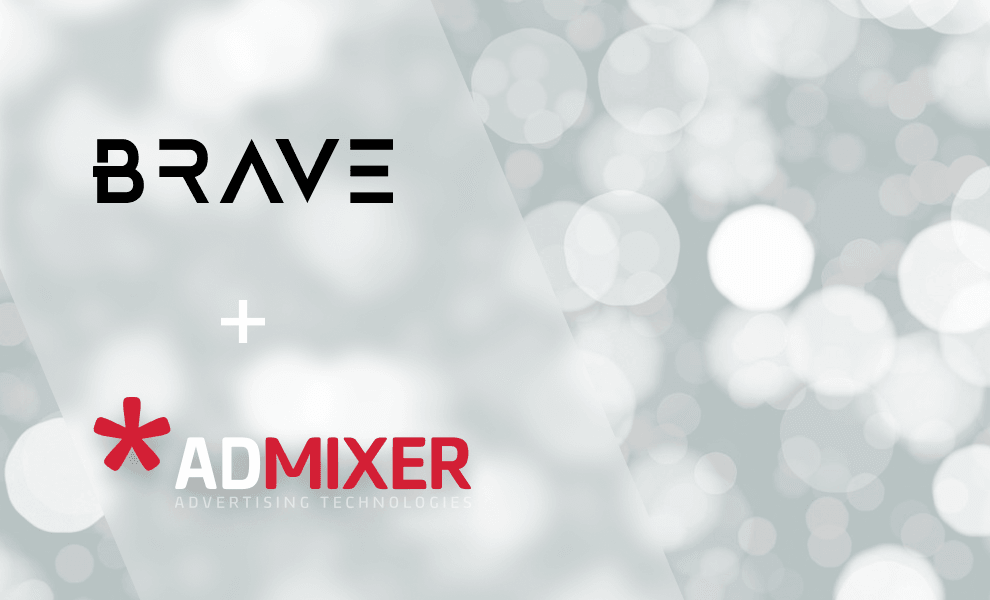 Admixer Partner: An Interview with Amir Sharer, BRAVE
Today we are talking to our valued partner from Israel,

Amir Sharer

, co-founder and CEO in

BRAVE

. BRAVE is a publisher-focused programmatic platform for an open digital media. In this brief interview we are talking about a general review of the programmatic landscape and some plans for the nearest future.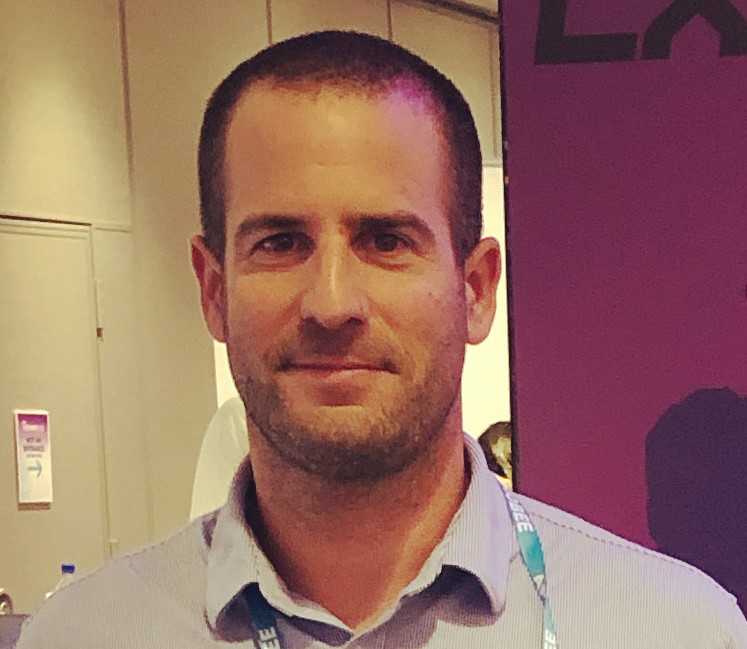 Hi, our company name is a major component of our identity. When I established the company, together with my partner Zachi Zach, I had three things in mind – radical automation and AI, constant R&D efforts and personal relationships. We are a lean and agile company that navigates the challenging programmatic world with two main purposes – bringing great value for publishers and doing what we love. Because we are a Publishing-house ourselves – we know the pain. Monetizing without sacrificing user experience is our main priority.
Let's talk a bit about programmatic landscape: what is trending from the perspective of BRAVE?
As you are aware, 2019 is a BIG BANG year for the programmatic industry. With sellers.json enhancing transparency following the ads.txt revolution and stronger privacy regulation becoming a reality, the industry is changing dramatically. Consolidation is happening, also among Google, FB, Amazon and The Trade Desk.
We see that apps ads.txt is already getting widely adopted. We predict that CTV and Programmatic Audio are the two formats that will keep growing. However, the huge wave of fraud and the ever-improving anti-fraud mechanisms have rather spoiled the early CTV game.
CTV is a relatively new ad format, gaining more and more popularity, and CTV supply is among the BRAVE's capabilities. What kinds of challenges do you face while plugging in new (new for market) supply sources like CTV? And how do you address these challenges?
The main challenge for the CTV market is a high-quality inventory. The main concern is that the majority of current CTV traffic is fraud suspected. Until we have a reliable way to identify whether the user came from real TV or from mobile, CTV's potential is limited.
Market penetration is still hard and high-quality video content is a prerogative of the big companies. We foresee a huge wave down in terms of the industry cleaning down low-quality CTV inventory. Nevertheless, progress cannot be stopped, and CTV is where every TV on this planet is going.
What regions/markets are the BRAVE's main focus?
We are primarily focused on North America, Brazil, and Korea. Later this year we do plan to expand in the APAC region.
Which communities/events are the most proactive and efficient in Israel, Europe, globe from your point of view?
Israel has a very big and successful tech community. It's amazing to see how much business is being done here in a friendly and informal atmosphere. Israel Programmatic ads conference is a good example of a very effective event. My favorite European conferences are DMEXCO and MWC. In the US, it's Programmatic I/O and Digiday Programmatic Summit.
We're happy to have BRAVE as one of our valued SSP partners for a year now! What aspects do you find the most valued in this partnership?
I think that Admixer is unique in its ability to develop great technology while building great personal relationships. We hope to grow our partnership even more in the near future, maintaining the atmosphere of transparency and close cooperation.
You've visited Kyiv and Admixer development office recently. How did you like it? What's your impression? 🙂
It was a real pleasure visiting Admixer and personally meeting the team, especially the R&D staff and of course the CEO. It was also a very efficient trip in which we identified several new and exciting opportunities (some already in progress). Admixer's hospitality was outstanding and I highly appreciate the willingness to get feedback in order to allow our strategic cooperation to grow even further. We also found time to have some fun, so I want to say thanks to Lena and Kristina for the amazing restaurant and the super cool rooftop bar showing Kyiv's skyline. Can't wait to come back!
Could you please share the major goals from BRAVE roadmap for 2019-2020?
Brave is currently focused on building new technology tools for publishers, and developing unique creative formats for advertisers. Stay tuned – there is much more to come!
And one last thing before we finish, could you please give some tips for programmatic success? Just 3-4 short recommendations.
Be transparent as much as you can

Invest in automation processes

Always check discrepancies. Then do it again!
If you're looking for partnerships with Admixer.SSP, reach out to Lena Storchak, Business Development Manager: estorchak@admixer.com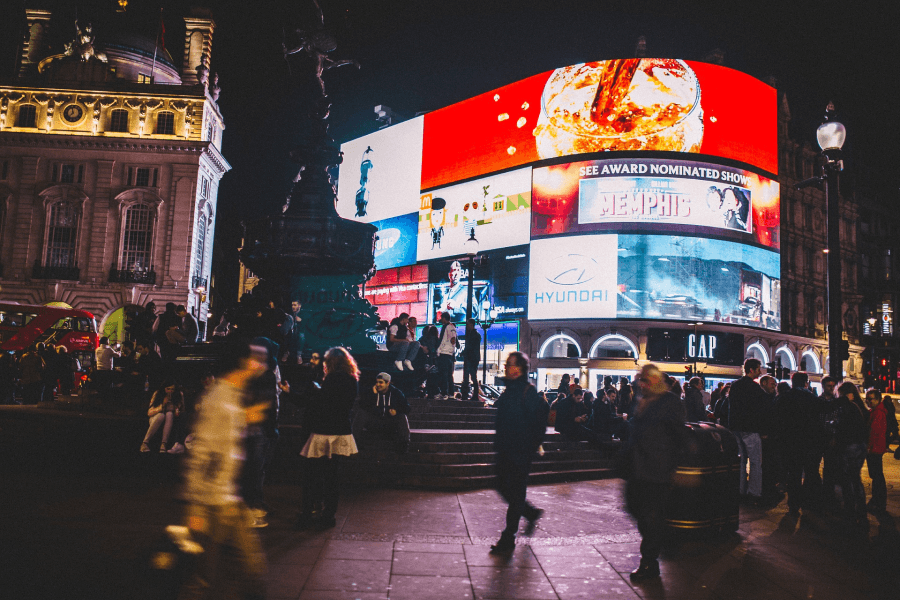 DOOH Reinforced by Programmatic: What's the Power?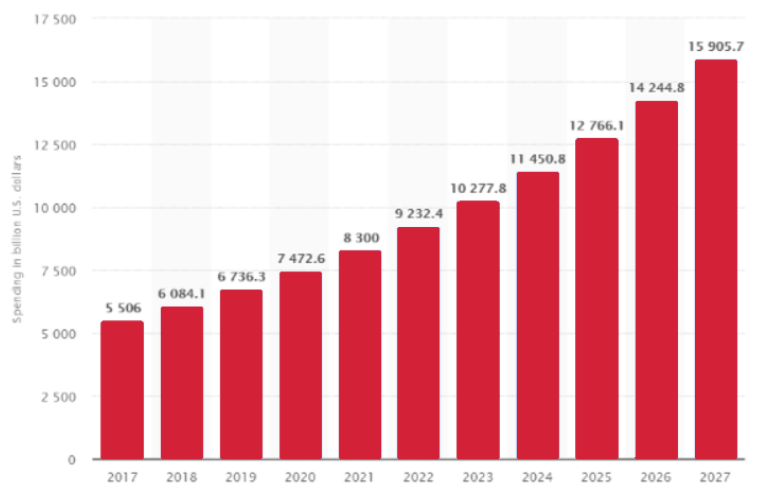 Increasing volumes and popularity of DOOH (Digital Out Of Home) is a steady trend of the last years, especially in the US and Europe. Advertisers allocate bigger and bigger budgets for this media channel. The latest research indicates a significant growth of the DOOH market across the globe, according to the DAN report. Surveys by Statista also illustrate remarkable boost and forecast a long-term acceleration of DOOH advertising market at least till 2027:
Depending on the marketing goals, DOOH can help to deliver addressable advertising, raise brand awareness, ramp up regional presence, and to bring a customer up to the product shelf. Most consumers make purchasing decisions when out of their home, and topflight video ad has a memorable habitude. Thus, according to Beeoutdoor, 55% of digital display advertisement viewers could revoke the exact message they saw.
According to the IAB DOOH Buyer's Guide, for the last 20 years, people spend up to 50% more time outside their homes. Thus, the amount and diversity of touchpoints with prospects are increasing. At this point, brands consider digital outdoor advertising channel more attractive and perspective than classical static posts and billboards.
DOOH's state-of-the-art
Today, outdoor advertisement isn't just a billboard you need to print, place, and wait for a new advertiser to replace the ad space. It's also not just a video screen with revolving ad content. DOOH is rather an engaging display encouraging users to interact, and pushing them to make an online purchase.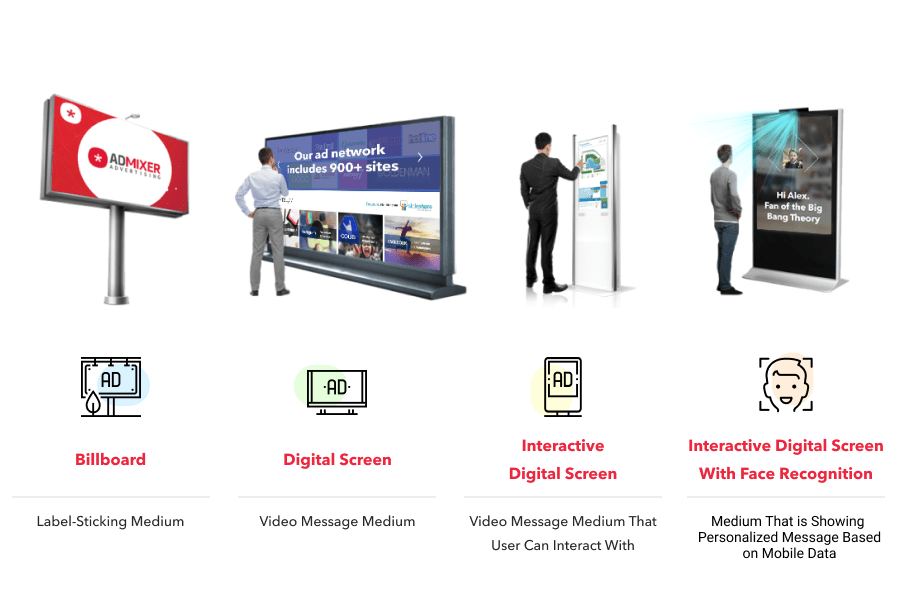 The challenge of addressable ads via DOOH was solved with users' mobile data and digital signages synchronization. Through Wi-Fi connection, DOOH platforms are capturing mobile ID and data which allows delivering relevant content.
With this, the ad message can be tailored to the bullseye, and this is how a persona profile is creating. On the same principle, digital signages collect information about human traffic on the location and provide optimal content to the audience.
Another profiling method is facial recognition. Some digital out of home media platforms are equipped with a camera allowing to identify a specific person within a particular radius. In this way, additional data attributes (like age, gender) are collecting.
The synergy effect of DOOH and Programmatic
In its recent article, Digiday raises the issue of how programmatic is changing the landscape of the OOH advertisement in the US for both, SSP and DSP sides.
With the growth of DOOH mediums, the question of effective inventory management is becoming urgent. Since programmatic is available for DOOH networks, manual advertising configuration has become rudimentary.
Today, technological companies that are powered with Ad Tech Stack are capable to provide demanders with customized solutions that cover digital out of home advertising programmatic maintenance. With this capacity, advertisers can easily tune their campaign including its views frequency.
On top of that, the programmatic ecosystem helps to engage independent auditors to supervise the results of ad campaigns and win more trust from clients. Programmatic solutions allow DOOH publishers to participate in real-time bid auction and easily sell remnant inventory for the best price keeping the supply and demand balance for the most wanted ad spaces.
Similarly to online advertising, growing demand for programmatic in the DOOH area pushes advertisers to try different tech solutions and integrations. Due to its specific, such processes are quite sophisticated and time-consuming. However, integrations happen, providing DSP with new horizons, pushing media buying borders, and developing the market.
How you can embrace DOOH with Admixer Technologies?
Programmatic implies a bunch of difficulties on its way to the implementation in DOOH. Principal barriers are related to a mandatory audit of creatives that are publicly placed, and their high-quality requirements that are due to a bigger displaying area.
Admixer Technologies is making confident steps in the direction of DOOH media integration into the global programmatic ecosystem. We contribute our partners with the programmatic demand sources and the ways to integrate them are smoothly and easily. Our SaaS Tech Stack allows not only to connect to programmatic demand sources but includes blacklists (by categories, advertisers, and brands) and allows conducting entire creative quality assurance.
The technical problems that should be decided by DOOH media owners' side:
constant access to the Internet – to get instantly new ads coming

from the auction model

in-time ad creatives confirmation

gathering all screens and partners into structured packages to be

presented on Admixer.DSP
For market-leaders who have their own proprietary or leased software and CMS systems, the future challenge would be to connect to Admixer Tech Stack through API for full-stack smooth integration. However now it's not necessary, one could start selling DOOH inventory without direct integration.
Want to know more about DOOH media products line by Admixer? Reach Elena Podshuveit, Chief Products Officer: epodshuvejt@admixer.com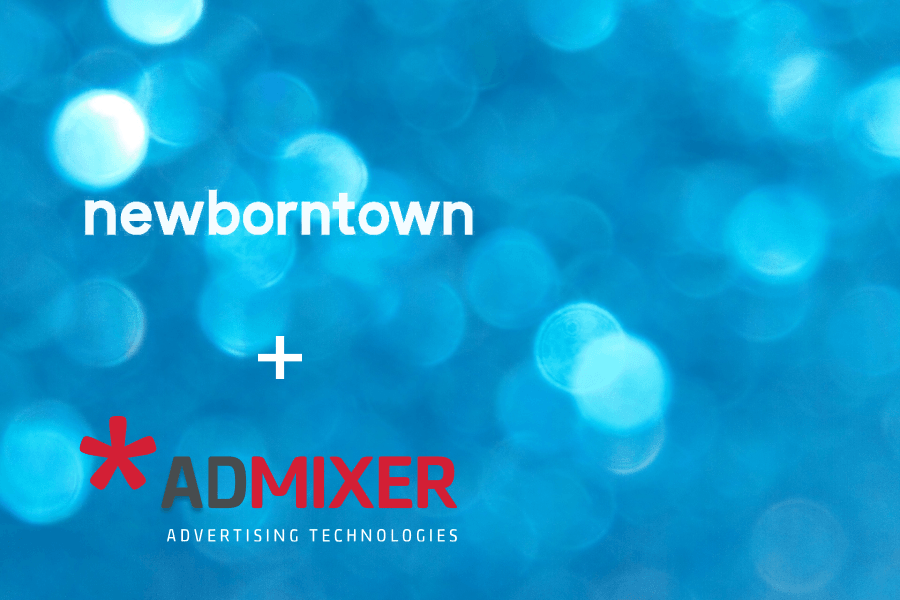 Admixer Partner: An Interview with Li Ping, Newborn Town
One of the principal directions of disruptive technologies is artificial intelligence. Today we are talking to a key person at the company that is inspired by AI technology and uses its capabilities to bring smart solutions to digital advertising. (more…)
Admixer Partner: An Interview with Saurabh Bhatia, Chocolate Platform
Meet our guest, Co-Founder & CEO at Chocolate Platform, who's sharing a story of starting and growing his own video SSP company and keynotes on what it takes to run ad tech business.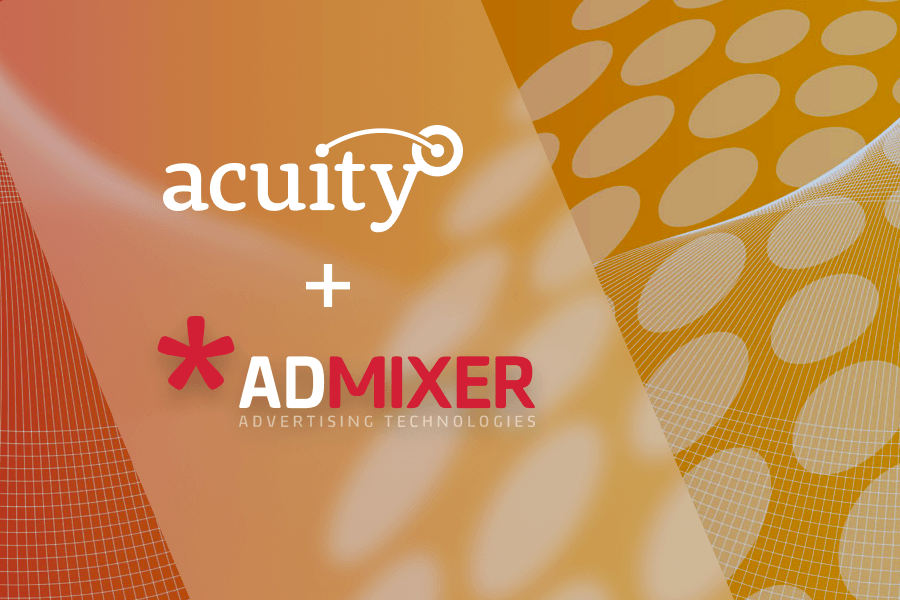 Admixer Partner: An Interview with Gil Klein, AcuityAds
AcuityAds is named one of the fastest-growing ad tech companies in North America. Operating globally, they provide a wide range of solutions. What's behind these solutions and technology? And how is the programmatic landscape changing from the perspective of AcuityAds? Read in this insightful talk with our guest.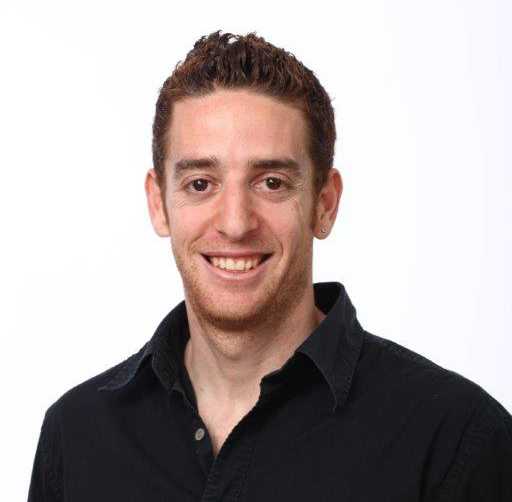 My name is Gil Klein, I'm VP Business Development. I'm over 15 years in the industry. Most of my experience is around ad optimization, media, and product in the ad tech world. My last role was the Managing Director at MobFox. A few months after the company was sold I've joined AcuityAds to help them strengthen and build their programmatic stack, focusing on the SSP exchange and additional offerings.
Let's talk a bit about programmatic landscape: what is trending from the perspective of AcuityAds?
From the AcuityAds perspective, which today has a very strong demand offering, we see that more budgets are pushed into digital and programmatic. There is very high interest also in video. And I think there is a more understanding among clients and advertisers that they have to measure their performance.
On the other hand, the shift to mobile is still growing very strong. I think that the last few months have proved the fact that clients understand better the mobile app space and are also feeling more confident in terms of the fact that it's clean. There are good tools and methodologies to eliminate fraud. Everything around app-ads.txt that have been introduced and more transparency gives them more confidence to shift more budgets into this space.
Next in line, we're seeing more interest in CTV opportunities. And also specific niches, let's say, cannabis campaigns and specific new trends that are rising.
Since you've mentioned the ad fraud, Gil, do you think it's becoming easier to fight it in mobile?
I think that fighting fraud in mobile is a bit harder, because of the nature of in-app world. But more companies start providing solutions making it harder for fraudsters to find the opportunities to get into.
I think the fact that app-ads.txt is being introduced, and sellers.json is coming leading to blocking more unauthorized resellers out of the ecosystem improves the overall trend and provide more confidence to the advertisers.
AcuityAds named as one of the fastest-growing technology companies in North America. What are your key strategies for growth success?
Well, it's a good mix of very strong technology, brand, and people.
Add to that the company is fast and innovative. We're seeing organic growth and also growth through acquisitions which is really helping the company push forward. I think we've become much more diversified as we are offering a DSP solution, an SSP, ad exchange, we have a video metrics solution. So there are a few things that we are doing, and we're able to accommodate more and more of our clients.
Add to this regional growth as we have people in Europe, the U.S., Canada, and Latin America.
How about ad tech and programmatic communities across these markets: which are most proactive and efficient?
Sure thing it's IAB Leadership Conference, Mobile World Congress, DMEXCO. AcuityAds is also a public company, so we go to investor events.
Are you going to visit DMEXCO this year, by the way? 🙂
Of course! And we'll be glad to see you there!
We too! We're happy to have AcuityAds as a valued partner. Could you share, what you value the most in partnerships?
We look for credibility and potential which definitely Admixer has. I think also the possibility to scale and work together is crucial. And, sure thing the team. At the end of the day, tech is nice but nothing happens without smart people out there. So I would say these are the main factors that we also see with the Admixer partnership.
Appreciate your feedback, Gil! Talking about people impact. Technologies are growing way too fast. Won't we be replaced by tech in the nearest future?
I think there's a big and good change that today people are doing less grunt work. In the past, we used to upload a campaign one by one, do all of these optimizations by ourselves. Today we can let the machines do these types of things. So, there are less errors, machines save a lot of time and let people stay fresh.
Plus, there are two main important things that any programmatic business want to be: efficient, and scalable. Efficient means allocating budgets wisely. So this is here an algorithm can help by doing smart throttling, smart inventory allocation.
So the roles for the person is changing, but there's definitely a lot of need for a smart product people to always think about the next steps and to understand what the clients need and serve offers for them.
Could you please share the major goals from AcuityAds roadmap for 2019-2020?
We're building additional solutions for the advertisers to help them see and understand better the results along the funnel, like type of attribution metrics and what made the impact for them to learn better at campaigns and their product.
For the publishers, we're trying to give them additional features to control the inventory that they have and who they sell to.
From the ad exchange perspective, we're always improving our tech stack and our infrastructure to be more efficient and smarter. And last but not least, in front of protection we're adding third-party solutions we're also always and building our own brand safety tech to detect any abnormal behavior.
What are your top 3-to-5 predictions on the most impactful disruptions in Ad Tech 2019-2020?
One will be more consolidations, meaning that there's gonna be even bigger companies that have more brands, and it's gonna be less room for smaller companies to compete. Companies understand they want to add additional solutions for their partners and become a more a kind of holistic type of client for them. So I think this is something that we see with a lot of companies that are looking to either build or buy additional capabilities to have even a stronger presence.
I think number two is the fact that app-ads.txt is enforced by the big buyers and then comes sellers.json. So this is gonna make it more transparent, safer, and cleaner space for the advertisers. This is important.
Number three, I think is the growth of programmatic at APAC, and China is still a bigger trend.
I think the industry is becoming much more mature and less chaotic. There are less ups and downs and less regulations coming again. I think it's streamlining much more, which makes it easier for all of us to predict and plan ahead.
If you're looking for partnerships with Admixer.SSP, reach out to Lena Storchak, Business Development Manager: estorchak@admixer.com.