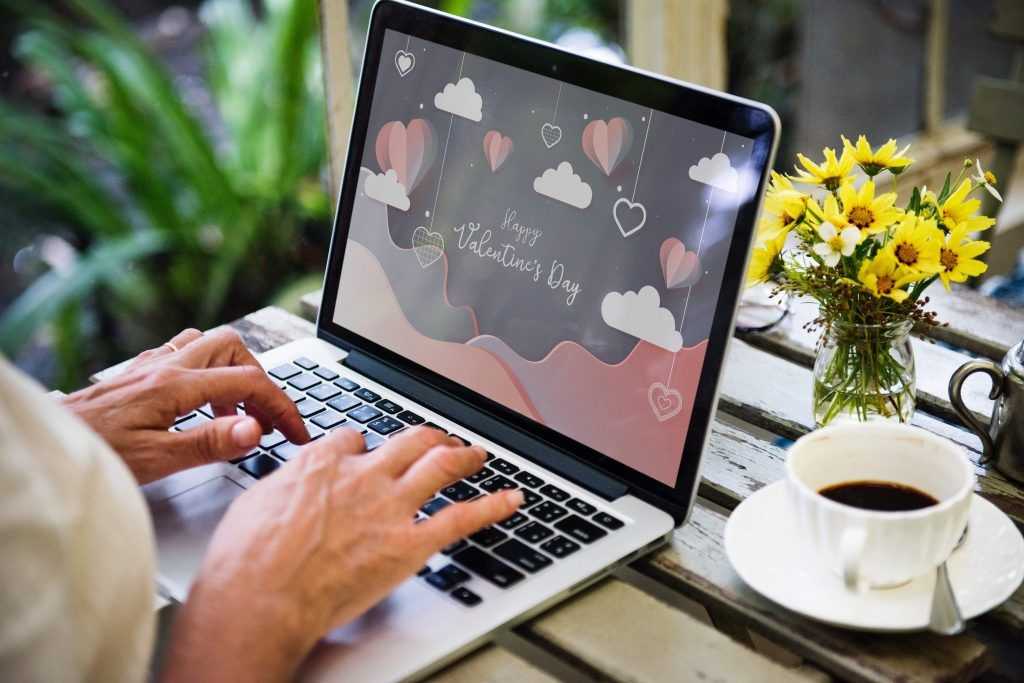 5 Ad Formats from Admixer.Creatives for Valentine's Day 2019
According to Mintel, Valentine's day is now the biggest spending retail event in the first part of the year, overtaking Easter far ahead.
With the increase in popularity, sales coinciding with Valentine's day also increase. Along with cards and flowers, online shopping is growing: last year 30% of online purchases were over $100 per customer. The overall amount of retail sales for V-day have seen an increase of $1.4 billion from 2017 to 2018.

To drive your sales as much and convince your consumers from "maybe" to "yes!", take a look at something special we prepared for you with Admixer.Creatives. Take a look at five creative ad formats which will add extra value and revenue to your campaign whether you're all set for V-day or still making final preparations.
But first, some insightful statistics about your consumers.
Shopping fever, shocking sales rates, and growing of mobile purchases on
Valentine's day
Figures across countries vary. But the tendency seems to be common: Valentine's day takes over the world, encouraging consumers to purchase more. Here's a sneak peek how it's allocated by region.
USA
$30 billion – that much Americans are expected to drop on Valentine's day in 2019. Just imagine, over half — 53% (which is some 135 million) — of all Americans are expected to shop for V-day in 2019.  
Interestingly, how figures regarding spending on presents are distributed among men and women (spoiler: apparently, men plan to spend more).
Specifically, in married couples, husbands are going to spend on their spouses 74% higher amount of money in average, which is about $358. Alternatively, wives plan to spend on their beloved ones $206 in average.    
There's a similar divide between boyfriends and girlfriends, who say they'll spend $231 and $105, respectively.
As for Valentine's day sales conversion rates in the USA, they skyrocket when it gets closer to the holiday. The boost caused by V-day shoppers is 164% higher than usual, with the daily sales rates returning to normal the very next day.  
UK
Last year, overall spends on Valentine's shopping reached £650 million in the UK alone.
Shopping tendency shifts from traditional cards, jewelry, and flowers to more personalized gifts. Spending on experiential presents like romantic gateways increased by 31% in 2017, and it keeps growing.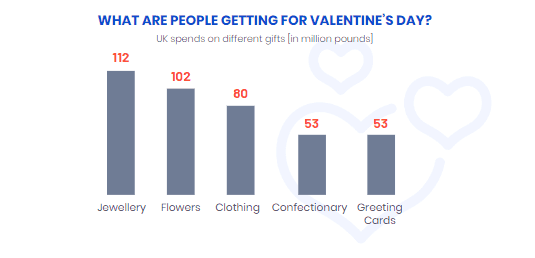 Europe
Europeans have also caught Valentine's day fever and go all in when it comes to gift giving.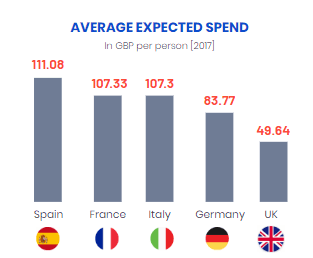 The days leading up to the holiday, conversion rates in Europe jump 187% higher than usual. Figures look even more shocking if we consider a specific example, for instance, flowers. Two days ahead the holiday, a total amount of flowers sold across Europe reached 7x rate. And on that very V-day in 2018 there were 400% more flowers ordered than usual.
Similarly to the US and UK, mobile shopping in Europe is growing at a mind-blowing pace. To compare, orders made on mobile devices increased from 25% in 2017 to up to 47% in 2018. Besides, on Valentine's day half of all purchases are made on mobile devices.
Eventually, to
creatives
!
Here are five creative ad formats for you to give a go this season.
Cube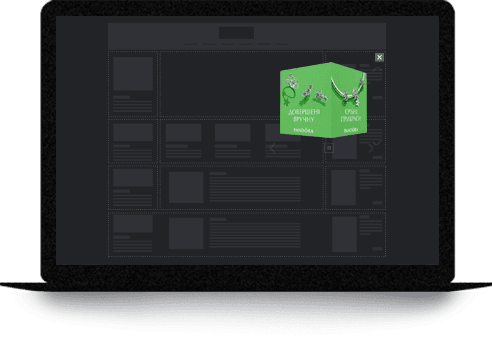 It's is one of the most popular ad formats, also available for mobile devices. And it's for a reason, as Cube works fancy: you can place banner ads on cube's six sides, plus video on one of them. Supporting UK shopping trends, we're showing you a Cube with jewelry brand example.
Click to Fullscreen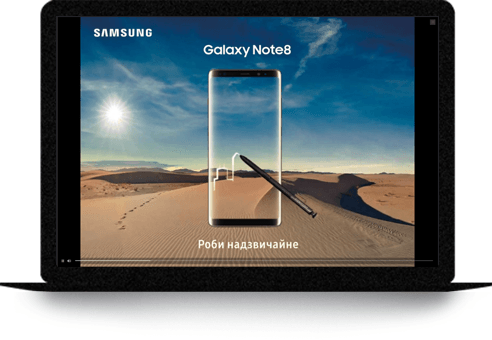 This ad format works exactly as it sounds: when users click the smaller banner, they are welcome to enjoy a fullscreen image with a story brands prepared for them. It's a great choice when brands that need to demonstrate benefits or essential tech parameters of their products. For instance, check out how it works for gadget ads.
3D Expandable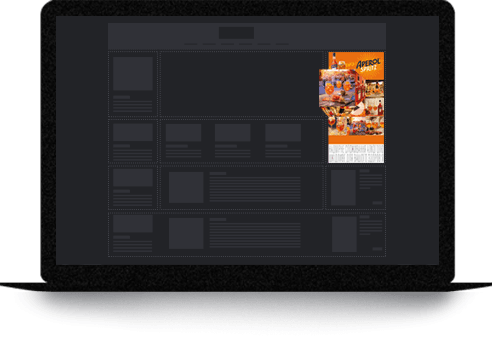 This ad format is super interactive and encouraging users to click one of nine 3D elements to see one of these nine visual stories hidden there. 3D Expandable also allows placing video ads in the center of the panel. Here's a colorful example of drinks ad campaign, demonstrating how your ads may look. 
Takeover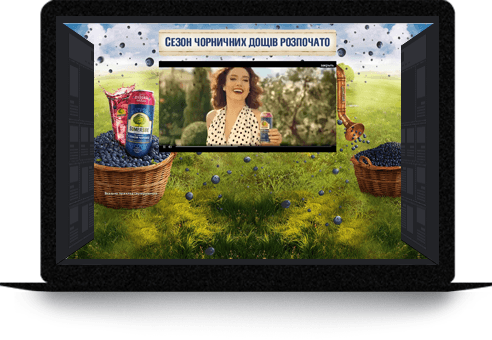 This ad format is also engaging and inviting a user into a story, like in this another drink ads example. It works like this: a user sees a folded banner first, then clicks on it and sees the fullscreen banner with image or video. The takeover between folded and fullscreen panels can be animated in one of these types: slide, cut, rotate, and slide. This ad format is available for desktop only. If you need ad formats for mobile or just want to pick more creatives by yourself, head to our ultimate Ad Formats gallery.
Unfolding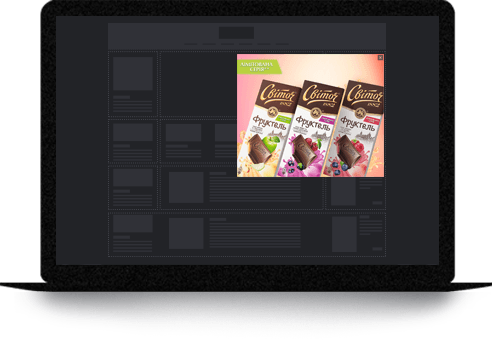 And for dessert, a real killer ad format! By mouse click the initial small banner basically unfolds into nine more elements, introducing a user to one big image, animated banner or video.
Each panel (initial small and unfolded version) can have its own URL and lead to different landing pages. See the example of how confectionery brand absolutely nailed this ad format.
Now you're all set for V-day. Let your consumers fall in love with your (or your advertiser's) brand! 
To power your campaign with Admixer.Creatives ad formats, please address your inquiry to Irina Kostiuk, Business Development Executive: ikostyuk@admixer.com