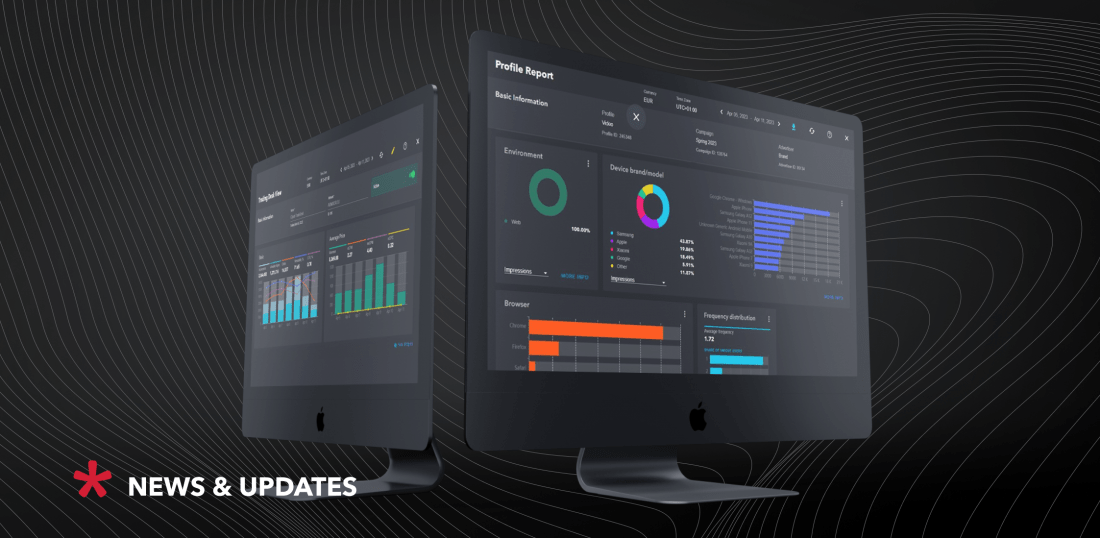 Admixer DSP Gets an Updated UX, UI & Functionality
Our team is happy to present you with a new Admixer DSP version featuring better flexibility, speed and usability. It includes new features for e-commerce, retail, and performance campaigns, and a simplified campaign management process.

Let us walk you through new features!
DSP dashboard customization
The DSP's main user screen now offers complete customization using widgets that display the most pertinent indicators for the user. With the new version, key performance indicators for ongoing advertising activities can be set on the dashboard and are instantly visible once you log into the account. The user can select the desired advertising activities and the period of interest and track the preferred indicators.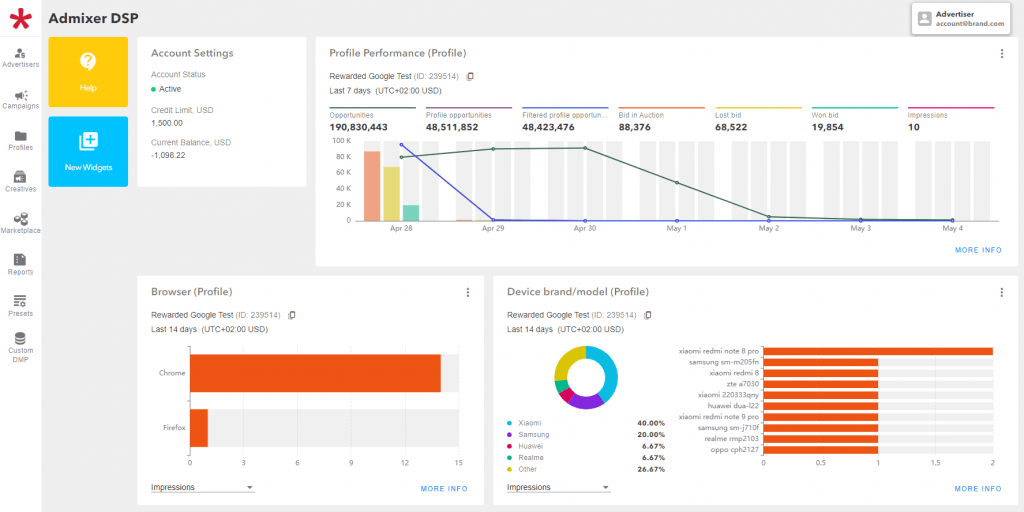 Configurable reports
The reports in the interface have undergone significant changes. Now, they are fully customizable, allowing users to display metrics that matter most to them. The list of available metrics has also been expanded, enabling advertisers to track the relevant slices of data that are most important to their campaigns. This update allows users to easily configure and display these metrics in widgets to streamline their reporting and analysis.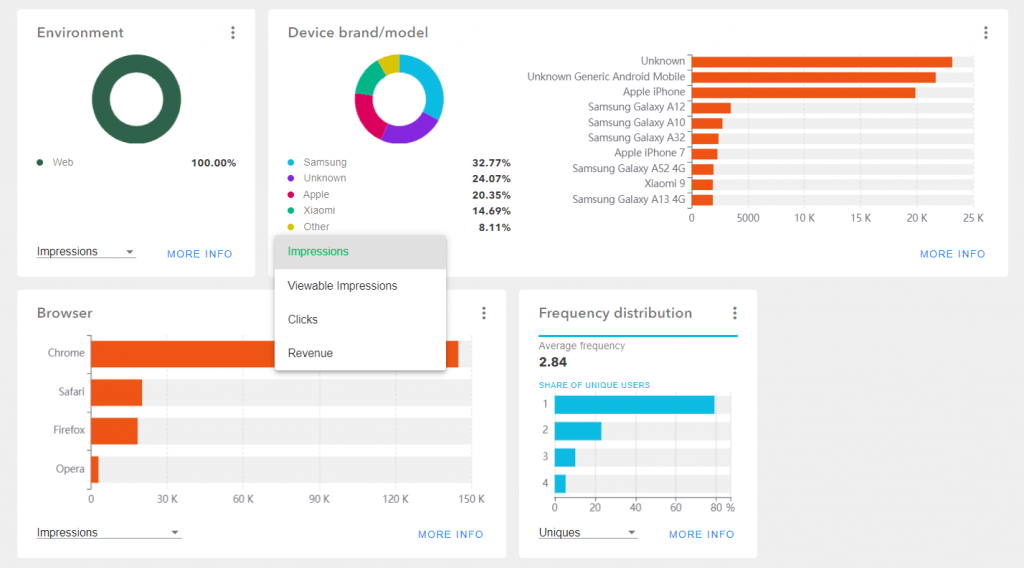 Creative management simplification
We've streamlined the ad creative management process, making it easier for you to add new banners and videos to your campaigns. All ad creatives now get automatically activated in their respective profiles, offering users an easier and more efficient process.
Product feeds for e-commerce and retail campaigns
E-commerce and retail advertisers can now upload product feeds and create ads based on these feeds. Creatives can be filled with products from the feed using specified rules or dynamic remarketing based on products viewed by the user. We've made an additional product report tool that provides insights into the performance of products within feed-based campaigns.

Presets for hyperlocal targeting
Advertisers targeting multiple locations can now save them as a preset for future use. This feature is handy for managing large lists of locations with different radii, which now can be easily uploaded as a file and saved as presets.
Performance events collection
The built-in tag manager of Admixer DSP can now collect performance events on the advertiser's site. This feature allows users to customize events such as page views, clicks on elements, and purchases according to the landing page or site code. With these events, users can track campaign effectiveness and collect audiences based on target events, allowing for more competent optimization and maximum impact.

Performance reports
Since most clients are focused on campaign efficiency, we've enabled users to generate reports based on performance events collected through the tag manager or data transmitted from external trackers. With this update, advertisers get access to the main performance report and performance indicators in all slices available in profile reporting. The feature lets you leverage better analytics and optimize your ad spend by the most effective parameters.
Audience management
We've updated the segment builder functionality in working with audiences, making it easier than ever to create new segments from collected audiences. The feature is especially useful for advertisers working with many collected audience segments, as they can now effortlessly select and filter these groups without any bottlenecks. Everything's been designed to power your campaigns based on audience data.

Onboarding automation
The Audience API –– the tool for uploading and updating audiences from client data management systems (ex. CRM, CDP) –– has been expanded with new features. It now works with different types of identifiers and multi-ID uploads, so that users can automate their audience uploads. In addition to universal identifiers, the tool now supports publisher's or advertiser's 1st party ID, providing greater flexibility in working with audience data.
UX & UI enhancements: settings, presets, color schemes, reporting
The Admixer DSP has become faster and more dynamic, with more flexible settings and enhanced segment logic. Users can significantly save time on campaign management, tracking and optimization. Another good news is that downloaded reports are now saved and available for longer periods of time.

The transition to the new UI for active DSP accounts began in April 2023 –– and by the end of May 2023, all agencies and advertisers will be transferred to the new interface. You may expect a more streamlined and pleasing experience when working on the latest version of Admixer DSP.
Want to know more or have a question about Admixer Demand Side Platform?
Visit Admixer DSP page or connect with our experts