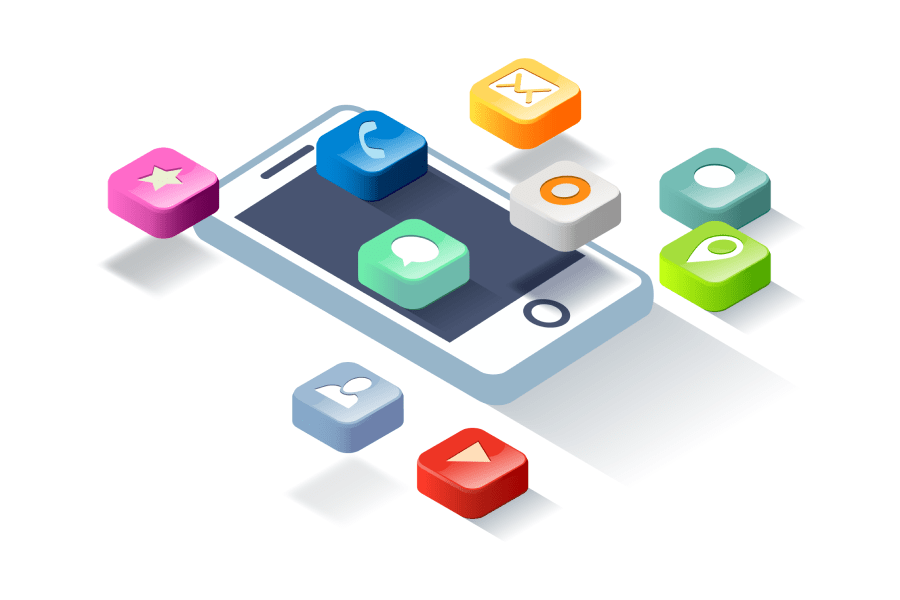 Admixer guide to in-app advertising
How advertisers and brands can reach, engage, and measure their audiences with mobile in-app advertising.
In 2019 we rely on apps for everything, from navigating traffic on the way to making notes what to pick up at the grocery store, get reminders to exercise, drink water, and even breath. On average, adult smartphone users have about 80 apps installed on their devices and spend over 3 hours daily interacting with apps. It's a great opportunity for advertisers to compete for mobile users attention, as well as – for mobile app developers not to provide technical opportunities for in-app ads.
Let's take a short tour on what this kind of advertising is and how advertisers can benefit from leveraging it.
What is in-app advertising?
In-app ads are served through a mobile app advertising network, which connects advertisers and developers. Users see it as interstitial or rewarded video ads (you've probably come through one of those video ads when playing Clash of Clans), banner or native ads, ads in messengers, and technically advanced formats, like authentic in-game ads (which we'll touch upon later on) and more.
Depending on business goal you're focusing on – whether it's increasing brand visibility, user engagement, or revenue generation – there's a strategy behind picking right ad inventory and placing your ads wisely.
Why does anyone have to invest into in-app ads?
Instead of mobile web, for instance?
Mobile is the leading growth driver of global internet usage, with 78% of users accessing the web via mobile devices. But today's digital world isn't just mobile-first — it's app-first. Apps dominate the mobile landscape, accounting for 89% of consumers' smartphone time. This figure is only expected to grow as app usage continues to increase at a faster rate than the mobile web.
Along with snowballing number of app users, ad budgets – and revenues – are increasing. Here's some recent stats at a glance:
Besides, mobile app ads has several undeniable advantages. Like for instance, mobile devices, unlike desktop computers, are typically owned and used by one person, which means the apps we use are closely connected to our personal lives and daily habits.
This makes mobile apps the ideal place for advertisers to create effective advertising touchpoints. By leveraging mobile apps advanced technical capabilities to reach specific audiences, it's also easier to verify that users are actually seeing their ads.
Along with advanced targeting opportunities, mobile apps have been resistant to ad blocking so far. Plus, leveraging apps, you can better track your users – without any privacy interruptions through, as users enable tracking by themselves, by opting-in.
How can you benefit from in-app advertising?
Along with advantages above, this type of ads bring to advertisers a number of other advancements. Here are just several opportunities to highlight:
Placement: With in-app ads advertiser gets end-to-end infrastructure, providing their users with ad messages maximum relevant to their experience and context
Performance: Advertisers and brands also get the opportunity to track their ad campaigns more precisely, filter out fraudulent traffic, leverage advanced targeting, and eliminate any ad blocking
Brand awareness: Brands often underestimate advertising in mobile apps, thinking that to give a go with it they have to get own application first, which is not obligatory at all. Nearly any brand can serve their ads in applications that already exist
Your in-app ads checklist
With increase of usage and superior technical capabilities that keep advancing, it's obvious why advertisers should invest into mobile ads. The next step is understanding how exactly to invest budgets wisely and get the most of ads. Here's what we suggest to check before you start planning you in-app campaign:
#1. Where: Where your ads come from, verticals and app categories
#2. What: Choosing ad formats which fit your goals
#3. How: Identifying your goals and KPIs how you'll measure the outcome
Recent and actual statistics, emerging in-app ad trends, and most importantly, strategies helping you plan, reach, and measure your advertising outcomes – here's what you'll find in this guide. Besides, you'll get prepared for each step above, and will be equipped with everything you need to reach your in-app advertising goals.
BTW, talking about your goals…
With this guide you'll find out which ad inventory to pick to address your goals best. Specifically we'll lead you through the following formats, served by Admixer.DSP trusted providers, like Viber, InMobi, Fyber, Opera, Adverty, and so many more:
Video ads (interstitial and rewarded)
Banner ads
Native ads
In-game ads
Ads in messengers
What's next?
If you're ready to power up your in-app advertising strategy, download your in-app guide for more details on how to start your in-app ads campaign with Admixer.DSP.
Have questions or need help? Reach out Tetiana Sichko, Business Development Manager and Partnerships' Manager at Admixer.DSP: tsichko@admixer.com.