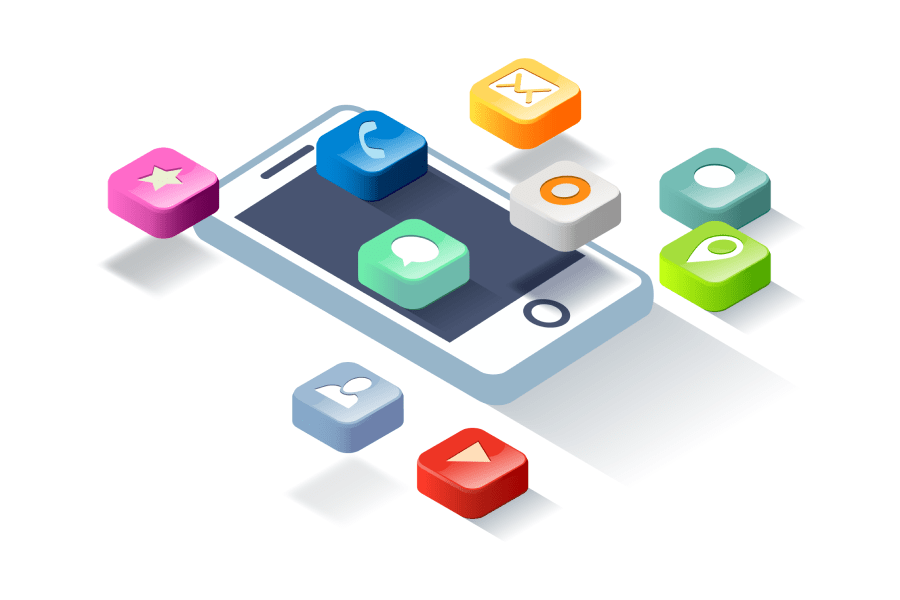 In-App Playbook: How to Get the Most Out of Advertising in Apps?
With the fleeting addressability on the web, advertisers seek other channels that provide accuracy and precision, and in-app is the most promising candidate.
Nobody has doubts that the future of advertising is mobile, most likely in-app. The pandemic only solidified the position of this channel. During the ongoing lockdowns, apps become a common escape for people, for socialization, and entertainment. Time spent in-app daily skyrocketed to 3 hours 40 minutes globally. The audience of apps expanded dramatically, even to previously indifferent demographics. In-apps boast excellent reach and engaging formats, an ideal medium for brands to get their message across. Let's get to the bottom of advertising in apps.
What is in-app advertising?
No one of us is a stranger to apps these days. People use them not only for amusement but also for professional tasks, staying in shape, tracking vitals, or staying connected with friends. App developers use various monetization approaches, freemium model, subscriptions, in-app purchases, etc. However, the most common monetization approach is in-app advertising. App developers set up ad slots across their interface and get revenue from impressions. Due to the excellent tracking and user targeting capabilities in this environment, in-app ads allow reaching users with pinpoint precision.
Targeting capabilities of in-app advertising
The announced elimination of 3rd party cookies deprives the web environment of a reliable identifier for advertising. The share of targetable impressions, for a website that didn't adopt 3rd party cookie alternatives, such as Admixer ID, will tend to zero. In this light, in-app advertising becomes even more appealing since it still has an identifier for tracking users — device ID.
Device IDs are excellent in mapping extensive user journeys, primary due to the longer lifetime. While the web is swiftly losing targetability, mobile ids can provide information on location data, device type, operating system, gender, age, network provider, pre-install engagement, and in-app events.
Although, with the recently announced explicit opt-in for IDFA, iOS environment also started quickly losing addressability. Four weeks into the enforcement of the AppTrackingTransparency (ATT) framework, only 40% of users chose to opt-in. As an alternative to IDFA, Apple proposes SKAdNEtwork, its previously dormant solution, that accesses the efficiency of cohorts of users, instead of tracking individual users. More on this read in our IDFA guide.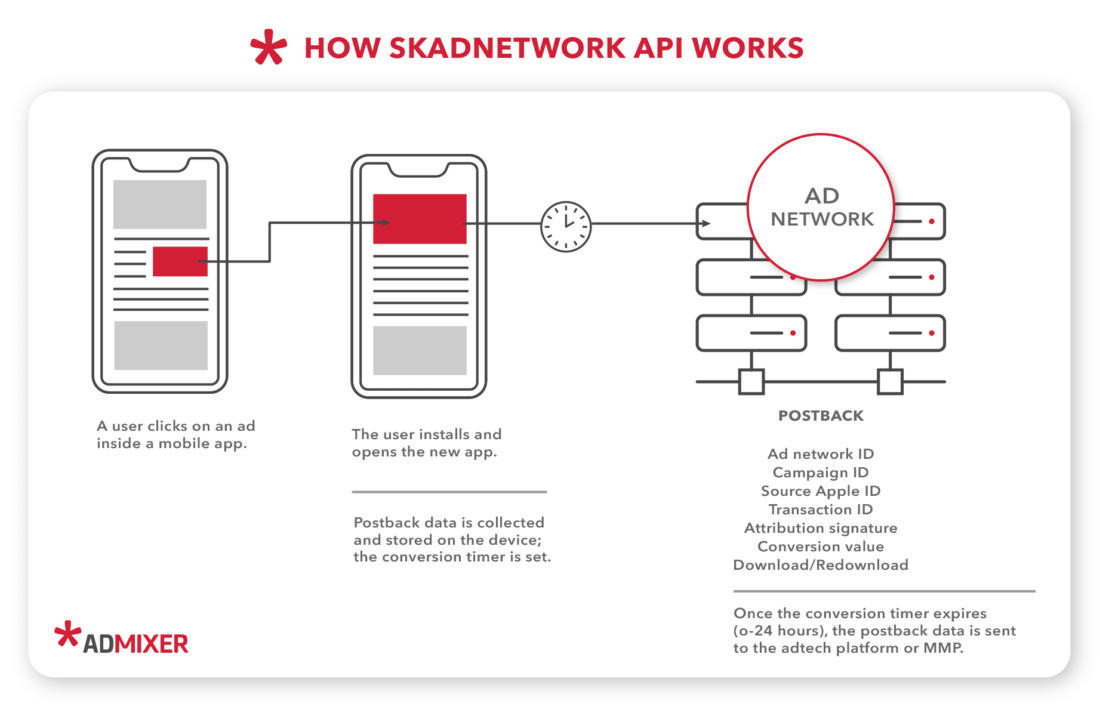 Perks of in-app advertisement
Wide coverage and quality audience
A distinctive feature of most platforms for purchasing in-app traffic is that they provide the ability to target by categories of applications, where ads will be displayed.
In this case, the coverage is practically unlimited, and the quality of the audience with narrowly defined parameters is very high. Oftentimes, media buyers will search for look-alike audiences who are already using applications of this kind. Often, a manager will not be interested in gender or age settings, since a mobile DSP will provide a good selection of users who indulge in similar applications.
Efficiency
The effectiveness of in-app advertising lies in high reach, relatively low competition among advertisers for inventory, and a higher CTR (click-through-rate) compared to other channels. Users spend 87 minutes a day versus 22 minutes on the mobile web. Thus, in-app is much more attractive to advertisers in terms of reach.
In-app advertisements are getting more engagement, including through visible full-screen creatives. In 2017, the IAB conducted a survey of smartphone users and found that only 1 in 10 people clicked on ads on the mobile web, and 8% of people than visited the advertiser's website. In the case of in-app advertising, 13% of respondents clicked on a banner or video, and 9% went to the site.
Scale
According to AppAnie, modern users spend an average of around 90 hours a month on mobile apps. According to research published by eMarketer, in-app activity accounts for 88% of adult smartphone users in the United States. For tablets, in-app usage accounts for 76.8% of usage time. Advertisers have to invest in some kind of mobile advertising to get their message across to these people. Even though the mobile engagement rate is slightly higher, the average person will only spend 16 minutes a day using the mobile web. The rest of the time is dedicated to apps, generating trillions of impressions and providing fertile grounds for ad campaigns.
Risks of in-app advertisement
Minimum in-app bids
When deliberating about advertising in apps, one has to bear in mind that there is a price tag attached to advertising in this channel. In-app is a booming medium, and it is highly unlikely that you will be able to buy cheap impressions through 2nd-price auctions. Get ready to adjust your expectations, and accommodate the bid floor of the app developers. Otherwise, you won't be able to get high-quality traffic. At a bare minimum, you still will be able to launch campaigns and get at least some impressions. But for a successful campaign with a high-quality audience, it is recommended to use bids that are at least 15-20% higher than the minimum.
In-app advertising isn't for everyone
Unfortunately, in-app advertising is not a universal channel any advertiser can use. Due to the narrow targeting options and high CPI rates, advertisers can face serious challenges in working with this channel. On most platforms for in-app traffic, the minimum geo-targeting unit in the country, meaning that the in-app option will be ineffective for local products.
Adoption of an in-app strategy will also not work for those who decide to launch campaigns for their app for the first time. Launch campaigns are best done with traditional channels, where you can test approaches with maximum accuracy on different audiences and compare expectations and reality.
Types of in-app advertising
In-app banner ad
Interstitial banner. A super-efficient full-screen format appears during the natural pauses during the app use. This format draws attention to the ad message and shows a high level of CTR and engagement. The interstitial ad can be closed by clicking on the "x" or by waiting for the end of the display (countdown on the screen). When choosing this format, special attention should be paid to the quality of the creative and the frequency of display, so that the advertisement does not seem intrusive, but looks attractive.
Native banner. It can be of different sizes and locations: top, side, the bottom of the screen – depending on the layout and design of the application. The main criterion is organic integration into the content, which helps to avoid banner blindness.
In-app video ad
Interstitial video. In terms of its display mechanics, this format is similar to the interstitial banner, but instead of a static image, it displays a video. For this format, it is recommended to use short versions of videos, and an ideal length of an interstitial video is 5-6 seconds.
Rewarded video. One of the most effective types of in-app advertising. The principle of this format is to receive a reward for watching a full-screen commercial to the end. Depending on the app, the user can get extra lives in the game or half an hour of ad-free music, for instance on Spotify. This format has the highest View Through Rate and is over 90%!
Advertising is constantly evolving, and the user needs to be surprised on a regular basis, so we have given you examples of formats for just such an ad that has not yet boring. These in-app ads, as well as many others, for example, ads inside instant messengers, you can place through Admixer.DSP and test in Admixer.Creatives.
Differences between mobile app advertisements and web
Web, both mobile and desktop is at its breaking point. Right now web identifies provide much more data-rich segments, and the ability to target users based on the extensive behavioral profile. The possibilities of in-app identifiers, such as GAAID, and IDFA pale in comparison to the diverse targeting option of web cookies. However, the looming phase-out of cookies has the potential to significantly skewing this balance, as the mobile environment will be able to cater to more targeting options.
| | | |
| --- | --- | --- |
| | Web | In-app |
| Unique identifier | Cookie (will be eliminated by 2022) | Device ID (IDFA for iOS, GAAID for Android) |
| Lifespan of the identifier | fade in 24 hours | permanent |
| Connection to | User's browser | User's device |
| Available data | Web activity (time of browsing, shopping habits, favorite resources, etc.) | GPS location, device type, OS, gender, age, wireless carrier |
| Opt-in mechanism | no explicit mechanism | explicit opt-in before app download |
| Average daily usage | 1 hour 30 minutes | 3 hours 50 minutes |
| Adblocking | Vulnerable | No universal adoption |
Best platforms for in-app advertisement
In order to start advertising in the in-app environment, you first should pick a good mobile DSP. It is a SAAS solution that allows purchasing impressions of the app users. As a rule, they have a wealth of integrations that connect them to various SSPs, exchanges, and ad networks with social, gaming, and lifestyle mobile applications.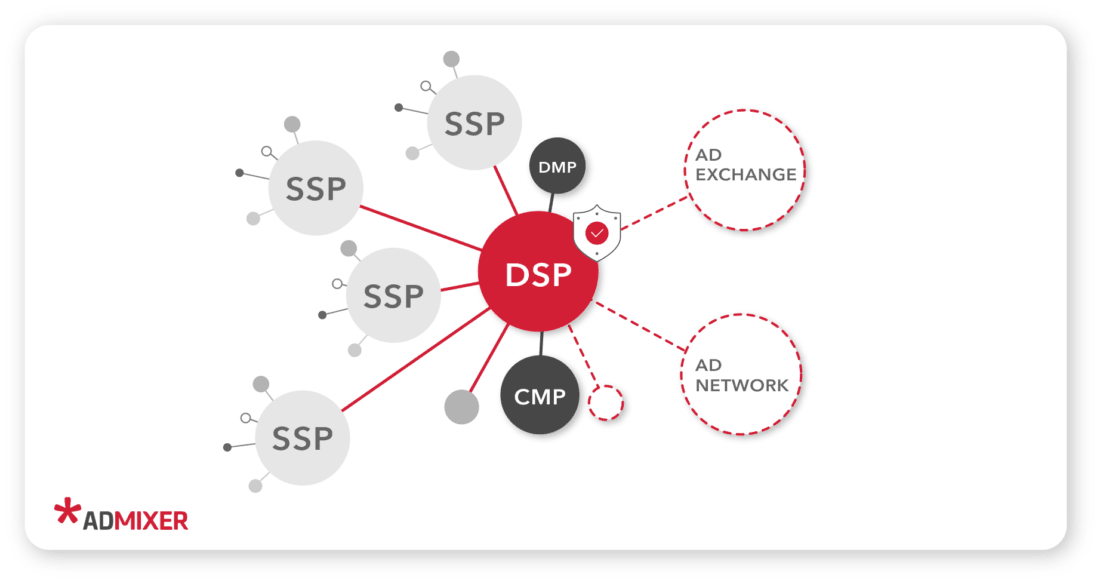 Mobile DSPs are not designated platforms, those are just DSPs that possess a good share of mobile inventory and have necessary supporting infrastructure for the in-app advertisement. For instance, partnerships with mobile attribution and viewability vendors. The list of good mobile DSPs include:
Admixer.DSP

Criteo

Admob

Adcolony

MediaMath

SmartyAds
How to advertise on apps
With Admixer.DSP you can advertise in the world-renowned apps, such as Tinder, Tik Tok, Likee, as well as in the built-in apps of Xiaomi and Huawei.
Through Admixer.DSP, advertisers can reach consumers at almost any point of their user journey, whenever the target audience is residing, including in gaming applications. It is worth remembering that according to various sources, the average age of a gamer is from 30 to 35 years old, so you should not perceive ads in gaming apps solely as a means of attracting a child/parent audience.
Through a series of direct integrations with applications and SSPs that link them together, we enhance the communication capabilities of our customers, making them truly multi-channel. Advertising in apps is a great way to interact with a known loyal audience, but scammers also work in this industry, so it is very important to work with trusted partners.
Admixer DSP provides ad placement in the world's top gaming apps such as
My Talking Tom

Clash Royale

World of Tanks

Art of War: Last Day

Masha and the Bear

Homescapes

Color by Number

Romance Club: Stories

and hundreds of others
To sum up
If you understand that the audience from traditional sources is running out and thinning, you can safely try in-app advertising.

When launching campaigns, try to respond to changes in statistics promptly. Check the quality of new publishers, factor in the percentage of low-quality traffic in your calculations, and be ready for fraud in the first stages. Before you figure out your ideal list of publishers, you would have to test many traffic sources.

In-app has a completely different logic of traffic optimization. Ads are shown while using the app and are most often simply closed by the user, even though the categories of the source and the app are similar. Thus, in most cases, you will see a huge number of clicks, a small part of which will end up being targeted. This is disadvantageous for those who use pay-per-click trackers, but even in this case, the campaign can be optimized: however, some of the target sites will have to be disabled.