Case Study: How to Build and Grow Your Ad Network
Advertising network based on bunch of conjoint publishers could become a profitable and long-term business for those, who dare to gather publishers on localization, thematic or other characteristics, attract advertisers and, for sure, choose proper tech provider. We studied a case of one of our first  customers  – Jordan's ad network BrandFormance.
Back story
Brandformance started in 2014 as a reseller to a few portals in Jordan. As part of BrandFormance's vision towards a multiscreen advertising that utilizes the full power/capacity of screens, they launched "Rich Media solution" which enabled advertisers to run multi-screen campaigns. After acquisition of several sites in 2016, Brandformance became the single largest rich media ads provider across over 5M users in Jordan.
The task
In order to get the piece of the local ad market pie and to try to compete with the biggest players, Brandformance decides to build their own advertising network, which will unite existing publishers and advertisers and engage more new direct ones in the future. Such a network should allow advertisers to target their campaigns to the Jordan market specifically – the challenge, which other well-known platforms couldn't achieve because of their poor targeting options in this geo.
The main issue was to find a platform, which would provide management solutions for all the network players: SSP accounts for Publishers and self-service Trade Desk for advertisers –  everything united and manageable from one platform.
Making the choice
Brandformance had to make a choice within several platforms, among which there were very well-known companies with a lot of famous partners in their portfolio. These companies mostly performed only an ad serving function for publishers, but not a complex solution for the whole network with self-service for advertisers as well. Only Admixer had an in-built solution for all parties in Admixer.Network platform, particularly Trade Desk, which gave the opportunity to create advertising campaigns and buy traffic from Brandformance network through different price models including auction. Besides, Admixer.Network gives the opportunity of smooth integration with Admixer.Adexchange and Admixer.DMP, thus providing preliminary demand and possibility to precisely target ad campaigns for relevant audience.
Having direct agreements with 8 publishers and a few local advertisers, Brandformance starts creating own ecosystem based on Admixer.Network.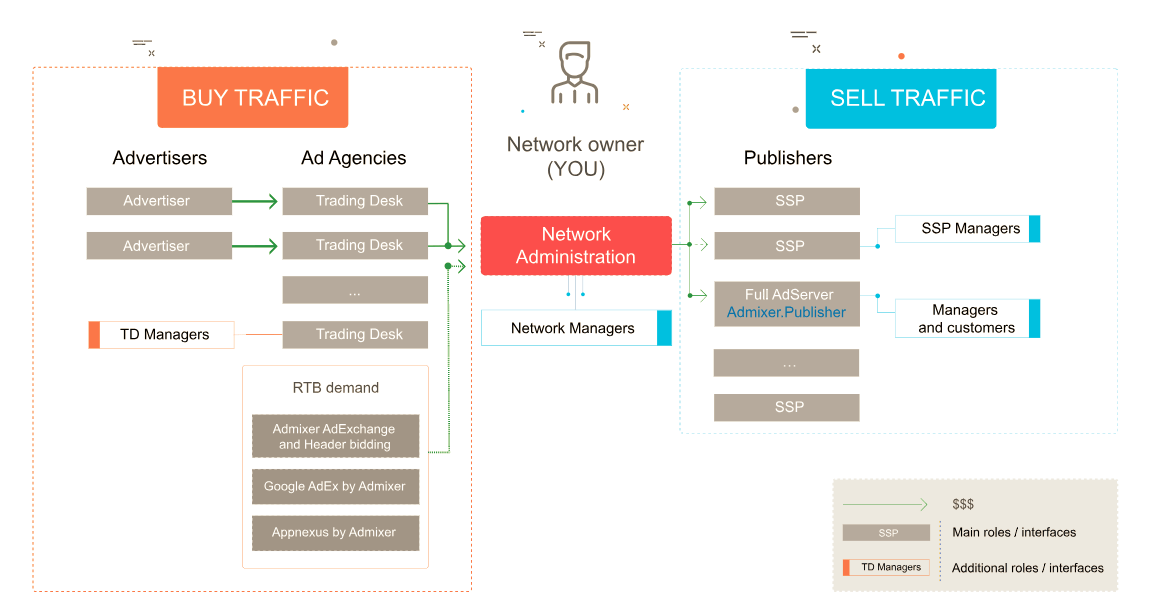 Implementation
First of all, network managers form packages of the gathered inventory and set prices. Then create Trade Desk accounts for the advertisers. At this stage they realise, that there's a need in the 2nd price auction inside the internal advertising campaigns. Our development team implements this feature as required.
To fill existing inventory as effectively as possible, Brandformance connects its sites to Admixer.AdExchange and to Google Ad Exchange (Admixer is Google adX official vendor).
Every network participant receives its own interface and can manage all the process making adjustments online depending on their needs. 3 publishers ask for own ad server to manage inventory and get the full Admixer.Publisher account, while SSP account with real time reporting is enough for the other 5. At the same time advertisers receive Trade Desk accounts with an opportunity to create ad campaigns for different formats including non-standard banners. Inbuilt platform for banner creation helps with this task: filmstrip, branding, cube, sphere and other different rich media formats, video and mobile creatives – everything within several minutes without coding.
Besides, some additional tech fine tune was implemented: we customized fields, names, changed the currency to Jordanian Dinars and made some other small adjustments.
Result
Today Brandformance serves more than 80M impressions per month in Jordan only and is expanding to Iraq and other emerging markets. It keeps engaging more and more new publishers and helps them boost profits with Admixer.AdExchange. At the same time lots of local advertisers produce creative non-standard banners and engage more and more customers with their ad campaigns.
Looking to the future, our partners are going to develop their network further by enlarging usage of Admixer.DMP, using upcoming targeting options and new version of Admixer.TradeDesk.
"Since we combined the Creative Ad Server and Publisher Ad Server, our business flourished, I'm glad we chose your platform. There are many new plans ahead, so we would enlarge our cooperation. " – Laith A. Momani, Founder and CEO of BrandFormance.