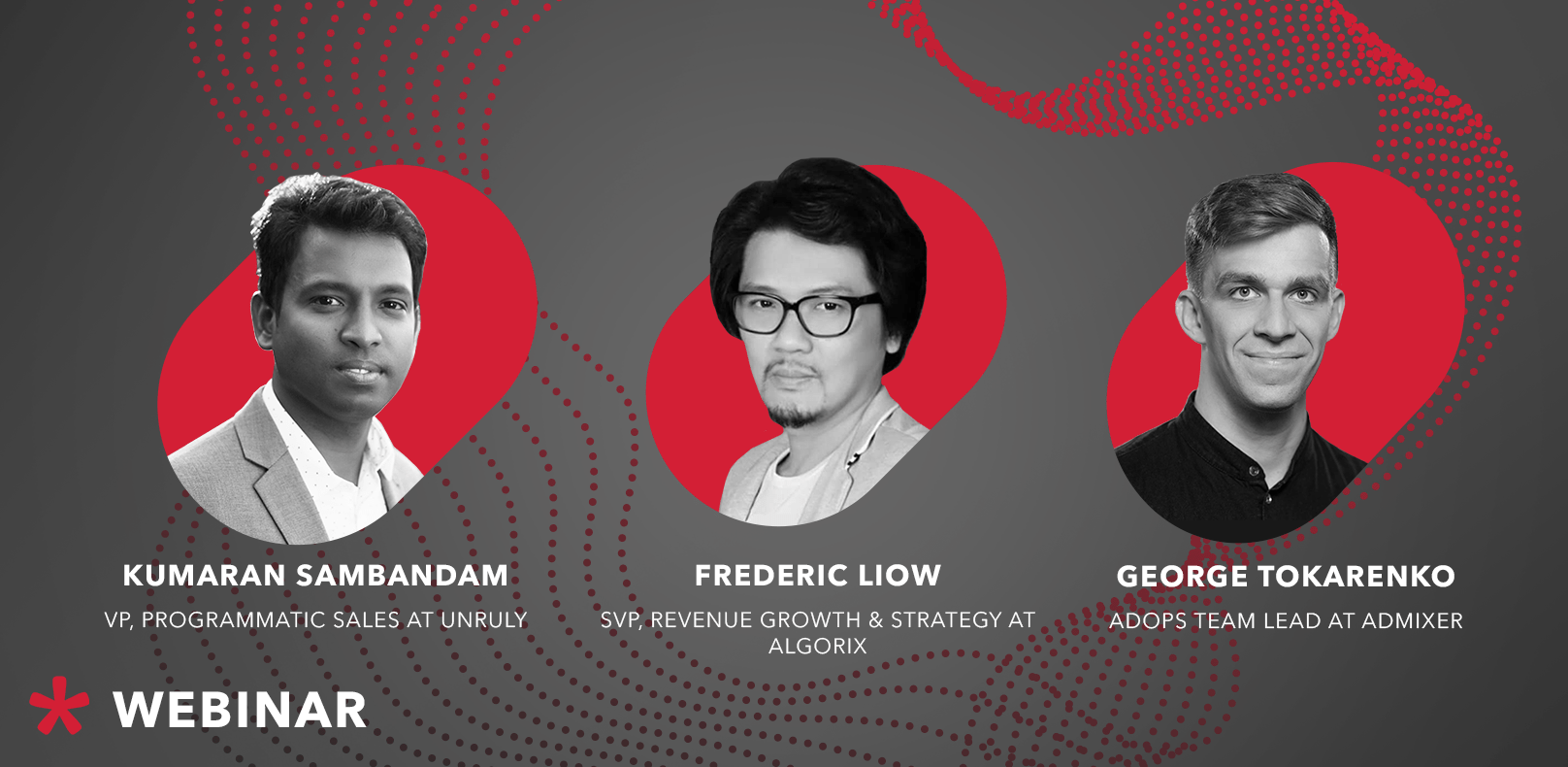 Exploring the Market of CTV Monetization: Key Webinar Takeaways
CTV is experiencing explosive growth in viewership and, at the same time, rising levels of fraud, an enormous share of misrepresented inventory, and grey media trading.
To navigate these lucrative and yet treacherous waters, Admixer has gathered the most accomplished experts in CTV: Kumaran Sambandam, VP of Programmatic Sales at Unruly, Frederic Liow, Revenue and Growth Strategist at Algorix, and George Tokarenko, Adops Team Lead at Admixer. The webinar was so packed with insights that we decided to prepare this recap.
Watch full webinar
Rise in programmatic adoption and demand
CTV is not a new medium for advertisers, but the pandemic truly accelerated the exodus from linear TV and the massive consumer switch to CTV. 78% of US households are now reachable via programmatic CTV advertising, a 56% growth from last year. Media buyers overwhelmingly prefer CTV over linear TV, it provides more precise and accurate:
tracking
targeting
call to action
CTV publishers, which previously relied on direct sales teams and premium ad networks, in 2021 embraced programmatically and started selling more heavily with oRTB and PMP. Since the beginning of the year, the number of CTV apps that support programmatic advertising has increased by 11%. Roku, one of the leaders in the CTV marketplace, expanded the number of its apps by 47%. 
In a matter of a year, connected TV space experienced exponential growth in ad spend, especially in LATAM and APAC. According to Pixalate report, LATAM ad spend had a 317% increase, 106% increase happened in APAC, and a much more modest, but still strong growth of 56% was recorded in EMEA. 
Regional differences in CTV marketplace
The CTV growth is uneven across the globe. Certain regions started out earlier, and as a result, already have a mature marketplace that benefited the most from the sudden pandemic spike in viewership.
For instance, in the US, Roku is already a household name, and CTV replaced broadcasting in the daily routine. This market is notoriously diversified, dominated by CTV-first companies. Consequently, most of the CTV publishers on this market monetize their inventory through global SSPs and oRTB. In contrast, on the EMEA market, broadcasters (such as Sky or iTV) call the shots in the CTV marketplace.
| | | |
| --- | --- | --- |
| | NA | EMEA |
| Main players | CTV first companies ( Pluto, Fubo, Plex, etc) | Broadcasters (Sky, iTV) |
| Dominante trading model | oRTB through SSPs | in-house sales teams, direct trading with agencies, PMPs |
| Regulations | CCPA | GDPR |
| Market | single, consolidated | fragmented |
Problems with CTV media trading
Out-dated ad serving infrastructure
The majority of publishers are still connected through the VAST tags. Compared with oRTB, tags don't convey complex information to the advertiser. At the same time, VAST ad serving has several deficiencies. It spawns duplicated requests from the same platform, which overload the ad servers and obstruct efficient monetization
How to solve?
consider connecting to programmatic platforms via oRTB
leverage private marketplaces to offer your audience segments to premium advertisers
devise an intuitive platform for transferring traffic to media buyers
consider implementing video header bidding – automated auction technology, which allows publishers to sell their inventory to advertisers through many DSPs
Intricate Supply Path
Rapid adoption unhinged by security measures and astronomic sizes of allocated budgets made CTV a very worthy trophy for grey media trading and scammers of all kinds. Programmatic CTV ad fraud rates were between 19% and 24% throughout 2020. The industry already has developed a solution to counteract these shady practices, app-ads.txt files, a digital signature for authorized sellers and resellers of traffic. However, the adoption of this IAB standard has been sluggish at best.
How to solve?
Conduct proper due diligence on your demand, your partners should be seller.json compliant
Adopt app-ads.txt
Remember: app-ads.txt isn't a 'set and forget' tool – publishers need to be vigilant in keeping their app-ads.txt files updated. Failure to do so can lead to authorized resellers appearing illegitimate, or unauthorized resellers looking valid.
Contract an MRC-accredited vendor to scan the creatives before allowing them into your system
Evaluate the supply path, its length, and understand which partners / DSPs are involved in it
Ambiguous User Identification
CTV devices use their own «synthetic» IDs to identify users, which are not permanently linked to a specific user or a device. 77.7% of User IDs in CTV ads are generated by external SSPs.
As a result, СTV does not have a uniform standard for data privacy and user identity. Also, CTV is frequently used by many members of the household at the same time. As a result, managing targeting gets tricky when one family member agrees to the use of their data and another thinks their rights are being violated whenever they see personalized ads.
How to solve?
The IAB suggested using app store IDs for user tracking in order to standardize CTV identifiers
An ideal way out would be an intuitive SDK for app developers for getting users' consent on the CTV platform.
These solutions will help make CTV more attractive both for users and content creators. The former will only need to consent to the use of their data once and never have to do it again in each new app, similar to how Ad IDs work on Android devices.
To sum up: CTV checklist
Update the ad serving infrastructure
Establish effective relationships with multiple demand partners (oRTB or HB connection)
Leverage direct relationships with advertisers via programmatic private marketplaces
Adopt the app-ads.txt and keep it updated
Choose only seller.json compliant demand partners, and optimize the path, choosing the shortest route to the advertiser
Don't just take someone's word for it — relentlessly verify