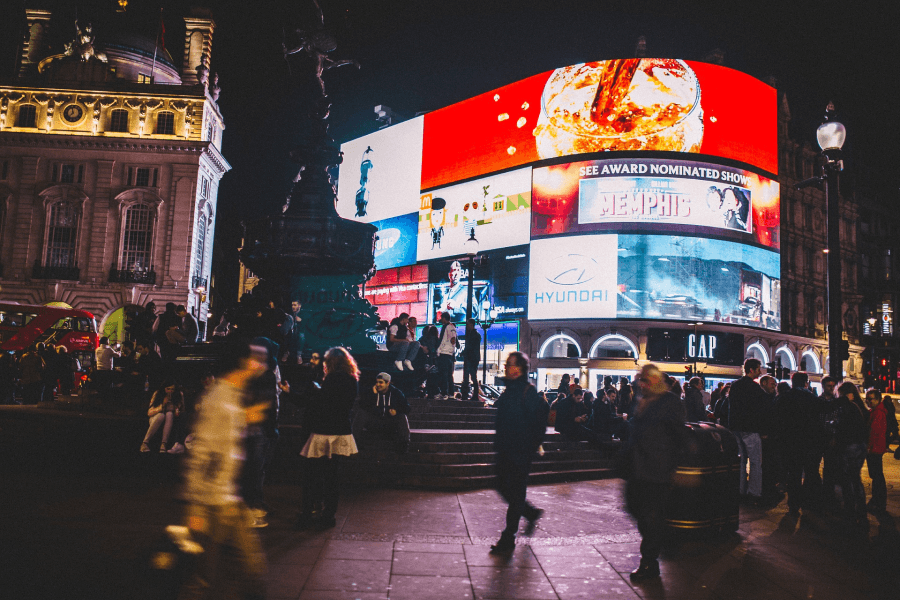 DOOH Advertising Reinforced by Programmatic: What's the Power?  
Increasing volumes and popularity of DOOH (Digital Out Of Home) is a steady trend of the recent years, especially in the US and Europe. Advertisers allocate bigger and bigger budgets for this media channel. The latest research indicates a significant growth of the DOOH market across the globe, according to the DAN report.
Surveys by Statista also illustrate remarkable boost and forecast a long-term acceleration of DOOH advertising market at least till 2027: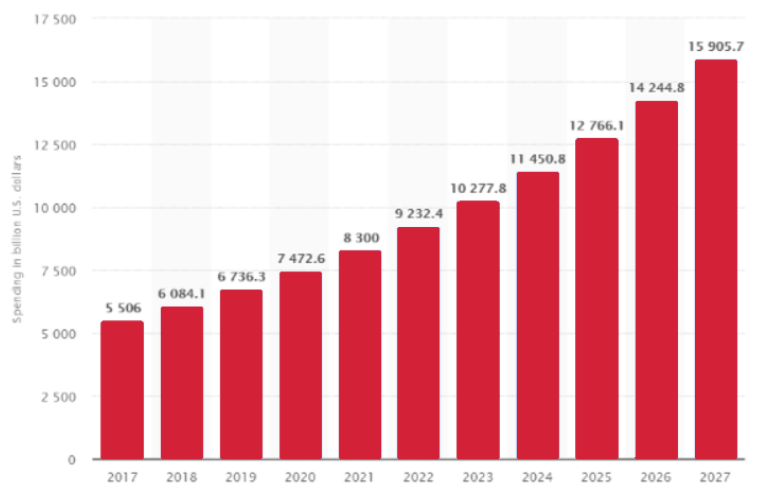 Benefits of DOOH advertising
Depending on the marketing goals, DOOH can help to:
deliver addressable advertising,

raise brand

awareness,

ramp up regional presence,

and to bring a customer up to the product shelf.
Most consumers make purchasing decisions when out of their home, and topflight video ad has a memorable habitude.
According to Beeoutdoor, 55% of digital display advertisement viewers could revoke the exact message they saw.  
According to the IAB DOOH Buyer's Guide, for the last 20 years, people spend up to 50%  more time outside their homes.
Thus, the number and diversity of touchpoints with prospects are increasing. At this point, brands consider digital outdoor advertising channel more attractive and perspective than classical static posts and billboards. 
State-of-the-art DOOH advertising
Today, outdoor advertisement isn't just a billboard you need to print, place, and wait for a new advertiser to replace the ad space. It's also not just a video screen with revolving ad content.
DOOH is rather an engaging display encouraging users to interact, and pushing them to make an online purchase.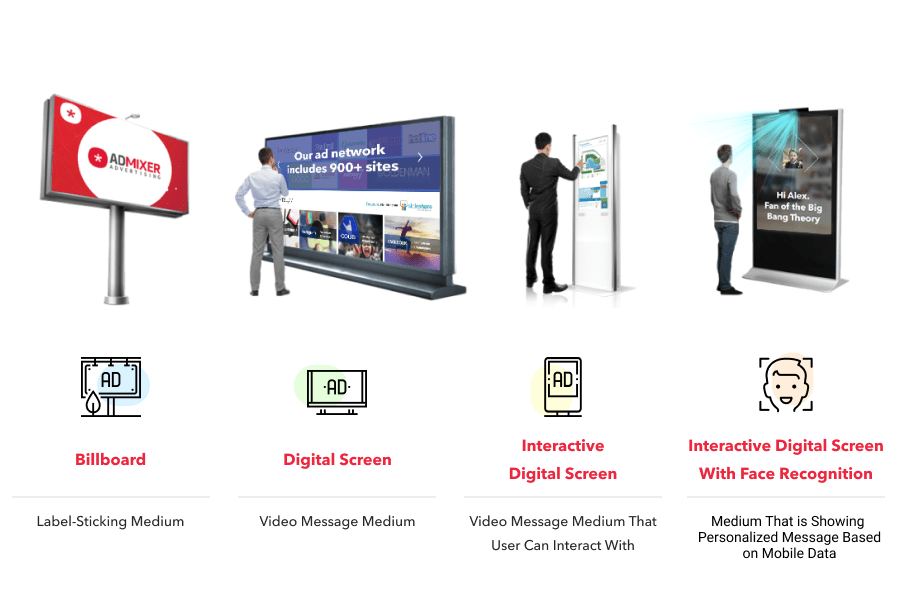 The challenge of addressable ads via DOOH was solved with users' mobile data and digital signages synchronization. Through Wi-Fi connection, DOOH platforms are capturing mobile ID and data which allows delivering relevant content.
With this, the ad message can be tailored to the bullseye, and this is how a persona profile is creating. On the same principle, digital signages collect information about human traffic on the location and provide optimal content to the audience.
Another profiling method is facial recognition. Some digital out of home media platforms are equipped with a camera allowing to identify a specific person within a particular radius. In this way, additional data attributes (like age, gender) are collecting.   
The synergy effect of DOOH and Programmatic 
In its recent article, Digiday raises the issue of how programmatic is changing the landscape of the OOH advertisement in the US for both, SSP and DSP sides.
With the growth of DOOH mediums, the question of effective inventory management is becoming urgent.
Since programmatic is available for DOOH networks, manual advertising configuration has become rudimentary.
Today, technological companies that are powered with Ad Tech Stack are capable to provide the demand side with customized solutions that cover digital out of home advertising programmatic maintenance. With this capacity, advertisers can easily tune their campaign including its views frequency.  
On top of that, the programmatic ecosystem helps to engage independent auditors to supervise the results of ad campaigns and win more trust from clients. Programmatic solutions allow DOOH publishers to participate in real-time bid auction and easily sell remnant inventory for the best price keeping the supply and demand balance for the most wanted ad spaces.    
Similarly to online advertising, growing demand for programmatic in the DOOH area pushes advertisers to try different tech solutions and integrations. Due to its specific, such processes are quite sophisticated and time-consuming. However, integrations happen, providing DSP with new horizons, pushing media buying borders, and developing the market. 
How you can embrace DOOH with Admixer Technologies?
Programmatic implies a bunch of difficulties on its way to the implementation in DOOH. Principal barriers are related to a mandatory audit of creatives that are publicly placed, and their high-quality requirements that are due to a bigger displaying area.   
Admixer is making confident steps in the direction of DOOH media integration into the global programmatic ecosystem. We provide our partners with the programmatic demand sources and the ways to integrate them are smoothly and easily.
Our SaaS Tech Stack allows not only to connect to programmatic demand sources but includes blacklists (by categories, advertisers, and brands) and allows conducting entire creative quality assurance.
Technical problems to be solved by DOOH media owners
constant access to the Internet – to get instantly new ads coming 

from the auction model

in-time ad creatives confirmation

gathering all screens and partners into structured packages to be 

presented on Admixer.DSP
For market-leaders who have their own proprietary or leased software and CMS systems, the future challenge would be to connect to Admixer Tech Stack through API for full-stack smooth integration. However now it's not necessary, one could start selling DOOH inventory without direct integration.