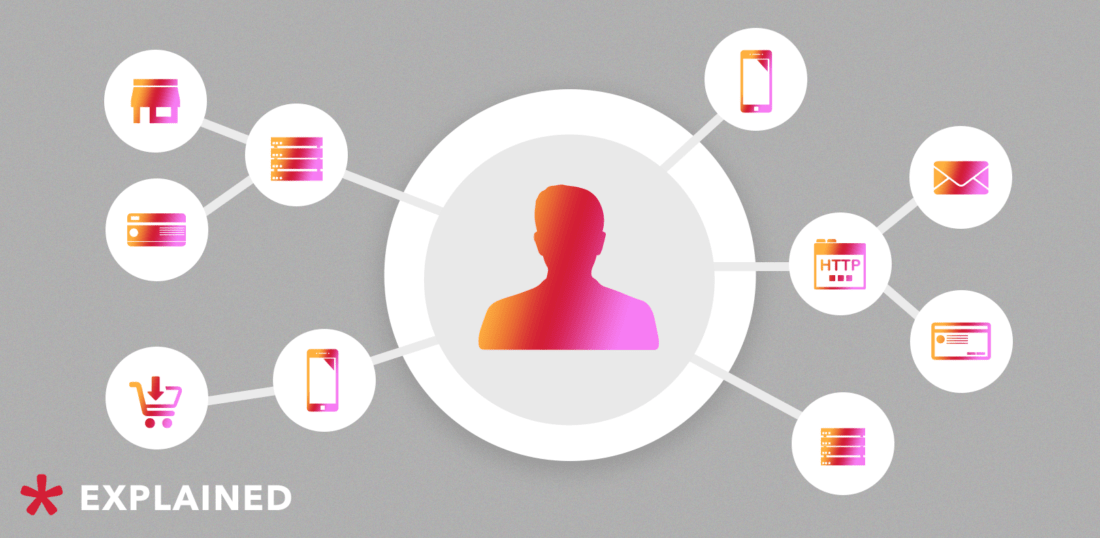 Identity Graph: What Is in It for Marketing?
Marketers are facing an identity crisis propelled by cookies turning obsolete and Apple's ATT coming into force. In light of the fading addressability, the identity graph provides time-honored stability as well as new exciting opportunities.
With the rise of people-oriented marketing, identity graphs have become the foundation of identifying people across channels and devices. They allow leading customers at each step of their journey to conduct true multichannel marketing at scale. People-based marketing aims to see people in customers rather than abstract online data collected by some software.
A user identity graph is one of the cookie alternatives that matches people's identifiers across devices, thereby providing proper individual interaction and instant relevance through the web, mobile apps, display ads, emails, point of sale, etc.
What is an Identity graph, and how does it work?
An identity graph or ID graph is a database that keeps all identifiers that are related to an individual customer:
Personally identifiable information (PII), such as emails, usernames, phone numbers, locations, etc.
non-PIIs, like first-party cookies and Pub ID, served as identifiers.
ID graph collects these identifiers and links them to a unique customer profile so that customers can be addressed much more effectively across different channels and devices.
For instance, one customer is added to your CRM system, advertising platform, eCommerce software, email automation tools. Identity graphs analyze the information given by all systems and combine it in one profile of a customer.
Pros
The good thing about this alternative to cookies is that advertisers can activate audiences across different channels through user charts and correlate user activities in different environments.
Cons
The biggest drawback of this method is that it is challenging to develop and launch internally without accidentally compromising privacy. To provide user data security, advertisers and publishers need to choose trusted vendors that can implement the necessary technical infrastructure.
Identity stitching
Identity stitching is the process of collecting and matching identifiers across devices and touchpoints to build a single consumer's cohesion. It provides an omnichannel view so that brands can deliver personalized, context-sensitive messages to the customer all along their way.
It makes sense to link customer records located in different silos, but it is also important to link homes and devices so that you can fine-tune your goals as needed.
Family members usually use the same account. Amazon Prime, Netflix, etc., are usually used with one account by the whole family. In this situation, the account owner is just a member of a family who made a subscription. Such accounts should be considered household accounts.
To identify users at home, companies can use device clusters. This is the process of grouping similar devices based on IP sharing history and browsing patterns.
Underlying technology
Although there is no technical answer on how to achieve identity stitching. The database responsible for maintaining billions of users and their relationships is the most valuable component. A graph database is defined as a family database tailor-made for this application. These databases are effective and designed to manage the connections between billions of identities (millisecond latency).
It is no wonder that main tech companies are using them. For example, Facebook produces timeline feeds, using a graph database to identify "friends" connections. Also, Amazon uses a graph database to recommend products by looking at what other people have bought with the product you are viewing.
Admixer User Identity Graph
Such alternative to cookies as Admixer User Graph offers the service that collates User IDs from different sources and environments:
web IDs (1st-party login data used to access online resources),
mobile IDs (IDFA for iOS and Android ID),
1st-party ID developed by different tech vendors (e.g., Unified ID 2.0, LiveRamp, ID5, Net ID, etc.),
verification and measurement service IDs.
It works in conjunction with Admixer ID and helps to identify users in different environments.
Identity Graph applications
Identity graphs are mainly in charge of stitching customer identities and combining them in one unique customer view. Achieving this, businesses can use it in a variety of applications, such as:
Personalized customer service
People-based marketing relies on a customers' recognition. Marketers have to be compelled to determine not only their buyers but also the digital signal they're sending in real-time. It is impossible if your customer is linked to third-party cookies or if you are addressing the profile as a "one-time" issue on a campaign-by-campaign basis.
About 6-10 gadgets are used for operating the customer service by support agents. An Identity Graph merges the data from different resources so that agents can identify the full context of the buyer experience. Moreover, an ID graph can quickly respond to users' requests.
Attribution across devices
It is important to analyze how customers interact with a brand across all touchpoints for implementing accuracy in marketing calculations. Daily, users connect to brands through numerous channels during their customer journey.
An ID graph provides the maintenance of all this data to boost the efficiency of each channel. Brands can analyze their marketing campaign and make better decisions in further budgeting.
Personalized customer experience
You may have noticed that Netflix, Amazon, Hulu, Spotify, and other popular streaming services are always providing the most relevant products or shows in their recommendations. They are all operating with the identity graph to trace browsing history and provide individual content hints for the screen that is being used.
For instance, if you're launching a video documentaries website and see that users mostly use it on their mobile devices during their commute, you should fill your first page with more short videos.
Implementing effective promotion
Identity graph allows you to trace how customers interact with promotions. Having this knowledge, you can allocate your marketing budget to appropriate platforms. What is more important, you can deliver messaging that is on point, on the right screen at the right time. You can better integrate multi-stage messaging, where different types of messages are sent to a user. Messages will vary depending on the stage of a users' interaction with a product.
Conclusion
An identity graph is becoming a valuable and powerful replacement for cookies. An ID graph provides control of customer identity, which is more effective rather than a rented campaign-by-campaign through third-party media.
Stitching customer identities, ID graph creates a single customer profile, which can be individually integrated with unique advertising campaigns. It helps businesses in implementing further promotions and making ad budgeting more efficient.