The Best Mobile Audience Monetization Models
The number of active smartphone users worldwide hit 2 billion in 2015, as a result content consumption is shifting from desktop to mobile devices. 
Advertising in a Mobile World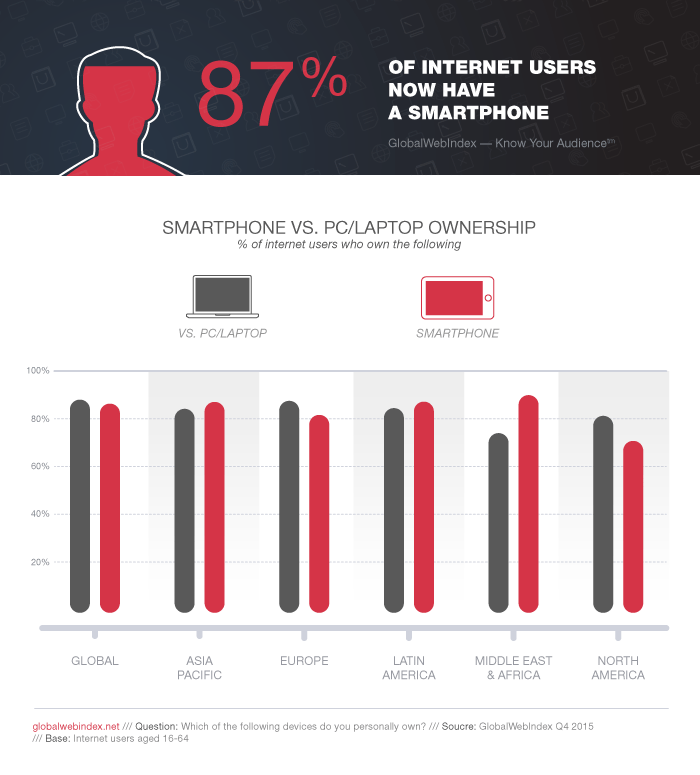 Users prefer convenience over quality, thus screen size is not a problem anymore.
Smart devices are improving the video experience constantly, with 4G networks and HD screens. The auto-play video brought by Facebook is also one of the factors why mobile video traffic is growing with such abnormal speed.
Although, the longer is video, the bigger is device preferred by users. Long videos find favor among tablets. However, for videos up to 10 minutes the leadership still belongs to desktops.
According to recent study by Global Web Index PCs and laptops are still the most commonly owned and used devices, but about 80% now have a smartphone and close to 50% have a tablet.  It's now 3 in 4 online adults who access the internet via a mobile each month. For 16-24s, daily time spent online on PC/laptops may be ahead, but this group now spends 44% of their daily internet time online via a mobile. And the trend here is clear, with figures fast approaching the halfway mark. As time spent online on mobile continues to grow, not only will we increasingly see online activities migrate to mobile, but this will bring profound implications for how and when brands will communicate with consumers.
The digital world had to adjust accordingly. According to the IAB UK, spend for mobile ad increased 51% and by 2019 there will be 5.2 billion mobile users worldwide, which will be approximately 72% of the global population. Moreover, according to recent research, mobile publishers who can provide latitude and longitude data can realise CPMs 124% higher than average.
For most companies, mobile ads are becoming the biggest part of their digital communication strategy. The approaches, though, are still very different. Due to this relatively new trend, there is still no common seeing or best practice for mobile videos. Everyone is trying to reach best result from this potential opportunity in a same way keeping in mind barriers that they can face. Compared to video and banner and all other display advertising, mobile video provides greater possibilities for creativity, it's a better opportunity to interact with viewers using relevant, entertaining content.
Traditional mobile ads are disrupting and forcing to watch something users don't want to watch. People are getting tired from conventional mobile ads.
We've left banners in yesterday. Mobile as a new media requires new ways of delivery.
Relevance over content
Content obviously can't become less important, but relevance is often an issue, so we would say these factors in a top two.
Considering users with their limited time, interest and patience experience should be at least perfect. So in digital world, where mobile traffic took over desktop, relevance can take over content.
Users prefer to watch the content that won't intrude but rather entertain and will be aligned with appropriate ads.
Improving user experience
Wide variety of ad formats provides a lot of opportunities for publishers. They can keep consumers' attention by creating high-quality, personalized mobile video experiences.
Users are facing unwished experience with mobile ads all the time. Pre-roll ads for 20 seconds before video they actually interested in. Mistapping on tiny banner ad and something else is loading. That's frustrating for everyone.
Some advertisements that was designed to work effectively on a desktop device, can fail its mission on smaller devices. If pages failed to load quickly, of advertising is intrusive or irrelevant, users can be driven away. To visually help, here is the full range taken from IAB's Rising Stars series to start with.
Design should be as responsive as possible to adapt to all kinds of screens, orientation and aspect ratios. For this the best way is to use cross-platform apps created based on open source languages.
Interactivity issue
It would be a silly flaw to forget about the fact that mobile device is not just a phone or video browsing tool; it contains geolocation, proximity sensor, compass, gyroscope etc. Marketers can take a huge advantage from it by turning boring ads into interactive motion experience.
Motion ads are a perfect fit for mobile. People spend a majority of their time on smartphones engaging with apps, and this a great news for app-like ads.
It makes sense to make this type of ad as simple as possible, everything should happen in as few steps right inside the ad.
A motion ad invited users to interact using their mobile devices, to shake, tilt or play in other way. User plays, getting positive reinforcement with a coupon or points of some kind and encouragement to play more.
Motion ad can be similar to virtual reality. The phone will become user's device for perception this reality. For example you can see yourself on a resort with coconut cocktail in your hand.
To create successful motion ad you should consider challenges like sophisticated machine learning algorithms to coordinate sensor data.
But it is important to understand that motion ads need to be more than just another entertaining online experience. You can use location-based services and point the consumer to a nearby store or sales point where they can buy the product you're advertising.
Video formats
Mobile video advertising shows higher CPMs than standard online ads and provide ability for better targeting and more precise ROI calculation.
Also unlike textual content ads or banners, here, marketers are also taking into consideration fill rates and completion rates along with ad impressions.
Pre and post-roll clips on webpages, in-app ads, auto-play ads within newsfeeds are common formats but new ones can appear tomorrow and standards evolving as well. It's an excellent possibly to develop a better programmatic ads space.
Effective standards can hold back mobile video from reaching its optimum potential, while programmatic gives significant opportunity for continued growth.
Try cross-platform campaigns
Cross-platform campaigns can be part of consistent story across desktop and mobile, through video and display ads, TV or audio. Such campaigns are huge opportunity for creative possibilities and a really good way to stick consumers' attention to the product. Mobile video advertising is still on its way up and still developing. All participant of video content are looking for a better understanding of the audience and are building standardized metrics and measurement tools. Publishers and buyers brace yourselves, mobile-first future is coming.
Do you want to monetize your audience? Learn more about our ad serving solution Admixer.Publisher!