Mobile video fuels the ascent of digital ad revenue
Mobile ad sector has grown out of the role of a rising star. The figures prove it takes the leading position now. According to the latest IAB report, last year resulted in mobile ads bringing the greater part of overall online ad revenue in the USA.
IAB has released Internet Advertising Revenue Report stating that mobile platforms attracted more than half of last year spendings by advertisers. The presented number is $36.6 billion, which is almost twice as much as the year before – $20.7 billion.
Randall Rothenberg, CEO of the Interactive Advertising Bureau, bases this on the fact that many brands changed their strategies from prioritizing mobile ads to completely focusing on them. 47% of mobile revenue comes from the search. Another driver here are mobile videos ads. Mobile video revenue has more than doubled reaching the mark of 145 percent growth.
IAB's Press Release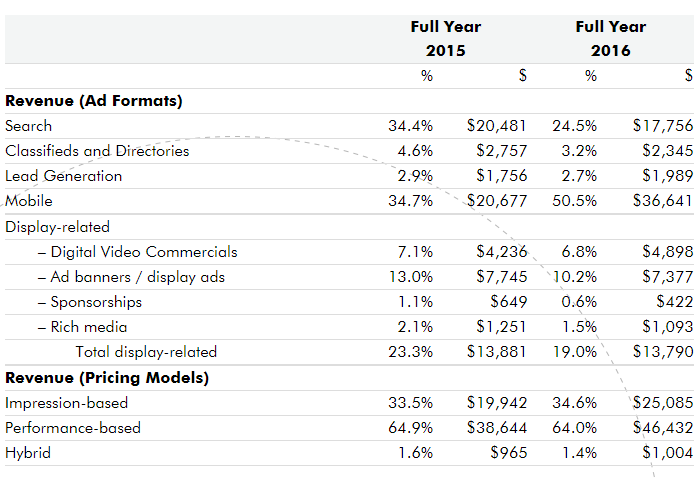 Main 2016 trends, as it appears from the report, include the following:
Digital ads surpassed TV advertising with the revenue hitting the record number.

Social media advertising has brought 50 percent more in 2016 comparing to 2015.

Digital audio ads were measured as a separate category for the first time due to the increase in use of streaming services.

Retail became the largest ad spender (21.3%), leaving Media (5.2%) far behind.
Digital gets ahead
The rise of mobile ads has fueled digital advertising. As the result, it overtakes TV ads for the first time in the history of IAB records. Total digital ad spend has reached the number of $72.5 billion.
In this context, analysts mention the possibility for companies to launch products with no TV campaigns. Two internet giants, Google and Facebook, play a huge role in making this possible. Ever more advertisers are directing their spends into these two channels. They are motivated by the obvious advantages: digital ads are more cost efficient and allow for better targeting, as well as more precise analytics.