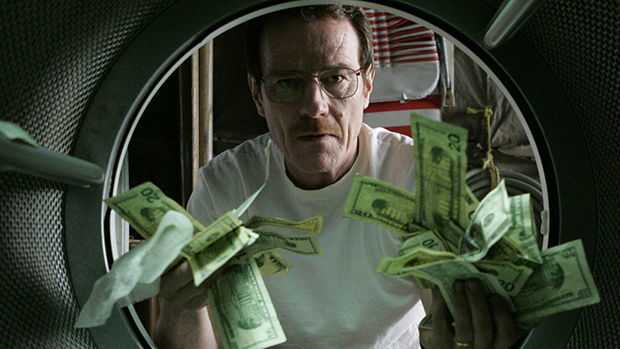 7 digital advertising spending stats from 2015
Digital advertising shows every sign of attracting more and more dollars over the next few years.
1. Global advertisers will spend $22 billion more in 2016.
WPP's media buying arm GroupM predicts that global ad investment will have increased by 3.4 percent ($17 billion incremental) by the end of 2015 and another 4.5 percent in 2016 ($22 billion incremental). BRIC countries – Brazil, Russia India and China – will represent 23 percent of measured global ad investment in 2016, according to the agency. By comparison, the Eurozone now accounts for only 11 percent of global advertising.
2. Nearly three of every five digital display ad dollars will flow through automation.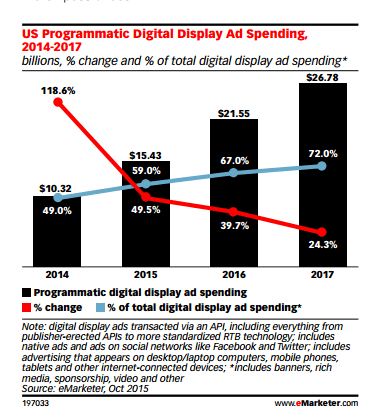 "Programmatic Advertising 2015" by eMarketer reveals that this year, the amount of U.S. display spend transacted programmatically surpassed that of traditional direct sales for the first time. Meanwhile, 60 percent of mobile display ad dollars will be spent in a programmatic manner.
3. U.S. display ad spend to reach $37.36 billion by 2017.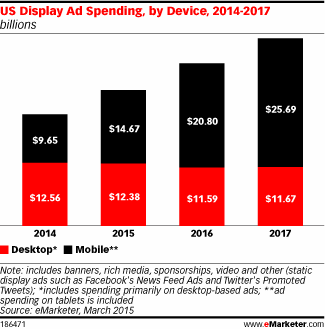 Display advertising will continue to account for the largest share of the mobile ad market, capturing 51.1%, or $15.55 billion. Within display, banners, rich media, and sponsorships will account for $12.77 billion, and video $2.78 billion eMarketer estimates that digital display ad spend in the U.S. will reach $37.36 billion by 2017.
4. Advertising expenditure on online video will soon account for an eighth of total Internet ad spend.
The average time people will spend consuming online video each day will increase by 23.3 percent in 2015 and another 19.8 percent in 2016, according to ZenithOptimedia. Ad dollars are following: Online video is the fastest-growing category of online advertising, and is forecast it to grow by 28.9 percent to $16.1 billion worldwide in 2015 and 22.5 percent in 2016, according to the agency.
5. Business Insider is predicting mobile video ad spend to reach $13.3 billion.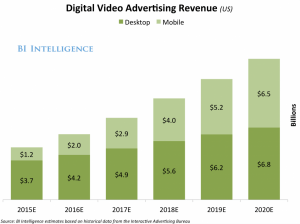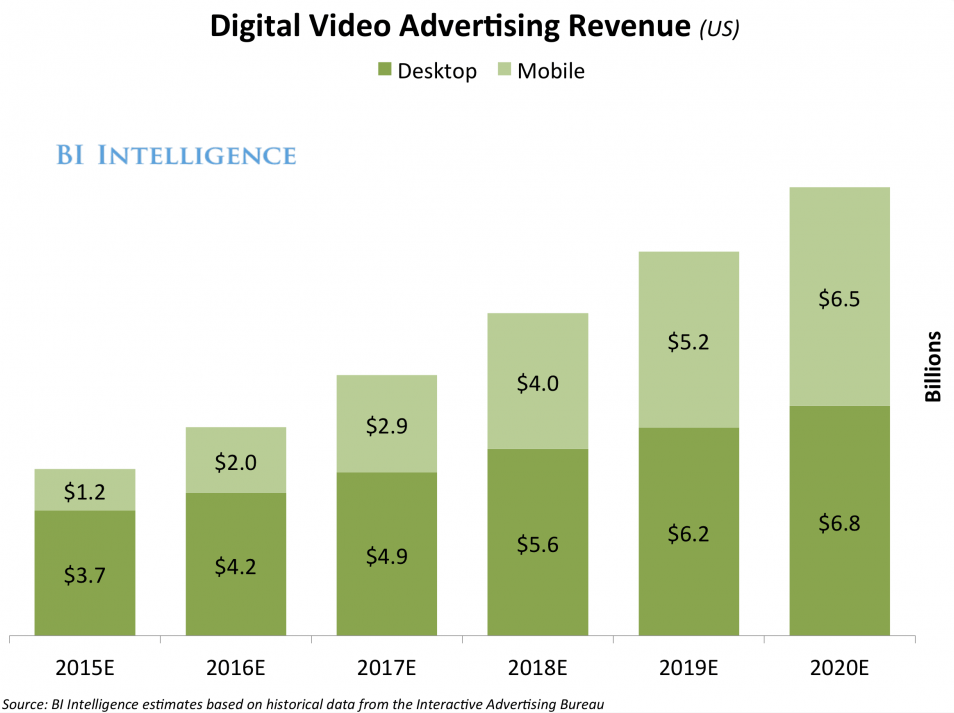 According to eMarketer, in 2015, 32% of the daily video watching time is spent on TV, while 22% is spent on smartphones. With the proliferation of mobile devices, these numbers are expected to change as more video content is consumed via mobile devices and tablets. Advertisers are well aware of this shift, and more and more TV dollars are being re-allocated towards mobile campaigns. Mobile video ad revenue will grow more than 3x faster than desktop through 2020.
6. Mobile will account for 51.9% of total digital spending in 2015.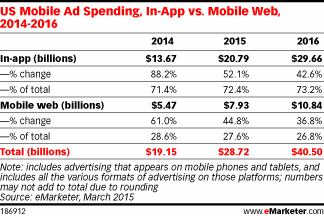 The shift to mobile ad spending is being driven mainly by consumer demand: US adults are spending 2 hours and 51 minutes a day on nonvoice activities on mobile devices.
7. Ad blocking to cause $21.8 billion ad revenues loss.
A report, released by PageFair and Adobe in August of this year, estimates that $21.8 billion has been lost in ad revenues in 2015 due to ad blocking. There are now 198 million monthly active ad blockers, according to the report.