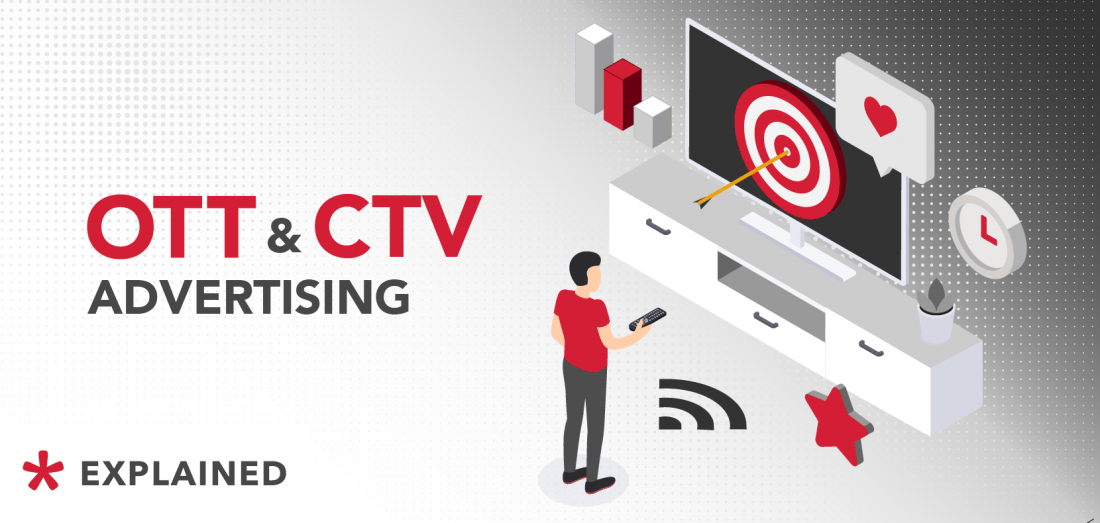 OTT and CTV Advertising: The New Era Of TV Ads

There is no need to discuss the fact that cable television is becoming obsolete. It loses its position to streaming services, which are developing faster, increasing their audience reach, and are just much more convenient.
Viewers watch all the content played on TV in new places and ways because now they can connect to the Internet. This gave birth to a general term called "Advanced TV" or "CTV." All new broadcasting methods include Connected TV and Over-the-top.
What is OTT advertising?

Before getting too deep into the definition of OTT advertising, let's underline what OTT stands for. OTT is a shortened version of over-the-top, and the term dates back to the television era. Content that initially was delivered to TV screens via broadcast, cable, or satellite began to be broadcast online. The term began to be used for the content transmitted via the Internet to computers or mobile devices (which were the leading way to watch OTT video).

OTT advertising is the type of advertising delivered directly to viewers over the Internet using streaming video services or devices such as smart or connected televisions (CTVs).
Why is OTT advertising trending now?
Due to Statista data, the penetration of OTT advertising will considerably increase in the coming years. The reason hides in the number of benefits this type of advertising provides, both for the advertiser and the user.

It gives the marketer confidence that viewers will definitely see ads on their devices (CTV, laptop, tablet, or smart TV). This is one of the main reasons why this technology is now on-trend. While traditional TV caters to a wide audience, streaming services can target the intended audience.
The platforms allow advertisers to display content on multiple devices from one account simultaneously. This means that OTT ads should also be adapted for different screens – from widescreen TVs to compact laptops and smartphones.
OTT media sources
Even though OTT advertising is developing extremely fast, there are still only three main ways to access OTT inventory through addressable buying: Programmatic, Platform Direct, and Publisher Direct.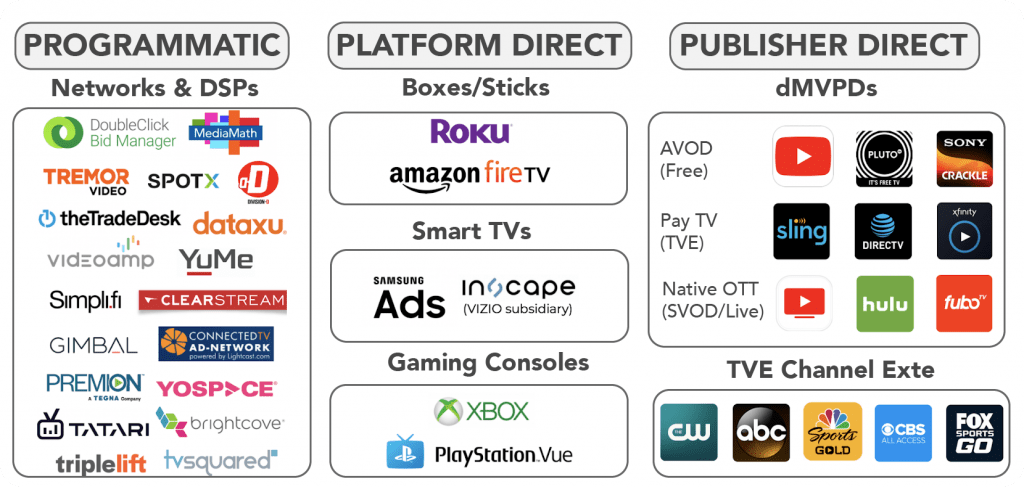 Programmatic: Newbies to CTV often find it easier to get started with DSPs and ad networks due to broad cross-platform reach, lower minimum cost threshold, cheaper cross-platform blended CPMs (e.g., CTV + mobile video), complex audience segmentation, and advanced reporting capabilities (e.g., platform/publisher reporting + cross-platform charts). While trades with third-party data and private marketplaces (PMPs) can offer a range of niche targeting opportunities, effective targeting usually cannot be guaranteed at the program or platform level. Programmatic ad formats are currently limited to non-clickable videos (for example, in the middle of the video), as OTT platform providers keep homepage placement and clickable display formats for themselves.
Platform Direct: Aside from targeting considerations, buying directly from an OTT platform provider can sometimes provide lower rates and additional placement options. For example, Amazon Fire TV and Roku offer clickable banners, which tend to deliver lower eCPI than regular commercials. However, each OTT platform has its own rules for the game. For example, SmartTV partners (e.g., Samsung Ads, Inscape) offer native placements on both traditional TV and OTT. Others are more restrictive, practicing PMP deals and direct publishers to gain access to certain resources; Apple TV does not sell in-system ads, while Xbox and PlayStation only sell direct content to those who have an app on their respective platform.
Publisher Direct: Finally, for large advertisers on TV and OTT applications who want to guarantee themselves placements on specific programs or channels (e.g., HULU, FOX NOW), working with publishers directly can be the solution. However, keep in mind that some OTT apps have competitive restrictions on the advertisements they can accept.
Benefits of CTV and OTT advertising
The survey held in April 2021 among video marketers in the U.S. showed that the majority (more than 60%) of respondents stated that the most crucial benefit of CTV advertising is the high quality of content. However, there are still more essential benefits that cannot stay unnoticed.
Rich targeting options
Rich, flexible, and varied targeting options are one of the main strengths of CTV and OTT ads. This is the reason why companies prefer this format to traditional TV advertising.
CTV and OTT provide companies with detailed targeting based on various criteria. For example, advertisers can target consumers based on their location, Internet browsing and search habits, demographics, device, lifestyle, and more. With a multitude of targeting options, companies can easily reach the most relevant consumers by increasing the number of views for each ad.
More engaging and powerful ad formats
In addition to rich targeting options, these platforms offer advertisers more attractive and various ad format options. CTV ads are great for creating a viewing experience because they cannot be missed. On the other hand, the main benefit of OTT ads is that these ads can be clicked on.
These individual benefits of each format need to be considered when planning an ad campaign. The combination of both formats will enable businesses to achieve better results through advertising campaigns that are more engaging, exciting, and functional.
Diverse and fast-growing audience
Another strength of CTV and OTT advertising is its audience. Advertisers can now reach out to people who have already turned off traditional television or have never had one (younger audience). According to a Comscore report, 21% of home CTV consumers in the United States have "cut the cord" in the past five years. Another 21% of those who view CTV at home are so-called cable networks (not having a cable/satellite subscription in the last five years). Home consumers are expected to account for nearly a quarter of the total in the United States by 2022.
Measuring accuracy
Finally, CTV and OTT ads have more accurate tracking and a variety of measurement options. Advertisers can use software platforms to collect and analyze all kinds of statistics and data to measure each ad campaign's exact outcome.
Disadvantages of CTV and OTT ads
Naturally, in addition to a number of positive features, CTV and OTT ad formats also have some limitations. Here are the most tangible ones.
Limitations of the ad format.
Unique features such as interactivity and non-skippability also have their drawbacks. In the case of CTV ads, a pass ban makes them more engaging, but such ads cannot be clicked on. In the case of clickable OTT ads, the fact that the viewer can skip them is considered a disadvantage. This is why combining both formats and leveraging the strengths of each will be most effective for your ad campaign.
Several platforms with different requirements.
The lack of universally accepted CTV and OTT platforms standards regarding ad formats and technologies is seen as the flip side of the coin. Platforms do not speak the same language, whether it is ad formatting, ad serving, or simply communicating what a brand is being advertised against.
Access to certain types of TV content audiences is denied.
And, of course, these platforms have content restrictions. Certain types of live-streaming content, such as local news, sports events, and prime-time shows, continue to be the domain of more traditional TV content delivery models. This makes the audience of such content inaccessible. However, with the rapid growth of CTV and OTT platforms, we expect this adaptation to be implemented soon.
Wrap up
Although the opportunities provided by OTT advertising are still relatively limited today, they will undoubtedly continue to develop and provide advertisers with new ways to reach their audiences. Considering that the technology's share in the advertising market continues to increase in the next few years, unlocking its full potential may soon become one of the most profitable opportunities for advertisers.

While these new ad formats do have limitations, the tremendous benefits and opportunities they provide to advertisers are undeniable. With never-before-seen targeting opportunities, access to diverse audience groups, and innovative ad formats, CTV and OTT ads are sure going to attract more ad budgets and continue to grow their market share.