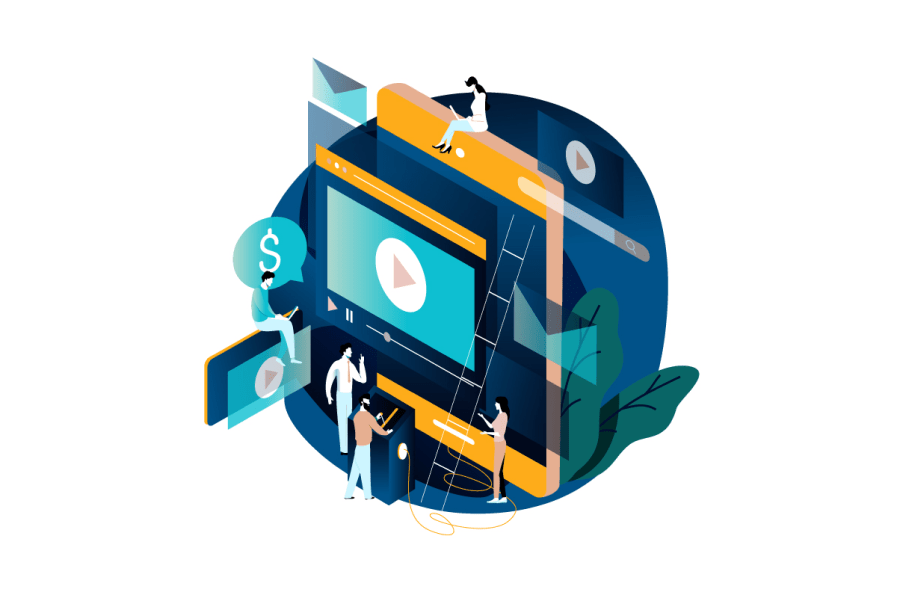 A guide to best video ads types and formats
According to Forbes, nearly 90% of marketers are using video in their campaigns. And for good reason. From various perspectives, video ads bring marketers more efficiency, letting them reach up to 70% viewability, and what's more important – their marketing and business goals. In this article we'll lead you through video ad types and formats, their advantages, and use cases where these formats are applicable best.
Digital
Video Ad
Formats 
On the top level, we can split online video advertising formats into two groups: linear and non-linear. Both formats may go with a "companion" ad that is shown outside the player.
Linear
video ads 
Linear video advertising are normally displayed between segments of streaming video content, similarly to a TV commercial. They can play before, along with the streaming content or after it. 
Catchy, relevant to context and fitting the user's profile, linear ads still work great for most verticals and use cases, from beauty brands, sports, and entertainment to edtech, fintech, real estate domains and so much more.
Pros:
Ad covers more screen area comparing to non-linear ads

Makes significant initial impression  
Non-linear
video ads
These ads are overlaying the video content. The ad runs all at once with the streaming content letting the user see the ad along with the content without any interruption. The non-linear video ad should be small so not to obstruct viewing of the content. The formats of non-linear video ads are text, static images, rich media, and video overlays. 
With non-linear video ad, brands can engage users inviting them to more robust interactions. 
Similarly to linear video ads, non-linear video ads fit most of the verticals. Especially, it's unobtrusive nature makes it perfect for live streams of events.
Pros:
Ad provides persistent onscreen presence

Can be programmed to persist all the way through the main content stream

Unobtrusive, as ad doesn't interrupt the content

More meaningful engagement from target audiences
Companion ads 
Companion ads may accompany both linear or non-linear ads.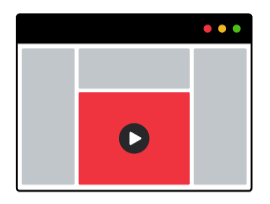 These ads come in many sizes and shapes, typically in the form of text, static image display ads, rich media, or branded skins wrapping around the video experience. The main goal of using the companion ad is to offer sustained visibility of the sponsor throughout the streaming video experience. 

Digital
Video Ad Units
In terms of ad units, online video advertising types can be split into in-stream & out-stream. 
In-stream
video ads
These video ad units are played before (pre-roll), during (mid-roll), or after (post-roll) the streaming video content. In-stream video advertising are displayed within the context of streaming video, frequently used to monetize the video content that the publisher is delivering.   
Pre-, mid- and post-roll video ads are linear ads that appear before, within the break and after the video content plays respectively. They interpose the main video content pretty like TV commercials. 
Video ad placement depends on the marketing campaign and the ad content.
As for reaching the goals best and set briefly: pre-roll ads are perfect for building brand awareness; mid-roll ads provide great user experience making consumers most comfortable; and post-roll ads can offer value, when placed wisely and having the clear and concise call-to-action.
Pros:
Pre-roll
Guaranteed video views

Relevancy 

Interactive component

Immediate response 

Easier comprehension
Mid-roll
A higher completion rate

Fit the general schedule that viewers are accustomed to on TV
Post-roll
Placed intelligently can work extremely well

Further engagement of viewers 
Overlay video ads
An ad overlay provides advertisers with the opportunity to place traditional banner advertising inside streamed video.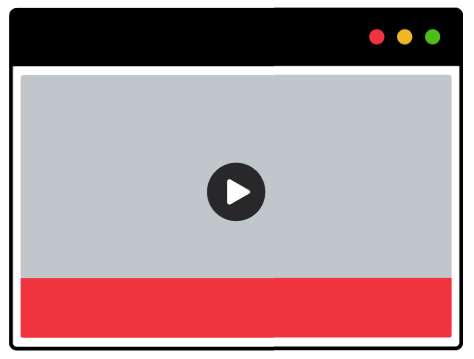 Although each publisher's specifications vary, an ad overlay is typically a semi-transparent banner placed at the foot of a video screen. The overlay remains static, much like a traditional banner ad, while the video runs underneath it. Web surfers can click your ad at any point during the video. In some cases, advertisers allow viewers to dismiss the ad by clicking on a close button.
Overlay video ad fit best small-business owners.
Pros:
Less intrusive 

Easy and cheap to create 

Provide audience with the requested content immediately, without making them wait
Interactive Video Ad
In order to reach higher engagement of the viewers the interactive elements. This means that instead of your video taking viewers on a linear journey – where the only options are to play, to skip, and to pause – thereby there is a number of different paths that users can sail across at their discretion.
Interactive video ads helps brands build two-way communication with their audiences. As this format has high potential to become viral, it's great idea to use these ads across videos displayed on social media.
Pros:
Longer engagement.

Conveying more information in less time 

Providing valuable insights about users

.
Out-stream
video ads 
As it comes from the name, out-stream video ads are placed outside of the in-stream video content. Unlike in-stream ads, this ads type appears not along with the video content, but in the standard display ad units on the webpage.
When is it a good idea to leverage out-stream video advertising? If you're looking to increase brand awareness, drive online purchases, target key consumers, and even extend TV campaign reach, than out-stream ads is definitely what's worth to give a try with.
Pros:
Non-intrusive

Expanding advertisers' reach beyond video players

Ad-fraud resistant as out-stream ads launch only when a user action takes place on the page
Here's an example of the out-stream video player that can be embedded into the website and serve various out-stream ads.
Here are most frequently used out-stream ad formats.
In-article video ads are displayed as videos inserted between paragraphs or logical parts of the content. When users scroll down the page, they get to the ad unit playing video. 
Nearly any kind of brand may benefit from this ad format, depending on their target audience, budget, and intended messaging.
Pros:
Great flexibility for article types, target audience considerations, and the content of video messaging

Higher engagement rates for auto playing videos 
In-banner video ads which in nutshell are creatives that arise as a part of a banner ad or instead of it.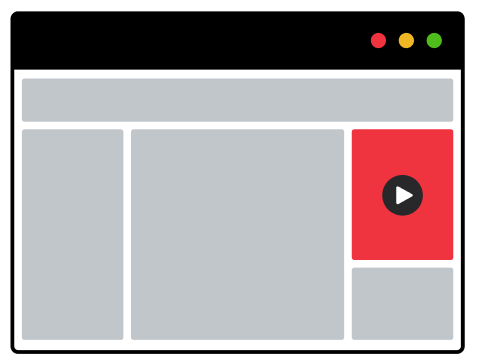 Thereby in-banner video inherits the location and size of the banner. These ads may collapse or expand and overlay on the content of the page if the user wants to see the ad in a bigger size. 
In-banner video ads fit into commonly sized banner ad spaces and also support an ad engine provided playback inside the banner without a video player. 
This format fits most brands looking for increasing awareness and also suit for effectively targeting B2B clients or a narrower segment of the audience.
Pros:
Purely native look and feel  

No interruption for the user   
In-page video is a kind of ads requiring some space on a web page, similarly to banner ad. 
It can be placed on the pages that start on the content areas even without further video content following. This form of advert can be used very effectively on logout pages as a layer or interstitial.
Pros:
Delivers inpage ads on display and mobile devices

All tracking events in video statistics

Non-interruptive, user-friendly ad experience
Mobile
video ads
Formats 
Along with standard and rich media video advertising formats available for mobile, there are new formats gaining popularity.
Mobile Web & Mobile In-App
The mobile web is defined as a website that is viewed through a device's web browser (i.e. Safari or Chrome).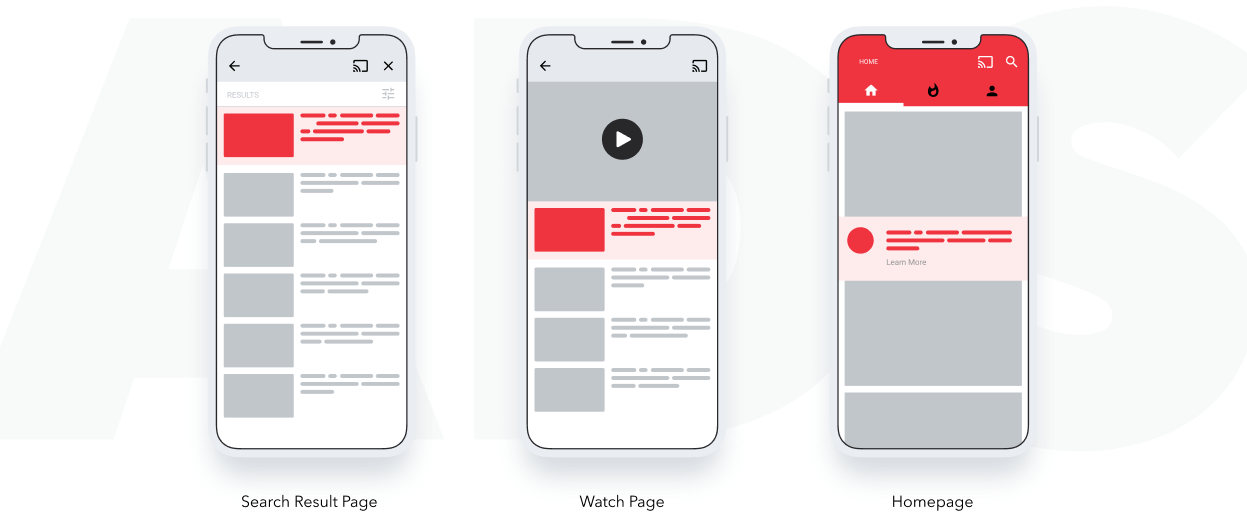 The most frequent video ad formats displayed across the mobile web are interstitials and pre-roll or mid-roll. Serving ads through the mobile web browser has its strengths, like providing the opportunity to use the same interest-based advertising methods that are used in desktop, and therefore re-targeting consumers. Or, the ads can be served based on content categories interesting to the user. 
Mobile apps are designed to run on various mobile devices. The content and ads displayed via mobile apps are served to the user within the native interface of an application. With the increasing popularity of mobile apps, advertising opportunities are growing as well, powering up advertisers and app developers.
To learn more about these opportunities and most efficient ad formats, download Admixer guide to in-app advertising.
Mobile video ad formats
A vertical video ad is simply a video created for portrait (vertical) view when video height is greater than its width.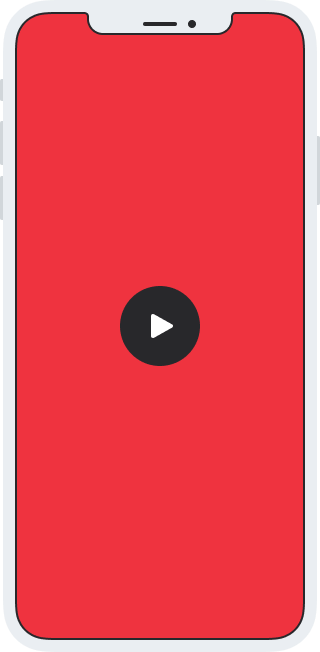 Such natural factor as holding phone vertically led to emerging trend of vertical videos, mostly applicable to social medias, and pretty attractive results: Snapchat reports that vertical video ads demonstrate 9x higher completion rate vs horizontal video ads.
Some facts about vertical video
Vertical video is growing, mostly driven by the popularity of Facebook, Instagram, and Snapchat, as well as the lip-syncing app, musical.ly

While horizontal videos are still widely used, publishers and brands are increasingly experimenting with and embracing vertical formats
Pros:
Social networks are vertical video-friendly 

Vertical

video ads

convert better 
Two more mobile ad formats to highlight are augmented reality (AR) that adds elements to the broadcast through a device camera, and virtual reality (VR) that makes the viewer dive into the interaction of the real-world and digital object. 
AR & VR technologies in ads can enhance storytelling experiences and increase user engagement.
Pros:
VR & AR ads are 27% higher reaction in users

Keeping viewers engaged for 34% longer than traditional ads 
Emerging video ads
In-Game video ads relate to another highly popular mobile app category. Simply put these ads are displayed while a game's loading, in between levels or at other natural pauses in the game. However, along with regular game ads, like rewarded and interstitial video ads, there are absolutely authentic in-game ad formats, built-in seamlessly in the game scape and not obtrusive for the game player at all.
There are opt-in video ad also known as rewarded video, where users view some short video ads in exchange for a reward, f.e. unlocking new game levels and so. 
In-game video ads are great for promoting special offers, new arrivals, upcoming events, and
More. These ads work for a wide range of verticals: sports, beauty, ecommerce, beverages,
even real estate companies, and so much more brands. The main point here is relevance to the audience, context of the game, and right ad placement.
Pros:
Creating great user experience when placed wisely

Drive in-game purchases (rewarded

video ads

)

Increasing user engagement and retention
360° videos ads look like being recorded in all directions at the same time by an omnidirectional camera or a bunch of cameras. It captures the audience and provides an immersive experience.
Pros:
Motivating viewers to watch more and interact with ads

Drives sharing, subscribing, and viewing more videos
Connected TV
video ads
Connected TV, being kind of television provided via the Internet, serves as a green corridor for video ads. Purchase and delivery of connected TV video ads are carried programmatically when actual users match the target audience parameters of the ads. 
Formats available within connected TV ads cover the wide variety from animated and static to call-to-action and interactive video ads. 
Pros:
Better targeting opportunities

Ad quality

High completion rates

Real-time metrics

Responsive audiences
Learn more about CTV advertising trends and capabilities.
Final thoughts
According to Statista, the revenue of the video marketing industry comes near $28 billion a year and continues to grow, which makes it an incredibly up-and-coming. The future of digital advertising lies at video. 
Ready to power up your ad campaign? Tell us your needs in regards with video ads and together we'll come up with the formats to bring you outstanding outcome.
Contact Irina Kostiuk, Business Development Executive for inquiries: ikostyuk@admixer.com.