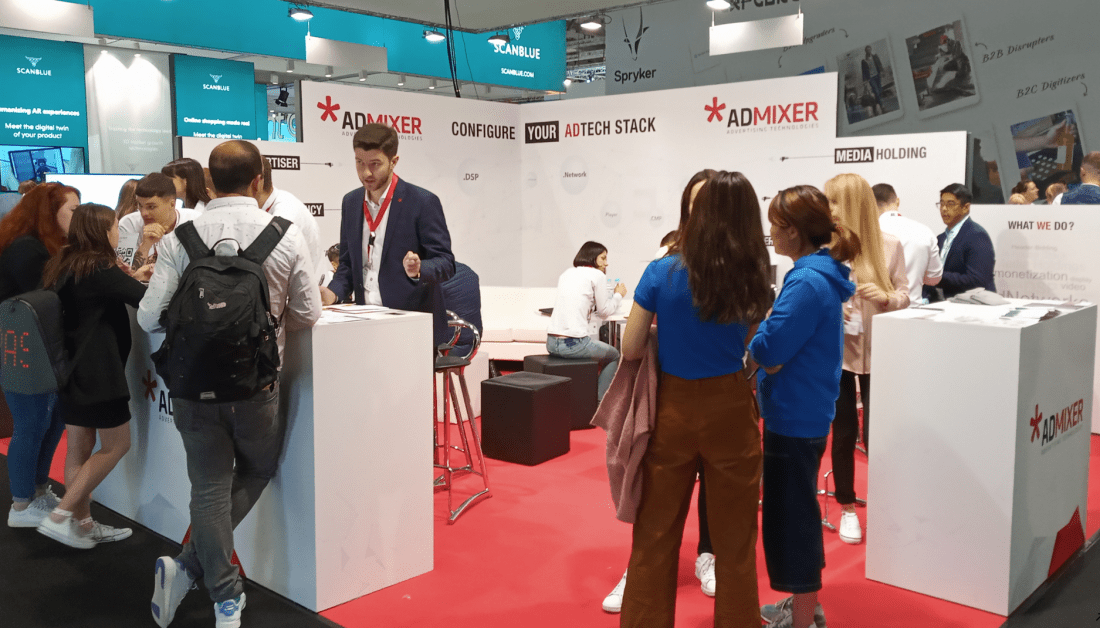 Ad Tech events go offline. Calendar of must-visit advertising conferences in 2022
As covid restrictions become looser, the advertising world is returning to personal communication. After two years of exclusively online events, the largest advertising conferences and exhibitions are making a comeback. This year advertisers, publishers, agencies, and ad tech guys will finally meet offline. We gathered the most promising Ad Tech events 2022 where you can catch up in person with your colleagues and partners from different parts of the world.
The advertising industry is going through a big transformation these years. This creates big challenges for industry players in many areas: identity, addressability, privacy, measurement. But on the other hand, it also creates new opportunities for the development of new products and technologies. Many of these opportunities lie in the area of interaction with other industry players. Offline events are a great opportunity to get acquainted with the latest developments of colleagues and find mutually beneficial cooperation.
Advertising events in Europe 2022
May, 11
Madrid,
Spain
ATS Madrid 2022
The fourth annual ATS Madrid event brings together senior stakeholders across the media, marketing and commerce industries for panel discussions, keynote presentations, fireside chats, and networking, to deliver insights and strategies to take digital to the next level.
Main topics: Identity, 1st party Data, Measurement, Retail Media
Agenda
May,
16-19
London,
UK

Advertising Week Europe
Advertising Week Europe will celebrate fantastic host city of London and everything that makes it the Creative Capital. We'll explore London's contribution to the global creative landscape and uncover its future as the beating heart of Britain's creative economy.
We'll also have our regular stages, celebrating all things Tech, Innovation, Great Minds and Creativity, as well as a virtual stage, AW Studio.
Main topics: Addressability, Contextual, CTV, Data, Creative
Agenda
May,
24-25
London,
UK

Programmatic Pioneers Summit
Join programmatic experts from Europe's leading brands, agencies and publishers in-person, as they share insights on: preparing your programmatic strategy for cookie-less browsers, e-privacy developments and regulatory challenges, leveraging contextual, enhancing the quality of your first-party data to improve your ad's performance and measurement in a cookie-less environment, harnessing the power of CTV to better reach your audience.
Main topics: Identity, Contextual, 1st party Data, CTV, In-house
Agenda
May,
25-26
Madrid,
Spain

Interact
Interact is a must-attend event for the digital advertising and marketing industry. For over 13 years, leading European advertisers, industry experts, agencies & media owners meet, get inspired & share best practices in different capital cities across Europe.
In partnership with IAB Spain, we will be hosting two days of keynote speeches, panel discussions, and networking opportunities. Interact will also be an opportunity to showcase the very best digital creative and research campaigns across Europe with our MIXX Awards Europe and IAB Europe Research Awards.
Main Topics: Ad Market, CTV, Retail Media, Sustainability
Agenda
June,
14-15
London,
UK

ATS London 2022
Now in its 12th year, ATS London brings together senior stakeholders across the media, marketing and commerce industries for two days of panel discussions, keynote presentations, fireside chats, and networking, to deliver insights and strategies to take digital to the next level.
Main topics: 1st party Data, Contextual, Measurement, Retail Media
Agenda
July,
6-7
Barcelona,
Spain

Affiliate World Europe
You will network with the industry's brightest minds, absorb mastermind-level content on stage, and be exposed to an exhibition floor overflowing with opportunities to push your career forward. Experts will take the stage and present new insights, data-driven strategies, and innovative ideas on affiliate and ecommerce marketing.
Main Topics: Facebook Ads, Tik-Tok Ads, E-commerce, E-mail Marketing
September, 21-22
Cologne, Germany

DMEXCO 2022 Expo
DMEXCO is the biggest digital marketing expo and conference bringing together tens of thousands of specialists from all over the world. Hundreds of top companies in the advertising industry present their products and services at the exhibition. Industry leaders, marketing and media professionals share their knowledge and experience on the conference stages. And of course the exhibition is the best place for networking.
Advertising events in the US 2022
May, 4-6
Palm
Springs,
CA
Digiday Programmatic Marketing Summit
Hear from experts and analysts on how to be competitive in programmatic marketing in new landscape. What are the hurdles in reaffirming a strong programmatic marketing strategy and where is there opportunity within new channels? What impacts will the Great Resignation have on the industry? As infrastructure shifts to support audience demand, how will the bid process be impacted? Explore these topics with us over three days at the Digiday Programmatic Marketing Summit.
Main topics: CTV, Identity, Addressability, Contextual, Brand Safety
Agenda
May, 17
New York, NY

Digital Media Summit by LUMA
CEOs only. Keynotes, firesides, and interactive breakouts where everyone is a speaker … and always entertainment. DMS is the premier digital media event bar none. Nowhere else are you going to experience these kinds of one-on-one opportunities. The largest acquirers. The most promising tech companies. Leading investors. An invitation-only can't miss – every May in New York City. Call it coveted. Call it an industry coming-of-age. DMS is when and where digital media comes together to decide what's important and discuss that in detail, in depth.
Main topics: Identity, Privacy, Retail Media, Measurement, AdTech Investments
Agenda
May,
23-25
Las Vegas,
NV

PROGRAMMATIC I/O Las Vegas
PROGRAMMATIC I/O Las Vegas brings the full digital marketing industry together for updates on privacy, the cookieless future, retail media, CTV trends, and much more. It is the best investment digital marketing professionals can make in professional growth each year.
Main topics: CTV, Privacy, Identity, 1st party Data, Contextual
Agenda
September,
19-22
Miami,
FL

Digiday Publishing Summit
Join the Digiday Publishing Summit to hear how media companies are building and adapting their business models as we continue to navigate this Covid era. Walk away from this event with a better understanding of how other media organizations are building a more sustainable future.
Main topics: Business models, Revenue streams, and Monetization approaches
October,
17-18
New York,
NY

PROGRAMMATIC I/O New York
Spend just two days with us and walk away with a year's worth of exclusive intel, insights, and strategies to take your digital marketing initiatives to new heights. Hear from innovators, industry leaders, researchers, and analysts on both the buy and sell-side of programmatic media and marketing.
Main topics: Identity, CTV, Marketing Strategies
October,
17-19
Miami,
FL

Digiday Media Buying Summit
While business and revenue are on the rise, how are agencies ensuring that their DE&I initiatives are staying strong and keeping an authentic voice? How are they supporting their teams on hybrid workforces? How does the metaverse fit in? Join us at Digiday's Media Buying Summit as we discuss the trials and successes of navigating these very important challenges.
Main topics: Identity, Addressability, Measurement, Programmatic challenges
Advertising events in Asia and Australia 2022
May, 31 – June, 2
Tokyo,
Japan
Advertising Week Asia
Advertising Week Asia 2022 will return to Tokyo in May this year in a hybrid format that combines real events and online. With a fusion of real and virtual, AW Asia has expanded its participation opportunities more than ever, with new possibilities to rethink the brand's purpose and customer experience through sessions and networking to create a better customer experience.
Main topics: New Media, Customer Experience, Branding
Agenda
August,
2-3
Sydney,
Australia

Advertising Week APAC
After two years of waiting, we're thrilled to bring the APAC region's best-loved industry event back to its home of Luna Park in Sydney — live and in-person — on 2-3 August 2022.
At Advertising Week, we're obsessed with the future. We love to invite the most extraordinary thought leaders from inside and beyond the industry to gaze to the future, predict trends, analyze the data and set agendas.
September,
21-22
Singapore,
SG

ATS Singapore 2022: A New Era for Marketing & Advertising
ATS Singapore brings together senior stakeholders across the media, marketing and commerce industries for two days of panel discussions, keynote presentations, fireside chats, and networking, to deliver insights and strategies to take digital to the next level.
Attend ATS Singapore this year, to hear discussions including: Have marketers and brands adapted to a cookieless advertising environment? How are they reaching new audiences in this landscape? What is the value of tools and solutions which don't rely on third-party data and/or mobile identifiers? Who is driving technology innovation in this area, and how important will this be in the coming 12 months? Where are the fresh opportunities for buyers and sellers to gain more control over their businesses, while improving the marketing & advertising experience for customers?
Main topics: Identity, 1st party Data, Contextual, Measurement
Agenda
Admixer team is planning to visit several events on the European and the US markets this year. We will be happy to meet our clients and partners in person. Stay tuned for our schedule updates and book meetings.