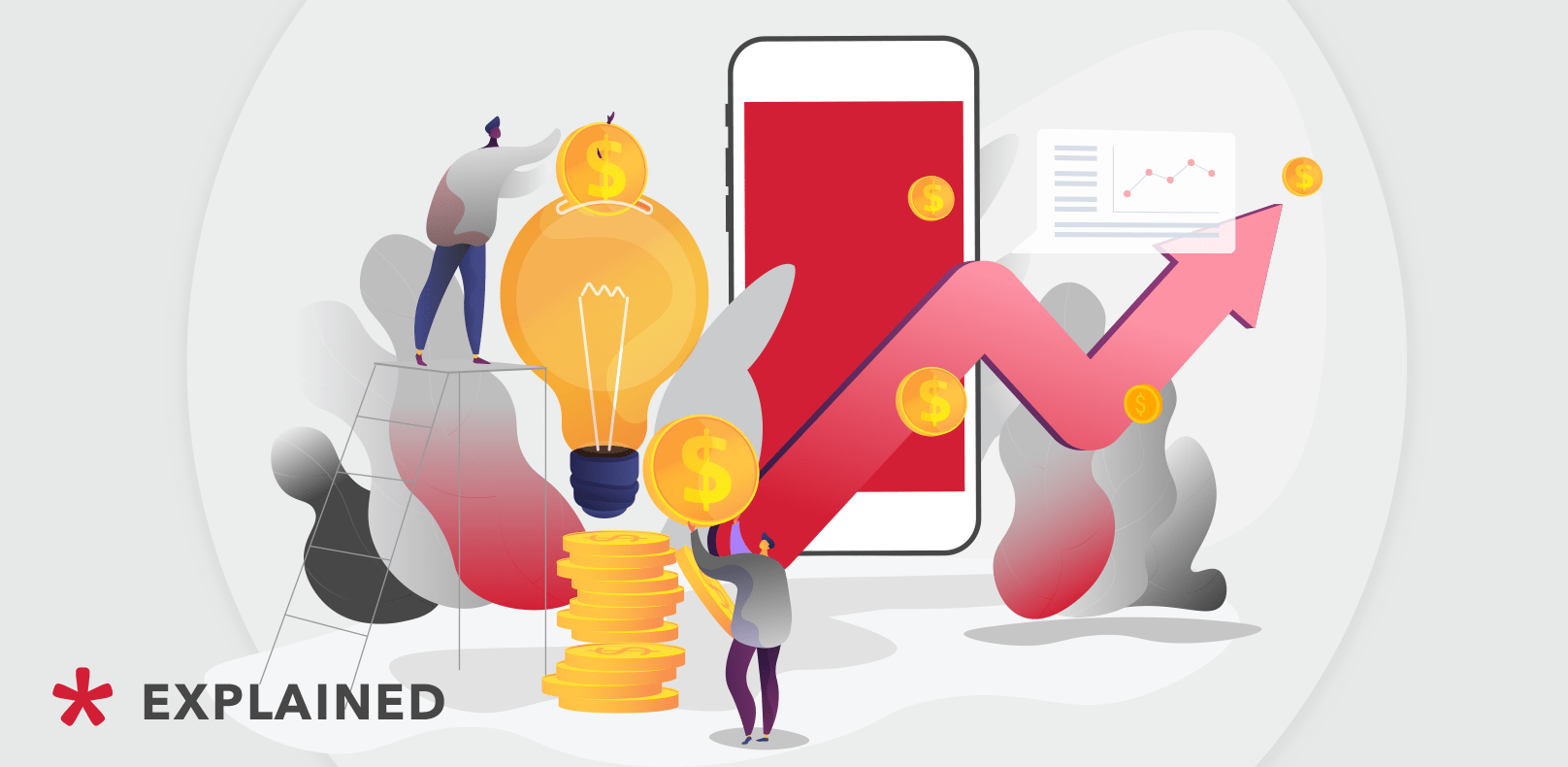 App Monetization Models and Strategies
14 July 2020
On May 21, Admixer, together with Adsider, hosted international programmatic conference Adsider LIVE. Tetiana Sichko, Business Development Manager, at Admixer, gave a lecture with insightful analysis of the app monetization models and strategies.
2020 set a lot of records for the app industry. Global pandemic and quarantine haven't paused its expansion but gave additional momentum, in downloads, new subscribers, and in-app revenues.
The number of ad impressions served on the apps is quickly increasing since the beginning of the lockdown. In-app and in-game ads are now reaching wider audiences and provide better reach and engagement than traditional channels. Mobile developers are ideally positioned to benefit from this market trend and need to seize the opportunities of different monetization models.
Market Overview
Mobile apps experienced explosive growth over the last 5 years. With mobile traffic surpassing web traffic, apps become increasingly popular for entertainment, business, and communications. "There is an app for that" become a popular social media meme, illustrating how apps become part of our daily routine, from menial tasks to sophisticated professional goals.
Today it is a gigantic market that encompasses 5 billion apps worldwide combined on IOS, Android, and other stores. Apps use various monetization sources, but they naturally become a friendly native environment for advertising. The app industry generated around $188 billion in ad revenue last year.
Big brands that were initially cautious about the in-app environment now re-allocate their budgets to this flexible channel, with excellent targeting options and a brand-safe environment. The demand from users and advertisers will go only upwards.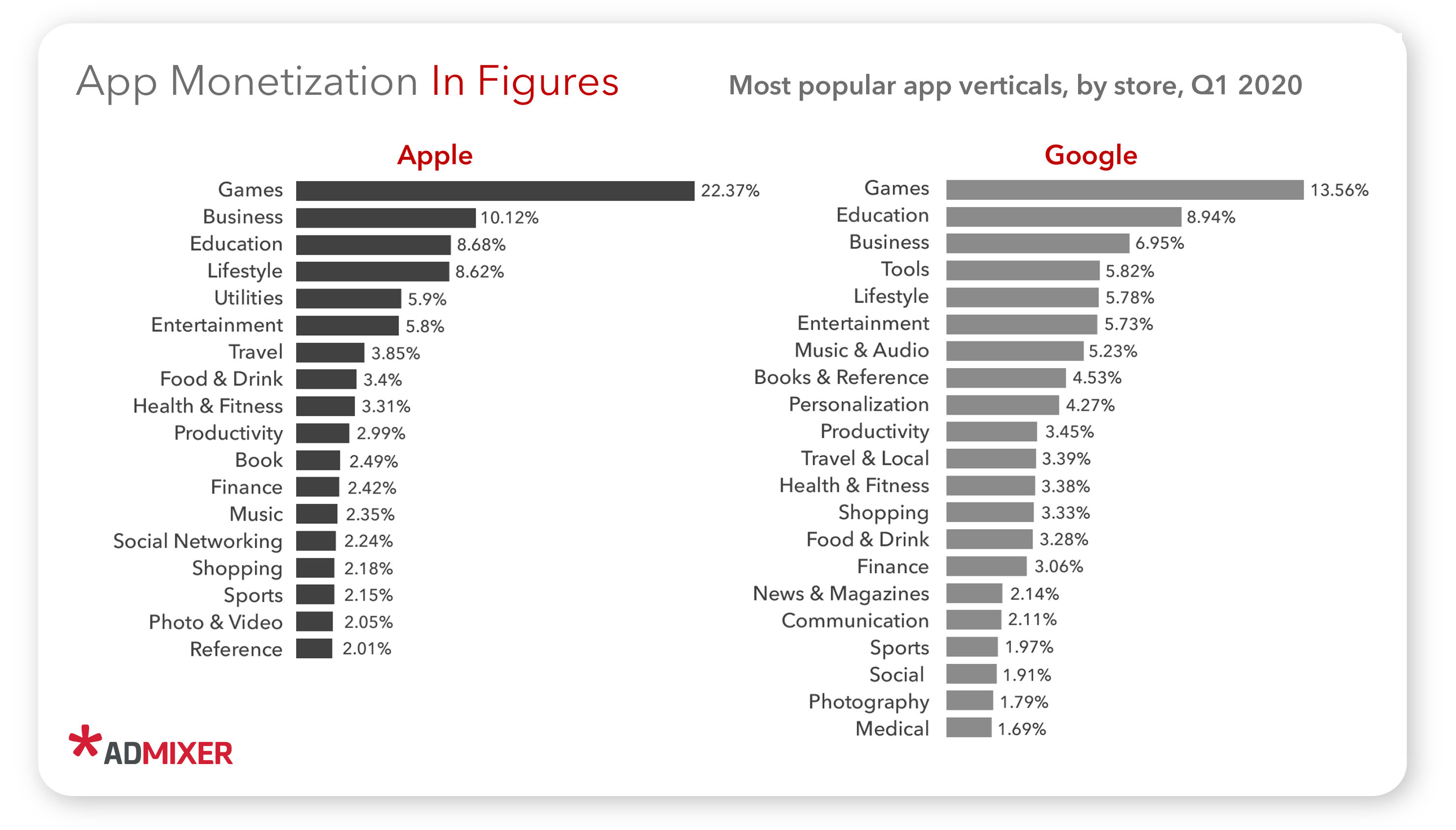 Booming Financial Growth
Last year the app industry demonstrated a 200% growth in revenues, which is unprecedented. Apps are taking the market by storm and expanding its market share across the digital advertising landscape.
But it is not just the ad-supporting model; people are eager to pay for the additional features and bonuses in apps. Average U.S. user is ready to spend up to $100 a year on apps and in-app purchases.
For some RPG, and hyper-casual games in-app spent can be up to 3k.
This consumer appetite for apps resulted in a potent app market. In Q1 2020, consumers worldwide spent over $23.4 billion through the app stores — the largest-ever quarter. iOS accounted for $15 billion of that figure, and Google Play for $8.3 billion.
The three major regions in terms of app downloads are China, the EU, and South East Asia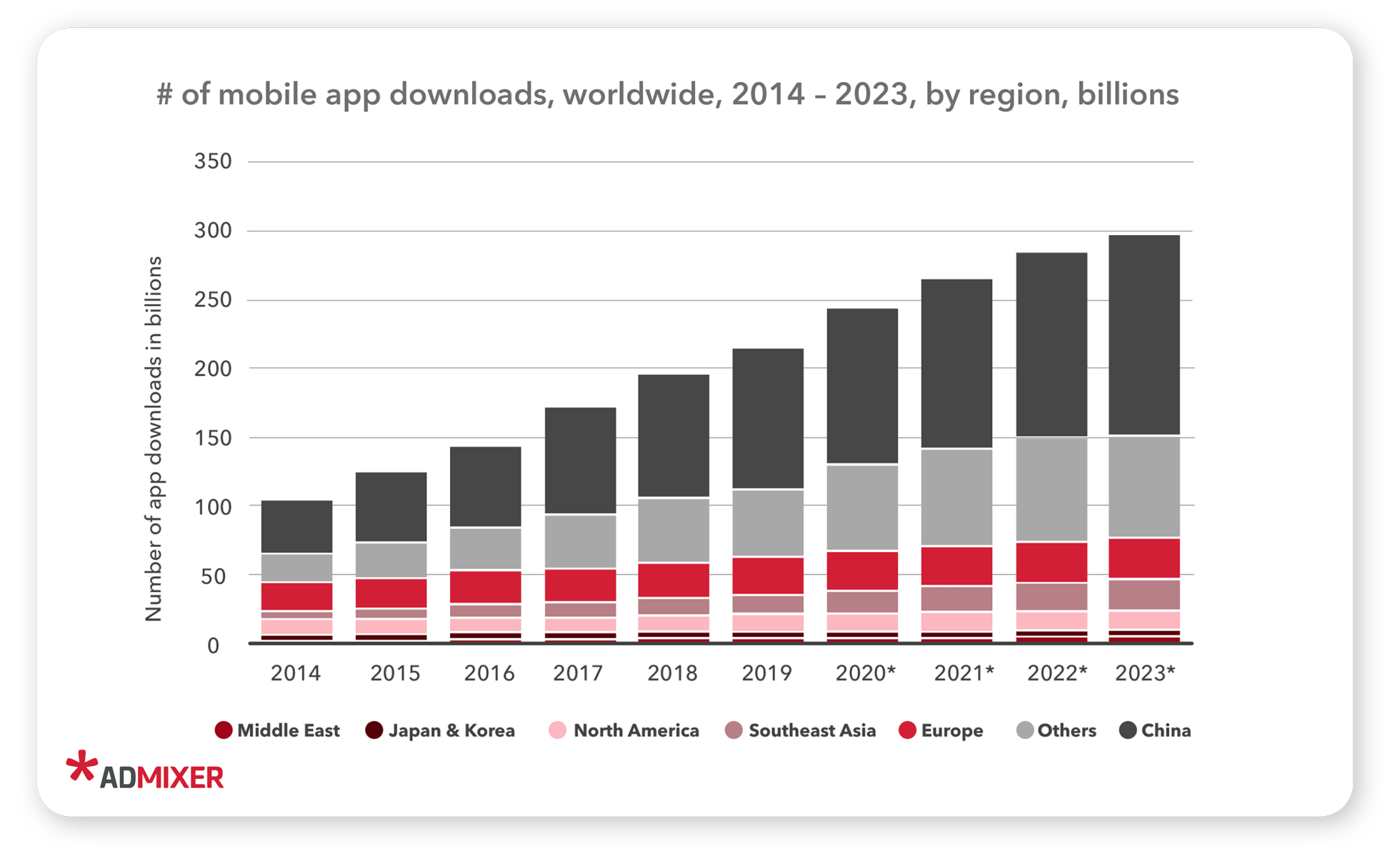 Inspiring performance metrics
The era of apps has come; users increasingly prefer the app environment for entertainment, services, and tools. The daily time on apps increased to 3 hours 40 minutes globally, while in China, where the population entered lockdown at the beginning of the year, the time spent reached 5 hours.
Despite the flood of apps on the market, new arrivals still get their share of attention. 75% of apps are used more than once. Savvy app users are hungry for new services and entertainment products apps can provide. The retention rate for apps is 32% on average.
App Monetization Models
Paid apps
Apps of a publisher sold to users in a package (mostly iOS, less than 20% of apps in 2019)
Common monetization strategy for: Utilities, Productivity, Photo & Video, Navigation
Freemium
Try-before-buy – free download, limited list of features for free, premium features to buy when ready
Common monetization strategy for: Games & Puzzles, RPG, Photo & Video, Utilities, Music & Audio, Education
In-app ads
Ads of other apps or brands inside apps, different ad formats (static, dynamic, coded, video).
Common monetization strategy for: Hyper-Casual, Casual, Games, Social, Casino, etc.
In-app purchases
Consumable (items needed to use the app, in-game perks ) & Non-Consumable (made to expand the set of features and app offers)
Common monetization strategy for: Games & Puzzles, RPG, Casino, Photo, Utilities, etc.
Subscriptions
Auto-renewable (payments for specific services or updates) & Non-renewable (one-time payments for specific content for a fixed period)
Common monetization strategy for: Fitness, Utilities, Photo&Video, Education, etc.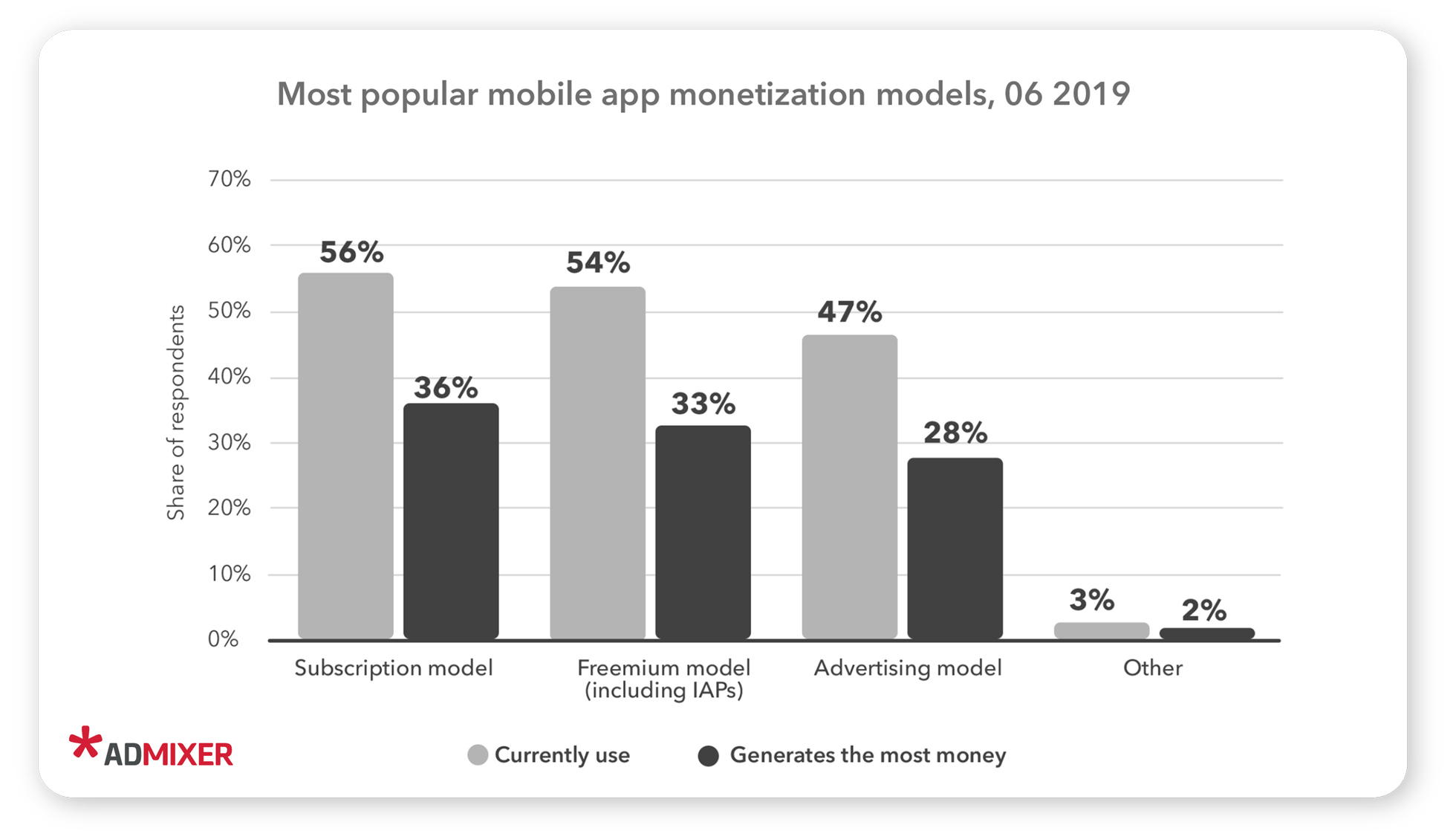 How to choose a model
There are several other models, but all are supplemental and used to diversify the revenue flow from the applications. Subscription, freemium, and in-app ad models are the top three types of monetization strategies used by the developers.
The subscription app monetization model is the most popular according to statistics, but most marketers use a combination of models, as this tactic usually shows the best results.
When choosing how to monetize the app, developers can get money for impressions, clicks, and of course, for actions.
eCPM, which is getting money on impressions, is actually the most widely used and the safest model for app developers. You just provide creative placements. You rotate ads and get paid for the number of impressions.
If the plan is to get the most of your app immediately, then choosing eCPM is smart. However, if the developers are willing to get more from their audience and work long-term, they can select monetization based on delivered clicks (CPC) or actions (CPA). In this case, focusing on the quality of your users and placements is vital.

Industry best practices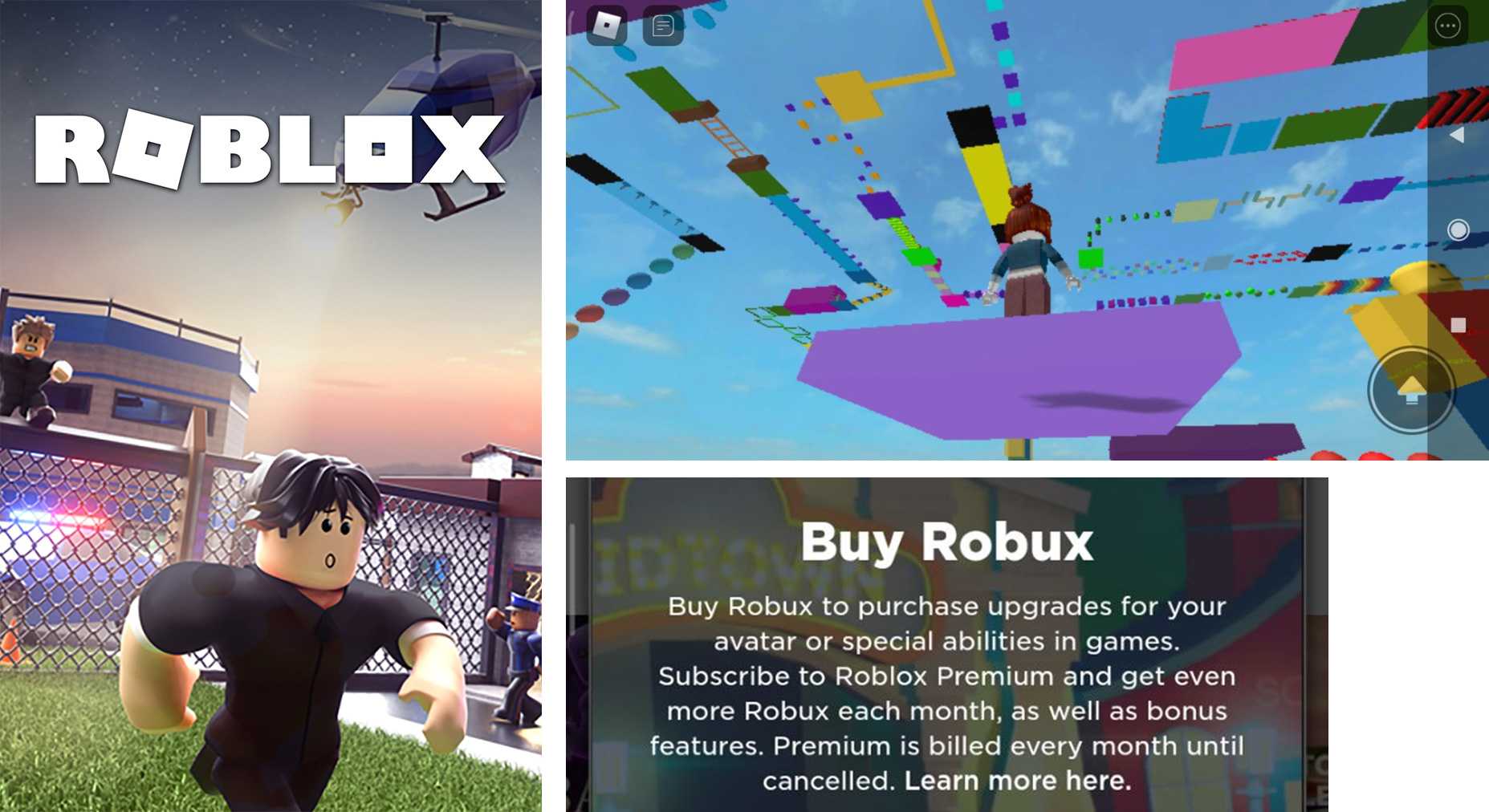 Roblox is an online game platform and game creation system that allows users to program games and play games created by other users.
Model:
In-App Purchases
Subscriptions
In-App Ads
Results:
Daily app revenue: $2,3mln
#2 in Top earning iOS apps in Q2 2020, almost same revenue to #1 Candy Crash Saga, followed by Clash of Clans ($1,7 mln) and Gardenscapes ($0,9 mln)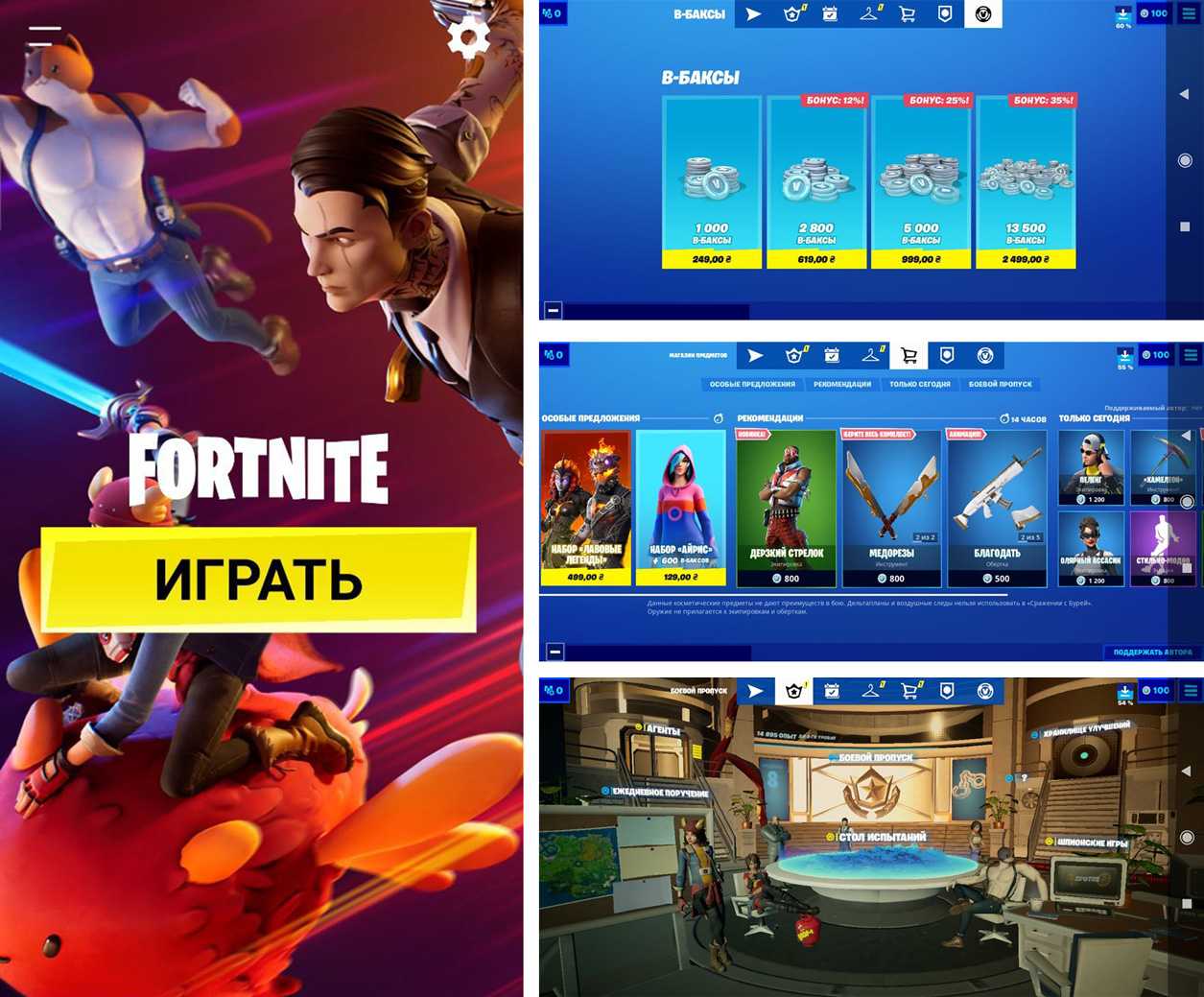 Forntine is a player-versus-environment cooperative game, with four players collaborating towards a common objective on various missions.
Model:
In-App Purchases
In-App Ads
Results:
Daily app revenue:: $423K
#7 in the list of Top iOS Apps, Q3 2020
If you're considering monetizing your apps or games, contact Tetiana Sichko, Business Development Manager at Admixer.DSP (Mobile): tsichko@admixer.net.