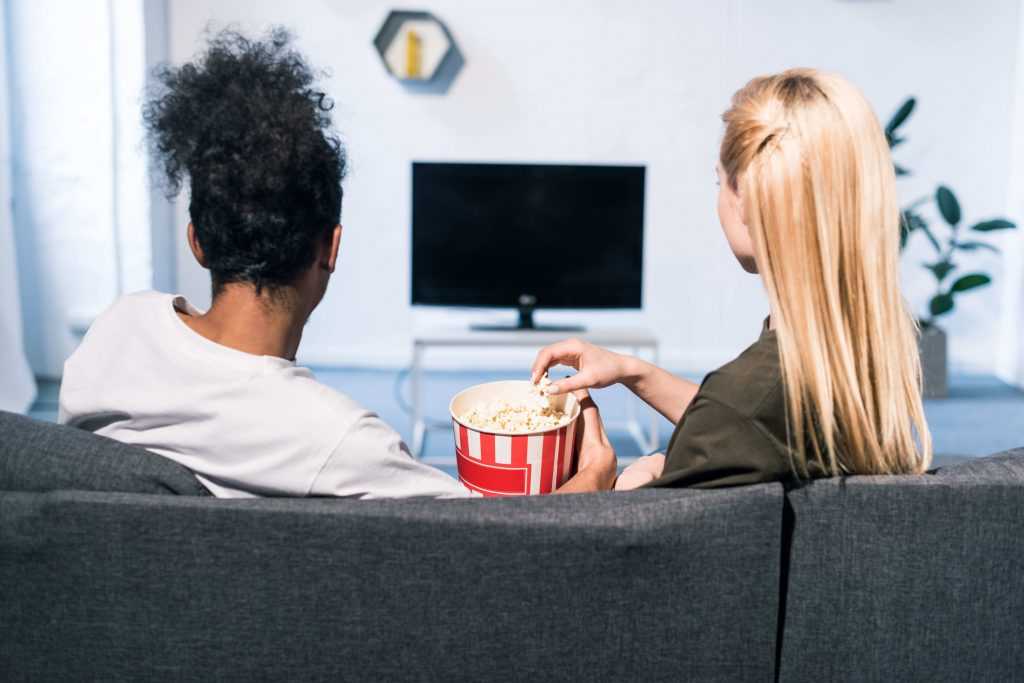 Connected TV Advertising Trends in 2019
Consumer behavior becomes the ultimate driver behind the evolution of the TV ecosystem. Following consumers' habits, TV advertising shifts away from traditional TV, desktop, and mobile. New home for TV ad is CTV – connected video devices, like smart TVs, boxes, sticks, and devices streaming content via broadband.
Last year CTV disrupted the way video advertising is served. How exactly will it influence this market? CTV can help make the ads more addressable and viewable. Also, are smart TVs traceable in a better way? Absolutely. Plus, since it's an emerging opportunity, marketers who are the first to leverage CTV advertising will benefit from it most.
Here's a brief overview of CTV advertising and marketing tendencies to watch and include in your video marketing strategy in 2019.
A growing audience of
connected TV
devices owners
The number of "cord-cutters", who abandoned the use of traditional TV or never had one, is growing. So are advertising opportunities.
Several global perspective insights:
Connected TV users in the USA numbered about 222.7m in 2017. Based on eMarketer data, AppNexus forecasts that by 2021 this number will reach 244.3m.
Alongside growing of CTV video viewers number, the universe of pay TV viewers will continue to contract. Here's a projected viewership of CTV and OTT video devices compared to broadcast TV: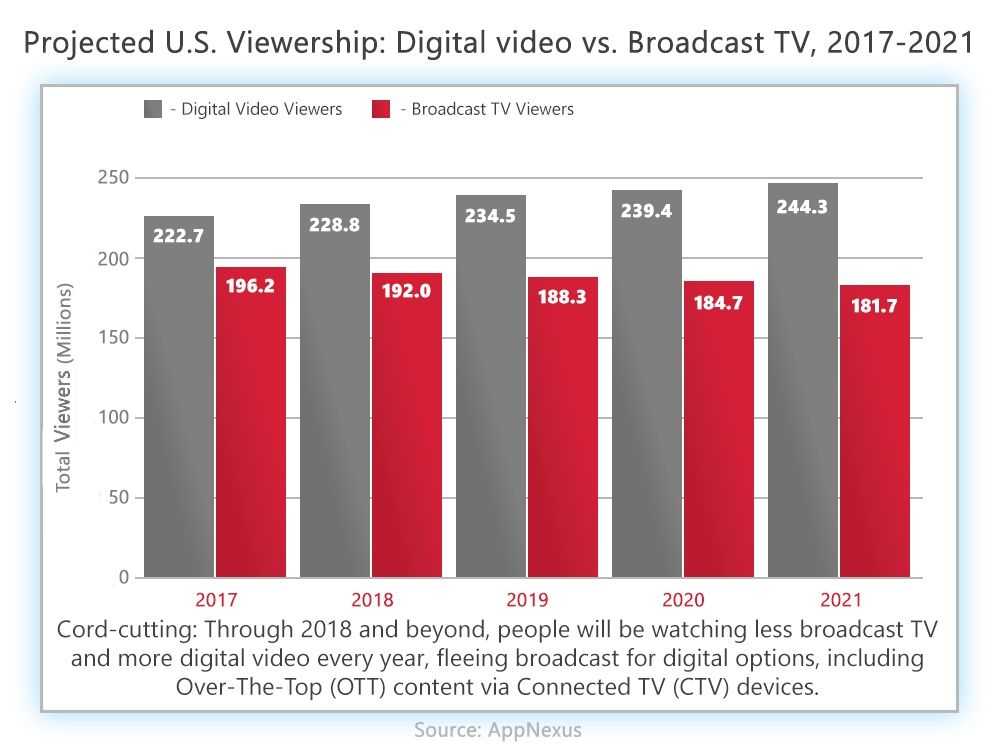 In the UK, which possesses the largest

connected TV

market in Europe, around ⅔ of households had a

CTV

device in 2018. This figure is expected to grow to by 75% by 2020.
Cross-device
Connected TV advertising
Connected TV advertising allows marketers to reach a specific target audience across all their devices.
Users are often active on social media when watching TV. According to YuMe research, 87% of consumers use their smartphones and tablets when watching digital content on a CTV. They mostly post about show or film on social media or look for reviews on products featured.
Considering the cross-device context will help brands reach better consistency.
CTV advertising
revenue growth in the long run
Advertisers who have already leveraged CTV ads, keep increasing their investments in it. From a number of projections, 80% of marketers plan to buy inventory for connected TV devices and services in the next 12 months.
For instance, here's a forecast value of the connected TV advertising across five major European markets: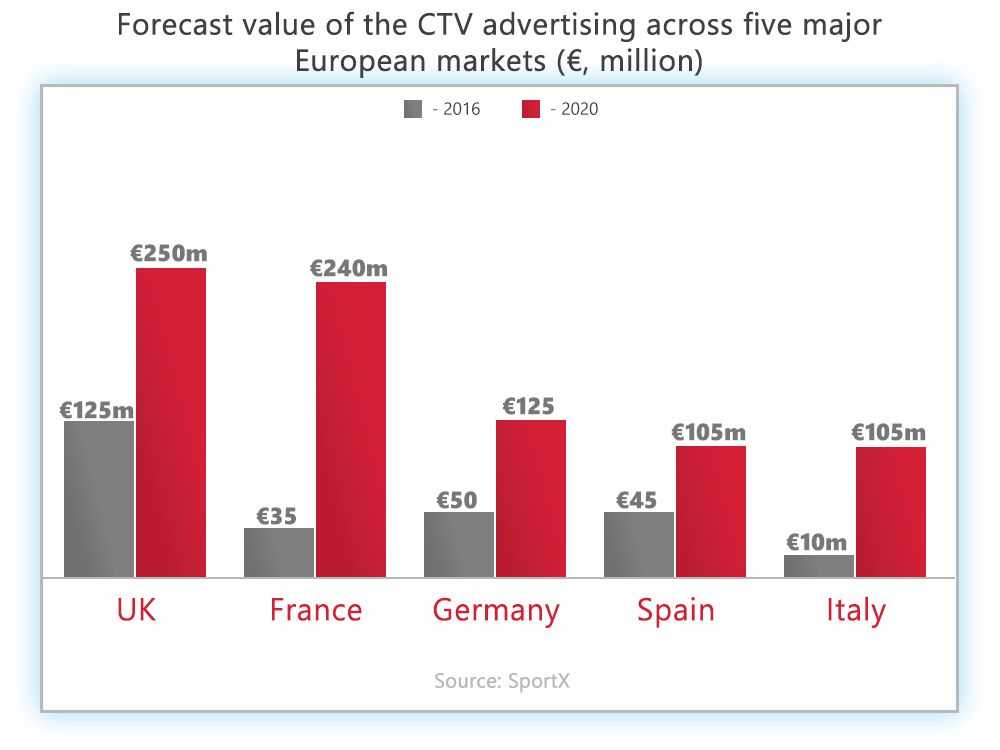 As for revenue growth in the global perspective, the estimations of growth expected by Digital TV research look like this: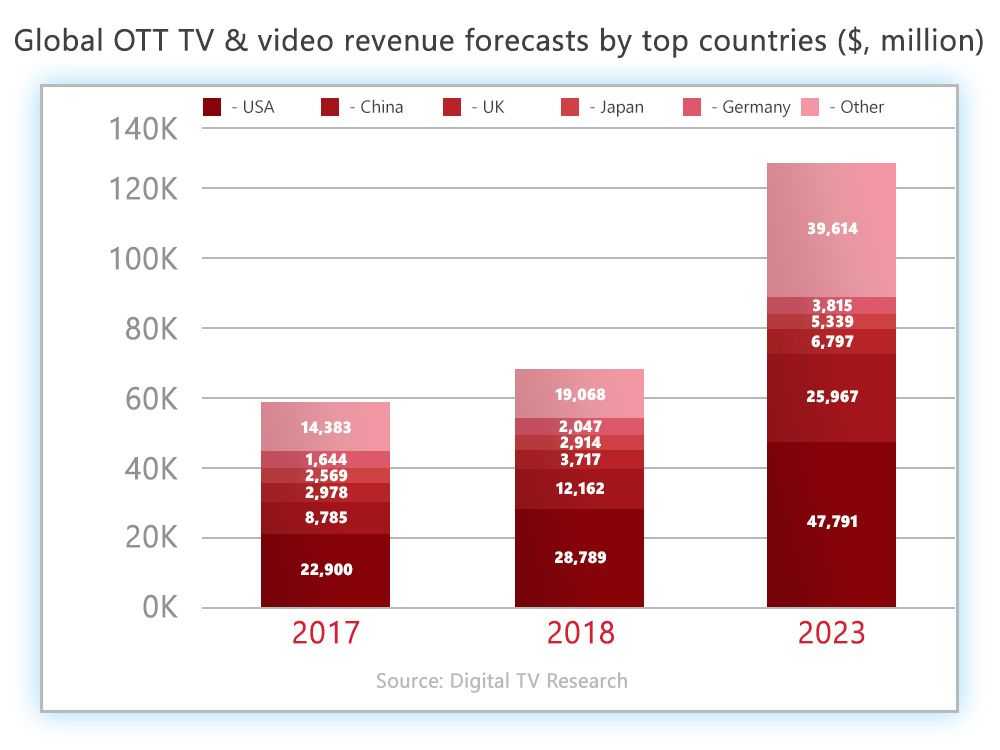 Globally, CTV ad revenues will reach $129 billion in 2023. The US remains the dominant territory in this context: outcomes in the US will more than double between 2017 and 2023 to reach $48 billion.
China will also become an essential player in the market. Researches forecast China will nearly triple its earnings to $26 billion.
Promising
CTV ad
viewability
Connected TV gives consumers what they need most: access to the desired content with an opportunity to watch it where and how they prefer.
The most wanted question here is how consumers accept advertising on CTV platforms. Statistics sounds promising:
90% viewers say the smart TV advertising

 is as relevant or better than traditional

TV ad

89% pre-roll

CTV advertising

is viewed in eye tracking research which is higher than mobile (81%) and desktop (78%)

98% of all

CTV advertising

tested exceeds the minimum mobile viewable display ads impression standard of 2 sec
What else worth considering is CTV devices or platforms where consumers are watching content.
So far, Roku is a leader for CTV advertising request, serving 87% of the total in November 2018, leaving behind Amazon Fire T, LG, Samsung TV, and others. However, this can change as both Netflix and Amazon plan to launch CTV advertising space on their platforms.
How to embrace
Connected TV advertising
with
Admixer
ecosystem
Now, that you know about key CTV ad insights, forecasts, and opportunities, you might think where to start. The essential factor for benefiting of CTV ad is to pick the right technology provider.
Here are a few good reasons to give it a go with Admixer Technologies.
One-stop-shot to build your
CTV ad
network
Admixer provides a powerful SaaS solution – Admixer.Network intended for establishing ad networks of different formats and purposes. Using this solution you can run own network based on CTV only or supporting multiple ad formats.   
A great example of pure CTV ad network based on our technology is Smartoo.TV. It brings together the largest CTV applications like IVI, Megogo, Tvigle, LimeHDTV, HDVideoBOX, and others. Smartoo.TV offers advertisers the best of these applications as ads trade packages, or lets them buy ads directly from the apps.
Wide targeting opportunities
Admixer.Network allows you to target your ads campaigns by all popular  CTV platforms: Roku, AppleTV, Samsung, AndroidTV, XBOX, PlayStation and more.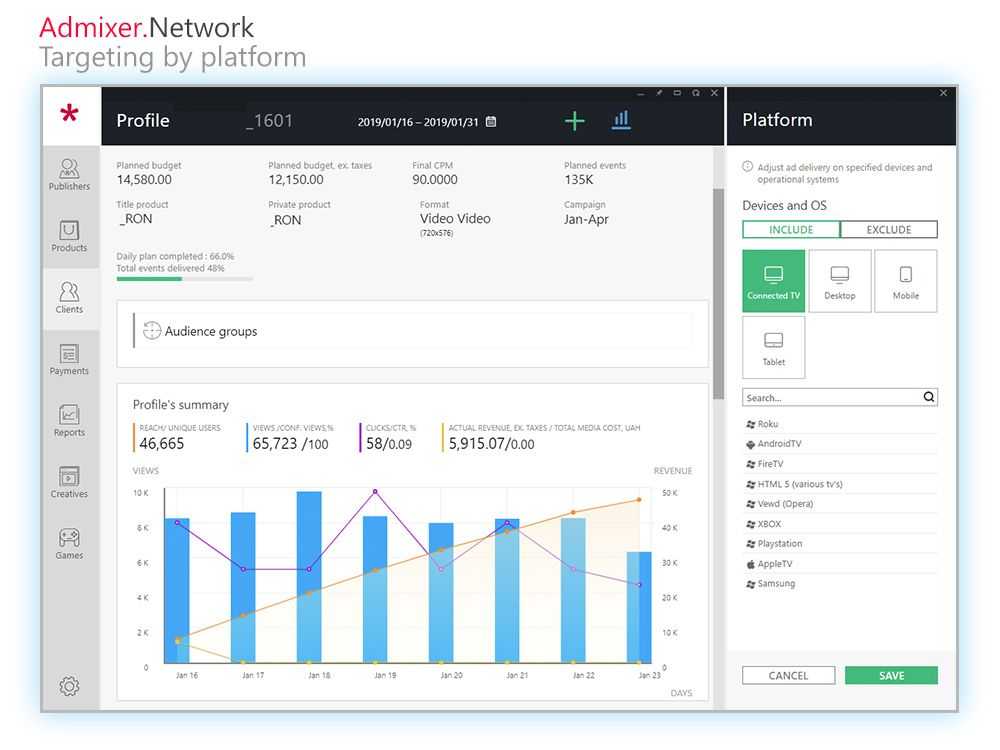 To get most efficiency from ad campaigns, test various ad formats, including pre-roll, mid-roll, post-roll, all-roll, and pause-roll.
Targeting opportunities we offer allow advertisers to maximize ads effectiveness and growth of their earnings. You can set up specific criteria for targeting, for instance, reach users by screens resolution.  
To check and track the quality you can seamlessly build-in third-party trackers into your ads campaign.
Optimal ad delivery
CTV widescreen devices require high-resolution video creatives which apparently may be large. To store safely and get fast access to such creatives, it's essential to have the support of a vast network of data centers.
With Admixer.Network you can pick one of numerous data centers in Europe, USA, and Asia (Singapore) for storage and delivery of your creatives.
Insightful reporting and analytics
Admixer.Network powers you with detailed analytics on video creatives performance.
Overall parameters you can track include:
total viewability time

VTR (view through rate)

Q/Q (quarter over quarter report)

user activity (stop, skip, sound on/off)

average interaction time

and more.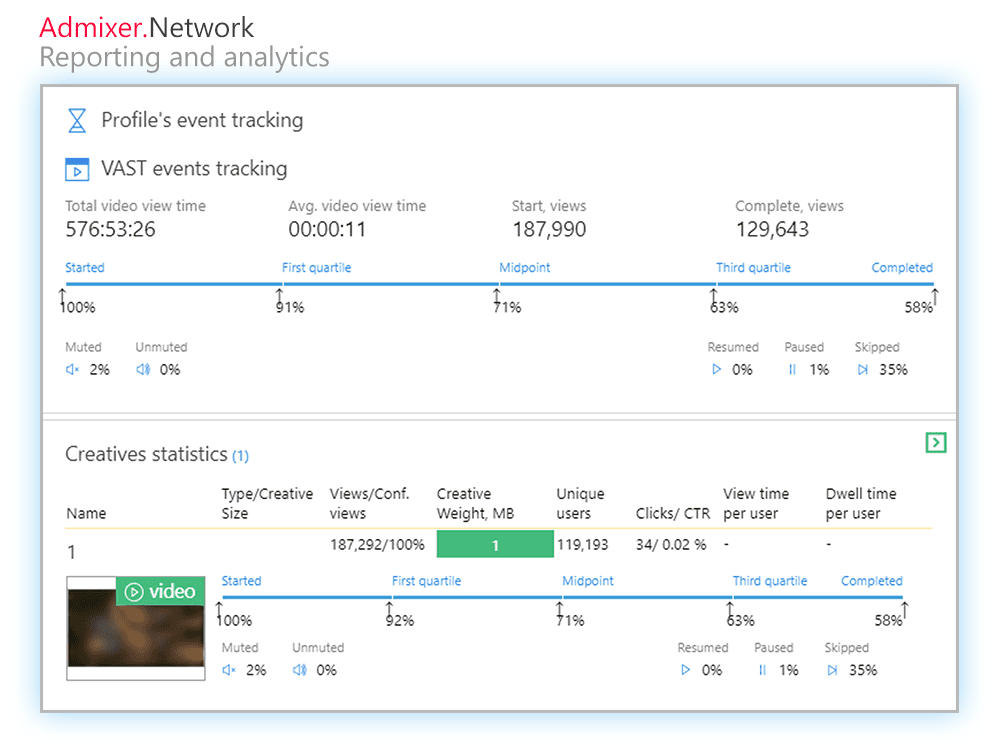 Besides, we provide you with real-time reports and ensure lifetime data storage which you can access whenever you need.  
Maximum monetization of your inventory
By building a CTV ad network based on Admixer SaaS products, you get an opportunity to solve most of demand issues. Just "transfer" part of inventory you can't fully monetize to Admixer.AdExchange and get strong worldwide demand from TOP global DSPs integrated with .AdExchange.
Also, you can manage CTV inventory using Admixer.Publisher AdServer.
.Publisher lets you monetize your inventory both ways: through direct campaigns and via external demand, including Admixer.AdExchange sources.  
Otherwise, if you are an advertiser looking for high-quality inventory, leverage Admixer.TradeDesk. With .TradeDesk you get access to CTV trade packages and set targeting by social demographics data and other parameters.
To start your own CTV ad network, based on Admixer.Network solution, please reach out to
Irina Kostiuk, Business Development Executive: ikostyuk@admixer.com