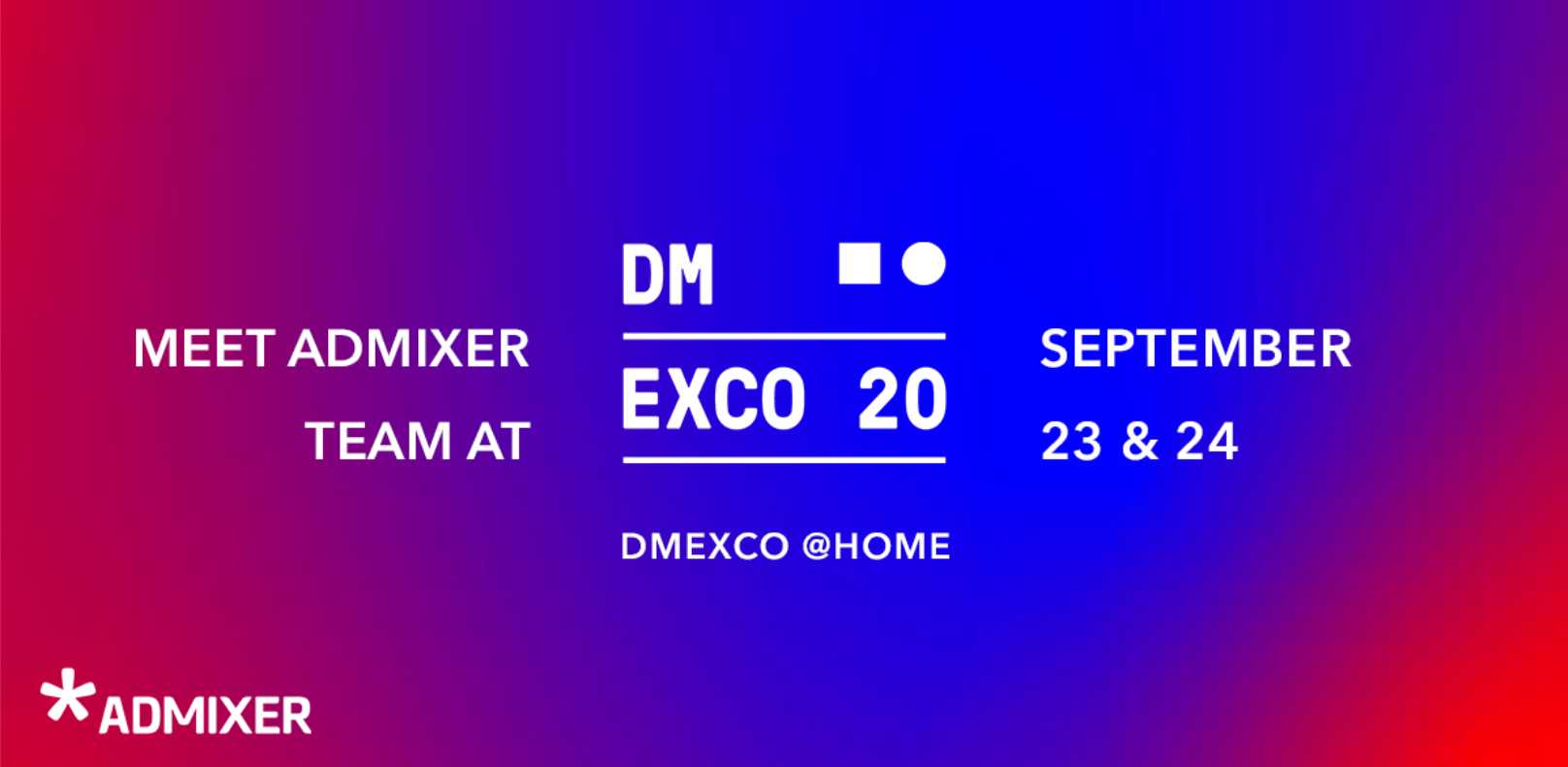 DMEXCO @home 2020: What to Expect and How to Get Ready
2020 is a watershed moment for digital advertising with the announced phase-out of third party cookies, looming IDFA privacy restrictions, and the depleting advertising budgets due to the pandemic. 
In light of these profound industry changes, it is vital to keep track of the latest adtech developments, to be able to make informed decisions about technologies and business partnerships. That is why the upcoming DMEXCO 2020 is a crucial event for the industry, where the key players in the digital marketing will network, exchange ideas, and strategize for the new advertising landscape with a rising share of unidentifiable users. 
The Admixer team is participating in the event for the fifth time in a row, this year in its online version and we want to give you a couple of hints on how to get the most out of this year's DMEXCO. 
At home format
Due to public health concerns, this year, DMEXCO will be held in an online format. Through a new custom platform, everybody can participate in DMEXCO from home. The platform will be active from 10 a.m on September 23rd  to 10 p.m. to September 24th (CET).
Organizers introduced several interactive formats to discuss industry developments and present their ideas and solutions – live conferences, interactive masterclasses, virtual spaces, and brand showrooms.
The front page of DMEXCO is called lobby, and that is where you can find all the live sessions, list of speakers, virtual cafes, and showrooms.
Virtual Cafe
The Virtual Cafe section is a perfect place for networking and discovering potential partners and clients, with all of its thematic spaces dedicated to various digital advertising niche topics. Spaces come in two different versions 
Open, where everyone can join
Closed, hosted by partners, where you have to send a request to join.
Space includes a group chat and private audio-video rooms. Closed space is a controlled, safe environment for brands to do roadshows of their product, present their projects to the selected audience they want to engage with. 
Networking
To compensate for the online format, DMEXCO provides advanced features for networking.

Each participant has a communication center dashboard that allows them to set up meetings, group video chats, calls, and share contact information. You can research connections made by your contacts in a social discovery graph.
How to make your profile discovered
Alternatively, you can search for connections in an interest discovery graph. When filling your profile, you can list your professional interest and specialization, via industry tags, and be discovered by other participants.
For instance, if you focus on media buying you can choose tags, such as ad networks, adtech, media buying, etc. This way other participants will be able to identify you at the conference if they need a consultation or a chit chat about a particular topic. On the other hand, you can search for potential partners or experts in your interest topic.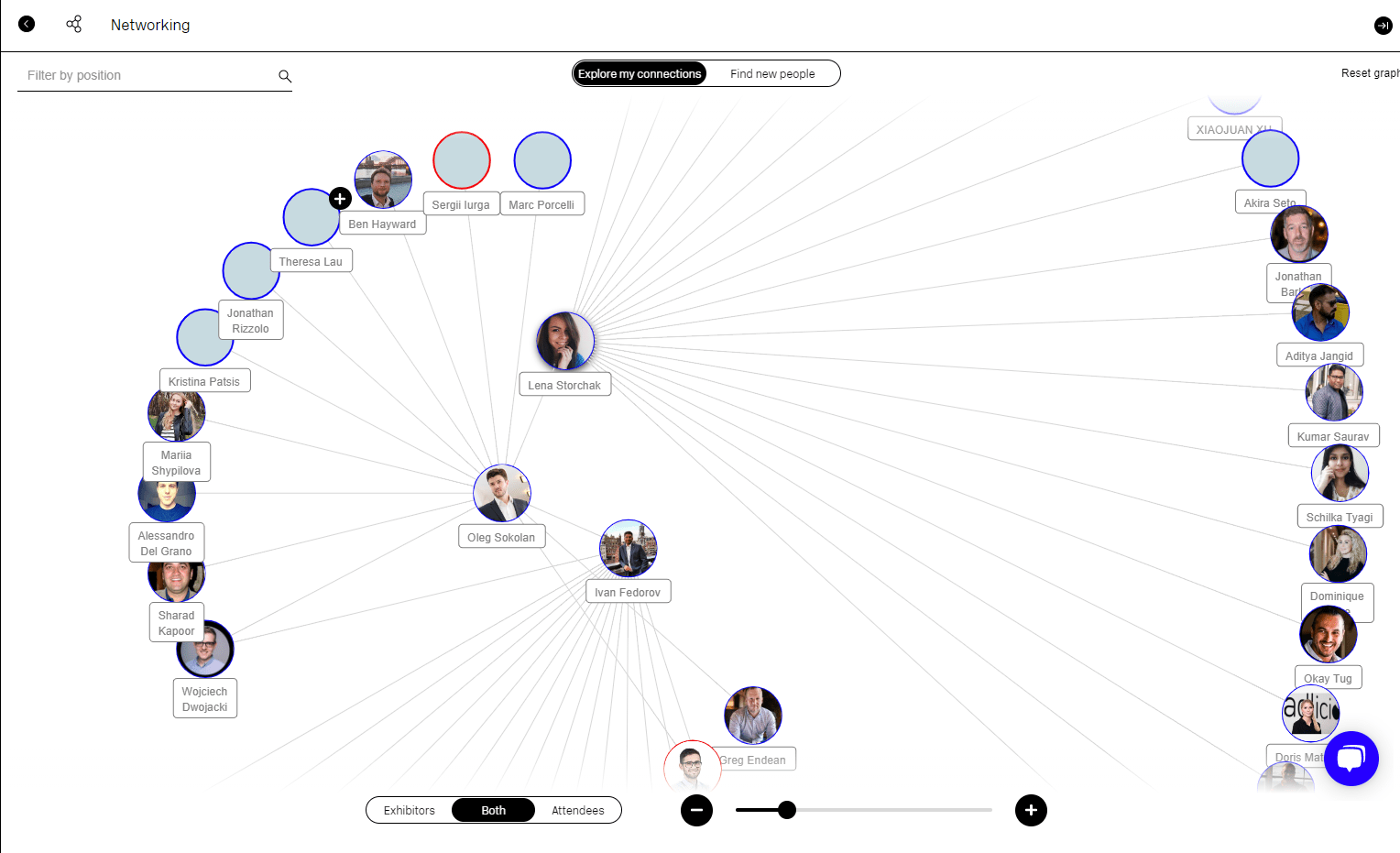 DMEXCO participants have an option to be open for networking – visible in spaces, masterclasses and available for chats and meeting requests, or select a non-disturb option, and just tune in for the lectures. 
Virtual showroom
Another critical section of the website is the show floor, where all the participating exhibitors have their own showrooms, an equivalent of the brand-stand on the offline event. 
A showroom is an aggregation of everything the exhibitor is offering: its lectures, virtual cafes, networking, etc. There is also an audio-video room, where some company representatives will always be available for a chat, just like at the actual conference. 
There are several options to interact with a showroom. You can bookmark it or recommend it to another participant. Also, there is an option to schedule a meeting, send a group request, or contact a particular person from this company. If your schedule is packed, you can also "register your interest," leave your contact to be reached out after DMEXCO. 
This year, Admixer is hosting its own virtual showroom. We invite you to meet our team there, talk business, and get answers to all things adtech.
If you want to scale your programmatic advertising in 2021, upgrade monetization of your assets, or deploy a data-driven tech stack, let's discuss how Admixer products and services can help you achieve your goals.
You can book your meeting now. This way, your spot in our busy schedule is guaranteed.
Schedule a meeting
Conclusion
There won't be a return to business as usual! Publishers need to rethink their business model and find new ways to leverage data, while marketers need to find effective ways to advertise at a shoestring budget. Admixer is ready to outline viable strategies for the new market, and offer tech solutions for big and small companies.