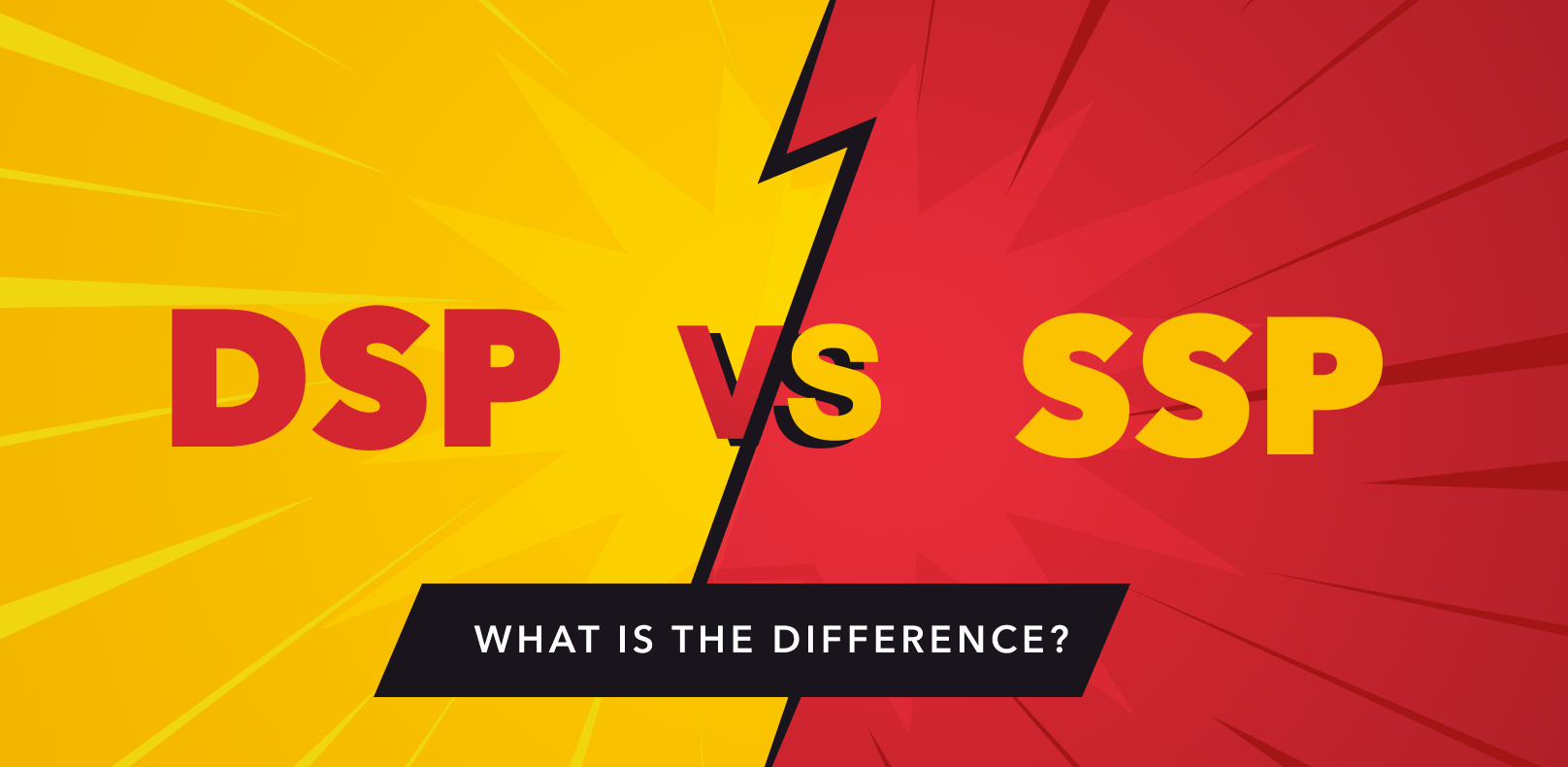 DSP vs SSP: What Is the Difference?
As part of the programmatic ecosystem, the DSP, the SSP and the Ad exchange are cooperating closely. But, what is the difference among them, how works the real-time bidding and what do they have to do with it?
The three players of RTB
Real Time Bidding is an auction technique of buying and selling advertising impressions of a selected audience, in which advertisers place bids using software. Transactions are executed in milliseconds, so they are called real-time bidding. The bidding process takes place on Ad exchanges, behalf of the buyer-represented agencies and advertisers connected to the exchange through the Demand Side Platform (DSP). The seller's side is represented by publishers who are connected to exchanges via the Supply Side Platform (SSP). Let's delve into the process and define all of these three components in details.
What is SSP?
Supply Side Platform or Sell-Side Platform or the shortened form – SSP, is a platform for publishers. It helps to manage and sell their digital ad inventory via real-time bidding or programmatic deals.
The main tasks of the platform are optimization of publishers' income and data analysis. To begin with, SSP links the publisher, the Ad Exchange, and the DSP (Demand Side Platform). After that, with the help of DSP, advertisers, media buyers, and agencies buy advertising impressions from publishers.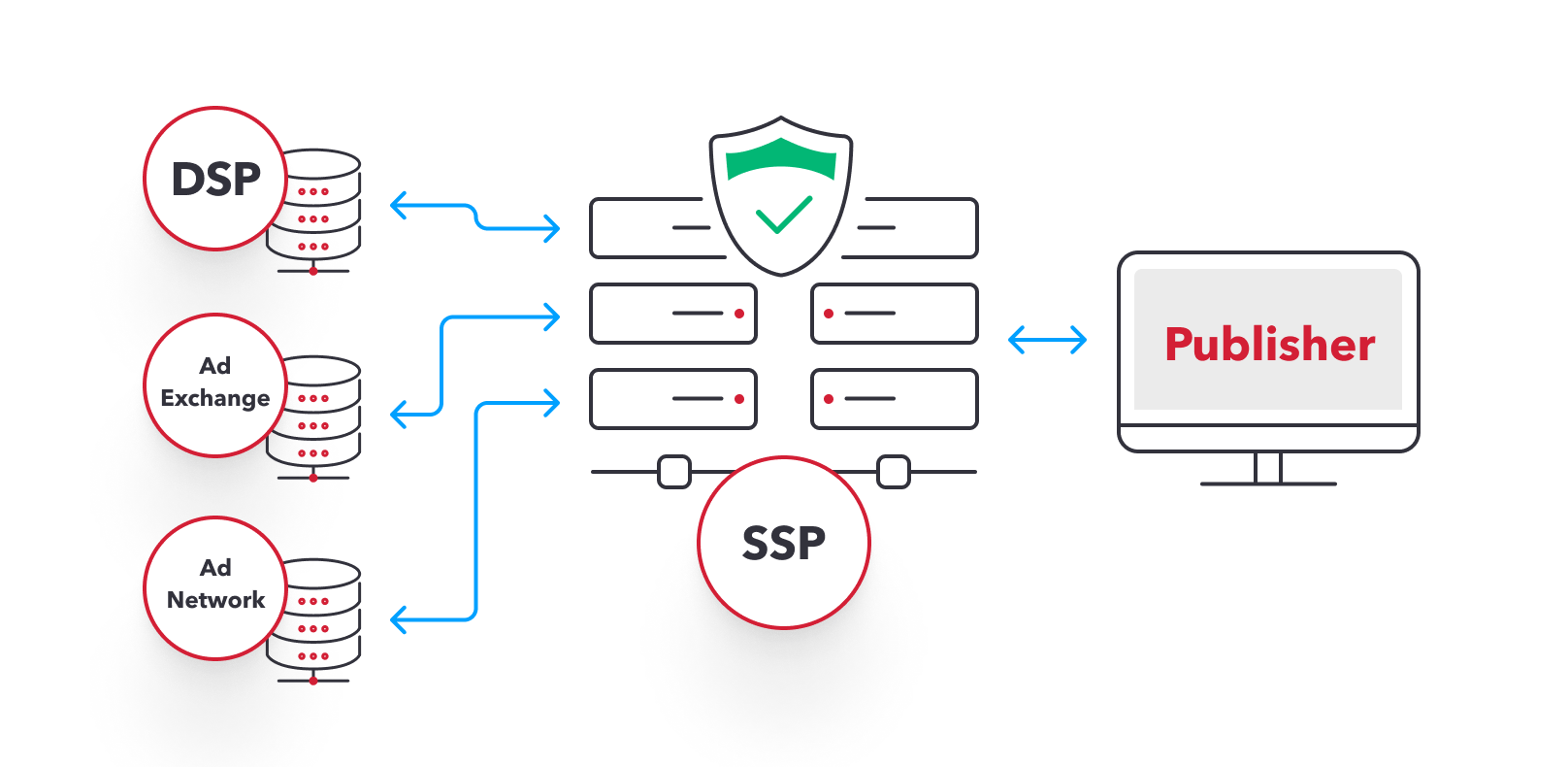 What tasks does the SSP help to perform?
Sell-Side Platform lets publishers evaluate campaign details, analyze audiences, and manage cost-per-thousand-impressions (CPM). And all this in real-time.
The offer-side platform saves publishers time. Previously, media buying looked like a series of business meetings in which both parties agreed on a reasonable price. Later, publishers used a scheme known as a waterfall to buy impressions: in the advertising server, they set the queue of buyers for their inventory. Direct and premium customers received the right of the first redemption, which then passed to the next participant in the chain. Instead of this complicated method and with the appearance of the SSP and the RTB model, bidders began to place bets at the same time, and the one who bets more wins. The whole process is automated and takes a few seconds.
With the Sell-Side Platform, you can set the best price per impression. The publisher itself sets the lower limit of the cost of placement. This can be a price for the whole channel or for a specific customer. The auction helps to form the price according to actual demand and the offer.
In addition, SSP helps publishers restrict access to certain brands or product categories that they don't want to see on their resources.
How the Sell Side Platform works
The platform automatically enters into transactions on behalf of the publisher, and the buying and selling process takes place through RTB auctions or directly through Programmatic Direct.
Publishers provide their inventory on the SSP and invite advertisers to bid based on user data received.
Every time a publisher's webpage is loaded, an ad request is sent to multiple ad exchange platforms, and sometimes it is sent directly from the SSP or through the publisher's ad server and SSP to the DSP.
In the case of RTB media buying, many DSPs will bid on impressions provided by the publisher during the auction.
The advertiser will win the bid who is bidding a higher amount compared to other advertisers and pay 2nd highest price for the winning impression to serve the ads.
Why Publisher needs SSP
Firstly, the publisher has access to inventory demand information. The platform provides data on the cost of sold impressions, the advertisers who place bids, and the most convertible placements.
Secondly, the platform allows publishers to connect to different monetization sources, simultaneously receive bets from many DSPs, and enter into transactions directly. All this contributes to achieving the maximum possible profit.
Admixer.SSP monetizes any inventory from SSPs, publishers, and ad networks with brand-safe RTB demand from global advertisers. If an ecosystem lacks the demand from the direct advertisers, publishers can always plug in Admixer.SSP for better fill rates.
The advent of SSP has given publishers access to a vast market for media advertising. They now advertise both local and global players on their inventory at market prices without the need for manual negotiations and agreements. Connecting various advertisers and advertising exchanges via SSP has allowed publishers to maximize their profits. In addition, thanks to the supply-side platform, they can analyze data and profitability and provide complete information about the audience to advertisers for more accurate targeting settings.
What is DSP?
Demand Side Platform or DSP is a software that allows advertisers and agencies to purchase impressions (inventory) on various advertising exchanges in several sources, such as mobile applications, CTV, games, websites, podcasts, etc. Advertisers can manage advertising on different platforms, track statistics, analyze data to optimize targeting, and participate in advertising purchase auctions through a single interface.

Technologies such as the DSP simplify the transaction process. Customers do not need to analyze the website, sign contracts, or participate in click cost negotiations. All of this happens automatically. Advertisers can flexibly optimize campaigns, narrow or expand target audiences, manage purchases, and quickly monitor processes. At the same time, you can buy impressions from different websites and owners without human factors that affect the results, thus saving time and money.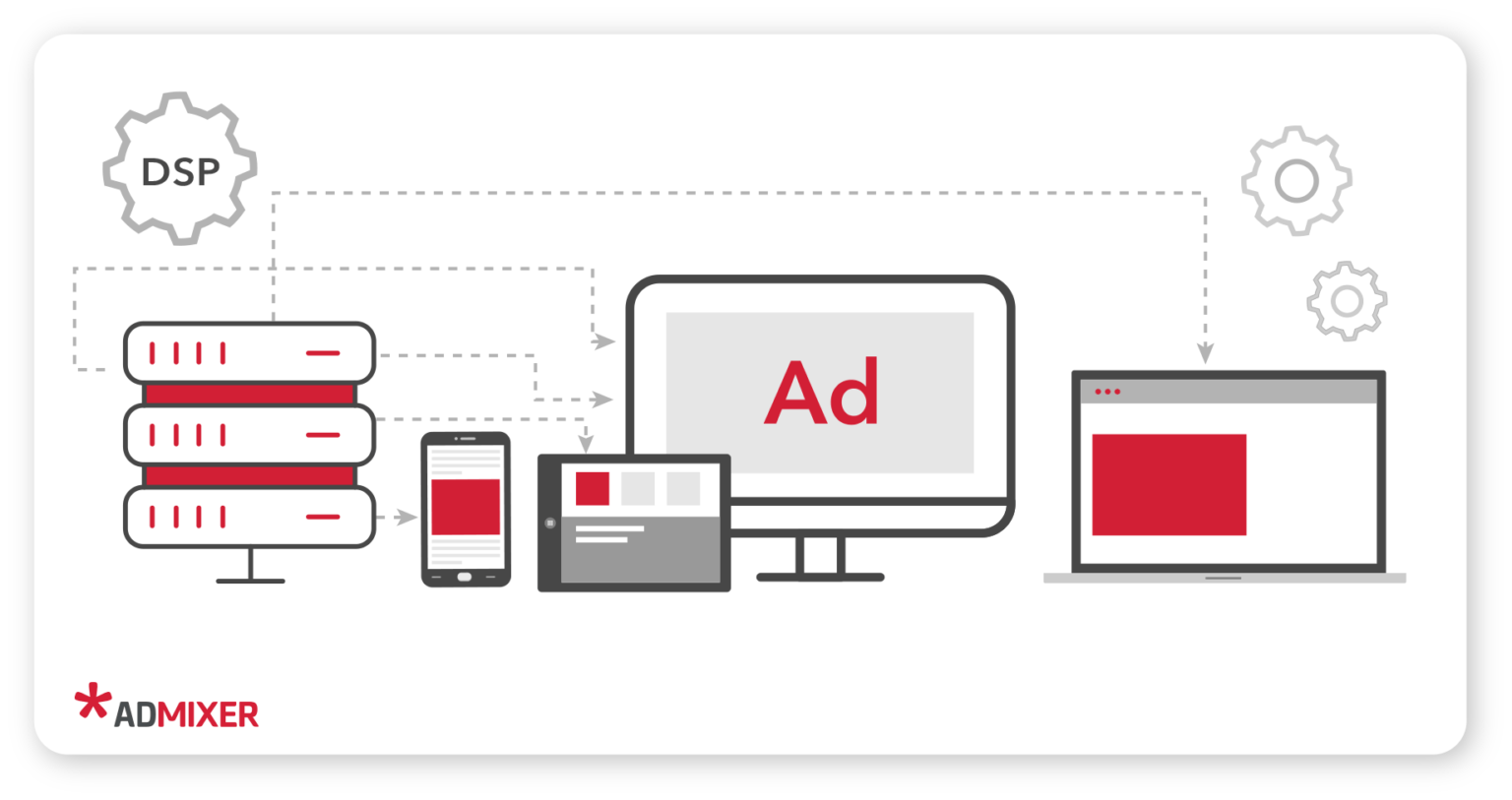 Who uses DSP?
DSP is usually needed by the company's media department, marketing team, or agencies. Depending on the user, the demand-side platform will serve different purposes and tasks.
Internal teams use DSP to run programmatic campaigns and advertise their products and services. The demand-side platform allows them to track the customer base, divide it into behavioral and LTV remarketing groups, and obtain advanced user interaction statistics.
Advertising agencies use DSP to purchase impressions for their clients. They help develop an advertising strategy, select the most influential audiences, choose targeting options, and resolve any campaign performance issues on a commission basis. It is crucial for them to evaluate costs and performance for customers regularly, and DSP usually provides functionality for this.
Principles of DSP-platforms
In contrast to the limited advertising space of Walled gardens platforms, DSP provides a profound understanding of your advertising costs.

The functionality of the platforms allows not only to manage the advertising of various formats on a massive number of resources but also to analyze information about users in order to find a relevant audience to show. The whole process can be described as follows:
The advertiser selects the target audience and uploads the ad they want to show.
When users visit a site or other site, information about them comes to SSP, which sends an auction request to all connected DSPs.
Advertisers compete with each other for the ability to show ads by placing bids in real-time.
The DSP buys the impression, and as a result, the ad is displayed on the publisher's website.
Even though this whole process looks complicated, it only lasts milliseconds.
Models for purchasing advertising through DSP
DSP platforms offer several affordable models for purchasing targeted advertising.
Open Auction. Purchases are made in the form of auctions. Advertisers bargain with each other to bid for the right to display advertisements to specific audiences. The winner is the one who offers the highest price.
The purchase takes place in the format of an auction. Advertisers bargain with each other for the right to show advertising to a specific audience by offering bids. The winner is the one who offers the highest price.
There are two types of auctions: open and private. There is an opportunity to compete with all advertisers in an open auction, bidding for impressions on any available platforms. At the same time, private auctions are held only among a limited number of invited advertisers.
If there is no auction, the site and the buyer agree independently. This method of procurement is called Programmatic Direct. Inventory is sold through programmatic tools, but the buyer communicates with the site directly. The advertiser chooses:
transactions without a guarantee of impressions, but with a fixed price (Preferred Deal);
Performance Guaranteed and Fixed Price Guaranteed (Programmatic Guaranteed) agreements.
Benefits of media buying with Demand Side Platform
Buying advertising traffic through DSP platforms simplifies the process of media buying at all stages greatly because people do not perform the actions; operations are based on prescribed algorithms.
Programmatic technologies allow to automate the process and control the simultaneous placement of advertising on a large number of media platforms.
While most ad networks continue to charge for thousands of impressions, DSP platforms allow buying impressions on platforms with quality audiences, so buyers don't overpay for empty traffic.
Agreements are made with great speed and without the participation of people.
Extensive targeting opportunities. Through the settings in the interface, the buyer defines the target parameters. Metrics used to select users for impressions include geolocation, demographics, income level, user preferences, behavioral factors, and interests.
For all parties in the agreement, the programmatic procurement method provides optimal financial conditions. Display prices are determined by current supply and demand.
Advertisers receive advanced reporting and statistics in real-time. Based on this data, they can effectively monitor the progress of the advertising campaign from multiple sources and optimize impression settings quickly.
DPS examples and management types
Depending on experience, resources, and goals, advertisers can choose DSP with different control models: Full-service and Self-service.
In the first case, all processes from planning to launch, optimization, and reporting are performed by a team of specialists of the programmatic platform. In contrast, self-service offers independence to advertisers. In the personal account, they can manage settings, control the progress of the advertising campaign, its bids and budget, optimize it at any stage, stop or resume.
Admixer.DSP provides an accessible technology for running campaigns on inventory from different exchanges and media owners, effortlessly managing data, crafting audience segments, and optimizing with built-in capabilities.
What is Ad Exchange?
Ad Exchange is a platform that provides advertising bidding: sells visitors' impressions to publisher's sites and ad networks, accepts bids from DSP and announces the winner. The advertising exchange works with the RTB ecosystem and is part of the SSP technology stack.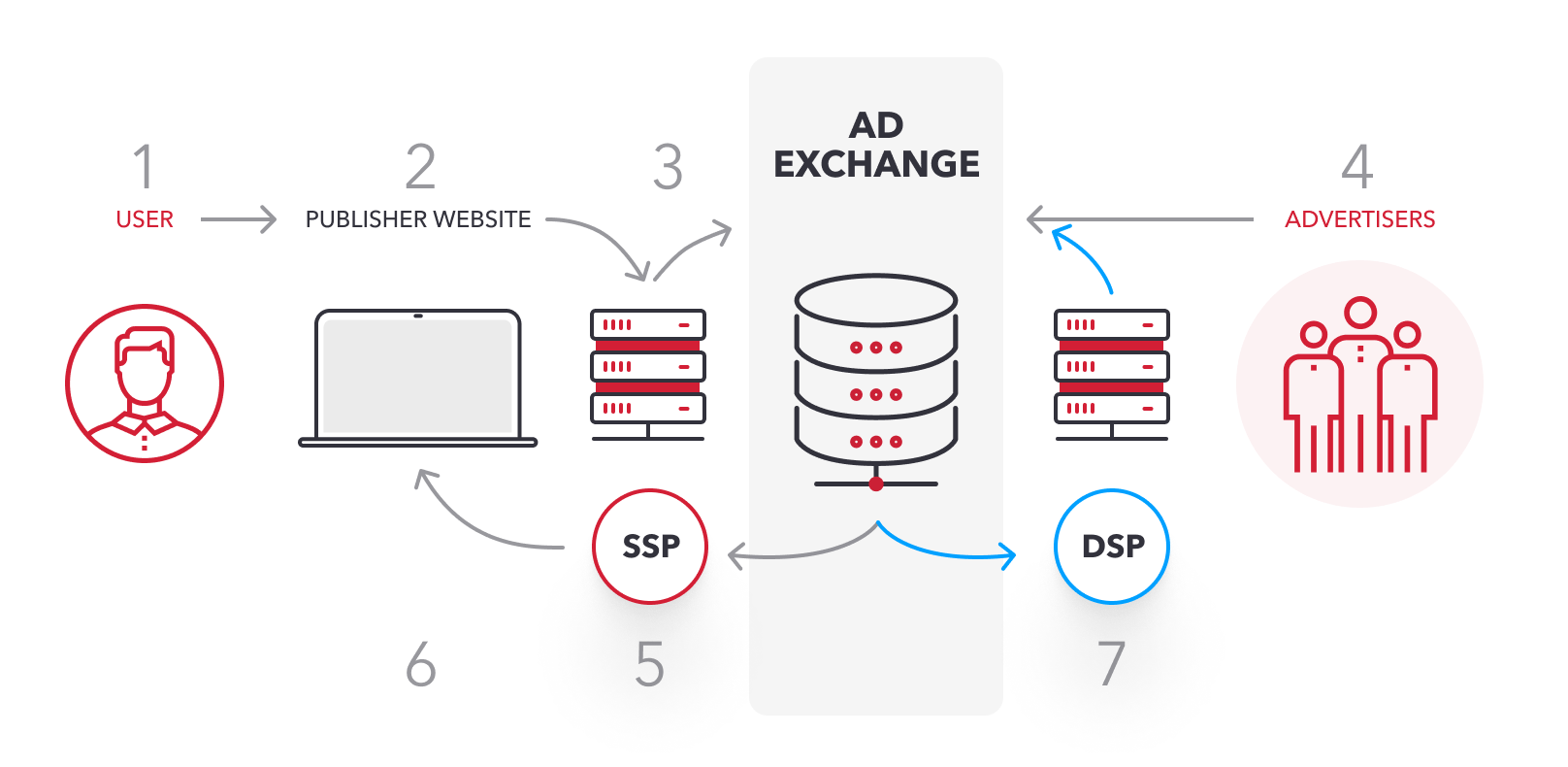 Ad Exchange combines multiple ad networks on a single platform, where RTB or real-time bidding is used to determine inventory prices.
This is beneficial for publishers, as they can sell their inventory and potentially receive more auctions for every dollar from this consolidated source. It becomes easier for buyers/advertisers to reach a mass audience and use advanced targeting technologies that can increase the effectiveness of their campaigns.
SSP vs DSP: the difference in their work.
As already mentioned above, SSP is used by online publishers to automate the process of selling ad space. In other words, it is in some kind an equivalent of DSP but only supporting the supply side, not the demand one.
While DSP users are looking to buy the most relevant ad slot at the lowest rate, SSP aims to maximize the price in the best interest of the publishers. Both platforms are based on the same engines. However, to understand the difference vividly, let's take a look at the table below.
| | Supply-side platform SSP | Demand-side platform DSP |
| --- | --- | --- |
| Purpose | Allow publishers to sell and manage their inventory | Help advertisers to find and purchase relevant ad placements |
| Role within the RTB | The side of selling | The side of buying |
| Function | Automatically provide inventory to multiple platforms such as DSP, advertising agency, and advertising trading platform, and sell them at the most favorable price, which helps optimize website monetization strategies and increase revenue. | Connect advertisers with multiple SSPs, advertising exchanges, and networks, allowing advertisers to purchase impressions with specific target audiences and display customizable ads with particular parameters |
| Example | Admixer.SSP | Admixer.DSP |
Conclusion
It can be easily said that DSP and SSP are opposite parties of programmatic media buying. SSP and DSP are keys in media buying automation, which simplifies advertising and eliminates complex negotiations through RDB. Comparing both parties by functions lead to understanding the significant difference between them. SSP enables publishers to monetize their traffic and obtain the best price through real-time bidding or other auction competition. It saves publishers a lot of time finding relevant advertisers, completing transactions within a few milliseconds, and automatically filling up all available inventory.
Instead, DSP is software that can help advertisers buy the necessary inventory and manage their advertising campaigns anytime, anywhere. With the help of DSP, advertisers can reach specific audiences at the right time and at the right place through personalized information and relevant information that can resonate.