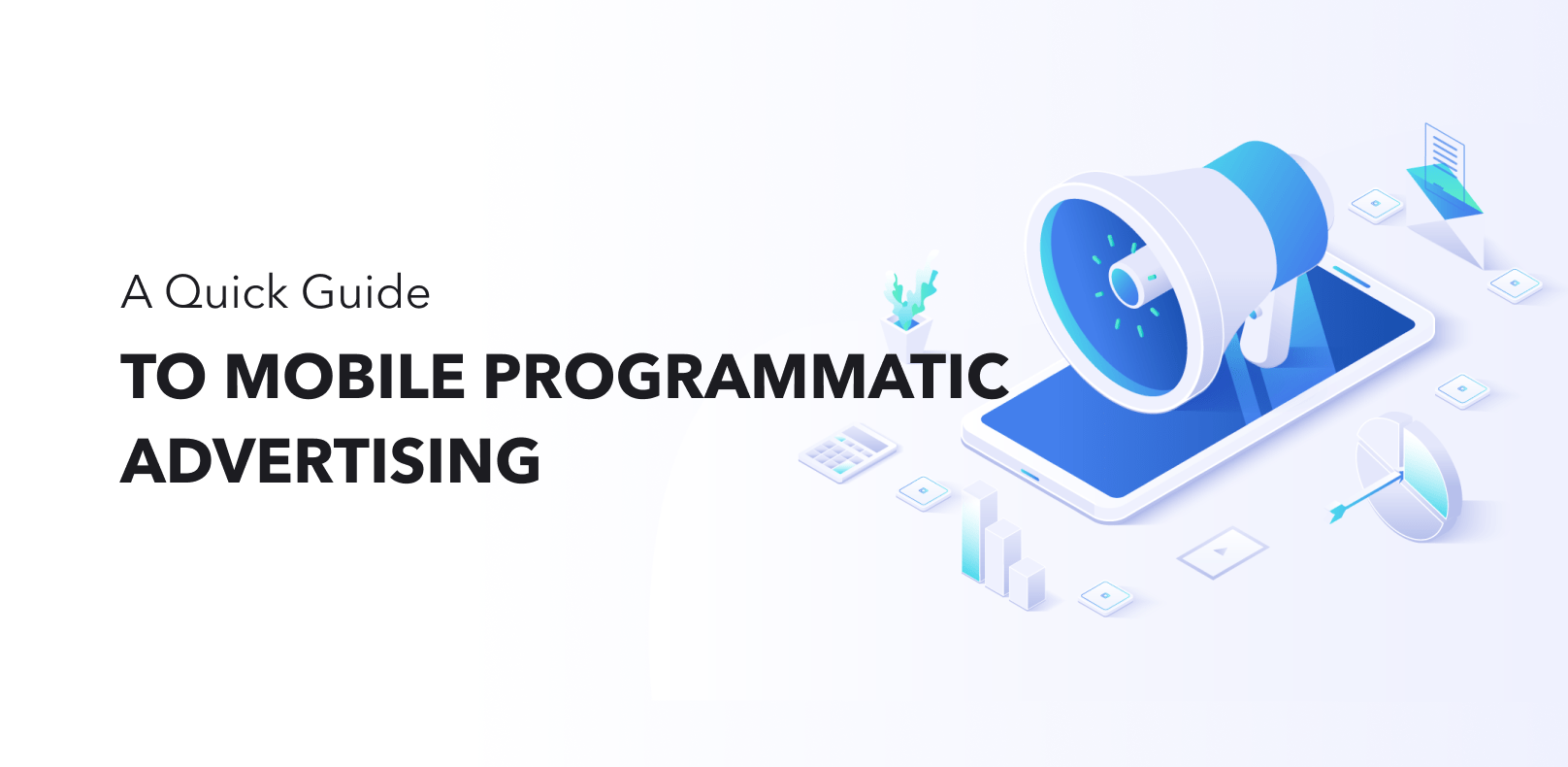 A Quick Guide To Mobile Programmatic Advertising

With the growth of the mobile market and the broader use of mobile advertising, the demand for more sophisticated technologies is also increasing. In today's mobile advertising industry, programmatic is one of the urgent topics.
In short, programmatic advertising is a way to automatically buy and optimize digital marketing campaigns rather than buying directly from publishers. It aims to replace manual negotiation with machine learning and artificial intelligence optimization. The goal is to improve the efficiency and transparency of advertisers and publishers. However, this description is a significantly shortened version of what programmatic mobile advertising really is, and this article will delve further and underline all the features of this kind of programmatic.
What is Mobile Programmatic Advertising?
Programmatic advertising is a technology that allows optimizing advertising costs and increasing its effectiveness. Programmatic is an automated purchase of advertising placements. The emergence of this method completely replaces traditional sales on sites and in applications.
Programmatic mobile advertising has transformed the entire advertising process on mobile for both buyers and sellers and is one of the fastest-growing areas of marketing and advertising worldwide.
Meanwhile, it is crucial to understand what benefits can be derived from programmatic advertising, what are the main features of programmatic advertising, and what new challenges the use of this new technology entails. With this information in hand, you will be in a prime position to get the most out of mobile programmatic, and you will understand which way this technology will evolve in the future.

How does Mobile Programmatic work?
At its most basic, mobile programmatic advertising involves the automation of buying and selling digital ads within ad exchanges and inventories. However, there are many variations on this basic concept, allowing market participants to have a high level of customization, depending on their approach to mobile programmatic advertising.
There are different forms of mobile programmatic that target different markets. These markets use different technologies and practices, which depend primarily on the type of ad advertiser buys or sells.
Real-time Bidding (RTB) is the most well-known and widely used form of programmatic mobile advertising and is already well established in the industry.
Advertisers work through ad exchanges and DSPs. This gives them the opportunity to choose a site to place their ads among the huge advertising inventory provided by publishers. This inventory takes the form of impressions available to advertisers, which they purchase through an auction scheme in real-time.
The RTB mobile format is an open platform where advertisers can buy the auction's price that suits them. Most of these impressions are based on reliable data about the type of target audience, including demographic information, preferences, type of mobile device, and other key factors.
RTBs do not establish a single format for the exchange environment; there are other exchange intermediaries. Open exchanges are available to all Advertisers, while closed RTBs offer various types of exclusive advertising inventory.
Another popular option is Programmatic Direct, which sells advertisements at a flat rate. This is a more exclusive market than the typical Open Auction. Direct programmatic allows Publishers to sell their ad space to a wide variety of clients, including advertisers and agencies, at a flat rate. It may include an invite-only option, whereby the publisher selects specific ad impression buyers who are eligible to purchase the most valuable and sought-after ad space. This type of mobile programmatic allows publishers and advertisers to fulfill the terms of the deal based on a unique ID, which serves as a guarantor of which specific inventory will display ads.
The Benefits of Programmatic Advertising
Mobile programmatic provides the ability to optimize digital advertising and improve targeting. Advertisers can set a purchase price, choose the audience they want to reach, and the area of ​​the web they want their ads to appear. All of these features provide ample scope for customization.
The key advantage of mobile programmatic advertising is data, and the ability to use that data to reduce cost per thousand impressions (CPM) and increase click-through rate (CTR). Often, mobile programmatic buyers have access to a selection of advertising sites, categorized by different types, including information about the mobile device, installed applications, operating system version, and the size of the available advertising format. Ads can then be categorized by mobile device model, screen size, and internet connection speed, as well as other factors.
Most importantly, mobile programmatic allows advertisers to better understand users through behavioral patterns such as:
geolocation data;
data about user habits and preferences;
tracking activity in mobile applications and the user's phone use;
user activity on different social networks, and displaying ads based on this data;
the use of mobile identifiers, which allow better customization of retargeting, enable advertisers to build a long-term brand development strategy and improve the experience.
Mobile programmatic ultimately allows advertisers to use their creative potential to its fullest. With this technology, you know your ad will reach your target audience through precise targeting. This allows focusing all efforts on creativity, rather than finding a specific group of people who will be interested in the product. For example, a video format is a great tool that can "grab" an audience. Despite the fact that it is expensive, the data obtained with the help of mobile programmatic allows such expensive advertising to reach a wide, but at the same time, specific audience, helping to improve the performance indicators of your advertising campaign.
How Mobile Programmatic Advertising Works In Apps
Mobile apps that are configured to serve ads have specific ad placement where these ads can be displayed. Locations can be visible on the screen (for example, as a small banner at the bottom of the page) or programmed to appear as you use the application, for example, between two levels in a game. It depends on which ad formats a particular app supports.
A key component that makes programmatic advertising possible is the mobile advertising SDK. SDK is an acronym for Software Development Kit, a set of tools and programs that allows developers to create common functions without starting from scratch. These SDKs allow developers to manage ad inventory requirements from multiple ad networks to initiate the in-app programmatic process.
When a user uses the application, the publisher triggers the ad at a certain point in the user's journey. This ad request goes to the publisher's server or an intermediary platform, which sends the request through SDK to the Sell-Side Platform (SSP) and Ad exchange.
The SSP or exchange then auctions Demand Side Platforms (DSPs) to bid on the available ad slots. DSPs are connected to Data Management Platforms (DMPs) that help advertisers place bids on specific segments or types of users. In general, DSPs represent the interests of advertisers in this system and help companies and agencies place their bids on auctions.
When a DSP wins an auction at the SSP or exchange level, the bid is passed to the intermediary platform. At this stage, another auction can be held if there are bids from other SSPs.
The auction is won by the advertisers with the highest bid of all SSPs, and they receive the right to display ads.
How much does mobile programmatic cost?

Programmatic usually trades on a CPM basis, which means the cost per 1,000 ad impressions. Depending on the quality of the list and the level of targeting, the cost-per-thousand impressions range can be large. The higher the quality of an inventory or the more specific audience the advertiser wants to target, the higher the price.
Prices also vary by industry, equipment, format, and location on the page. On average, the range of programmatic CPM is between US $ 0.50 and US $ 2 CPM.
This is a huge cost-benefit compared to manual-driven transactions. Manually-driven transactions usually cost more than $10. That is the five times higher price of advertising.
To speak about another advantage, programmatic can help you further expand your limited advertising budget by 10 to 20 times. Therefore, programmatic low cost provides huge benefits for small businesses with limited marketing budgets.

To wrap up
Programmatic ad buying fills the gap left by traditional models between users and advertisers. It allows marketers to manage campaigns across multiple devices and channels from a single dashboard while serving ads across thousands of publishers at the same time. In a world where mobile is the most essential tool, programmatic mobile advertising is a significant part of modern advertising strategies.