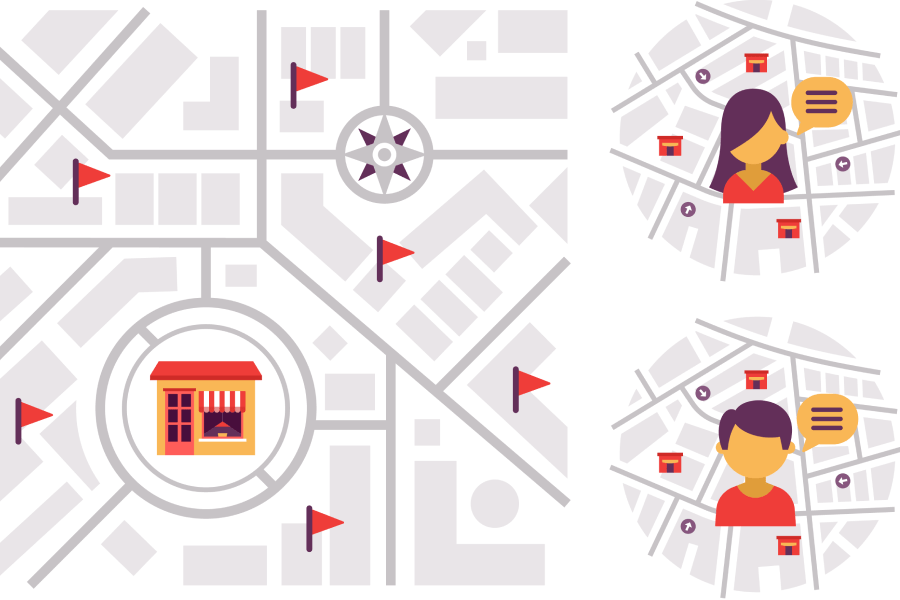 Hyperlocal Targeting Advertising Now Available In Admixer.DSP
In the era when people access the internet on the go, it's natural that brands and advertisers want to reach out their audiences wherever they are. And, sure thing, keep their ads relevant.
This is where location-based targeting step in. 
What is hyperlocal targeting?
Location-based targeting, also called geofencing or hyperlocal, means serving ads targeted only for people who are within the specific area, fenced with virtual boundaries. 
Unlike classic geo-targeting covering broad territories – the whole city or a country, hyperlocal targeting blankets specifically set location, like for instance, a ten-block radius around the bookstore, the concert hall, college campus and so on. Location-based targeting allows to pin the specific place on the map and set up a radius around it. Basically, this is where the ads will be served for everyone who's within this radius.
Hyperlocal Targeting Advertising Benefits for Brands
Hyperlocal targeting works great for business tight to specific locations, like stores or cafes, but it's also a great add-on for major brands operating across the globe and having their physical presence in different countries. Here are the main benefits why location-based targeting is a spot on for brands.
High personalization
As hyperlocal targeting means catching up with potential customers within a particular area, you can personalize the ad message and creative to make it strongly relevant to the audience. Specifically, by mentioning the name of a neighborhood or known landmarks around the area, you grab your audience's attention much faster. 
Cost-efficiency 
When it comes to mobile marketing, you pay accordingly to the number of impressions your campaign receives, meaning that you pay a specific amount when a thousand impressions have been served (referred in the industry as CPM or Cost Per Mile). It means that if you target the entire city, you'll be paying for impressions that are being served to people who might not necessarily be interested in your offer or product. Keep in mind that not everyone has the same needs. 
Geo-conquesting competitors
Hyperlocal targeting also allows you to geo-conquest your competitors. Geo-conquesting is a fairly new idea in the mobile advertising sphere that utilizes location-based marketing to direct potential customers to your place when they are close to or in your competitor's cafes, stores, and so on.
Use cases of Hyperlocal Targeting Advertising
There are numerous ways of how businesses can benefit from leveraging location-based marketing. Here are just several use cases at a glance.
Targeting users near a storefront
It's the first thing that comes to mind. If potential customers are within a mile (or any other radius) away from your storefront, it might be a good idea to target them. You can promote your soon-to-open store, drive your potentials to the store, get them to call, and generally build your brand awareness with catchy ads or video explainers.
Targeting competitor locations
By targeting users who recently visited a competitor and didn't have the product they wanted, we can drive more lower-funnel foot traffic to stores (or at least curious shoppers to our clients' sites).
Targeting users near events, conferences, and expos
This might be a good way to catch up with conference visitors if you're heading to a B2B event, for instance. Just target the area around the venue where the event takes place and keep promoting your booth or creative reminding you're there to meet up. Also, it's a good idea to leverage hyperlocal targeting if you're representing a bar or other entertaining location wanting to have event visitors as your guest.
Targeting travelers
The same thing about food places, museums, car rental services, and casual events work great for travelers. Together with a creative visual and a stellar message, hyperlocal targeting will let you catch the wanderers.  
Now, how can you embrace all this with Admixer.DSP? 
Set up Hyperlocal Targeting in Admixer.DSP
When setting up a campaign, head to Geo settings, and choose Hyperlocal option.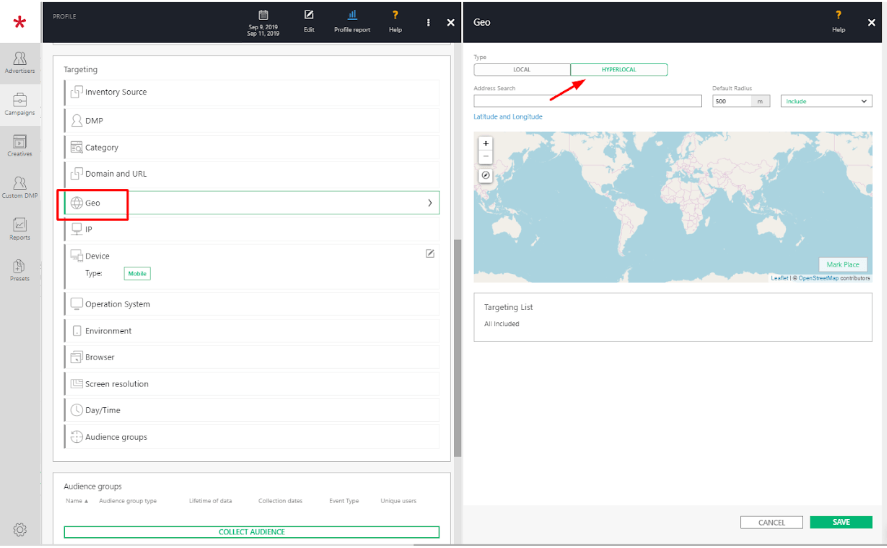 Then enter the Address or Latitude and Longitude of the specific place you want to target and set up Radius around it (min 100 meters), where your ads will be served. You can use either include or exclude options to control where your ads will and won't be shown.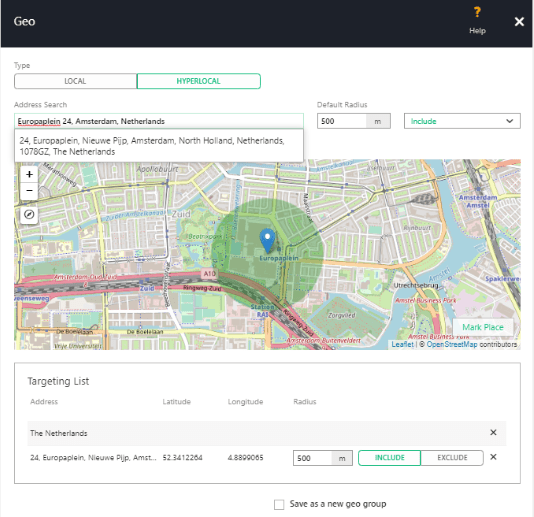 Save your settings as Geo groups to use them for further campaigns in order not to put it all manually each time.
That's pretty much it! Get your guide on hyperlocal targeting. 
Ready to give a try and power up your location-based marketing? Head to your Admixer.DSP profile to test hyperlocal targeting! No Admixer.DSP account yet? Contact us to start: media@admixer.com