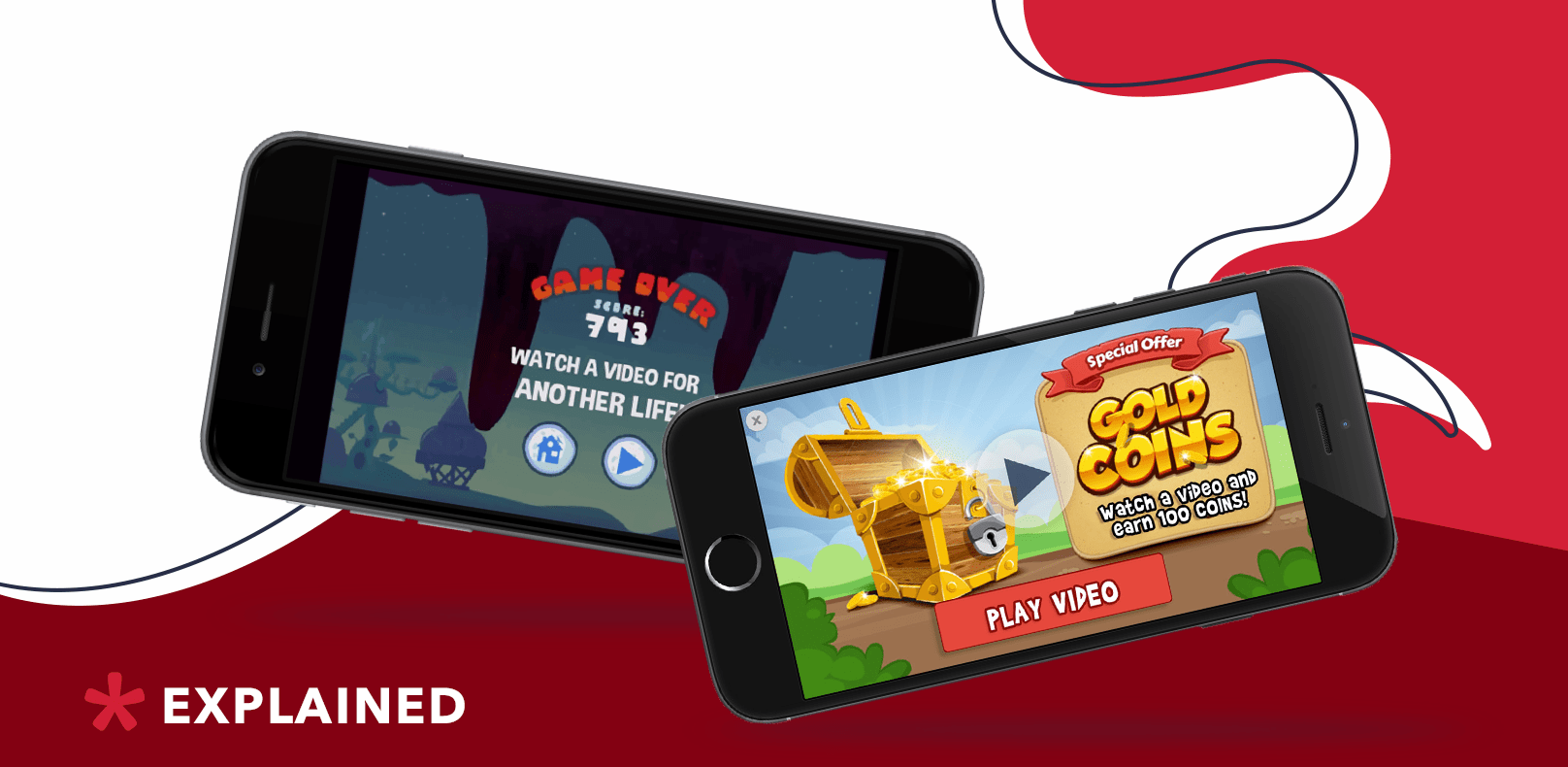 In-Game Advertising: 8 Ad Formats to Monetize Mobile Games
The gaming industry turned out to be resilient to the global crisis and even demonstrate moderate growth. Games are surging in popularity, as people on the lockdown are searching for new ways to vent and connect with their peers. Video game usage increased by 75% since the start of worldwide social distancing. Mobile games are also the first to reap the rewards of this uplift, getting 13 billion new downloads in the first quarter of 2020.
As the consumer buying power is decreasing, app developers that relied on in-app purchases for their monetization are facing a decline in revenue. For this reason, game publishers should consider implementing ads on their platforms to supplement their income and offset losses during the crisis.
Several ad formats can be implemented in-game without damaging customer loyalty and generating additional revenue. There are two primary types of in-game ads: static and dynamic.
Static Ads
Pricing model: Individual arrangements on the development stage
Static ads are built into the game during development and can't be updated in the future. They are a lot like product placement in movies or music clips. Static ads integrate organically and realistically into the elements of the game, in the contexts where players would expect to see it in real-world- on billboards, in a shopping center, etc.

Dynamic Ads
Pricing model: CPM, CPC, CPA
In contrast, dynamic ads are banners across the game that can be updated in real-time. Dynamic ads are essentially display advertising ads inside the game; can be scaled, targeted geographically, and demographically and traded in the programmatic ecosystem.
Dynamic ads provide a diverse choice of ad formats, including expandable ads, interstitials, etc. It is probably the most common ad format that can be quickly implemented and scaled for most video games and gaming apps. This ad format is inherently programmatic and can provide a great market for audience-based buying. Let's review the most common dynamic in-game ad formats.
Types of dynamic ads
Interstitial Ads
Size: full-screen, 1024×768, 768×1024
Interstitials are full-screen ads that lay over the interface of the app. They work best at organic transition moments, for instance, in between levels, or during pauses in the game. Interstitial ads usually don't interrupt the user experience and pop-up during natural stops in the gameplay.
They can host rich media with animated elements, making the ad more compelling, provide a lot of impressions and usually generate high conversions, and quickly memorized by customers.
How to use
However, it is worth noting that it is unskippable ad format, and advertisers need to work hard on the creatives and precise targeting not to appear annoying. Some of the metrics of interactions can be misleading as users are trying to tap ads to shut them off.
Game developers should not abuse this ad format, and place ads only where appropriate, during some level transitions and pauses. It is also advisable not to install many of these ad spaces, regularly asses displayed ad traffic. Low-quality interstitial ads can distract the user and deteriorate audience loyalty.
Mobile app developers can keep their brands safe by choosing only quality inventory in Admixer.DSP (Mobile).
Native Banners
Size: 320×480, 480×320, 1024×768, 768×1024
Native banners are the most widespread in-game ad format since it is one of the least intrusive; you probably see several of them throughout the game. They are a lot like banner ads you meet across the websites, but they seamlessly integrate into the design and gameplay. Native banners do not interrupt the user experience; they hover over a part of the screen.
How to use
However, native banners if placed without caution, may obstruct a crucial spot of the interface, and spoil the gaming experience. Thus, banners must be placed tacitly in the corners of the screen, where important features or actions are needed. This way, the ads are apparent but not interruptive.
Contextual Ads
Contextual ads are a standard mobile format that targets users based on their content preferences, interests, and affinities. It naturally integrates a product or service into the gaming interaction.
It is a bit more sophisticated in games than in mobile apps and has to include an inner logic. For instance, one of the best contextual integrations is the ad of Starbucks in Pokemon GO.
How to use
Starbucks made an original native integration with the Pokemon Go. While playing the game, players had an opportunity to find the locate a designated Starbucks location and get in-game perks, as well as an exclusive Pokemon Go Frappuccino.
Similar contextual integrations can work even if your game isn't based on real-world interactions; other brands can sponsor different kinds of loot or player outfits.
Rewarded Ads
Size: 480×320, 1024×768, 768×1024
One of the ways to make ads less annoying or even wanted is to reward players for interacting with the ad with in-game points, virtual currency, a new outfit, or other in-game awards. This ad format has one of the highest view rates and shows positive traction during the crisis. Rewarded ads are more resource-consuming from a developer's standpoint since you're giving away freebies to get views.
How to use
Offering players valuable in-game bonuses for interacting with an ad generate a decent level of engagement and clicks. Nevertheless, there's always a possibility that the player does not perceive the ad messages, and there is only one there for the loot.
With this in mind, rewarded ads are an excellent way to provide high-volume quality impressions, which might be more than enough for the advertisers' goals.
Rewarded video and native formats are available in the Admixer.Creatives, an extensive library of ad templates for your campaigns.
Expandable Ads
Size: full screen, 1024×768, 768×1024
Expandable ads interrupt the game experience by taking over the screen when the user taps on them – which is often happens on accident how the expandable, in cases when the ad is placed in the active zone of the interface. With that in mind, the expandable ad provides an immersive experience that can be quite effective if the ads are implemented wisely.
How to use
These ads are commonly perceived as annoying, but you always get some sort of negative sentiment towards the ad. At the end of the day, Consumers increasingly tolerate advertising; nearly 9 in 10 consumers feel that online advertising is necessary to receive free content online. However, it is crucial to strike the right balance between acquisition, retention, and the life-time value of your customers.
In-Game Video
Size: full-screen
This ad format is currently getting a mainstream adoption, and experimented by developers and advertisers. In-game video ads are usually fifteen-to-thirty second long. They have to be placed very carefully, at the natural transition point, similar to interstitials, since they noticeably interrupt the gaming experience.
How to use
In-game video ads come in different formats; they can be skippable and unskippable. For the most part, the player sees thumbnails and have a choice to interact or not with the ad. In this scenario, it is critical to intrigue the user enough to play a video; thumbnail has to be compelling enough for them to take a break in a game.
Most users aren't going to stop playing the game to watch a video unless it provides some in-game rewards. The banner has to captivate the audience to invite further interaction, and don't annoy the player. After all, having banners on the screen that is unrelated to the gameplay can distract and hurt the overall user experience.
Advergaming
Advergaming is the new word in advertising with games. Basically, advergames are branded games tailor-made to promote a brand, company, or particular products. There are generally no additional ads in these types of games. Instead, the entire game is promoting a single brand, and ads are intrinsic and embedded.
How to use
For instance, M&M has created a series of branded games that include racing, arcade, etc. This platform offers a rich gamified interaction with the brand, that instantly engage the potential customer and leave the lasting impression.
As mobile games become more common in our every day, the concept of advergaming will likely become more popular. Besides, if the game itself is original and appealing, it can foster a community around it, which an advertiser can consistently remarket. The value will surpass the cost of game development for a brand.
Wrap up
Despite the pandemic and looming economic crisis, the app industry is showing growth, which is excellent news for advertisers and marketers. Gaming apps are quickly increasing the number of served impressions since the beginning of the lockdown. In-game ads are now reaching wider audiences and can provide better reach and engagement than traditional channels.
At the same time, the game is a perfect brand-safe controlled environment for advertisers. Their ad will not appear next to some questionable or malicious content, as it frequently occurs on social media, where ads are displayed alongside user-generated content.
If you're considering monetizing your apps or games, contact Tetiana Sichko, Business Development Manager at Admixer.DSP (Mobile): tsichko@admixer.net.