Prebid.org is launched to support Header Bidding solutions
AppNexus, Rubicon Project and PubMatic have officially presented Prebid.org as an organization with the goal to promote header bidding among ad ops and publishers.
The organization is aimed at gathering all open-source developers around one established set of rules for running header bidding. For the sake of unification, launching parties proposed the Code of Conduct.
The Code of Conduct includes general definitions and data use regulations. Each party, that joins the initiative, is required to sign the Code, in order to secure common wrapper mechanics, procedure transparency and user experience.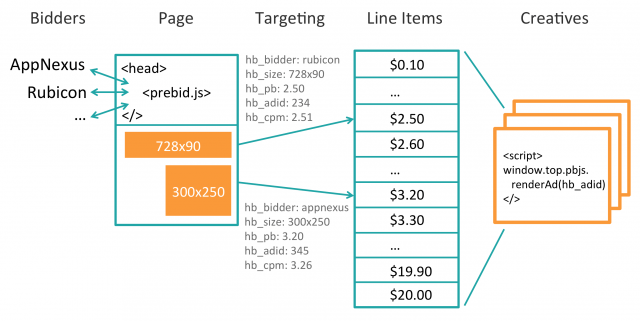 AppNexus calls out to avoid market fragmentation. As Prebid.org director Tom Kershaw emphasizes, there is no point in having lots of solution versions to one problem. Prebid.org, Inc. launch is a major move against unnecessary competition and waste of resources.
Joint development of best practices can give improved results in the future. PubMatic notes that there is the potential to benefit as the community, as opposed to each player trying to benefit on one's own. Prebid partners believe header bidding to be the way of fighting against Google monopoly and ruling over the waterfall buying model.
What are the benefits of Prebid header bidding?
Open-source code for everyone to contribute.
Prebid Server for fast auctions with an extended number of partners.
Tools and analytics for setup optimization.
Support of multiple formats and all devices.
Helpful community to help newcomers.
"Admixer has been a participant of Prebid program for a long time now. We offer header bidding for display and video ad units equally," says Admixer Head of Programmatic Yaroslav Kholod.
This year, we also made an advanced step in programmatic monetization and are now offering the combination of header bidding with RTB auctions, which we call Hybrid Programmatic. You can learn more about it at our site.
Ever since its launch on the market, we've been offering support to publishers who wanted to try out header bidding for the first time. We'll guide you with advising and explain what you need for a perfect start. To begin monetization through header bidding with us, leave a request on our contact page. When you choose Admixer header bidding, you choose an opportunity for the hybrid model upgrade  at any time for free.