How to deliver Viber ads with Admixer system
Last year Admixer became an official Viber ad reseller. Now we are introducing a special template for ad creatives within our regular ad campaign setup process.
Admixer's main focus is on ad campaign automation. And that is why we are rolling out a special template for running Viber ad delivery through Admixer.DSP platform.
What are the promotion options on Viber
There are several ways to promote your product:
in-app advertising shown after user finishes the call (post-call)

desktop ad banners

ad banners on sticker pages you see after you download sticker packs
stickers – clickable and with sound
post-call and download& watch video ads
and more
Viber launched post-call advertising this February. We integrated an option to select it in our specific template. Our goal was to make this ad delivery launch easier for advertisers. It's also a part of our general strategy of switching to native formats. Here's how you can start your campaign with this ad template: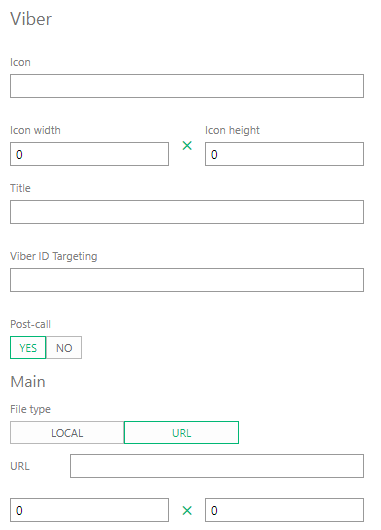 Since last year, post-call advertising has become increasingly popular. Among its clients are Coca-Cola, Old Spice, Disney, PepsiCo and Ferrero.
Viber press service says: "So that users have no need to hide ads, we develop ad formats that don't ruin user experience and secure the privacy of communication".
How to use Admixer.DSP to create a Viber ad campaign
Here's the explanation to the fields of our new template:
1. Icon is the field, where you specify URL of a thumbnail for your creative.
2. Icon width and Icon height are the fields for setting corresponding size parameters of your icon.
Icons are only applicable for desktop placements. You don't use them for post-call advertising.
3. Title is your promo slogan.
4. ID Targeting is the field for ID of a certain placement. You can use it to narrow your ad delivery to one placement. When you leave this field empty, ad delivery doesn't get narrowed. An ad can be delivered to all placements.
5. Post-call switcher. Select Yes for the post-call in-app ad delivery.
6. Creative's file or URL to it.
Select File type: Local for uploading a file to the system or URL address of a file.
Enter the width and the height of a creative.
What are the benefits for advertisers and brands?
Viber helps advertisers increase awareness, consideration or conversions for brand by connecting to active and engaged consumers around the
globe. With its ad formats advertisers can engage their audience at the right time, providing visually rich, non-intrusive ads, that looks and feel native
and demonstrates high CPM.
Leverage this ads to:
engage users
increase brand awareness
convert users and drive revenue generation
What are the file sizes for Viber ad
For the small desktop placement (300×50):
Icon: 50×50 image and title/text

Main image: 300×50 or 320×50 image only

For the large desktop placement and in-app post-call ad (300×250):
Main image: 300×250 image (title/text are optional)
Try out the new template now
Learn more about how our ad creatives work. Through our platform, you can monitor the statistics and get visualized reporting on your ads performance:
100+ metrics and data sets,
event tracking for each ad,
reports export.
We offer a whole package of knowledge and opportunities for easy start.