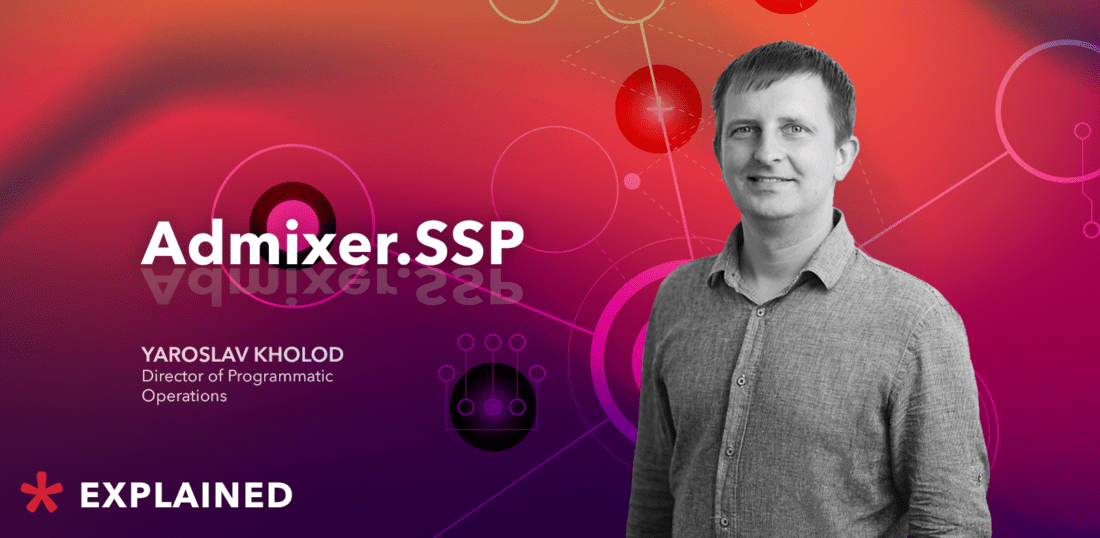 Programmatic in Action: How Yaroslav Kholod and His Team Built One of the Most Trusted SSPs
Admixer was originally a Ukrainian advertising network, which later evolved into a holistic global ecosystem. To make it possible, Yaroslav Kholod, Director of Programmatic Operations at Admixer, and his team embarked on a journey to build a new generation SSP, immune from the traditional pitfalls. 
The road was rocky, and Yaroslav's team faced several challenges with detecting fraud, plotting a transparent supply path, and enriching local traffic with data. Further, I will discuss how they addressed the most common SSPs issues and come up with several adtech hacks.
Birth defect of SSPs
Before the rise of real-time bidding (RTB), digital advertising was a notoriously fragmented market, especially the media on the open web. Local ecosystems were controlled by advertising networks, which were excellent in curating creatives and tuning ad slots performance, but couldn't provide scale.
The introduction of RTB led to the creation of ad exchanges and SSPs that allowed marketers to transcend local borders, streamlined media buying, and made it truly global.
However, these entities were plagued with fraud, misrepresented inventory, and opaque supply chains from the beginning. While effectively managing unprecedented volumes of traffic, many SSPs failed to address these challenges.
How Admixer built a new generation SSP
As a result, many RTB platforms gained a reputation of mere resellers of low-level traffic without any additional value. Yaroslav's team was determined not to fall into the same trap and deliver quality service and trust-worthy traffic. To get there, the Admixer.SSP team tested several technical approaches and anti-fraud strategies.
Anti-fraud vendors
Initially, the Admixer.SSP team had two anti-fraud partners, which helped them to scan and detect miss-represented impressions. For a while, this approach kept the invalid traffic level in check, as two verifiers were able to supplement and double-check each other.
However, the team noticed that those validators had overlapping capabilities. They usually used validator pixels to scan every second or third impression to save on the monthly limit, and then used the second validator to proofread the work. Unfortunately, fraudsters were able to detect and mimic this frequency or even remove the validator pixel.
For this reason, Yaroslav and his team decided to focus on deep integrations with one vendor. Instead of juggling multiple integrations, they re-allocated Admixer budgets to single validator, which allowed them to scan every impression and track differences between internal and validator analytics.
On top of the post-bid validation, Admixer.SSP also implemented pre-bid blocklists. These are lists of compromised parties, apps, vendors, platforms etc. , which were caught spreading fraud. Adopting prebid blocklists stops fake traffic at the entrance to the ecosystem. It allowed the Admixer.SSP team to detect fraudulent requests by checking against databases of parameters:
IPs,
devices,
bundles,
domains,
high-risk apps, etc.
Further, Admixer introduced internal anti-fraud practices. Its traffic quality task force developed machine learning modules that spot outliers and discrepancies on the user-level. Admixer.SSP established 28 malicious patterns that allowed the anti-fraud team to cut out invalid requests at the entry to the ecosystem.
Enriching local traffic with data
Creating technical infrastructure and anti-fraud capabilities was only one piece of the puzzle. To connect local publishers with the global programmatic marketplace, Admixer.SSP had to make this traffic accessible and representative.
Many publishers and media owners in the region do not have a robust first-party strategy, and frequently their bid requests arrive without all the necessary parameters. For this reason, Admixer.SSP partnered with vendors that take care of the incomplete requests:
DeviceAtlas takes care of bids that came without the device data and adds this parameter based on its data intelligence.
Maxmind,an IP intelligence vendor, helps to locate the geo of the incomplete bid request.
Admixer.SSP also partnered with various local data providers to better segment traffic and offer ad slots with additional data points. SSP teams segment the local traffic and offer global advertisers exclusive audience segments of premium publishers through connection deals.
Implementing industry standards
Fake supply is the most common type of fraud in programmatic advertising. This kind of ad fraud happens on the publisher side when fraudsters misrepresent the inventory. For instance, video inventory is the most susceptible to this type of fraud, as out-stream video ad slots are frequently misrepresented as in-stream. There are various approaches that fraudsters use when faking the supply, but the implementation of industry standards can counteract most of them.
The Interactive Advertising Bureau (IAB) Tech Lab introduced ads.txt, a text file that publishers can place on their sites to show ad buyers a list of the authorized vendors allowed to sell their inventory, along with sellers.json that allows checking sources of the inventory, direct publishers, and traffic resellers.
Admixer.SSP supported IAB initiatives and pushed for ads.txt implementation on all its inventory. Today, it is among the world's TOP 30 supply partners authorized by publishers across the web.
Source: Adstxt.com Authorized Ad Exchanges
Yaroslav Kholod emphasizes the importance of these measures for the entire industry: 

"The proper implementation of ads.txt and sellers.json makes the programmatic ecosystem more trusted and transparent. At Admixer, we focus on partnerships that allow us to maximize supply chain visibility and minimize the risks of getting unreliable inventory."
Yaroslav and his team are also vocal supporters of the RTB 3.0, a more advanced programmatic protocol to filter out supply fraud. It has a safety hatch – Ads.cert – that helps detect supply chain spoofing, such as ad injection. This solution is a lot like digital signatures that let buyers verify inventory regardless of how many resellers it already passed through. Admixer.SSP advocates for the industry-wide adoption of this initiative.
Admixer ID and SSO
In 2022, Google Chrome, a primary browser for more than half of the world's population, is shutting down its 3rd party cookies, the key to user tracking, retargeting, and attribution on this browser. When 3rd-party cookies are phased out, it will be impossible to cross the audience between sites without additional solutions.
The potential way out for this web landscape can become a privacy-compliant ad ID. Admixer.SSP is currently developing its own advertising ID solution, Admixer ID. It will allow web advertisers to conduct targeted performance campaigns cross-site, measure, and verify reach after the 3rd-party cookies are retired.
The upcoming Admixer ID solution will also seamlessly integrate with other 3rd-party identity solutions through an API (Unified IDs/Telecom/Measurement partners and verifiers).
To sum up
Creating a leading Eastern European SSP was not a cakewalk and required relentless testing of different hypotheses and anti-fraud tactics. Yaroslav Kholod didn't want to build yet another SSP that resells traffic without adding any value to it.
Instead, Admixer.SSP aspired to watch over open web in Eastern Europe, enriching and purifying traffic, making regional digital publishers competitive on the international scale. By testing various anti-fraud integrations, establishing partnerships with local data providers, and implementing IAB standards, Yaroslav Kholod and his team managed to make Admixer.SSP one of the staples of programmatic in CEE.