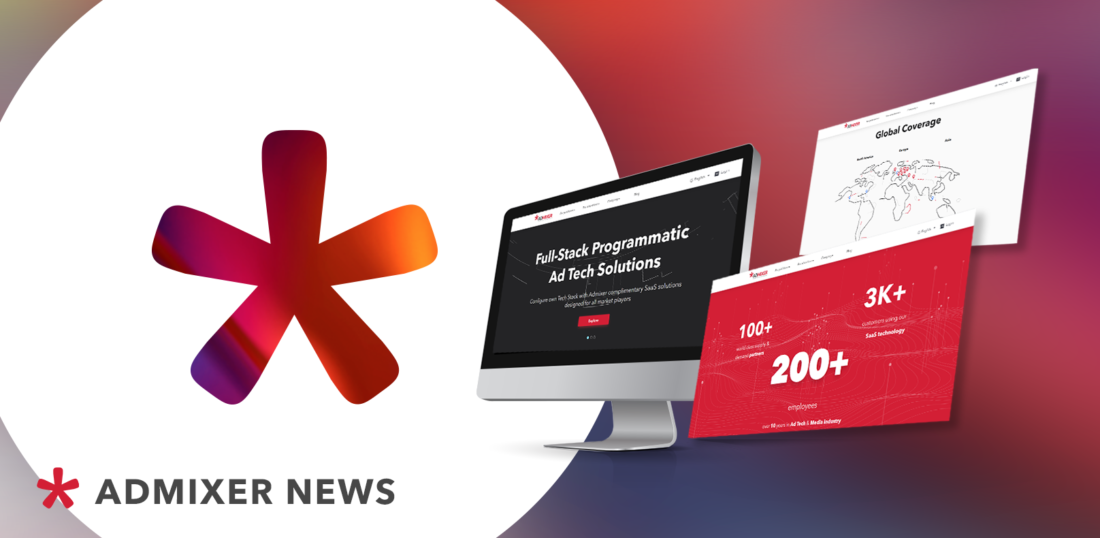 2020 Rewind: Admixer's Year in Review
The most turbulent year on record is almost over, and it is time to recharge, recap and reflect on the most important events of the year. 2020 posed a number of challenges for the digital advertising industry with depleted advertising budgets, looming phase-out of cookies and IDFA, and the ongoing quest for privacy and personal data protection. Yet, despite all the drawbacks, this year Admixer managed to strike several powerful partnerships, expand the inventory, and roll out new features in our SaaS products.
Let's review our most significant achievement this year:

Admixer.Network Updates
Our solution for large-scale publishers, media holdings, and ad networks released several new features that make its interface even more intuitive and unlock additional perks for more effective inventory monetization.
New Trade Desks
In Admixer.Network publishers can give out personal cabinets to advertisers to run campaigns on owned inventory. This year they got a significant upgrade. Trade Desk of Admixer.DSP is now integrated into Network, replacing the outdated Agency module, which used to be the gateway for ad campaigns.
In the Trade Desk, products are now displayed with more detailed statistics in different dimensions. It also provides more targeting options and advanced features of custom DMP. The capabilities of DMP allow agencies to design segments of the audience, onboard data from other systems, for instance, corporate CRM, and centrally collect data via code snippets. Also on the dashboard of the Trade Desk you can generate various automatic and manual reports.
Creatives billing
In the recent Network update, we added a feature allowing advertisers to manage the cost of creatives for Trading Desks in the interface of the Admixer.Network account.
It will allow you to clearly see the cost of ad serving for you (Tech CPM Range in the currency of the billing plan) and estimate the costs that you will pay to Admixer.
With this feature, you can set markups for Trading Desks, and plan prices of the creatives for the long-term. You can manage the list of templates available for Trading Desks, predict and manage your revenues.

New module – Player.Best
Player.Best used to be a distinct solution, which allowed publishers to create players for their web pages and validate domains. They don't need to buy a separate account anymore. From here on, all these functions are available in the interface of the Network. There is a new blade in the Network interface "Player", that gives access to all the same capabilities.
With this update, Network can give players accounts and independently validate domains for the player placements.
Ad Serving for Mobile Apps
Admixer.Network is now offering its SDK and ad serving functionality for app developers or publishers who operate apps in addition to their websites. Admixer SDK can be configured to fit the needs of particular apps and its audiences.
It may be a primary SDK for your app or show ads from other networks through Admixer SDK mediation.
App publishers can plug-in several SDKs as additional demand partners: AdMob, MoPub, AdColony, Appodeal, Chartboost, Fyber, InMobi, IronSource, Smaato
Alternatively, you can use Admixer as an additional monetization source to supplement your existing main SDK.
Through mediation, you can show Admixer ads inside SDKs of AdMob and MoPub. If you have unique audiences that remain unsold with your primary partner, Admixer can provide diverse additional demand and monetize your assets. For instance, we have a constant direct demand for user segments from Central and Eastern Europe.
In-House AdTech Stack for brands
This year, Admixer released a new programmatic solution catering to brands who are opening their in-house media buying department — In-House AdTech Stack.
The new solution allows advertisers to create their own adtech ecosystem tailored to their business needs. It covers all necessary programmatic functionality:
Intuitive Trading Desk
Inventory management
Data management
Creative management
Campaign management
Account and user management
Real-time reporting
API and out-of-the-box integrations
With the AdTech Stack, brands can create a flexible programmatic infrastructure, increase transparency of deals, secure data, and enhance their overall marketing efficiency.
New inventory
This year, Admixer.SSP struck several partnerships that allowed us to significantly expand the inventory we offer. This also means that Admixer.DSP clients can now purchase new brand-safe ad spaces and reach more diverse and niche audiences.
Unity
Unity provides unique access to ads on mobile game inventory due to the competitive advantage of its parent company Unity Technologies.
It has a game engine used for more than 200k games, including smash hits like Pokemon GO and Super Mario Run. Unity Technologies have a platform for game monetization that allowed it to establish direct relationships with more than 5 million developers.
LoopMe
The LoopMe Exchange provides access to global video and rich media interstitial inventory on mobile applications both Android and iOS. Through a partnership with LoopMe our advertisers can now get access to in-app audience segments of popular casual games, arcades, puzzles, photo and video editors. The list of available apps includes small niche publishers as well as leaders of the industry, such as Rovio and Electronic Arts.

Unruly
UnrulyX is one of the world's leading supply-side platforms, that enable advertisers to engage global online audiences at scale in premium, brand-safe environments across a range of different formats, including CTV, video, and display. It has direct access to premium publishers including National Geographic, New York Post, The Sun, The Telegraph, Vogue.

Xiaomi
Xiaomi has a closed-loop Android-based ecosystem of their apps, and build-in services – MIUI. It provides a comprehensive product line of apps, from file management and security to audio players and hyper-casual games. Xiaomi offers ads inside add-ons and even the main UI. Their 10 main services have 20+ million monthly active users each and can provide 8 billion impressions daily.
Research
The COVID crisis and ongoing lockdowns created a lot of uncertainty for the industry. That is why Admixer dedicated time and resources to conduct comprehensive research of the ad spend in the CEE region.
We surveyed 61 adtech vendors, brands, advertisers, and ad agencies to learn how the COVID-19 crisis affected the advertising industry in the CEE region. In our report, we outline changes in advertising messaging and tactics, reallocation of budgets across different advertising channels and gathered opinions of industry leaders on how the situation will develop
Additionally, we published The CEE Marketing Spend Forecast 2021. While preparing it, we surveyed 93 brands and advertising agencies from the region to learn how the marketers are going to allocate their budgets in 2021 and whether they're going to change the paid marketing channels in use.

In conclusion
It was a hard and long year for all of us, but here at Admixer, we tried to make the best of it. We updated our tech stack for media owners and ad networks to answer the challenges of this stormy time.
Now publishers can be more flexible in their monetization strategy and have more tools to connect with direct advertisers. Additionally, we contracted several new supply partners, which gave our advertisers exclusive access to diverse CTV, in-app and in-game audiences.