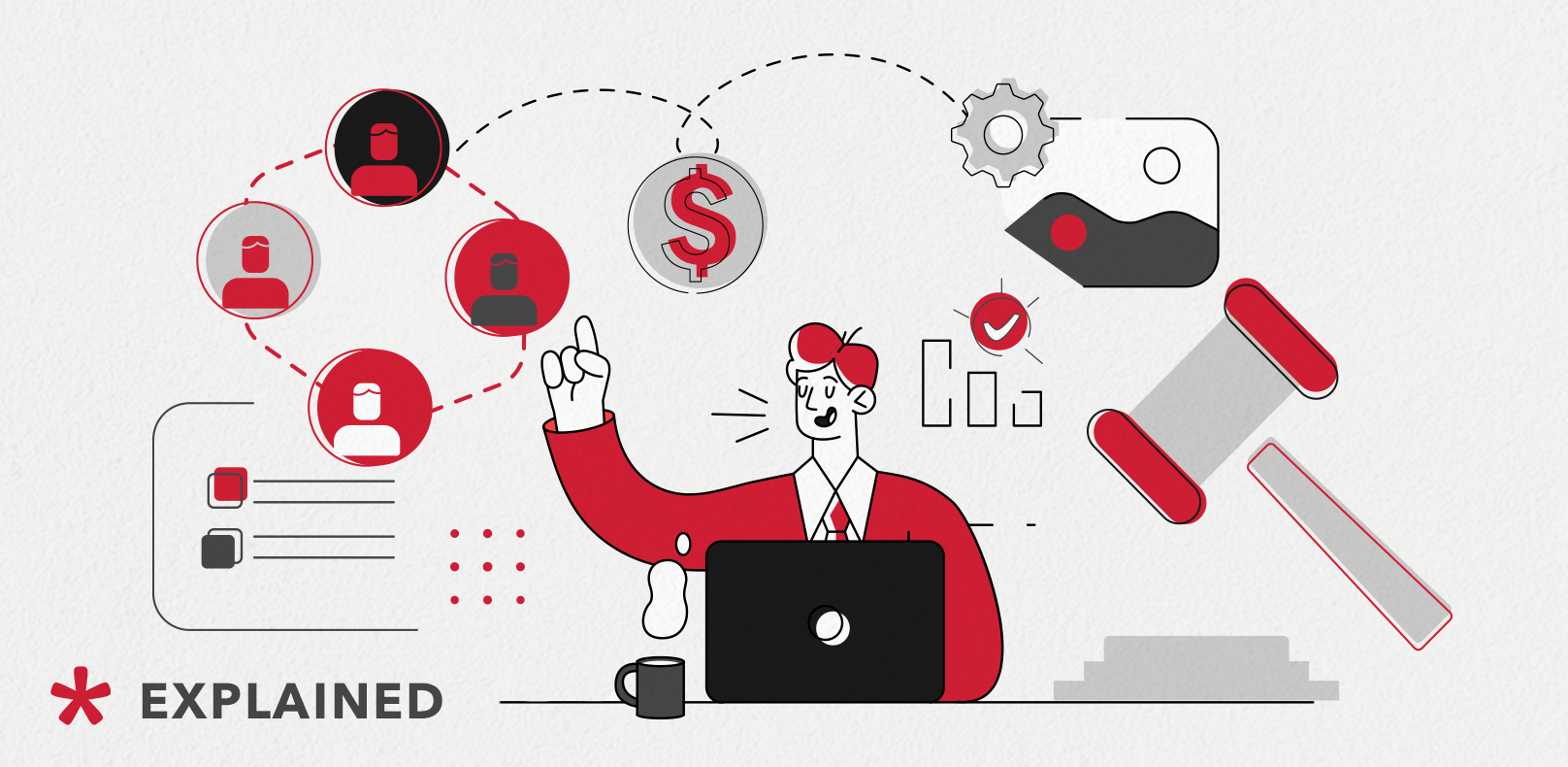 Ad Network vs. Ad Exchange — Programmatic Business Model
A network and ad exchange are two crucial components of the programmatic marketplace. In large part, they share a similar objective, gathering publishers' inventory to sell it programmatically to advertisers. Those two terms are frequently used interchangeably, which confuse their distinct roles in media buying.
Despite the apparent similarities, ad networks and ad exchanges have distinct functions in the programmatic ecosystem and operate differently. Further, I am going to outline the key differences between the two terms to clear the confusion.
What is an ad network?
The term 'ad network' emerged simultaneously with digital advertising. In the early 90s, digital advertising faced a critical scaling problem. Advertisers and publishers found it increasingly difficult to negotiate deals manually.
Ad networks lead the push toward automation, streamlined the deals, managed ad inventory, and transacted the media buys.
If you want to know more about the history and principles of ad networks, read our recent article What Is an Ad Network? where we dive deep into the evolution of this crucial element of the programmatic ecosystem.
Traditional ad networks relied on the waterfall to sell its inventory, and programmatic adoption pushed ad networks to the digital marketplace's margins. The arrival of openRTB made media buys more efficient through ad exchanges.
What is an ad exchange?
An ad exchange is a virtual marketplace where supply and demand meet to trade ad inventory via open auction. An ad exchange uses a real-time-bidding technology to run auctions. It gathers ad networks, DSPs, publishers, and advertisers to sell inventory to the highest bidder on an impression-by-impression basis.
The introduction of ad exchanges, many of which adopted the name SSP later in the game, created a truly international media trading.
Traditional ad networks had a limited scope, unable to provide scale to global advertisers, who need diverse audiences across different geos and content niches. Ad networks had issues with integrations and trading inventory with the external sources.
What is a programmatic ad network?
Ad networks evolved, and many adopted programmatic technologies, most commonly header bidding. We've previously described what is header bidding.
At the core, the business model remains the same — the ad network acts as an intermediary between advertisers and publishers. Ad networks sort inventory into categories according to the specific audience segments and offer them to advertisers.
If before ad networks concentrated on selling the remnant traffic, modern programmatic ad networks focus on premium inventory, offering it to advertisers for higher prices. Alternatively, ad networks are used to sell owned media by the large publishers or media houses, to get a better price for their premium inventory and flexibly manage their demand.
Programmatic ad networks started using more sophisticated programmatic trading methods, such as reserved deals or private marketplaces, to provide inventory to hand-picked advertisers on exclusive conditions before entering the open auction.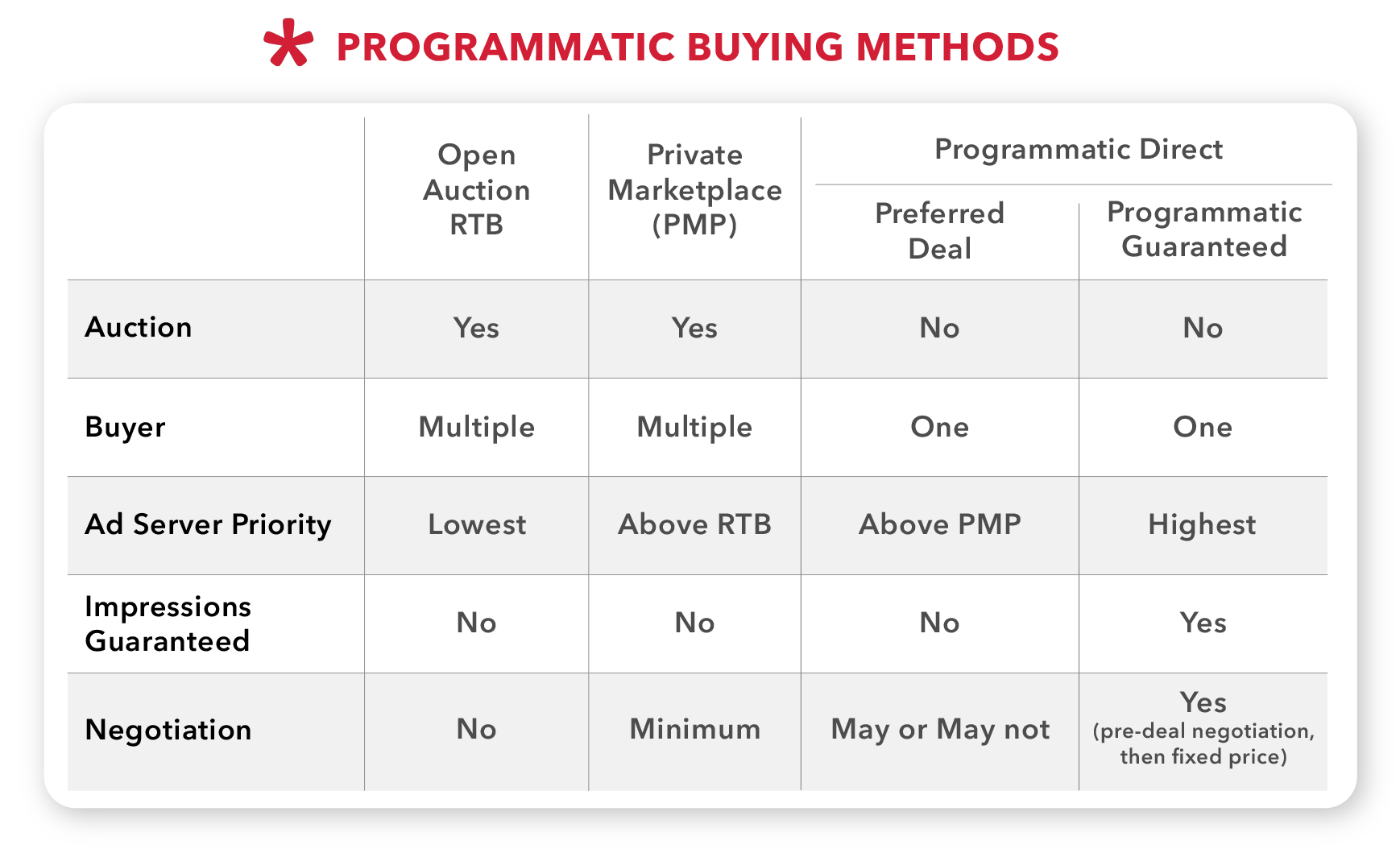 The addressability across the web and in-app will be fading out in light of the looming phase-out of third-party cookies for web and IDFA for iOS devices. This can sparkle the new dawn of programmatic ad networks, mainly vertical ad networks, more on that read in our guide.
Programmatic vs display advertising
Display advertising is one of the oldest and most iconic types of digital promotion. It usually consists of banners of different sizes and formats, served through display ad networks.
The dominant network of that kind is Google Display Network (GDN), which covers close to 2 million websites and reaches 90% of the internet users.
GDN is a closed network that provides limited insights into its algorithms and does not reveal information about the bids. You take what you can get.
In contrast, programmatic is an open and transparent system, that involves multiple ad exchanges, ad networks, and agencies, where one can flexibly choose inventory and price for it. The programmatic ecosystem includes not just display ads on the web, but also in-app, CTV, DOOH in a variety of formats from video ads to rich media.
Key differences: ad network vs ad exchange
Ad exchanges, commonly regarded as SSP, are a lot like stock exchanges, marketplaces, where a lot of sellers and buyers meet to trade their inventory on real-time auctions.
Ad networks are a lot like retailers, who have tight connections from local suppliers and a customer base of advertisers hungry for their audience segments.

Ad Network
Ad Exchange
Business model
Intermediary between advertisers and publishers
Open marketplace for all digital advertising players
Clients
Publishers, advertisers, agencies and DSPs
DSPs, SSPs, ATD, ad networks, agencies, publishers and advertisers 
Work principle
The platform offers packages of ads for particular audiences. Media buying mostly happens in bulk
The marketplace offers an open pool of various inventory (remnant traffic, premium placements etc.)  An ad exchange is based on an impression-per-impression trade
Pricing
Mostly pre-negotiated, or determined on Header Bidding auction
Shift depending on the bids placed
Transparency
Varies, largely depending on the ad network
Advertisers can review the inventory they buy, while publishers can assess the advertisers' creatives and their bids. 
Certain ad exchanges allow advertisers to review competitors' bids

Inventory quality
Usually, premium inventory,  narrow audience segments offered to the niche advertisers
All available inventory (often times premium inventory is already sold via private deals through ad networks)
Campaign optimization
Takes time to deploy
Can be done in real-time
Examples
NYT Ad Network, Yahoo Publisher Network
Open X, Pubmatic, Admixer.SSP
White-label solutions
Admixer.Network
Admixer RTB Stack (soon)
How to create your own ad network?
Admixer provides a white-label solution to build your ad network. Admixer.Network is a comprehensive ad serving solution that allows you to manage all kinds of ad inventory (web, in-app, CTV) and sell it programmatically.
The network can connect DSPs via OpenRTB or header bidding and sell ad inventory via auction. Furthermore, Network owners can set up self-service trade desks for advertisers or agencies to purchase inventory and manage their advertising campaigns.

How to create your own ad exchange?
RTB Stack
RTB Stack is the White Label solution to build your own ad exchange, connect an unlimited number of SSPs and DSPs, and get the commission for facilitating the trade.
Admixer SaaS that allows you to work with all possible formats in the programmatic field for both in-app (iOS and Android ) and web environments.
RTB stack enables you to control and manage your demand and supply partners with 4 integrated anti-fraud solutions (Pixalate, Protected Media The Media Trust, GeoEdge) as well as to integrate any other third-party verifier.