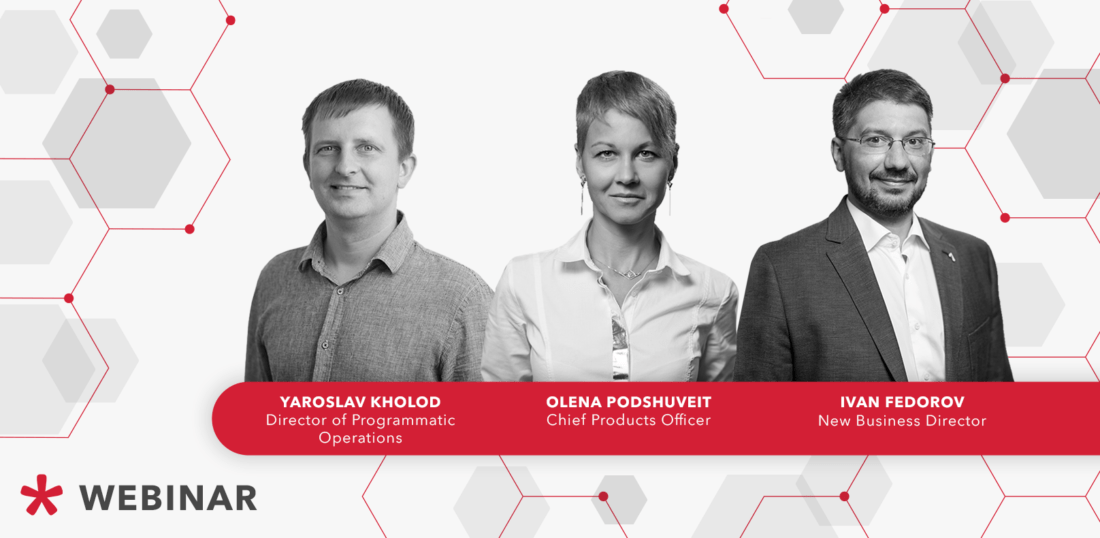 How Publishers Should Prepare for the Phase-Out of 3rd-Party Cookies? Key Webinar Takeaways
On March 30, the Admixer team rolled out solutions that will help online publishers to save their advertising revenues after the elimination of 3rd-party cookies at the beginning of 2022. 
Yaroslav Kholod, Director of Programmatic Operations, Elena Podshuveit, Chief Products Officer, and Ivan Fedorov, New Businesses Director, presented Admixer solutions that will help the industry to overcome the critical challenge it will face in the coming year — changes in the user identification on the web. 
The technologies presented at the webinar will be useful for website and media owners, media managers, and everyone who works with advertising and data on the publisher's side.
Watch full webinar
How publishers should prepare for the phase-out of 3rd-party cookies?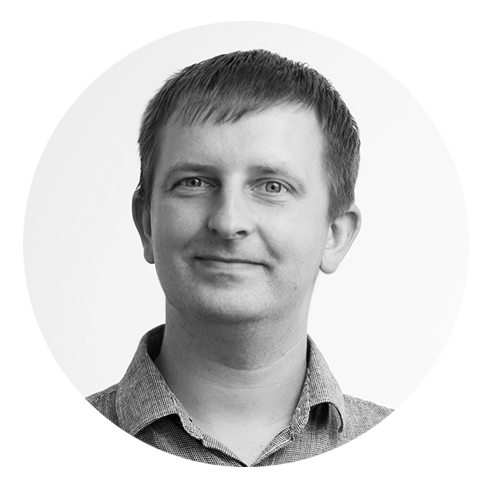 Yaroslav Kholod, Director of Programmatic Operations at  Admixer
The complete elimination of 3rd-party cookies is one of the most important events for the advertising market in the last 15 years.
What can online publishers do today?
Strengthen relationships with direct advertisers
Learn how to contextually mark up pages or start working with platforms that do it and transmit data to advertisers (page context without being tied to the user's personal data can be a good alternative to audience targeting)
Pay attention to working with 1st-party data and identifiers, consider deploying alternative ID solutions (for example, Admixer ID)
Switch to header bidding technology
Admixer ID — solution for identifying users on the open web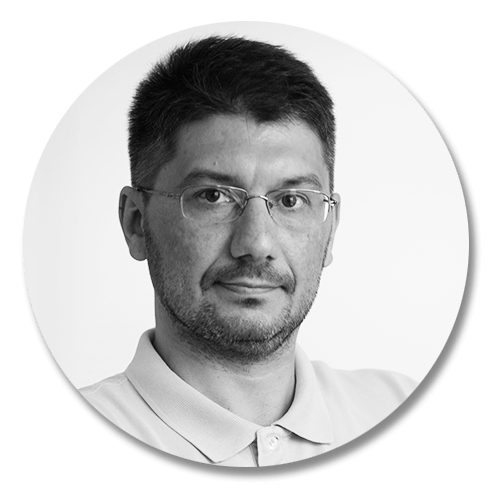 Ivan Fedorov, New Business Director at Admixer
The future of browser identification has three most probable scenarios: Google's Privacy Sandbox (identifies cohorts, not specific users), 1st-party ID (identifies the user's browser), Unified ID (identifies a specific user).
Privacy Sandbox
Along with Google, other adtech companies are working to develop new approaches to targeting ads without using a user ID. The proposed API will be based on cohort analysis of browsing history rather than individual user data.
In addition to Google's FLoC initiative, other companies have presented their proposed API of the future, such as SPARROW by Criteo. These solutions will only be valid in Chrome — other browsers have not yet expressed interest in these initiatives.
1st-party ID
Another approach is to use publishers' 1st-party IDs. For websites, those are 1st-party cookies, which are set in the user's browser. This system can work only for a specific domain and for a specific browser.
But if the site has a registration system, for example, a single sign-on (SSO) solution that collects universal IDs, then it can be used to identify users across different sites and platforms.
Google has already announced that it plans to support 1st-party IDs for its publishers. To do this, Google Ad Manager already has a pubID mechanism, but the solution still needs a lot of tweaks for mass adoption.
Universal ID
More than 100 companies collaborate on this initiative as part of the Rearc project within IAB Tech Lab.
Platforms can use a universal ID on top of other identifiers, which can significantly expand the reach of advertising campaigns and identify users in the same way as 3rd-party cookies but using encrypted identifiers.
The Universal ID is also cross-channel and cross-platform, making it more advanced than cookies, which can only identify users in the browser.
In a universal ID, two identifiers work together:
1st-party cookies of websites
Persistent user identifiers such as encrypted email addresses and phone numbers
The site may collect these data by offering a user to register in exchange for access to the content. The main limitation of this solution is scaling: it requires a multi-publisher agreement to be efficient. So for some advertisers, this may work well, for others the reach in some regions and niches may be quite limited.
What's Admixer ID?
Admixer ID is a universal identifier that makes it possible to track users across different browsers, platforms, and devices without 3rd-party cookies.
Admixer ID grants advertisers and publishers a unified system for audience segmentation, targeting, and measurement.
Since the Admixer representatives are part of the Rearc working group at IAB Tech Lab, the solution has been based on the user identity principles laid down by the organization.
How Admixer ID works?
Admixer ID uses hashed email addresses and phone numbers obtained with explicit user consent. It is impossible to decrypt personal data from the identifier, thus users can rest assured that their PII won't be abused.
A unique ID is assigned to every user of the website or app who leaves their email or phone number.
The User ID is connected to the Admixer ID. 
The ID is passed to Admixer User Graph that matches User IDs from different sources and environments:
Web IDs (1st-party login data used to access online resources)
Mobile IDs (IDFA for iOS and Android ID)
Other 1st-party ID developed by different tech vendors (e.g. Unified ID 2.0, LiveRamp, ID5, Net ID, etc.)
Verification and measurement service IDs
Next, the cross-platform Admixer ID is sent to advertisers who could then activate it in ad campaigns.
Advertisers connect users' Admixer IDs with their own 1st-party IDs from CRM / CDP and other platforms to enhance campaign performance.
Adopting Admixer ID will help website and media owners to increase eCPMs and the demand for their inventory among advertisers, as well as give them an opportunity to compete with data-rich Walled Gardens. The solution will allow advertisers to conduct cross-channel campaigns, measure, and verify reach without compromising user identity.
Advantages of Admixer ID
Can be used with the existing system of user authorization and identification
Ready-made connectors for publishers (Tag Manager, SSO, HB Wrapper, SDK) and for advertisers (Tag Manager, Onboarding Tools)
Integration with other identification systems for global use (Liveramp IDL, Unified ID 2.0, HB User Module) and audience measurement (IAB Rearc Compliant)
Ready-made tools for activating Header Bidding, Direct Deals, Open Auction campaigns) and monetizing audiences
User Privacy and Opt-out mechanisms
Admixer Header Bidding platform for publishers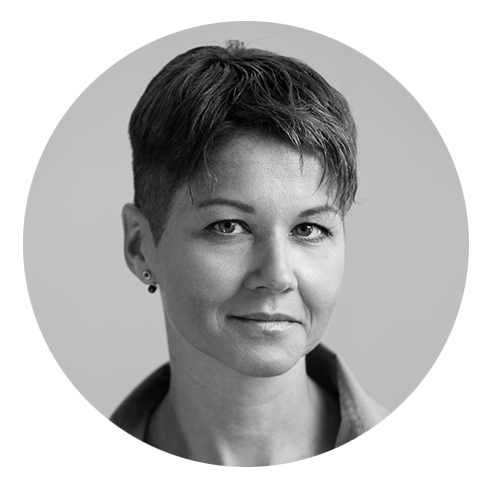 Elena Podshuveit, Chief Products Officer at Admixer
Defects of the waterfall model
The majority of digital ads in Eastern Europe are now sold through a waterfall model, which offers traffic first to direct advertisers, then to agencies, and then to ad networks.
The ad server installed on the publishers' site consistently offers ad placement to different demand partners. As soon as an advertiser is willing to pay above the set bid floor, he wins the impression, and the ad server does not look for higher bids.
Header bidding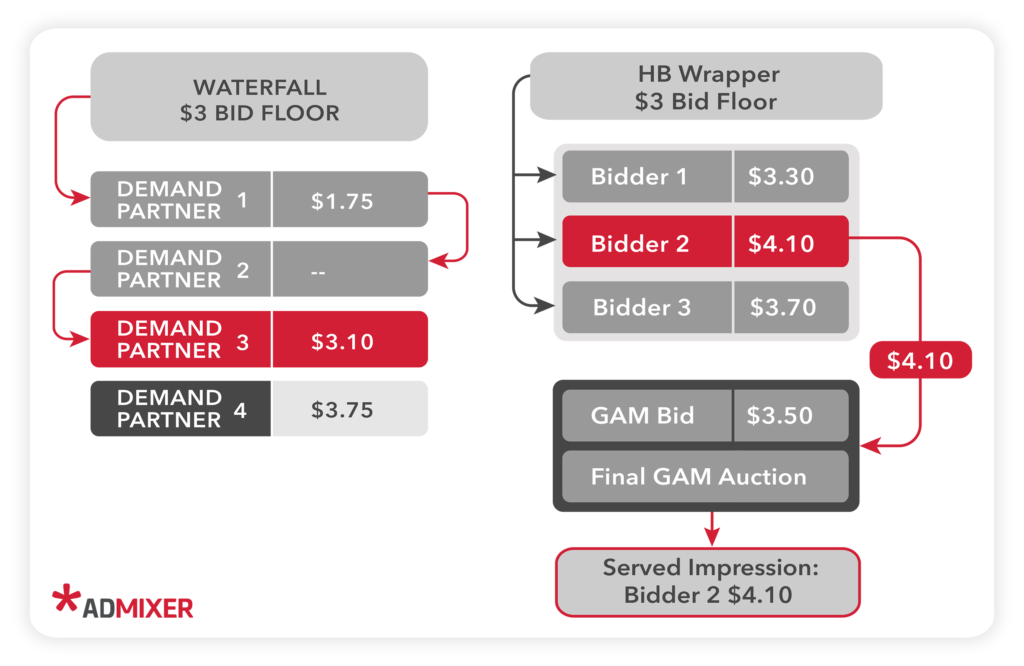 Header Bidding (HB) is an automated auction technology that allows sites to receive bids from multiple advertisers at the same time. HB helps to increase the competition for ad space, and hence the average eCPM and website revenue.
Many online publishers believe that this solution is technically difficult, not transparent, and cannot guarantee effective monetization. According to Open X research:
52% of publishers believe that HB solutions do not provide enough data for optimization
37% are convinced that HB management is time-consuming
27% complain about challenges in installation and configuration
Despite its many advantages, header bidding is not easy to deploy on your own. According to Admixer's study, 38% of sites in Ukraine do not use header bidding, and 43% have implemented this solution, but have not achieved the desired results.
We asked online publishers what challenges they faced and what could help them make better use of the technology to build a better solution that would mitigate the stumbling blocks.
Admixer Header Bidding Platform
Taking into account the most common fears of publishers, we created Admixer HB that:
Provides complete data transparency on revenue sources
Provides detailed statistics in real-time
Connects new buyers in one click
Supports display and video ads
Is quick and easy to set up through a one-time Ad Unit code installation
Also, the Admixer Header Bidding platform easily integrates with external ad servers.
As soon as you get access to your account, all the necessary settings are made in the platform interface. Admixer Header Bidding has integration with Google Ad Manager, so you can automatically create line items in GAM through the interface.
You can set up an HB auction with GAM and external demand sources available through the platform:
To sum up
Phase-out of the 3rd-party cookies will affect the entirety of digital advertising: campaign planning, audience targeting, attribution, and ad performance measurement. Most of the users on the open web will become unidentifiable.
If publishers fail to change their approach to advertising and data management, they could lose about 70% of ad revenue after 2021.
To preserve audiences' addressability, publishers should pay attention to working with 1st-party data and identifiers, as the website's own cookies will continue to work.
Publishers already need to choose a solution that will help maintain audience targeting after disabling cookies in Chrome, for example, Admixer ID – a universal identifier that works without 3rd-party cookies and allows you to identify users in different browsers, on different platforms, and devices.
The increasing complexity of the advertising ecosystem does not allow you to effectively interact with many partners at the same time and receive the higher rates available in the market. Header bidding technology can be a solution to these problems.
Header bidding allows you to connect and manage many advertisers and receive multiple bids at the same time. It increases competition for ad space, average CPM, and website revenue.