Why Publisher Should Focus on Video Inventory
We have already made a post about the rising star of video advertising. This time we collected some fresh figures about the state of the industry and publishers' reaction.
Video advertising markets
New research from MTM states that Sweden and the UK is experiencing growth in the digital advertising market 17% increase year over year in and only 5% in France. Sweden showed in absolute terms the online video market there growth at 59%, the fastest of the five countries, especially now with 4% drop in broadcast TV viewing from 2013-14 due to a significant increase in online TV in the same period.
The growth of online video in Germany and France is 28% and 29% respectively, the lowest numbers from all five countries.
And USA and UK are equally progressive with online video growth of 42% and the most progressive in adopting programmatic. Programmatic reached a quarter of online video advertising market in 2015.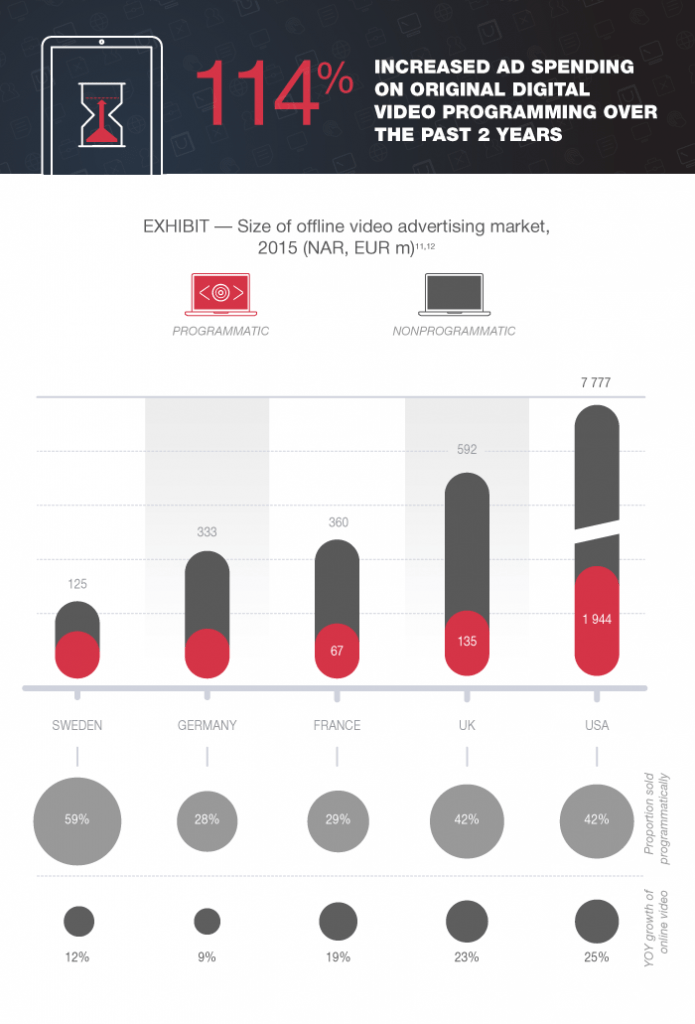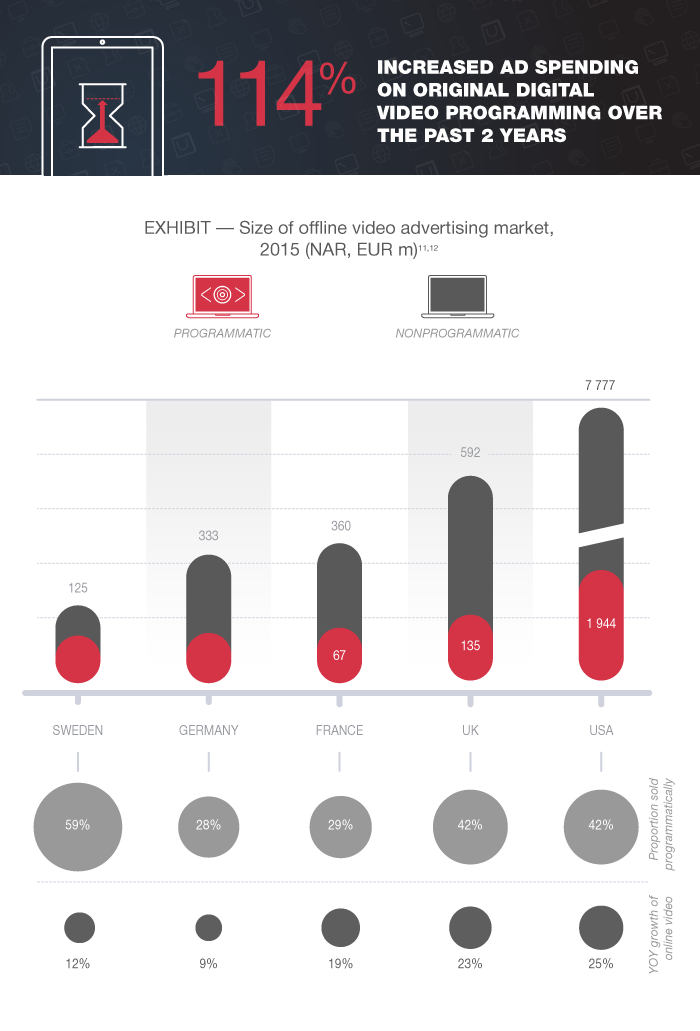 According to Cisco's latest annual Visual Networking Index forecast (VNI) mobile video will account for 75% of total mobile data traffic by 2020. Media buyers are planning to spend more overall on all digital video and on mobile video. According to the IAB UK, spend for mobile ad increased 51% and by 2019 there will be 5.2 billion mobile users worldwide, which will be approximately 72% of the global population. (Don't forget to take a look at our post about monetization strategies for mobile)
US digital video ad spending will reach $28.08 billion in 2020 according to Cowen and Company.
Finally, ad spending on original digital video programming increased 114% over the past two years.
Social networks 

Social networks and video watching trends are something very obvious and something that we can't skip. Facebook generates 8 billion video views on average per day. At the same time, there are three million businesses actively advertising on Facebook. In a February 2016 survey from RBC Capital Markets and Advertising Age, 12% of US marketers had already purchased autoplay video ads on Facebook and an additional 57% were likely to in the next six months.
Time spent watching video content on Instagram has increased by more than 40% in 2016. According to eMarketer's first-ever Instagram advertising forecast, Instagram ads are already a money maker, predicted to rake in an impressive $595 million in mobile ads in 2015. In April 2016, Snapchat said it had 10 billion video views per day.
Recent statistics shows that YouTube overall, and even YouTube on mobile alone, reaches more 18-34 and 18-49 year-olds than any cable network in the U.S. In the US, advertisers on primetime broadcast TV could have reached 56% more people age 18-49 by also advertising on YouTube. But in order to reach global attention and not US only, we should definitely mention that 80% of YouTube's views are from outside of the US. The number of people watching YouTube per day is still growing and is already up 40% year over year since 2014 and the number of hours spent on YouTube more than doubled year over year. And more than half of YouTube views come from mobile devices. Still YouTube holds 20% of the market share of total video ads in the U.S.
How brands are reacting? 
But enough with statistics and random facts, let's see how big brands are reacting to the new reality. Big brands are showing us the way we all should take.
Condé Nast Entertainment is investing in partnership with Comcast and will expand its premium digital video network.  CNE also released the second iteration of its premium digital platform, The Scene, as a mobile-first video network, featuring social capabilities and a new mobile app.
Hearst Magazines has already reached more than 350 million video views monthly and is now producing 110 videos per week and more than 200 Facebook Live broadcasts per month.
ESQ_Desktop Video Interstitial from Hearst Magazines Digital Media on Vimeo.
Activision Blizzard announces Esports Broadcast Network. "Esports is a cultural phenomenon at its tipping point, and we're excited to work with the IAB to bring this message directly to advertisers as part of the 2016 Digital Content NewFronts," said Mike Sepso, Senior Vice President of ABMN. "The size of our digital network, coupled with our insights into this audience's viewing habits, put us in a unique position to educate the advertising industry on how to safely target these viewers and reach them on their platform of choice."
NYT announced 6 new video series in music, science, travel, and sports. The Times is hoping to ink one brand to sponsor each show. Playboy announced original digital video series as well.
"With great content, you need great advertising," Sebastian Tomich, Senior Vice President, Advertising & Publisher, The New York Times Magazine.
Hulu confirms 30% growth in subscribers. Hulu announced a series of programming and advertising deals: the streaming company said it made a deal with BrightLine that will create ad units viewers can interact with in their living rooms. Hulu also said it made deals with Nielsen and Millward Brown that will give it more efficient measurement tools for advertisers and marketers.
Newsy, the video news service, is available on connected televisions, mobile devices, Newsy.com and 600 different "partner platforms." Recently Newsy presented a humorous investigation series for their storytelling qualities, their appeal to Millennials and their availability on a multiplicity of platforms.
Bottom line
Consumption of online video is growing rapidly, agencies are looking to move more and more budget into online video ads, and premium publishers are starting to experiment with programmatic for trading and execution. As a result, the next few years will see the market change significantly. Hop on this trend until it's not too late.