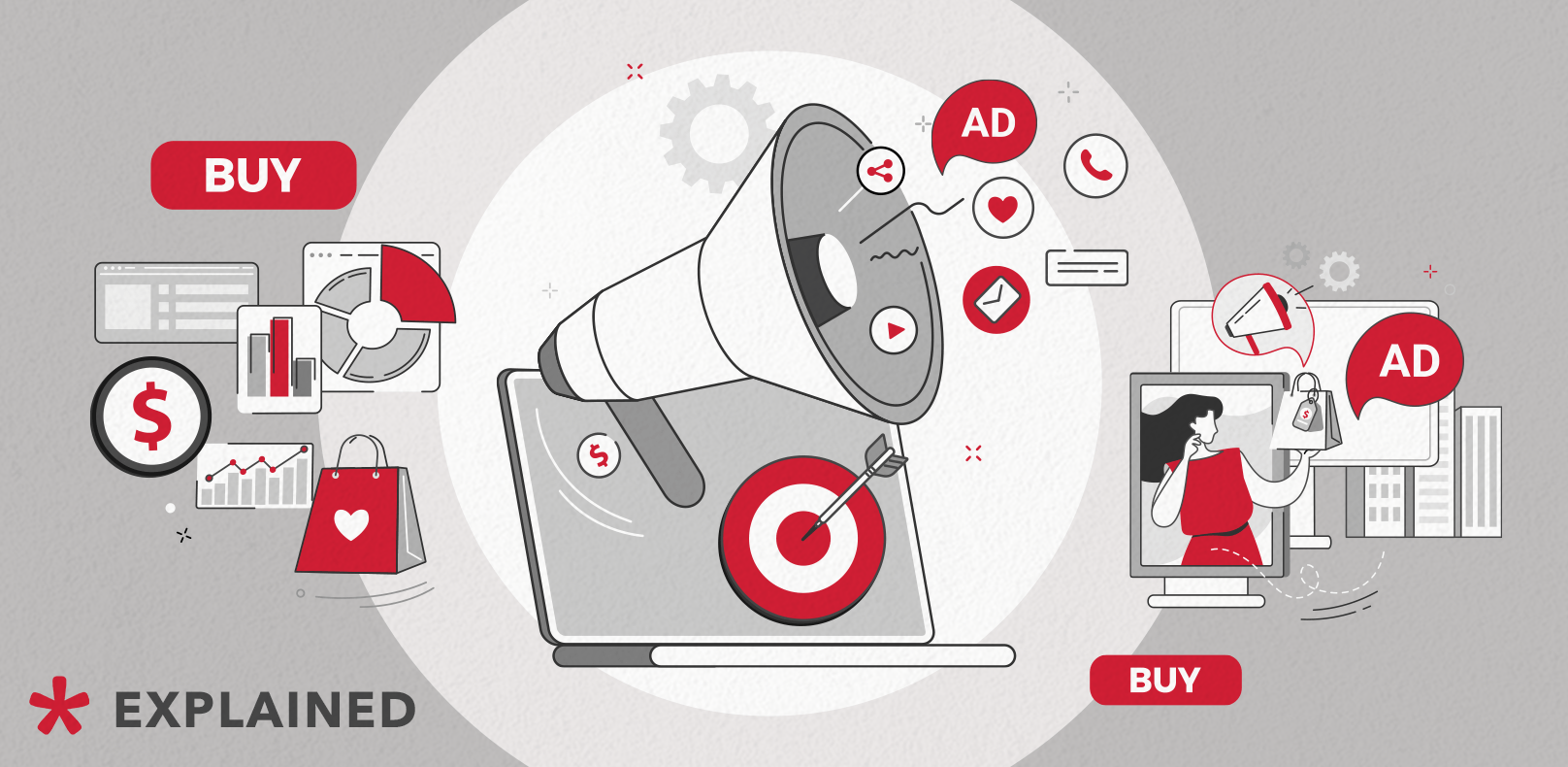 Media Buying: An Industry Guide
11 min read
Media buying seems like a term that has been around for ages. Yet, its meaning went through a significant transformation over the last decade, and its definition varies significantly across the industry.
Initially, it meant any centralized media placements: buying air time on radio stations and slots in TV commercials. Traditionally, it was done by big agencies that had ties with sales houses – conglomerates of media owners. In time, however, digital started to take up significant portions of media budgets, and that is where technological disruptions kicked in.
What is Media Buying?
Media buying is part of outbound marketing activities. The objective of this process is to locate and aсquire impressions or actions of the most potent audiences. The idea is to identify the most cost-effective and impactful channels and target users at the right time and place an ad with the maximum effect. The term was conceived in traditional media buying when agencies that primarily represented retail brands bought airtime on radio and TV. When digital media (websites, social media, streaming) arrived, media buyers expanded their influence into this new environment.
What is Digital Media Buying?
First digital media buying resembled the traditional format of direct media buys when the publishers engaged in negotiations to decide on the terms of the placement. This situation was based on manual insertion orders and negotiations behind closed doors between media buyers.
The process was full of redundant tasks, not a wonder that in the early 90s, media buying faced a critical scaling issue. With the rising share of digital media, advertisers found it difficult to negotiate deals in person. Ad networks resolved this urgent scaling problem by creating a consortium of publishers that sell their impressions in a centralized way.
Ad Network Era of Media Buying
Ad networks spearheaded the automation efforts in media buying. They provided advertisers with a handy interface for purchasing the ad spaces, streamlined the deals, took care of the ad space management, and transactions for publishers.
Nevertheless, first ad networks were limited to particular geo or content niche and couldn't provide scale to global brands and agencies. Ad network had an inherent problem of trading inventory with external sources, at times making the media buying process unnecessary sophisticated, with several redirect chains and significant lags in the ad serving.
Ad networks were built around the waterfall method of selling the inventory, which quickly turned obsolete after the arrival of openRTB, which created a truly global marketplace and created the programmatic industry.
What is Programmatic Media Buying?
Over 80% of display advertising is purchased through programmatic platforms. Today, it is a global standard for media buying that is widely used in the three largest English-speaking markets: the United States, Canada, and the United Kingdom.
This is a method of buying and selling media advertising using technology when the advertiser buys traffic not from the media owner but through a designated platform. Transactions take place on centralized digital exchanges, where, thanks to algorithms, ad space is bought and sold in literally a split second. You cannot trade directly on the advertising exchange; for this, you need a kind of intermediary in the form of a SaaS solution.
Another perk is that in contrast to walled gardens, where you don't really bargain for the price of action or an impression, in programmatic, there are a variety of ways to put your ad spend to good use without breaking a bank. The key is data and inventory expertise. If you gather enough data from your campaigns, you can find lookalike audiences in cost-effective media channels and target them with the same efficiency.
A strong suit of programmatic is data for customization of your creative and targeting in advertising campaigns: you can collect and use your own data, you can buy third-party data from many vendors, and so on.
The more restrictions and settings are applied in the account for an advertising campaign, such as blacklisting or whitelisting sites, frequency, viewability, specific targeting by the audience, etc., the higher the price of such an impression will be. Additional settings narrow down the possible inventory choices and the competition for such impressions increases. On the other hand, the return on such placement will be higher.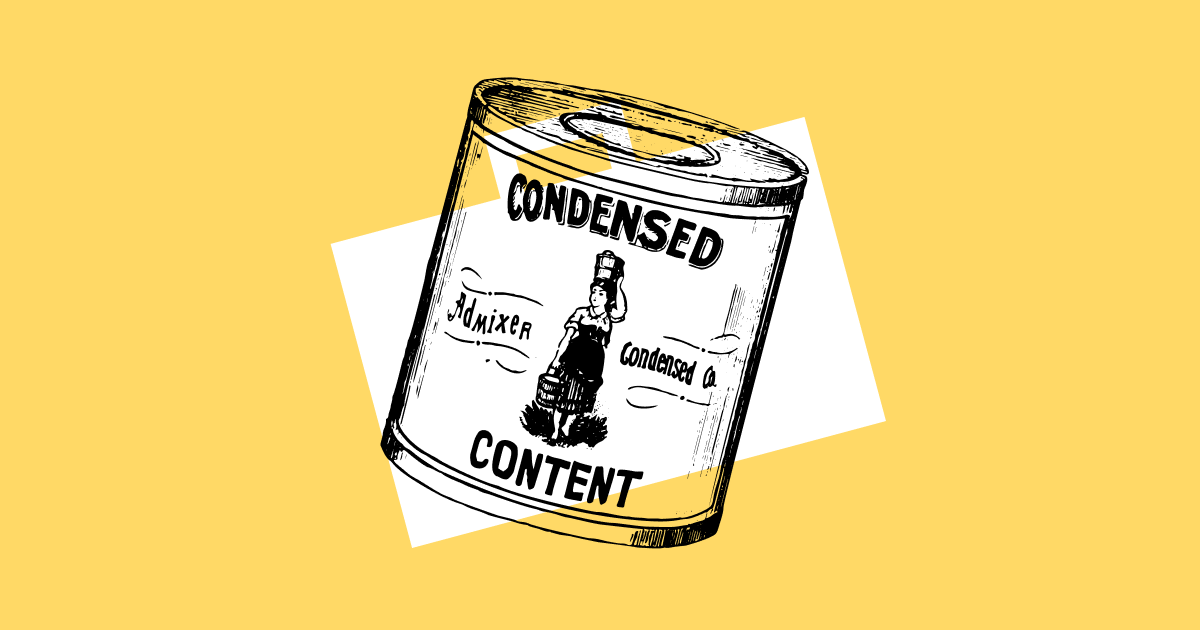 Buy premium inventory at cost
by combining different programmatic deals
Media Buying vs. Media Planning
Media encompass not just a deal to buy advertising space, but a whole range of services, including media planning:
1. Market analysis
The first stage involves conducting media research: analysis of the market, product, target audience. The information obtained allows you to choose the websites apps or streamings for placement that will give the best effect from the advertising campaign.
2. Media planning
Based on the results of media research, a campaign plan is drawn up. It includes a list of advertising platforms where ads will be placed, types of placement, terms, different media buying options, audience covered, and forecasted ROI of the campaign.
3. Negotiations
At this stage, media buyers draw up the budget for the media campaign, negotiates discounts, and place bids for the purchase of advertising space, and prepares documents. The arrival of programmatic has simplified and streamlined this stage. Thanks to programmatic, most display ad slots are sold automatically, in a manner of the stock market. Media buyers no longer engage in menial negotiations with each media owner. Ad placement deals take place on centralized digital exchanges where ad slots are bought and sold in milliseconds using algorithms.
4. Сrafting the advertising campaign
To launch an advertising campaign, all materials (texts, banners, videos, etc.) must meet the technical requirements put forward by publishers, media buyers have to upload creatives into the ad platform to go through verification.
5. Conducting an advertising campaign
Includes campaign launch and results monitoring. At this stage, it is possible to modify the media plan if the intermediary results are unsatisfactory.
6. Analysis of results and optimization
During the last stage media buyers pea report on the results and effectiveness of the campaign.
Understanding what media buying is and how it works will help you better manage media planning and advertisements.
What is The First Step in Media Buying?
The open web has never been more attractive for advertising. According to the research by OpenX, consumers turn to the Open Web for product recommendations and more often find relative advertising. Media planning has to include the audiences of games, niche apps, and streaming services. Otherwise, advertisers will miss out on a significant portion of their potential customers, who are not active social media users.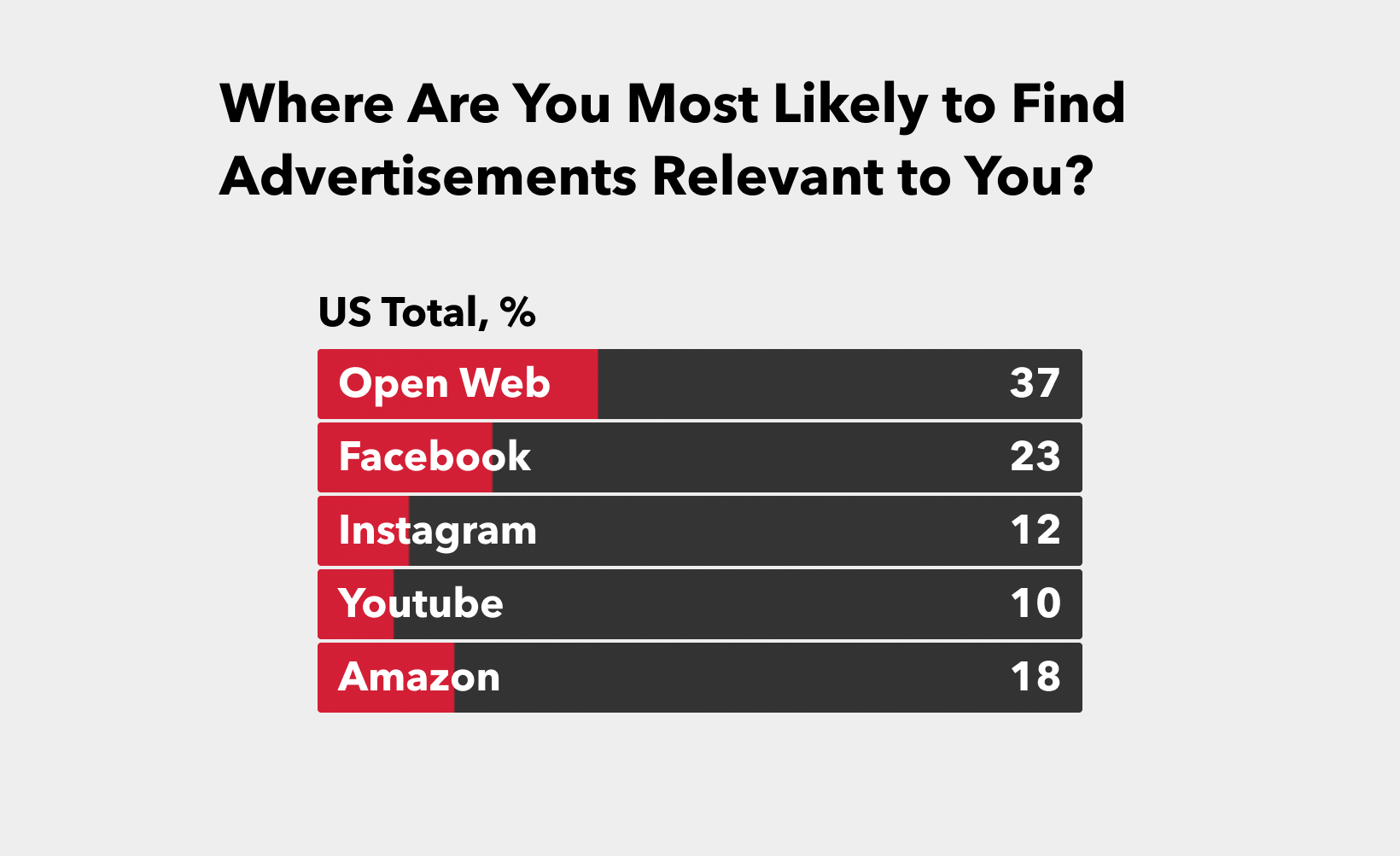 Savvy advertisers already accompany their traditional banner and social campaign, with an occasional reminder in a dating app, mobile game, or in-stream pre-roll. All of these activities can be launched, tracked and optimized, through a single interface, and easily synced with other mainstream instruments. That is a charm of programmatic.
DSP — Gateway To Digital Media Buying
Demand Side Platform or DSP is a SaaS solution, a muli-tool for media buyers that allows them to launch and optimize campaigns across all the possible open web channels, devices, and environments.
Before DSP the media buying process involved juggling interfaces of various ad networks, syncing data, and consolidating the reports.
Technology, particularly DSP platforms, has made it easier to close deals. When buying traffic, the customer does not need to independently analyze the media, discuss the conditions and cost of clicks/impressions, or sign contracts. Everything happens automatically. The advertiser can flexibly optimize campaigns, narrow or expand the targeted audience, manage purchases and quickly optimize the process.
With Admixer.DSP you can simultaneously run campaigns on inventory from different exchanges and media owners, managed data, craft audience segments and optimize with built-in capabilities.
Who Needs a DSP?
Media buying is an industry with substantial entry barriers. To demonstrate a measurable impact, media buyers need to spend significant budgets. Therefore, DSP is rarely used by small agencies or local brands. Media buying with DSP is a prerogative of global brands and their agency partners.
Big brands
Which want to exercise full control over their media buying use DSPs. This SaaS solution comes in handy for them since it allows more granular work with the customer base. With DSP, in-house teams can onboard data from their CRM, have a tailored communication with each group, and consolidated reporting from all campaigns. For an internal team of big brands, Admixer developed a customizable In-House AdTech Stack.
Advertising Agencies
Who need a demand-side platform to run media campaigns on behalf of their clients. They provide a full cycle of managed services, including setting a media plan, tailoring targeting parameters, and locating the most potent audiences for media buys. They need to provide customers with recurrent reports on the efficiency of the campaigns and spent budgets. For agencies go are willing to go beyond basic DSP functionalities, Admixer offers Agency Tech Stack with a variety of modules to build your own adtech ecosystem.
Other Components of Media Buying Ecosystem
Now that we have figured out what DSP is, let's see who else is present in the programmatic ecosystem.
Media owners of websites, apps, or streaming are called publishers. They use a supply-side platform or SSP to manage and monetize their ad spaces. Ad Exchanges in real-time matches the supply from SSPs and demand of DSPs.
The data management platform, or DMP, is a critical tool to build holistic advertising campaigns in different environments and consolidate information about different users in a single interface. These platforms include instruments to collect, analyze and structure different types of audience data, segment users according to certain parameters, and provide insights for algorithms and targeted campaigns. It is on the basis of the date from the DMP that the DSP determines who to show the ad to.
DSP Media Buying Models
DSP platforms offer several media buying models for targeted ads.
RTB (real-time bidding)
The purchase takes place in the format of an auction. Advertisers bargain among themselves for the right to serve ads to a specific audience by offering bids per impression. The highest bidder wins.
Auctions are open and closed. All advertisers can participate in open auctions without restrictions and bargain for impressions from all of the available media. Closed auctions are held among a limited number of invited advertisers.
Programmatic Direct
The inventory is sold using programmatic tools, but never enters the open auction and is offered only to the vetted list of advertisers:
Preferred deal — advertiser can bid at the pre-negotiated fixed eCPM price in real-time, before the inventory heads to open auction
Programmatic guaranteed — inventory reserved for an advertiser at a fixed price resembles direct sale/buys but with programmatic automation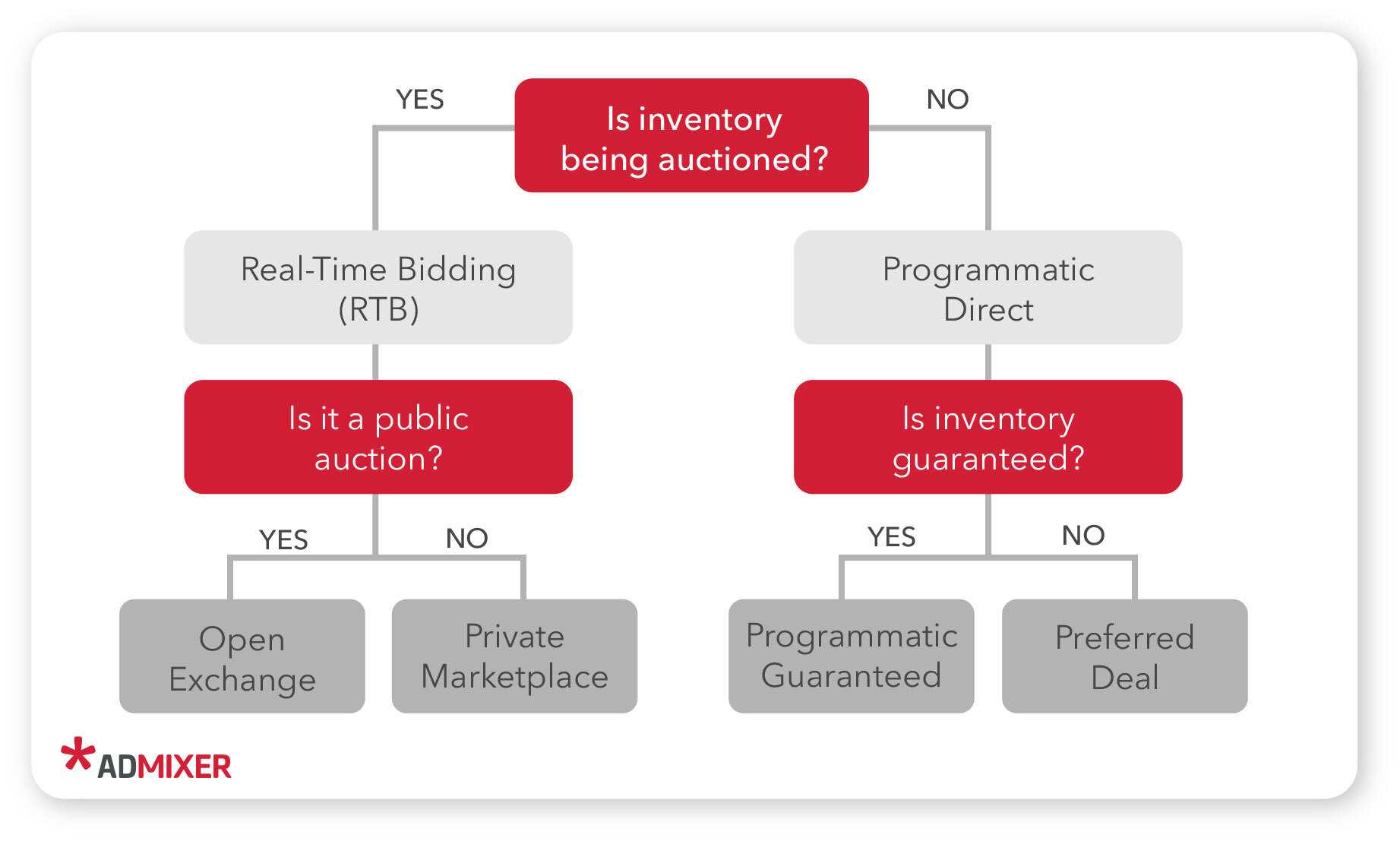 5 Benefits of Media Buying with DSP
Buying advertising traffic through DSP platforms greatly simplifies the media buying process at all stages because the actions are performed not by people but by robots that operate based on prescribed algorithms.
1
Programmatic technologies allow you to automate the process and manage the simultaneous placement of advertisements on a huge number of media platforms.
2
Transactions are closed at high speed and do not require direct human involvement.
3
For all parties to the transaction, the programmatic procurement method provides optimal financial conditions, since the prices for impressions are determined by supply and demand at the moment.
4
The advertiser receives advanced reporting and statistics in real time. Based on this data, you can effectively control the progress of an advertising campaign on several resources at once and quickly optimize advertising settings.
5
Extensive targeting options. Through the settings in the interface, the buyer determines the target parameters.
Among the metrics by which users are selected for display: geolocation, demographic data, income level, consumer preferences, behavioral factors and interests.

Best Media Buying Platforms
Depending on your experience, resources, and goals, you can choose a DSP with different control models: managed service and self-service.
In the first version, all processes from planning to launch, optimization, and reporting are carried out by a team of programmatic specialists. Self-service assumes certain independence for the advertiser. In the personal account, you can set everything yourself, control the course of the advertising campaign, optimize it at any stage, stop or resume, tailor the rates and budget.
| | |
| --- | --- |
| Managed DSP | Self-serve DSP |
| Substantial fees for set up and services | Small commission for use |
| Managers take care of targeting, ad management, and billing | Oversight over the launch and optimization of the ad campaigns, data, and inventory |
| No access to manual configurations | Connect traffic sources of your choice |
| Restricted control over ad campaigns | More menial tasks and oversight |
| No need for prior knowledge in media buying or programmatic | Basic knowledge of programmatic is required |
| Troubleshooting with integrations or any technical issues | No round-the-clock assistance |
The most popular media buying platforms include:
Media Buying Tips
Managing data is perhaps the most important skill when working with DSP. It is crucial not only to launch campaigns but gather and segment audiences to build further communications. Once you mastered the basics of dealing with audience data, you can approach your first programmatic campaigns. Regardless of whether you've chosen a managed or self-serve platform (the line is blurred these days), make sure that your partner has a responsive support team to troubleshoot any data issues that may arise.
Apart from the data expertise commandment, there are a couple of things every media buyer should keep in mind:
1. Choose media channels wisely
The world of programmatic is vast, starting from cheap impressions from the open exchanges and ending with very narrow niche audiences (like pregnancy tracker apps) with high CPMs. Scrutinize inventory available in the given DSP, and pick the appropriate category of media. For instance, websites are excellent for eCommerce retargeting efforts; apps are a great launchpad for brand awareness campaigns.
2. There are inventory for any ad
Always keep in mind that publishers also put forward requirements for the advertising creatives, and certain topics might be baned on major media resources. For instance, ads for cryptocurrencies, guns, and marijuana products, are illegal in certain jurisdictions, but there are still plenty of appropriate media to advertise.
3. Research pays off
Publishers prefer to sell their premium audience segments on private marketplaces and with guaranteed deals to a pre-selected group of advertisers for higher CPMs. However, you can still buy those impressions for cheap; inventory unsold on PMPs end up on the open exchanges. You can find it by whitelisting the publisher in RON.
4. Never miss an opportunity to collect data
Always collect data from your campaigns, and segment it for further retargeting efforts. Even users who didn't react to your video ad but watched it long enough can be helpful. With the help of the DMP, you can then create look-alike audiences or combine different segments for targeted communications.
5. Quantity matters
The more campaigns you run on a DSP, the smarter you will turn the ML optimization algorithms. After you hit a certain amount of unique users, you can start optimizing by clicks or viewability. Building a look-alike audience is also impossible without a substantial data set. To create such an audience, first, you need to hit a unique users threshold in a given campaign.
To Sum Up
As you see, digital media buying is a tough nut to crack. It consists of multiple componets, requires you to be savvy with data and audiences you collect, and implies a certain entry barrier in terms of ad spend. Yet, the resources you will spend on mastering programmatic media buying will definitely pay off. With media buying platforms, you can access the diverse inventory of the open web with potent and motivated audiences you won't find in the walled gardens.
A demand-side platform allowing marketers to buy media across 40K publishers and app developers worldwide without middlemen.