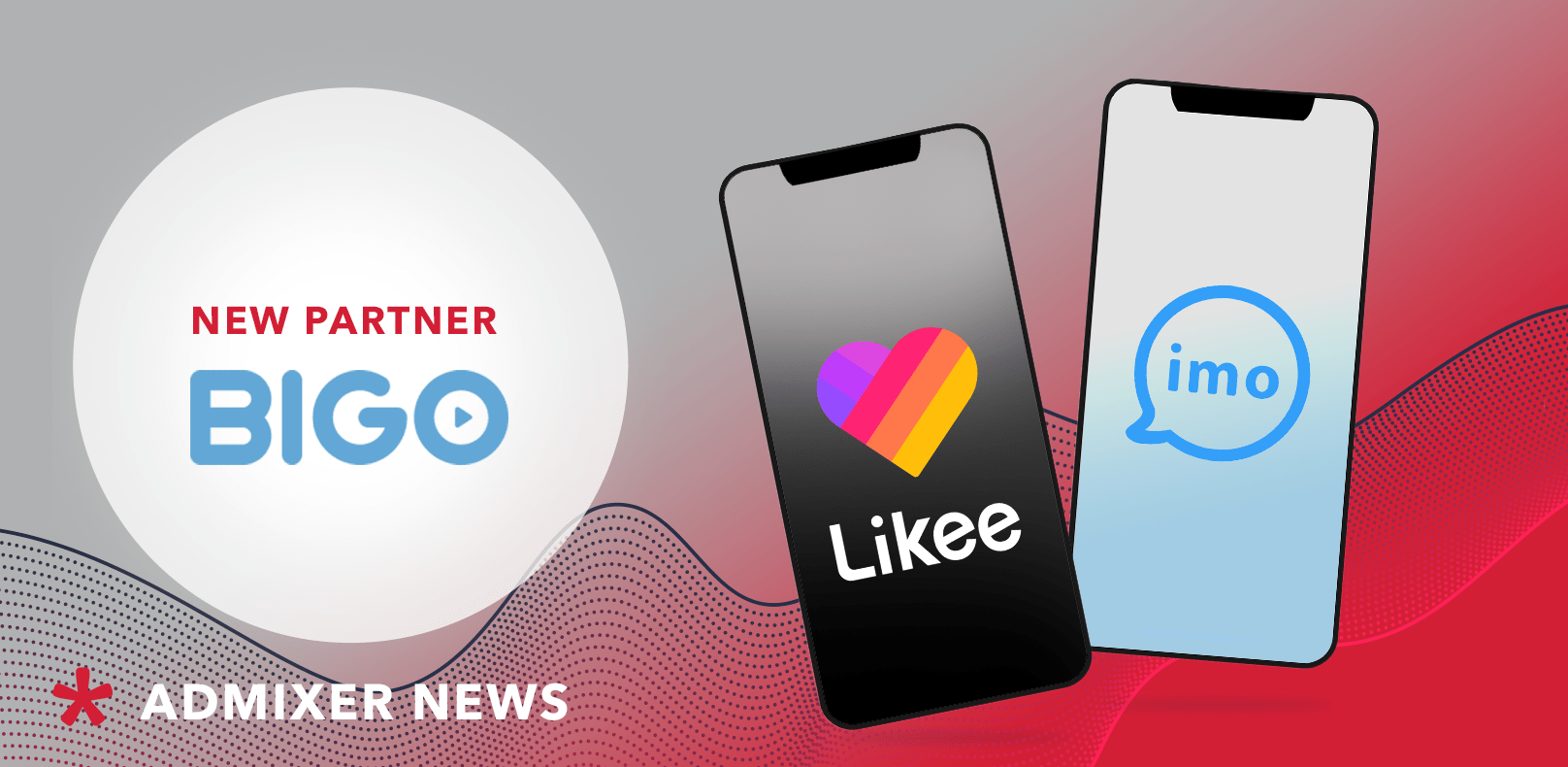 Bigo Partners with Admixer: Buy Ads on Likee and IMO Apps
Admixer has exciting news. Recently, we partnered with Bigo, a mobile app developer. Bigo is a rapidly growing media company specialized in streaming platforms, and instant messengers. Now, Admixer.DSP clients can run campaigns on highly-engaging video inventory, in Likee and IMO apps.
Read up to know more about advertising opportunities, ad formats, and audiences that you can reach with Bigo.
If you want to learn more about the brand-safe inventory available on Admixer, read about our recent partnerships with Opera, Dailymotion, and Xiaomi.
About Bigo
BIGO Technology is one of the fastest-growing Singapore technology companies, with a global presence – 30 offices and 6 R&D centers around the world.
Bigo offers a wide range of services, including Likee (short-form video) and IMO (instant communication). Powered by artificial intelligence and advanced content recommendations, Bigo managed to generate 400 million monthly active users in more than 150 countries.
Bigo scale and globalize through localization, by adapting every aspect of their business from products to operation and marketing for the local markets.
Likee
Likee (formerly known as LIKE video) is a global platform for short video creation. It boasts engaging special effects, video shooting, and editing tools. The app has 100 million users and is particularly popular among Generation Z.
These demographics have ample opportunities for advertisers, since Gen Z has 60% more sessions per user than other generations, and spent around 3.8 hours a month on their favorite app. According to Kathleen Gambarelli, Group Product Marketing Manager from Snapchat:
Millennials and Gen Z have over $1 trillion in direct spending power, and will continue gaining influence in 2020 and beyond.

Likee app has a loyal following across 200 countries and especially popular in India, Russia, USA, Indonesia, and quickly gaining a footing on other markets.
In Q1 2020, Likee emerged as 6th most downloaded app in the world, according to Global App Market Index by App Annie
App Anie also named Linkee the No. 1 "breakout" app in December 2019. The "breakout" app list included 10 apps that witnessed the highest growth in downloads between 2018 and 2019. In 2019, Likee's average mobile MAU (115.3 million) experienced a substantial growth of 208%.
Ad format
Likee offers a highly-engaging full-screen video ad format. It is embedded in the " Popular" and "Nearby" feeds, and drives users to business accounts, raising brand awareness, and building engaged following
Ad delivery logic:The first ad is displayed in the 9th video and then shows the next 3 ads for every 9 videos. Ads are displayed randomly in these four destinations.
Creative Spec: 5 to 30-second, full-screen video ad, autoplay, sound on
Video: MP4/3GP, size within 30M
Targeting Option: GEO(country/state/city) Device(operation system/mobile Manufacturer) Connection(Carrier/Network Type)
Pricing model:CPM(don't support CPD )
IMO
Imo is a global instant communication platform that allows users to stay in touch with their friends and family, share their significant moments, and build an online community.
As a world-leading social platform, IMO accumulated an audience of over 211 million users. It is more than the user base of Telegram ( 200 million) and Line (203 million), and approaches the audience of Viber ( 260 million).
IMO has a diverse audience in 249 countries and regions in 62 languages across Asia, America, and Europe with 210M MAU.
Ad formats
Chat List Ads
Ad Slot Size: 300*250
Format: Banner/Native/Native video
CTR: 1-2%

Audio Call Ads
Ad Slot Size: 300*250
Format: Banner/Native
CTR: 1-2%