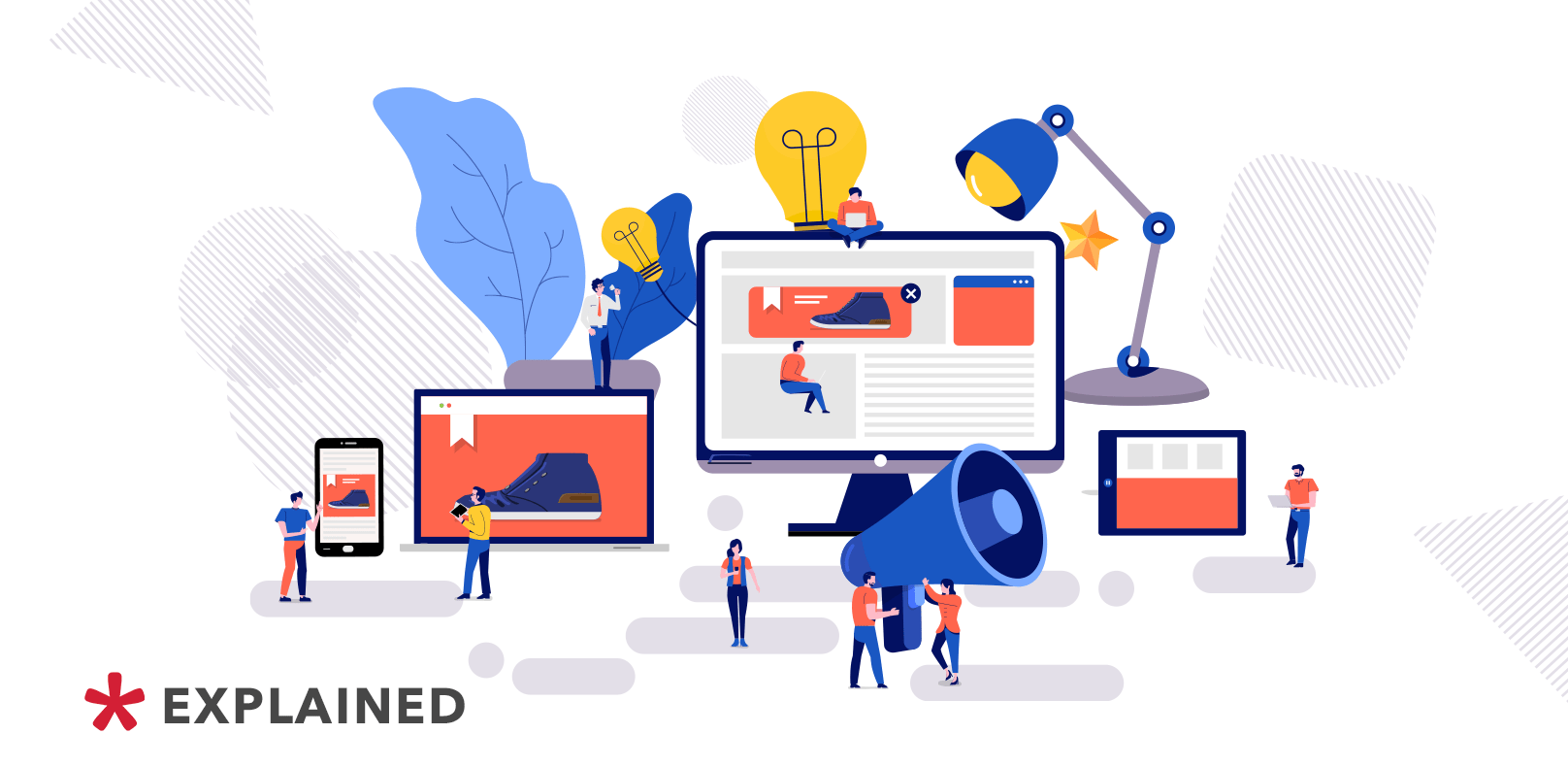 Digital Ad Formats Vs. COVID-19: Where to Advertise During the Pandemic
As the coronavirus pandemic progresses, customers become more cautious regarding their purchases in the range of categories. Under the pressure from decreasing budgets, marketers transition to more flexible and affordable digital ad formats.
The common digital channels may not function as effectively during the crisis. Lockdown reshaped behavioral patterns, changed daily routines, and prioritized new channels for advertising. Let's review how new programmatic digital ad formats that were gaining momentum are performing during the pandemic. 
Digital audio advertising
Digital audio is a vast media format that encompasses podcasts and various music streaming services. Ads can be served across music performances, news, sports, political talks, shows, etc. Modern digital audio environments provide listeners with great choice, control, and customization of their experience. This allows advertisers to organically integrate the brand's message into the listening and deliver highly personalized advertising. 
The popular music streaming devices are experiencing a drop in listenership. Global streams from Spotify's Top 200 chart dropped 11% to 226 million plays the first week of quarantine for many countries. However, after the initial panic the appetite for music streams rebounded. In Q2, Spotify managed to add 8 million paying subscribers, a 31% year-over-year increase. 
Directed streaming on platforms like Pandora, plummeted by 9% to just under 3.5 billion. In Q3, Pandora lost 1.8 million listeners from its global customer base of 81.5 million active users. 
This plunge can be attributed to changing consumer behavior. Audio streaming frequently accompanies rides to work, and morning jogging, and since many customers are staying home, these activities are no longer relevant. Nevertheless, the market might pick up once listeners form new music habits.
Since the start of the lockdown, consumers have started to tune into digital audio at different parts of the day, instead of just the commute hours. About 80% of listening is now happening at home, which caused a 100% increase in the use of Amazon Alexa and Google Assistant. Songs are more frequently broadcasted on the home devices, instead of just individual headphones. 
Digital audio ads can now target the entire household, and get a more extensive reach out of each impression.
Podcasts
As more and more people are staying home due to the pandemic, the podcast listenership experienced a 10% drop in March. For many, the podcast was part of the daily commute routine, and without it, podcasts are falling out of favor.
The most popular genres experienced a decline in downloads, including tech (-19%), history( -17%), and sports (-10%). 
Other genres experienced a surge: fiction (+19%), business (+10 %), science (+9%) and children-themed content (+9%). Significant growth is also happening in news podcasts since many traditional news outlets are venturing out into the new medium. 
Locked indoors, people are shifting their priorities, tastes, and affinities. Change in listening habits is a great opportunity for contextual targeting for advertisers, who can now tap into new segments of the audience. 
You can use Admixer.DSP to set up your campaigns in podcasts and other digital audio formats and get access to extensive inventory with all the needed targeting options.
CTV and OTT
Over the years, the consumers transitioned from traditional TV towards on-demand video content they can watch on connected TV (CTV). This can be a game console, smart TV, or any other internet device with on-demand content. CTV provides advertisers with opportunities for excellent customization and delivering high-quality ads with stereo sound and HD resolution. 
The expansion of the video streaming industry can't be stopped even by the pandemic. Revenues in this sector are projected to reach $25.9 billion this year and climb to $30.4 billion by 2024. In fact, coronavirus seems to facilitate the growth of this industry. 
Netflix, the biggest player in the streaming business, with more than 167 million subscribers across the globe, is expected to add another 7 million subscribers in Q1 2020.
According to the IAB report, advertisers are adjusting their acquisition tactics and increasing OTT/CTV device targeting by 35%.
In-app ads
In-app advertising is the fastest-growing advertising format on the market. It comes as no surprise as in-app advertising has significant benefits:
In-app advertising boasts a higher click-through rate than mobile web advertising (0.56% and 0.23%, respectively).
An ad displayed in the context of the app is less intrusive and more organically integrated into the user experience.
Many apps allow you to serve interactive ads that appear at certain key points during the in-app experience.
Apps collect extensive demographic, geo, and behavioral data, providing excellent opportunities for targeting.
Since the start of the pandemic, the app audience was swiftly expanding. Due to the prolonged lockdown, people spend more time on their mobile devices and actively download new apps. In Q1 2020, weekly time spent in apps grew by 20%. Consumers downloaded 31 billion new apps, a 15% increase since the last quarter. 
The daily time on apps increased to 3 hours 40 minutes globally, while in China, where the population entered quarantine at the beginning of the year, the time spent reached 5 hours.
The most significant surge in popularity among non-gaming apps experienced Music applications (+93%), Health and Fitness Trackers (+107%), Newsfeeds (+189%) and Shopping carts (+30%)
Despite the upsurge in use, the mobile advertising budgets are decreasing, which translates into a 14.8% drop in CPM. Now is a great time to launch affordable in-app campaigns and get a broad reach across the various audience in the lockdown. 
In-app advertising is a flexible advertising channel that can provide a broad reach across the various audience in the lockdown. You can use Admixer.DSP to set up your campaigns in various formats across a range of mobile apps.
Read the full guide on in-app advertising during the crisis. Learn how the pandemic impacted the number of installs, ad spend, and app revenues.
In-game ads
In-game advertising is placing ads in the virtual environment of a game. In-game ads rely on user interaction and direct engagement. This makes it easier for advertisers to control essential metrics like engagement, targeting, and completion rates.
If you're willing to learn more about in-game advertising formats and benefits, check out the recent article In-Game Advertising: 8 Ad Formats to Monetize Mobile Games.
Video games surged in popularity during the pandemic, as people indulge in more leisure and try new ways to connect with their friends. The video game usage increased by 75% in the first week of the lockdown in the US. Steam, the virtual game marketplace, has reached a new concurrent online user record of 20 million.
Mobile games, which constitute more than half of the gaming industry, also experience a boost in usage. Mobile game downloads in the first quarter of 2020, exceeded numbers of the same period last year by 20%, with 13 billion new downloads. Role-playing and Strategy games became the most popular genres by consumer spendings on Google Play and App Store.
In-game ads are expanding their reach since many new groups and demographics are discovering games to satisfy social participation during this stressful time. Advertisers should seize the opportunity to get a shared voice in this new medium, where CPMs are low, and retargeting is relatively uncommon.
DOOH
DOOH is out-of-home media amplified with adtech. It delivers ad messages through billboards and banners, reaching consumers when they are commuting to work, visiting public spaces, go shopping, or visit entertainment venues. Adtech added another layer of meaning to this medium, by allowing geofencing, attribution, and measurement, enabling smart media planning.
The programmatic industry was very optimistic about DOOH and its opportunities for targeted audience planning. Out-of-Home advertising spaces, paired with the use of mobile location data, can target the most appropriate audiences and drive conversions offline.
Yet, the coronavirus and subsequent lockdown knocked down this medium on the take-off. DOOH captured most of its traffic from the commuters, which massively stayed at home in the last couple of months. The ad spent on DOOH has dropped by 45%.
However, DOOH is trying to counteract lockdown measures, and change locations from public transit and cinemas to new locations that are busier than usual. They concentrate on the locations next to big grocery stores, residential areas, and pharmacies.
Conclusion
Global pandemic and lockdown rewired the advertising marketplace. Digital Audio initially experienced a plunge in listenership due to the change in the daily habits, but later rebounded and bolstered its broadcasts through voice assistants, thus widening its reach.
The Podcast industry experienced a drop in the range of categories, while other genres spiked in popularity.
Gaming demonstrated resilience to coronavirus and set records in downloads, and time spent in-game.
Apps also witness a surge in use and downloads. In-game and in-app advertising now offers an abundance of impressions at lower CPM.
DOOH took the hardest hit and is now trying to adjust to a new environment.
Marketers need to put their efforts into media channels that gained momentum in the stay-at-home environment. To remain relevant, brands need to innovate in their outreach strategy and go to mediums where consumers spend the most time. Advertisers should use in-game and display advertising to aim at broad audiences while running ads in selected categories of apps and digital audio for narrower targeting. Meanwhile, DOOH ads should be deprioritized or used at carefully selected locations.
If you're considering reallocating your budgets to programmatic advertising channels, contact Tetiana Sichko, Business Development Manager at Admixer.DSP: tsichko@admixer.net.